These Blue-Collar Trump Supporters Think the Economy Is Great. Your Move, Democrats.
At Trump's Milwaukee rally, supporters boasted that he's ushered in an economic miracle. Democrats face the challenge of convincing them otherwise.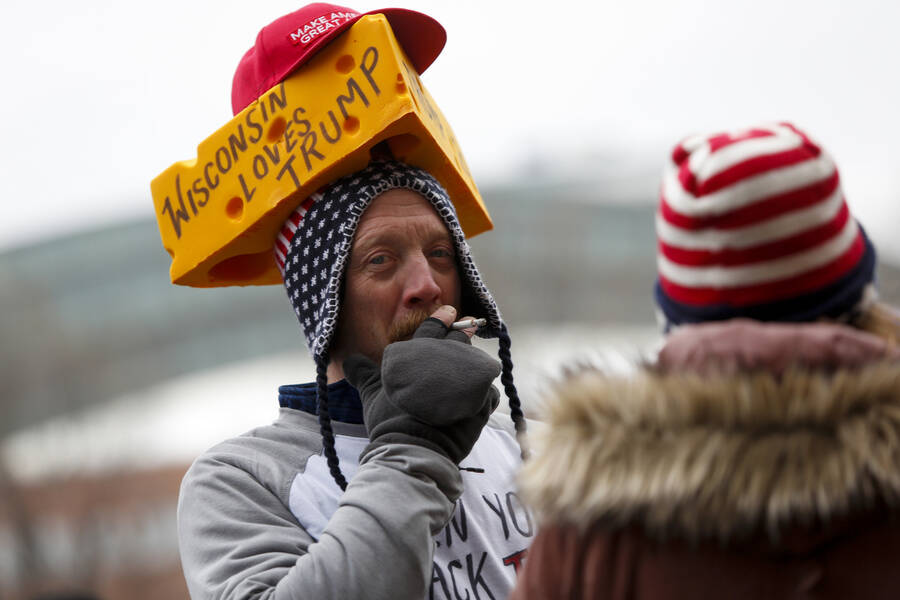 MIL­WAU­KEE — The mood inside Pan­ther Are­na at the Uni­ver­si­ty of Wis­con­sin-Mil­wau­kee was euphor­ic Jan­u­ary 14 as Tina Turner's ​"Sim­ply the Best" blast­ed and a crowd of more than 10,000 did the wave — a jubi­lant sea of red hats, big smiles and arms in the air.
The scene was, at first, rem­i­nis­cent of the hope, joy and empow­er­ment that swept the coun­try 12 years ago as Barack Oba­ma began his pres­i­den­tial cam­paign. But as the evening wore on, it became clear that the sen­ti­ments per­me­at­ing the atmos­phere were very dif­fer­ent from Oba­ma fever: bit­ter­ness, resent­ment and scorn. The crowd's demo­graph­ics were like­ly dif­fer­ent as well: pre­dom­i­nant­ly white in one of the most seg­re­gat­ed cities in the coun­try, home to a large Black and Lat­inx population.
This was a ral­ly for Pres­i­dent Don­ald Trump, in the city that will host the 2020 Demo­c­ra­t­ic Nation­al Con­ven­tion in July, in a state that will like­ly be cru­cial to the election's outcome.
Wisconsin's despair over the loss of good man­u­fac­tur­ing jobs, the hard­ship fac­ing farm­ers and gen­er­al malaise helped pro­pel Trump to his unex­pect­ed 2016 vic­to­ry. And if the Mil­wau­kee ral­ly is any indi­ca­tion, Trump is still pop­u­lar here: Atten­dees described their grow­ing retire­ment accounts, their thriv­ing small busi­ness­es and greater job security.
In 2016, Trump received few­er than a third of the votes in Mil­wau­kee Coun­ty but won the sur­round­ing coun­ties. Statewide, Trump gar­nered 47.2% of the vote to Demo­c­rat Hillary Clinton's 46.5% — a dif­fer­ence of just 22,748 votes.
Democ­rats now face the chal­lenge of prov­ing to Wis­con­sinites that Trump's poli­cies and trade wars are actu­al­ly hurt­ing work­ing peo­ple and that recent mar­ket gains most­ly ben­e­fit the already wealthy — while pro­mot­ing the idea that true pros­per­i­ty lies in a social safe­ty net, pro­tec­tive reg­u­la­tions and any num­ber of oth­er mea­sures that Trump derides.
One ral­ly­go­er, retired sheet met­al work­er George Zulas, 73, says his retire­ment invest­ments are thriv­ing because of Trump and described Democ­rats as the par­ty of cor­rup­tion. He point­ed to the state of Illi­nois as an exam­ple: Gov­er­nors often do ​"two terms [in Illi­nois] — a term in office and then a term in prison."
"Union mem­bers are sup­posed to vote Demo­c­ra­t­ic, but [Democ­rats] haven't done any­thing for us," Zulas says. He thinks many union mem­bers will vote for Trump in 2020, but qui­et­ly — in fear of ret­ri­bu­tion in their hir­ing halls should they open­ly sup­port Trump.
As In These Times report­ed, ​"43% of [2016] vot­ers in union house­holds cast their bal­lots for Trump." Com­pared with past elec­tion results, how­ev­er, it appears the out­come was more from a lack of Clin­ton enthu­si­asm than from Trump excitement.
Union or not, many blue-col­lar work­ers have clear­ly been attract­ed to Trump's Amer­i­ca-first rhetoric and believe Trump is nego­ti­at­ing good inter­na­tion­al ​"deals" for Amer­i­can workers.
One for­mer tool­mak­er from Mil­wau­kee, Roger, 67, lost his iron com­pa­ny job about a decade ago when it moved much of its sourc­ing over­seas. (Roger asked not to use his last name out of fear of harassment.)
"These com­pa­nies buy from Mex­i­co, Por­tu­gal, Chi­na — there aren't tool shops here any­more," Roger says.
Heart attacks and oth­er health prob­lems have made it impos­si­ble for Roger to find work, so he spends time in his sprawl­ing gar­den, grow­ing pole beans and broc­coli. But his con­fi­dence in Trump has made him feel like walk­ing into one of the remain­ing tool shops and ask­ing for work.
"Trump knows how to play the game — he got it from the streets of New York," Roger says. ​"He's the country's best sales­man. He gets up from his four-hour sleep and says, ​'What prob­lem will I solve today?'"
While many of Trump's claims can be eas­i­ly debunked, fact-check­ing the eco­nom­ic land­scape is more dif­fi­cult: The econ­o­my is strong by cer­tain met­rics. In Mil­wau­kee, Trump expound­ed upon his sup­posed eco­nom­ic mir­a­cle, telling the crowd that the Unit­ed States now boasts ​"the great­est econ­o­my in our history."
Unem­ploy­ment in Wis­con­sin is at 3.3%, com­pared with 4.3% in Jan­u­ary 2016. The stock mar­ket is hit­ting highs. Many in south­east­ern Wis­con­sin are hop­ing for a job boom from the mas­sive, in-the-works Fox­conn LCD pan­el plant. In Mil­wau­kee, Trump also crowed that the mil­i­tary-style vehi­cle man­u­fac­tur­er Humvee is now mak­ing parts in Oshkosh, Wis.
But much of this eco­nom­ic recov­ery start­ed dur­ing the Oba­ma years. Humvee, for exam­ple, made its announce­ment about Wis­con­sin man­u­fac­tur­ing in 2015.
A clos­er look at Wis­con­sin under Trump reveals a less rosy pic­ture. The total num­ber of jobs in Wis­con­sin has fall­en over the past two years. The total num­ber of Wis­con­sin man­u­fac­tur­ing jobs declined in 2019. Wis­con­sin employ­ers have been hurt by Trump's trade wars — the all-Amer­i­can brand Harley-David­son, for exam­ple, shift­ed its motor­cy­cle pro­duc­tion over­seas and laid peo­ple off because of retal­ia­to­ry tar­iffs in the EU, sparked by Trump. Trump's tar­iffs on Chi­nese-made goods are arguably hurt­ing Wis­con­sin com­pa­nies.
And the big Fox­conn deal (Trump loft­ed a gold­en shov­el at the plant's 2018 ground­break­ing) is pro­ject­ed to cre­ate only 1,500 of the 13,000 promised jobs (but the com­pa­ny will still receive mas­sive tax breaks from the state).
Robert Kraig, exec­u­tive direc­tor of Cit­i­zen Action Wis­con­sin, says the Fox­conn ​"deba­cle" typ­i­fies Trump's approach.
"It was a pre­dictable dis­as­ter … [Trump] makes a big announce­ment and then doesn't stick around to make it hap­pen," Kraig says. In gen­er­al, ​"Trump is super-charg­ing the econ­o­my, we're on a sug­ar high with the tax breaks and pres­sur­ing the Fed not to raise inter­est rates even though they should. He's extreme­ly selec­tive in the data points to mea­sure what a strong econ­o­my is. The stock mar­ket doesn't rep­re­sent actu­al pros­per­i­ty, and unem­ploy­ment num­bers miss all the peo­ple who are locked out of the econ­o­my and who have giv­en up."
Nation­wide, accord­ing to cen­sus data released fall 2019, income inequal­i­ty has bal­looned under Trump, reach­ing its worst point since the Cen­sus Bureau start­ed mea­sur­ing five decades ago. Even with low unem­ploy­ment num­bers, the Eco­nom­ic Pol­i­cy Insti­tute reports that wage growth has been sluggish.
Regard­less, Trump's Mil­wau­kee ral­ly­go­ers feel flush about a bright future ahead. Trump's fre­quent attacks on social­ism will only make it hard­er for Demo­c­ra­t­ic can­di­dates to con­vince vot­ers that more fair­ly shar­ing the country's wealth will expand the pros­per­i­ty they think they already have.
Writ­ing for The New York­er in June 2019, jour­nal­ist Peter Slevin explored the com­pli­cat­ed atti­tudes toward social­ism in Mil­wau­kee, a city that elect­ed three social­ist may­ors in the 20th cen­tu­ry. Slevin quotes his­to­ri­an John Gur­da, not­ing that Wisconsin's suc­cess­ful social­ist lead­ers ​"were as cre­ative as any cap­i­tal­ist, and as aggres­sive as any cap­i­tal­ist, in try­ing to cre­ate a sys­tem that worked for the com­mon man and woman." It seems Democ­rats would be wise to empha­size this approach as they cam­paign in a state known for valu­ing indi­vid­u­al­i­ty, a boot­straps men­tal­i­ty and hard work.
But if Democ­rats are to change the minds of the atten­dees at Trump's Jan­u­ary ral­ly, they have a long road ahead. ​"This is a blue-col­lar boom," Trump said in Mil­wau­kee, gain­ing more cheers as he railed against low-flow dish­wash­ers and undoc­u­ment­ed immi­grant sex offend­ers while tout­ing the economy.
Democ­rats will need to con­vince vot­ers in Wis­con­sin and beyond that a true blue-col­lar move­ment rec­og­nizes how reg­u­la­tions pro­tect work­ers and help fight pol­lu­tion and cli­mate change, how immi­grants con­tribute to the econ­o­my, how wage growth fights income inequal­i­ty, and the upside of many oth­er things that Trump delights in oppos­ing. Kraig, for one, says this moment is per­fect for some­thing like the Green New Deal, with long-term and cen­tral­ized planning.
"You plan out what would make real shared pros­per­i­ty, and move the nee­dle on our immense income inequal­i­ty," he says. ​"The mod­ern neolib­er­al mar­ket just won't do that."
Robert Kraig is an In These Times board member.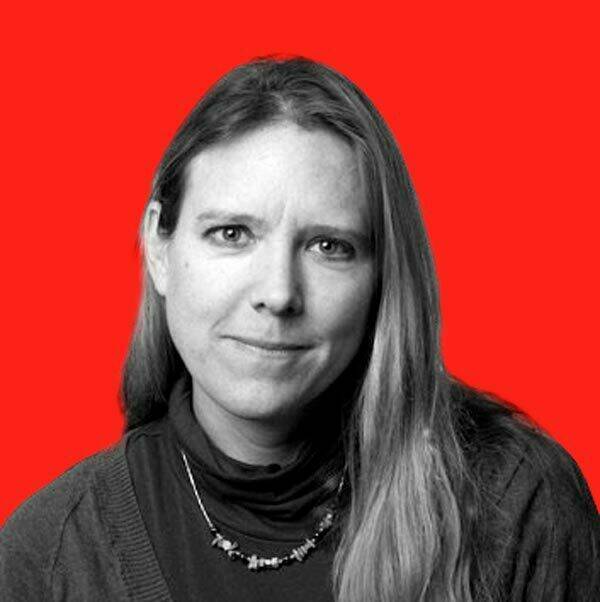 Kari Lyder­sen
is a Chica­go-based reporter, author and jour­nal­ism instruc­tor, lead­ing the Social Jus­tice
&
amp; Inves­tiga­tive spe­cial­iza­tion in the grad­u­ate pro­gram at North­west­ern Uni­ver­si­ty. She is the author of May­or
1
%: Rahm Emanuel and the Rise of Chicago's
99
%.