Blue People, Yellowcake
A nomadic, West African people are threatened by lucrative uranium mining.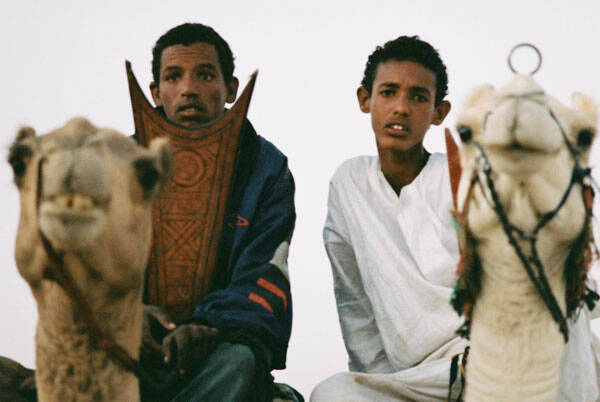 On Dec. 19, Canadian U.N. diplomats Robert Fowler and Louis Guay, and their driver, Soumana Mounkaila, were abducted in Niger. No information has emerged as to who is behind their disappearance. In mid-January, four European tourists were kidnapped on the Mali-Niger border.
These incidents point to the heightened state of tension between the governments of these two West African countries and the nomadic Tuareg people who, for decades, have been struggling for greater autonomy in their ancestral homelands.
Despite several peace agreements – the most recent in Mali in July 2008 – the situation in both countries remains far from peaceful. Relations are complicated by the fact that the lands over which the Tuareg have wandered for centuries are home to some of the world's largest uranium deposits and oil reserves.
While international energy companies jostle for concessions to mining and oil rights amid accusations of government corruption, the plight of the Tuareg is seldom considered, and their traditional way of life is increasingly under threat.
Mali and Niger are among the poorest countries in the world, and the Tuareg are among the most impoverished communities within each nation. They are known as the ​"Blue People" because their indigo-dyed garments leave dark-blue pigment on their skins.
Despite the Sahara's erratic and unpredictable rainfall patterns, the Tuareg have managed to survive in the hostile desert environment since the 7th century.
Over recent years, however, depletion of water by the uranium-stripping process – combined with the effects of climate change – is threatening the Tuaregs' ability to subsist. They have led a series of uprisings to protect their land and resources, the most recent beginning in 2007.
In January, fighting in Mali left more than 50 dead and, in Niger, the government has waged a military crackdown against the community.
A 2008 Amnesty International report found evidence of government forces in Niger perpetrating serious human rights abuses, including widespread extrajudicial executions of Tuareg civilians. The government has expelled nongovernmental organizations such as Doctors Without Borders from northern Niger and has banned reporting in the region.
Uranium mining has diminished and degraded Tuareg grazing lands. Not only does the mining industry produce toxic waste that can contaminate groundwater, but it also uses huge quantities of water in a region where it is scarce.
Meanwhile, the Mali and Niger governments continue to receive hundreds of millions of dollars in revenue from resource exploitation.
"The insurgents are accused of having links with Islamic extremists in order to garner support for military action from the international community," says Issouf ag Maha, elected mayor of Tchirozerine, Niger, and member of the rebel Niger Movement for Justice (MNJ), a political arm based in France.
In 2003, the U.S. government launched a new front in its war on terror, triggered by a fear that the Sahel – the semi-arid belt that stretches from Africa's Atlantic coast to the Indian Ocean on the east – might become a safe haven for al Qaeda operatives.
In 2005, the U.S. Congress approved $500 million over a six-year period for countries in this region to counter terrorism, and the Mali and Niger militaries have been receiving U.S. aid and training – though little evidence exists of Islamic extremism in either country.
The Tuareg are Sunni Muslims. They practice the Maliki form of Islam and have no history of religious extremism. In their decades of struggle, Tuareg fighters have rarely targeted Westerners.
MNJ has kidnapped several French and Chinese uranium mining employees but has always handed them over to the Red Cross after a few days of captivity, claiming it abducted them only to air grievances.
The nomadic Tuareg are used to adversity. They have lived in one of the harshest environments in the world and have moved in search of rain, water and pasture. Once ​"Lords of the Desert," they now find themselves, by an accident of geography, buffered by global political forces. Their struggle is maligned and their rights ignored, but for them, this is nothing new.
Before you go
Reader donations, many as small as just $5, are what fund the work of writers like this—and keep our content free and accessible to everyone. But when donations slow down, it puts our future reporting at risk. To get back on track, we're aiming to add 400 contributions from readers by the end of the month.

It only takes a minute to donate. Will you chip in before the deadline?
Stefan Simanowitz
is a journalist, writer and human rights campaigner. Visit www​.ste​fan​si​manowitz​.com. Follow at @StefSimanowitz
Deadline: Thursday
Reader donations, many as small as just $5, have kept In These Times publishing for 45 years. But when donations slow down, it puts our future reporting at risk. To get back on track, we're aiming to add 400 contributions from readers by the end of the month. Will you be one of them?