Bob King Set to Become UAW President as Calls to Restore Concessions Loom (UPDATED)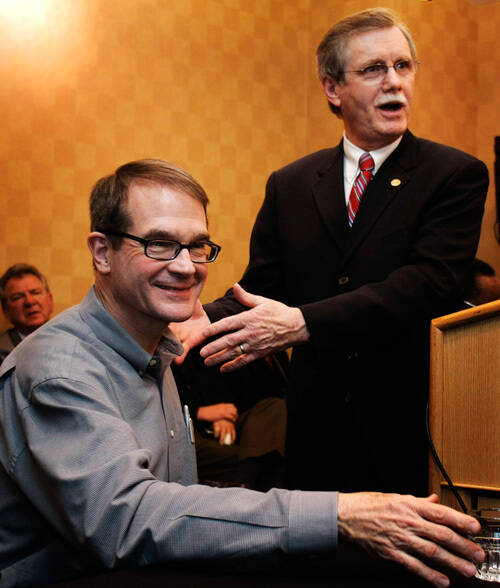 Update: Bob King elected as new UAW president, set to speak to delegates on Thursday (see below).

The United Autoworkers (UAW) will have a new leader this week when Ron Gettelfinger concludes his two-term tenure, ending an eight-year run in which he steered the union through a tumultuous auto industry facing its worst crisis in recent history.
Bob King, a vice president in charge of Ford negotiations, is expected to succeed Gettelfinger during the UAW's 35th Constitutional Convention this week where delegates and members have gathered in Detroit. Elections for new leaders are being held on Wednesday.

The four-day meeting running until Thursday is a historic one: the union is celebrating its 75th anniversary this year and the convention is in Detroit for the first time since its formation in 1935. That symbolism is not lost on King as the UAW tries to bounce back at a time when the auto industry is showing some signs of recovery.
In his farewell speech on Monday, Gettelfinger urged members to press forward against ​"anti-union" forces who have stifled organizing in the workplace and expressed support for the Employee Free Choice Act.

The change in leadership comes at a time when the Big Three are making strides a year after General Motors and Chrysler filed for bankruptcy. Car sales have stabilized and General Motors posted a $865 million net income in the first quarter while Chrysler earned $143 million in operating profits. The gains will provide a subtext for calls to win back the concessions. The next president will negotiate a new contract next year with the Big Three automakers. Speaking at the convention, AFL-CIO President Richard Trumka called on the trio to restore the pay and benefits UAW workers conceded during the bailout. The deal also forced the union to reduce its staff and cut resources.

​"The three major US companies are making profits again," said Trumka. ​"We salute their success. And we demand that they do right by the workers who have done right by them. Because just as there has been shared sacrifice in periods of pain, there must be shared prosperity in periods of gain."

King, 63, takes helm of a union where membership reached a postwar low of only 355,000, down from 1.5 million members at its peak in 1979.
In the last five years, the union made concessions ranging from $7000 to $30,000, according to King. The UAW also gave up raises, bonuses and saw reduced salaries with the creation of a two-tiered wage system that cut hourly wages in half to $14 for new hires.

But aside from looking out for the rank and file, the new president will have a monumental task of organizing the workplace. A report by Gettelfinger given to delegates this week found that more cars are being produced in non-union factories. In 2002, at least 80 percent of cars produced in the U.S. were made from union factories including the UAW, but it has fallen to less than 60 percent today.

With nearly 40 percent of cars coming from non-union plants, the declining level of unionization has come at a cost. The UAW contracts negotiated with the Big Three previously set an industry standard where even non-union workers enjoyed comparable wages. But today, the low union rates have had an opposite effect as automakers are lowering the work standards to their employees with skimpy wages and benefits.

The lowered salary, loss of retiree healthcare benefits and other items have been a source of ire for some rank and file members who are hoping to regain what they gave up three years ago.

Gary Walkowicz, a worker at the Ford plant in Dearborn, Michigan is belatedly challenging King in a largely symbolic campaign to call attention to union leadership for caving into company demands. Walkowicz was one of the leaders to oppose the concessions proposed by King at the Ford plant last fall.

But the move is also a referendum on the union's current voting system which does not allow a direct vote. King will be selected by an executive board that has been selecting the president through a caucus since the late 1940s. Creating a more democratic system of voting could help create a better image of transparency, an idea recently suggested by the grand nephew of Walter Reuther, the legendary former president of the UAW.
Nevertheless, King, the designated nominee, will most likely be elected on Wednesday. He'll have his hands full but the new leadership might provide a glimmer of hope as the auto industry recovers.
UPDATE: The UAW overwhelmingly elected union vice president Bob King on Wednesday. King was mostly uncontested to garner a majority of the delegate votes despite a late challenge by Gary Walkowicz. In the final vote total, King had 2115 votes while Walkowicz received 74.5, according to Reuters. King will begin a four year term and the AP is reporting that he will address the delegates on Thursday.