Why Domestic Workers Are Fighting Like Hell to Stop Brett Kavanaugh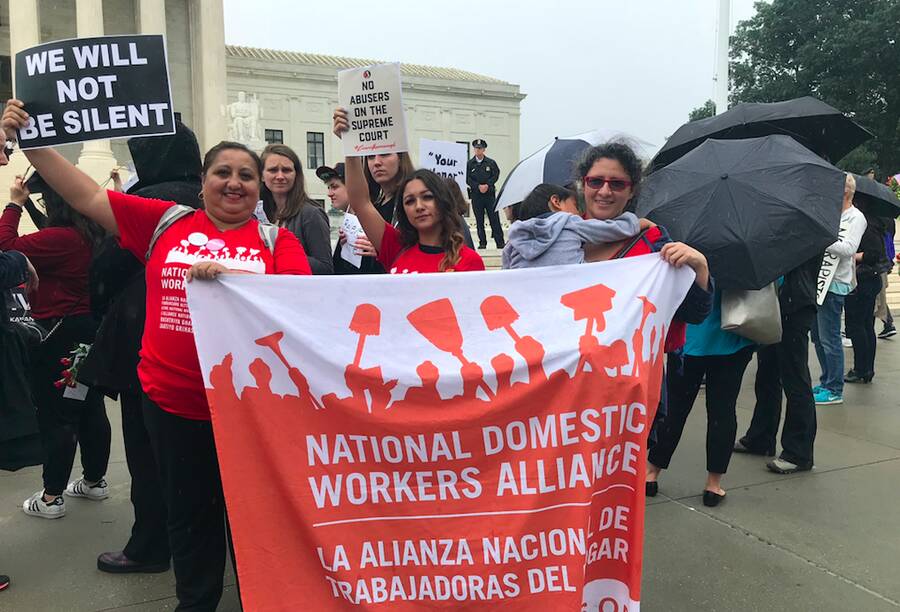 ​Like many par­ents, Daniela Con­tr­eras woke up last Thurs­day and helped her daugh­ter get ready for school. But the long-time domes­tic work­er who now orga­nizes with the Nation­al Domes­tic Work­ers Alliance (NDWA) then hopped on a train to Wash­ing­ton, D.C. to take part in the protests against Supreme Court Nom­i­nee Brett Kavanaugh.
Dur­ing a Sep­tem­ber 27 press con­fer­ence of sex­u­al assault sur­vivors and sup­port­ers, includ­ing #MeToo founder Tarana Burke, Sen­a­tor Kirsten Gilli­brand and Rep­re­sen­ta­tive Annie Kuster, Con­tr­eras spoke about her expe­ri­ence being assault­ed as a 16-year-old child­care provider.
"Every day, I hear sto­ries of work­ing women just like me, sto­ries full of pain, fear, silence and same," Con­tr­eras said in her remarks. ​"But through our orga­niz­ing, we've passed laws and poli­cies to pro­tect domes­tic workers."
Thanks to Domes­tic Work­ers Unit­ed, NDWA and oth­ers, a 2010 New York Domes­tic Worker's Bill of Rights now pro­tects against harass­ment, abuse, wage theft and oth­er work­place vio­la­tions. Last Decem­ber, NDWA helped change New York City anti-dis­crim­i­na­tion law that required a busi­ness to have four or more employ­ees in order for a claim to be filed. Now work­ers can file a claim even if they are the only employ­ee, as is the case for many clean­ers, nan­nies and oth­er domes­tic positions.
But when she's not fight­ing for change in New York City or at the cap­i­tal, Con­tr­eras is meet­ing with domes­tic work­ers out in the world, encour­ag­ing them to stand up for their rights. In These Times talked with Con­tr­eras about NDWA's role in protest­ing Kavanaugh nom­i­na­tion — and how the activism con­tin­ues after the media spot­light ends.
Han­nah Steinkopf-Frank: Why did you par­tic­i­pate in the press conference?
Daniela Con­tr­eras: I was asked, but I want­ed to be part of this. If you're a new orga­niz­er, a lot of work­ers will not trust you. But if they see me in the media, they'll feel I'm more cred­i­ble. It gives us more cred­it. The oth­er rea­son is because I was 16 when I was assault­ed, but nev­er said any­thing. The more I talk about it, the more peo­ple will be able to come for­ward at any point.
A year ago, I came out pub­li­cal­ly as part of #MeToo. I have friends who just now are com­ing for­ward. It does strain me a lot because I'm feel­ing exhaust­ing at the end of the day. But I'm no longer afraid. I'm speak­ing out. I felt pow­er­ful being in that space with all these amaz­ing, pow­er­ful women. We are doing this togeth­er. I remem­ber that 16-year-old girl who could­n't say any­thing. Now I'm this old­er woman talk­ing in front of all the women sup­port­ing me.
It is sad to see all these women who have been through all of this. You would think it's only you, but then hav­ing all these women, it makes you real­ize how many more are out there who have not come for­ward. Is this what this soci­ety looks like? It is very upset­ting to know this, but at the same time, I think that it was a very pow­er­ful moment. There's a say­ing in Span­ish that trans­lates to, ​"Where there's uni­ty, there's pow­er." I know they went through all of this, but we're all stand­ing alone togeth­er. If he does­n't get nom­i­nat­ed, then we won.
Han­nah: Do you feel con­nect­ed to Dr. Chris­tine Blasey Ford?
Daniela: When all this alleged­ly hap­pened to her, she was only around 15. She said the rea­son she did­n't want to say any­thing was because she was going to be believed. She was afraid. It was shame­ful to talk about it. I felt the exact same way. I did­n't come for­ward for the same rea­son. I was afraid. I had no one. What was I sup­posed to tell my moth­er? Just because I'm sup­posed to go and help her out finan­cial­ly, this is what hap­pened to me. I did­n't want to make my moth­er feel guilty about it. I felt nobody would have believed me if would have said some­thing. The trau­ma goes on with you for the rest of your life. I'm won­der­ing now what would have hap­pened if I had said something.
Han­nah: How did you become involved with the Nation­al Domes­tic Work­ers Alliance?
Daniela: I was a domes­tic work­er not by choice, but neces­si­ty. I need­ed to get a job. I was pret­ty much engaged to my daugh­ter's father, but a week before she was born, he left us. He took every­thing with him and left us pret­ty much on the streets. I had a new­born baby and my moth­er was sick. I had bills to pay, because he stopped pay­ing the bills. I was no longer work­ing because he asked me not to while I was preg­nant. I became a nan­ny again because get­ting a reg­u­lar job was going to take me a while. My daugh­ter was­n't going to wait. Her hunger was­n't going to wait.
One day, in the neigh­bor­hood where I was work­ing, anoth­er nan­ny told me about a meet­ing with the Nation­al Domes­tic Work­ers Alliance. I did­n't know there was such an orga­ni­za­tion. The title excit­ed me. I kept going to every sin­gle meet­ing. The first thing I liked about being in that space was I felt wel­comed. For the first time, I was able to bring my daugh­ter to a meet­ing. They had a pro­gram called Ground­break­ers where you learn about Bill of Rights in New York. You pret­ty much become a lawyer. You go through this train­ing for six weeks and then you can apply to do out­reach where you talk to oth­er work­ers. It's the same way the oth­er nan­ny invit­ed me to a meet­ing. We go to the parks. We lis­ten to their sto­ries and try to find any red flag, if any work­ers are going through sex­u­al harass­ment or wage theft.
Han­nah: How do you build trust and com­mu­ni­ty with domes­tic workers?
Daniela: One thing I have to tell them is I've been a domes­tic work­er. I know what they're going through. I know the strug­gles, good or bad. Some­times because of immi­gra­tion sta­tus, lan­guage, or because there will be retal­i­a­tion, they don't want to say any­thing. Or they come for­ward either after they've quit their job or when they no longer can take it any­more. Some of them went through sex­u­al harass­ment when they were little.
I had a house­clean­er who I've been talk­ing to for two years. One day I met with her and brought up the top­ic of abuse. She said, ​"It hap­pened to me when I was six." It might take a while to build trust. It might take a hint, like some­one say­ing, ​"Things are not so great at work. I feel uncom­fort­able." They're not real­ly telling exact­ly what's hap­pen­ing, but you have an idea.
Per­son­al­ly, I was­n't sex­u­al­ly harassed just as a nan­ny. I was at many dif­fer­ent jobs because before I did­n't have a sta­tus, I was more vul­ner­a­ble to these kinds of inci­dents where employ­ers knew that. They felt like, ​"Okay if you're undoc­u­ment­ed and you don't speak the lan­guage I can take advan­tage of you."
The last time it hap­pened was a decade ago. I was work­ing at a restau­rant where most of the wait­ress­es were undoc­u­ment­ed, but the own­er knew we need­ed the jobs. He would do the nas­ti­est things to us. Some­times he just picked on me. One time I did­n't stay qui­et. I went to his apart­ment and made him file a report. I said, ​"You're not going to do this any­more. I'm no longer afraid of any­body, and this is going to change." That gave me pow­er, but it didn't work in my favor because he had a good lawyer. He was able to change the sto­ry on me. The lawyer said that, accord­ing to the employ­er, I was the one harass­ing him. It made me upset, but my cowork­ers saw what hap­pened. A few years lat­er all the wait­ress­es orga­nized. They filed anoth­er law­suit and this time they won.
Han­nah: Why is it impor­tant to high­light the sto­ries of domes­tic work­ers in #MeToo?
Daniela: One, because the places where they work, it's pret­ty much the employ­er and the work­er. There are no super­vi­sors. There's no one you can go and tell, ​"Look this is what's hap­pen­ing." The only per­son you can tell is your employ­er, but what if they're the per­pe­tra­tor? That's why we had to go and say some­thing. That's why we felt like we need­ed to be there. We need to be heard.
At the 2018 Gold­en Globes, our exec­u­tive direc­tor Ai-jen Poo was Meryl Streep's guest. While receiv­ing the Cecil B. DeMille Award, Oprah talked about her mom who was a domes­tic work­er and why they have to choose between bring­ing a pay­check and or com­ing for­ward. I met a few Hol­ly­wood peo­ple who have done domes­tic work, so they under­stand too.
Han­nah: What changes would you like to see for domes­tic worker?
Daniela: The Domes­tic Work­ers Bill of Rights was passed in 2010, but even now domes­tic work­ers don't know about it. That's why we're going on the streets and giv­ing them this infor­ma­tion. We want them to know they're pro­tect­ed and have an extend­ed statute of lim­i­ta­tions. But I still wish there would be more time. It took me 20 years to come for­ward. We want to pro­vide pro­tec­tion for them, but also let employ­ers know that, yes, you have some­one work­ing in your place and it's pri­vate, but there are work­ers' rights and sex­u­al harasse­ment is includ­ed on the job.
Two weeks ago, we had our month­ly meet­ing and we had new work­ers. A nan­ny said that her employ­er told her, ​"I looked at the Bill of Rights, and accord­ing to what it said, you don't have that many pro­tec­tions." The nan­ny was upset. She said she knows what her rights were and that her employ­er was tak­ing advan­tage of her. That's what makes me real­ly upset: When employ­ers know that domes­tic work­ers are very vul­ner­a­ble and they still take advan­tage of them. I would love to see a change with that.
Han­nah: What self-care do you take part in after shar­ing your story?
Daniela: I just come home and hug my daugh­ter. I've also been dis­con­nect­ing myself from the world, stay­ing home with the peo­ple I love and just doing reg­u­lar mom­my things. I'm always play­ing music. I've also been sleep­ing a lot. It does take a lot out of me to do this. It takes me two to three days to feel back to normal.
Han­nah: What hope do you have for the future?
Daniela: I would love for my daugh­ter — hope­ful­ly she nev­er have to deal with this — but if she ever goes through some­thing like this, she will be believed at any age. I hope she or any sur­vivor won't have to wait all these years. And I hope that per­son who's done it will suf­fer con­se­quences. I am very opti­mistic. Like a lot of women, I came for­ward for a rea­son. It's hard. It's painful. But we want to see change, and I know there will be change. I want to say that I made a dif­fer­ence for future gen­er­a­tions by just speak­ing out. I don't know what's going to hap­pen. But I want to say that I was part of it.
Han­nah Steinkopf-Frank
is a Chica­go-based free­lance writer and pho­tog­ra­ph­er. Her work has appeared in the Chica­go Tri­bune, Atlas Obscu­ra, Bitch Media, the Colum­bia Jour­nal­ism Review, JSTOR Dai­ly and Paper Mag­a­zine, among others.