Chicago's Elections Brought a Lot of Good News for Progressives—and Democratic Socialists
Rahm Emanuel is gone, and a new crop of left-wing city council members is coming to power.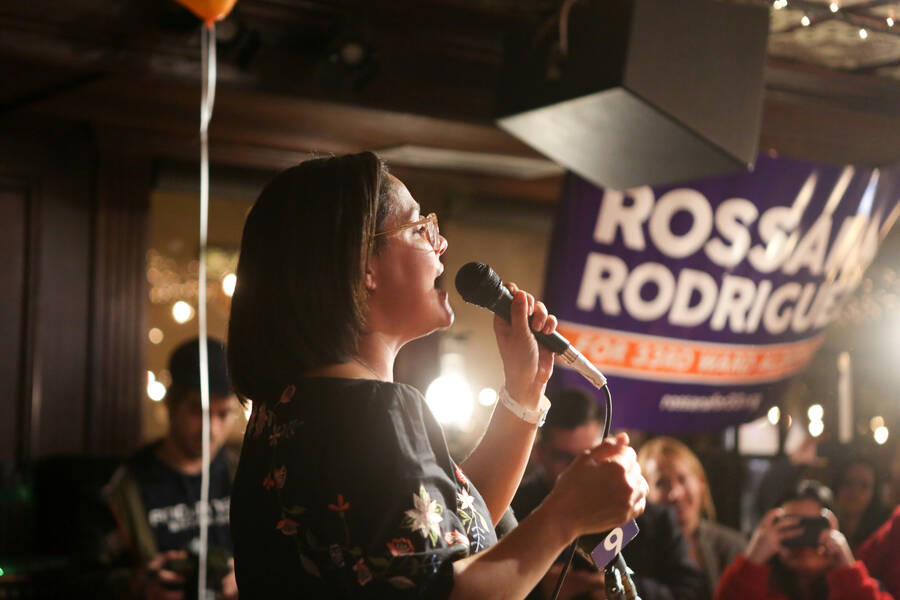 On Tues­day night, for­mer fed­er­al pros­e­cu­tor Lori Light­foot won Chicago's run-off elec­tion, becom­ing the city's first open­ly gay black female may­or. She beat out Cook Coun­ty Board Pres­i­dent Toni Preck­win­kle in a land­slide, and ran on a broad­ly pro­gres­sive plat­form, though she faced oppo­si­tion from some grass­roots activists who ques­tioned Lightfoot's com­mit­ment to police reform.
At the city council level, a wave of insurgent democratic socialists and progressive candidates surged to victory.
At the city coun­cil lev­el, a wave of demo­c­ra­t­ic social­ists and pro­gres­sive can­di­dates surged to vic­to­ry. While it's unclear whether Light­foot will rush to fol­low through on her ambi­tious cam­paign promis­es of clean­ing up city gov­ern­ment and enact­ing reform, the new incom­ing class of alder­men are slat­ed to push for­ward on a host of pro­gres­sive pri­or­i­ties, from end­ing cor­po­rate sub­si­dies to work­ing to enact rent control.
Out­go­ing May­or Rahm Emanuel's deci­sion in Sep­tem­ber 2018 not to seek a third term didn't just inspire a diverse pool of can­di­dates to run to replace him, it also empow­ered a swath of chal­lenges to Emanuel-allied incum­bent alder­men. Despite record low turnout, at least five alder­man­ic can­di­dates backed by the Demo­c­ra­t­ic Social­ists of Amer­i­ca (DSA) were elect­ed this year, and anoth­er holds the lead, though the race is still too close to call. Fol­low­ing the 15 run-off races, demo­c­ra­t­ic social­ists will now make up at least 10 per­cent of the city council.
In addi­tion, many con­tenders sup­port­ed by oth­er grass­roots com­mu­ni­ty groups and pro­gres­sive unions oust­ed mem­bers of the city's noto­ri­ous polit­i­cal machine, such as coun­cil floor leader Ald. Pat O'Connor, defeat­ed by Andre Vazquez, and 28-year incum­bent Ald. Joe Moore, beat by Maria Had­den. While incum­bent mem­bers of the old guard are still hold­ing on in some wards, Chicago's new city coun­cil could forge a more trans­par­ent and equi­table leg­isla­tive mod­el for local gov­ern­ments around the country.
These chal­lengers ran on a host of demands put for­ward by social move­ments in the city, includ­ing insti­tut­ing an elect­ed, rep­re­sen­ta­tive school board and cre­at­ing a Civil­ian Police Account­abil­i­ty Coun­cil (CPAC) to over­see the Chica­go Police Depart­ment (CPD).
They also built on the work of com­mu­ni­ty orga­niz­ers who have opposed large-scale tax incre­ment fund­ing (TIF) projects that often fund lux­u­ry devel­op­ments. One of the most con­tro­ver­sial TIF projects is a pro­posed $95-mil­lion West Side police and fire acad­e­my, a pri­or­i­ty of the out­go­ing Emanuel admin­is­tra­tion. Local res­i­dents and activists argue that this fund­ing could be bet­ter invest­ed in schools, men­tal health facil­i­ties and oth­er resources.
On the North Side, the pro­posed mixed-used Lin­coln Yards devel­op­ment would dras­ti­cal­ly alter the area's indus­tri­al land­scape, poten­tial­ly accel­er­at­ing gen­tri­fi­ca­tion and threat­en­ing small busi­ness­es, such as the his­toric Hide­out music venue. Lin­coln Yards is also in line to receive pub­lic TIF funds.
Across the plat­forms of pro­gres­sive chal­lengers, the needs of the city's most mar­gin­al­ized res­i­dents were cen­tral, from cre­at­ing a com­mu­ni­ty ben­e­fits agree­ment for the area sur­round­ing the Oba­ma Pres­i­den­tial Cen­ter to elim­i­nat­ing the city's gang data­base, which ProP­ub­li­ca Illi­nois found unfair­ly tar­gets peo­ple of col­or.
In the first round of vot­ing on Feb­ru­ary 26, Light­foot and Preck­win­kle received the most votes out of a crowd­ed may­oral field and moved on to Tuesday's runoff. While Light­foot has nev­er before held pub­lic office, she gained the sup­port of a num­ber of long­stand­ing fig­ures in Chicago's pro­gres­sive com­mu­ni­ty, includ­ing David Orr and Timuel Black. Through­out the runoff, how­ev­er, her tenure as the Emanuel-appoint­ed pres­i­dent of the Chica­go Police Board came under scruti­ny. In the days lead­ing up to the elec­tion, the hash­tag #Stop­Light­foot spread on social media by large­ly young, queer, orga­niz­ers of col­or, and it's clear police account­abil­i­ty activists will con­tin­ue to demand that Light­foot enact mean­ing­ful police reform.
Preck­win­kle, mean­while, was crit­i­cized for her con­nec­tions to the infa­mous Demo­c­ra­t­ic machine in Chica­go, as well as her prob­lem­at­ic record around issues of pen­sions and tax­es. But both Light­foot and Preck­win­kle were seen as far more pro­gres­sive than Emanuel. They promised major changes to pub­lic edu­ca­tion, polic­ing and a host of oth­er issues. Now orga­niz­ers, and an active city coun­cil, are set to hold May­or-elect Light­foot to her promises.
In the first round of vot­ing, pro­gres­sive city coun­cil can­di­dates won a num­ber races, includ­ing DSA mem­ber Car­los Ramirez-Rosa in the 35th Ward. On the city's far North Side, 49th Ward Ald.-elect Maria Had­den made his­to­ry becom­ing the first open­ly gay African-Amer­i­can city coun­cil mem­ber, oust­ing Emanuel ally Joe Moore.
But the cor­rupt sys­tem of cor­po­rate and polit­i­cal heavy­weights gain­ing polit­i­cal sway through cam­paign dona­tions is not going down with­out a fight. In the weeks lead­ing up to the run-off, the Chica­go For­ward PAC, which was cre­at­ed by Emanuel's allies in 2015, spent $50,000 on tele­vi­sion and dig­i­tal ads sup­port­ing city coun­cil can­di­dates aligned with May­or Emanuel. This mon­ey came in addi­tion to the at least $620,000 that Chica­go for Rahm Emanuel, the mayor's cam­paign fund, donat­ed to 28 sit­ting alder­men, accord­ing to the Chica­go Tri­bune.
Being vast­ly out­spent didn't stop chal­lengers like DSA-backed Vasquez in the 40th Ward. An AT&T man­ag­er with a back­ground in the city's hip-hop com­mu­ni­ty as well as com­mu­ni­ty orga­niz­ing with Reclaim Chica­go, Vasquez beat 36-year incum­bent Pat O'Connor. Last week alone, O'Connor received $74,826 from Chica­go For­ward, accord­ing to the Chica­go Tri­bune. With the city council's sec­ond longest tenure, O'Connor's his­to­ry of oppos­ing pro­gres­sive changes, most notably under May­or Harold Wash­ing­ton, came under fire. O'Connor has also been accused of enact­ing zon­ing changes that favor his wife's real estate busi­ness.
Else­where in the city, oth­er can­di­dates of col­or bust­ed seem­ing­ly unbreak­able polit­i­cal dynas­ties, cre­at­ing a his­tor­i­cal­ly diverse city coun­cil. In the large­ly His­pan­ic 33rd Ward, demo­c­ra­t­ic social­ist Rossana Rodríguez-Sanchez end­ed the night ahead of incum­bent Deb Mell, who was appoint­ed by Emanuel after her father and for­mer Ald. Richard Mell stepped down in 2013. The Mells have long served as a pow­er­ful polit­i­cal fam­i­ly in the city, and Rodríguez-Sanchez's poten­tial vic­to­ry stands as a shot across the bow to the machine.
Embat­tled 14th Ward Ald. Ed Burke won re-elec­tion in Feb­ru­ary despite fac­ing fed­er­al cor­rup­tion charges for using his city coun­cil seat to spur busi­ness for his pri­vate law firm. In con­trast, Ald. Willie Cochran left his 20th ward seat open for the first time in over 10 years after he was arraigned with fed­er­al crim­i­nal charges in Decem­ber 2016. As the future loca­tion of the Oba­ma Pres­i­den­tial Cen­ter, the ward's race was crowd­ed, but com­mu­ni­ty orga­niz­er and teacher Jeanette Tay­lor claimed vic­to­ry in Tuesday's run-off elec­tion. The DSA-endorsed Tay­lor has his­to­ry gal­va­niz­ing her com­mu­ni­ty, whether it be lead­ing a hunger strike to pre­vent the clos­ing of Wal­ter H. Dyett High School or protest­ing to demand a South Side trau­ma cen­ter for vic­tims of gun violence.
Ald. Dan­ny Solis in the 25th Ward was him­self embroiled in the Burke scan­dal, and has been miss­ing in action since reports came out in Jan­u­ary show­ing that he wore an FBI wire to record the 14th Ward alder­man. Solis will be replaced by Byron Sig­cho-Lopez, anoth­er DSA-endorsed can­di­date who beat out the Chica­go For­ward-backed Alex Aceve­do. An anti-gen­tri­fi­ca­tion activist, Sig­cho-Lopez and oth­er pro­gres­sive can­di­dates spoke at City Hall last week about Chica­go Forward's last-ditch spend­ing effort. As quot­ed in the Chica­go Tri­bune, Sig­cho-Lopez said, ​"We're going to move for­ward. Let's not pre­tend these politi­cians are progressives."
Not all pro­gres­sive new­com­ers were suc­cess­ful, often los­ing to incum­bents who sup­port­ed Emanuel's vision for the police depart­ment. On the Feb­ru­ary bal­lot, 37th Ward Ald. Emma Mitts scored a reelec­tion bid despite strong resis­tance, includ­ing from her oppo­nent Tara Stamps, a Chica­go Pub­lic Schools teacher and com­mu­ni­ty orga­niz­er. Mitts rep­re­sents the area where the pro­posed police acad­e­my would be locat­ed and has been a vocal sup­port­er of the project despite local push­back. In the 15th Ward, for­mer CPD offi­cer Rafael Yañez ran on a police reform plat­form, but failed to oust incum­bent and Emanuel ally Ray­mond Lopez. In the 30th Ward, Jes­si­ca Gutier­rez, daugh­ter of for­mer Rep. Luis Gutier­rez, lost to incum­bent Ariel Reboyras, who as the chair of the Pub­lic Safe­ty Com­mit­tee spear­head­ed the Emanuel administration's con­tentious police reform.
Still, the 2019 elec­tions prove that Chicagoans want elect­ed offi­cials who not only rep­re­sent their com­mu­ni­ties, but also intend to tack­le the city's most press­ing social, eco­nom­ic and envi­ron­men­tal issues. While it will take more than a four-year term to reverse decades of back­door deals favor­ing the city's most priv­i­leged res­i­dents at the expense of its most dis­en­fran­chised, this new left-wing polit­i­cal wave pro­vides hope for pro­gres­sive — and demo­c­ra­t­ic social­ist — can­di­dates, both local­ly and nationally.
Han­nah Steinkopf-Frank
is a Chica­go-based free­lance writer and pho­tog­ra­ph­er. Her work has appeared in the Chica­go Tri­bune, Atlas Obscu­ra, Bitch Media, the Colum­bia Jour­nal­ism Review, JSTOR Dai­ly and Paper Mag­a­zine, among others.