Scabby the Rat Is Under Attack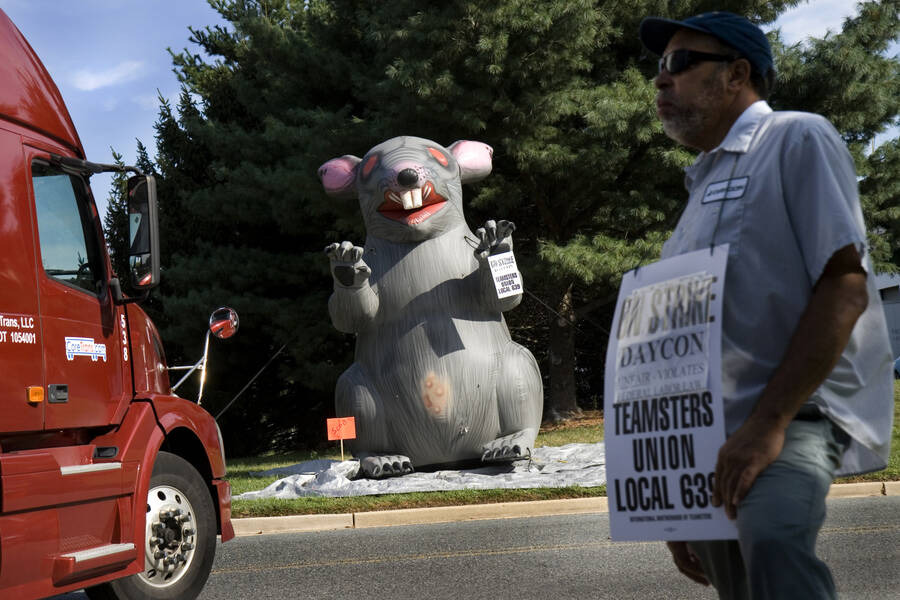 The Trump era presents unions with a range of new threats to their sur­vival, includ­ing the 2018 Janus Supreme Court deci­sion revok­ing the right of pub­lic sec­tor unions to col­lect dues from non­mem­bers. This ero­sion of union pro­tec­tions is being met with large-scale protests and grass­roots orga­niz­ing, from pick­et­ing school teach­ers to strik­ing ride-share dri­vers. But as bat­tles over union rights tran­spire at the local and fed­er­al lev­els, an unex­pect­ed fig­ure has come into focus: a giant inflat­able rodent.
In the late 20th cen­tu­ry, Scab­by the Rat was pop­u­lar­ized in the indus­tri­al Mid­west and grew into a sym­bol of union sol­i­dar­i­ty, show­ing up at protests around the coun­try and the world. Stand­ing as large as 25 feet tall with an aggres­sive facial expres­sion, claws ready to fight and a stom­ach cov­ered in inflamed scabs, Scab­by is an effec­tive tac­tic to force nego­ti­a­tion and draw media cov­er­age while sham­ing those who vio­late strikes. The rat's con­tin­ued effec­tive­ness is a tes­ta­ment to the impor­tance of work­place orga­niz­ing, par­tic­u­lar­ly in an era of his­tor­i­cal­ly low union par­tic­i­pa­tion. The year 2018 marked the low­est rate of union den­si­ty, or the per­cent­age of union­ized work­ers, since the Bureau of Labor Sta­tis­tics revamped its data report­ing process in 1964.
Now, the Nation­al Labor Rela­tions Board (NLRB), which gov­erns the pri­vate sec­tor, is try­ing to lim­it Scabby's use as part of a wave of anti-union deci­sions by busi­ness-friend­ly Repub­li­can mem­bers. As a senior NLRB offi­cial recent­ly told Bloomberg Law, the Trump-appoint­ed Gen­er­al Coun­sel Peter Robb ​"wants to find it unlaw­ful to pick­et, strike or hand­bill with the rat present." (The NLRB did not return requests for com­ment.) The same offi­cial told Bloomberg that Robb ​"hates the rat."
In Decem­ber, Robb instruct­ed NLRB attor­neys to revive a Scab­by com­plaint in Illi­nois involv­ing Done­gal Exca­vat­ing and Union of Oper­at­ing Engi­neers Local 150. Local 150 spokesman Ed Maher said that despite Repub­li­can con­trol of the NLRB — Repub­li­cans cur­rent­ly hold three of the five Board seats with one vacan­cy — it will be a hur­dle to over­turn Board precedent.
"He [Robb] has prob­a­bly spent his career on the side of employ­ers who've been tar­get­ed by protests like this," said Maher. ​"So he prob­a­bly has a very neg­a­tive per­son­al feel­ing toward Scab­by, as indi­cat­ed by that quote [in the Bloomberg article]."
Local 150 Gen­er­al Coun­sel Dale Pier­son esti­mat­ed Scab­by has been used thou­sands of times by the union. On a giv­en day, up to 10 rats might be deployed to work­place pick­ets for issues includ­ing con­tract dis­putes, work­ing con­di­tions, wages and ben­e­fits. Pier­son said Local 150 has faced many chal­lenges from local gov­ern­ments over the years, but Scab­by has passed muster as pro­tect­ed First Amend­ment speech.
Busi­ness­es par­tic­u­lar­ly object to using Scab­by in sec­ondary boy­cotts. In these cas­es, work­ers don't pick­et their own employ­ers, but instead exert pres­sure through tar­get­ing com­pa­nies con­tract­ed with the busi­ness­es. For exam­ple, pick­et­ing and strik­ing trade unions often place Scab­by inflat­a­bles near busi­ness­es that hire the union employ­er for con­struc­tion pur­pos­es. Unlike in boy­cotts against the pri­ma­ry firm, under the Nation­al Labor Rela­tions Act (NLRA), coer­cive and obstruc­tive actions against sec­ondary employ­ers are not pro­tect­ed activities.
Orga­nized labor rep­re­sen­ta­tives argue that under NLRA reg­u­la­tions, unions are held to stricter guide­lines con­cern­ing free speech pro­tec­tions than pri­vate sec­tor busi­ness or oth­er protest­ing enti­ties. Local 150 Gen­er­al Coun­sel Pier­son said recent­ly-set First Amend­ment prece­dent, such as the 2010 Cit­i­zens Unit­ed and 2017 Mas­ter­piece Cakeshop deci­sions, sug­gest a dou­ble stan­dard is being exer­cised against unions for con­tent- and speak­er-based discrimination.
"If the West­boro [Bap­tist] Church can pick­et vet­er­ans' funer­als — Amer­i­can ser­vice peo­ple who've been killed in Iraq or Afghanistan — because they're protest­ing gays in the mil­i­tary, we can't put up an inflat­able rat?" said Pier­son. ​"And by the way, what's coer­cive about the inflat­able rat? Let's remem­ber he's full of air. He does­n't talk. I mean, he's a balloon."
Rut­gers Uni­ver­si­ty law pro­fes­sor James Pope said lim­its placed on sec­ondary boy­cotts for orga­nized labor efforts impact unions' effec­tive­ness, as these sorts of actions are essen­tial labor tac­tics. He high­light­ed the Coali­tion of Immokalee Work­ers, a com­mu­ni­ty-based orga­ni­za­tion of farm­work­ers who have led suc­cess­ful sec­ondary boy­cott cam­paigns against major fast food com­pa­nies for using their employer's tomatoes.
"Not very many peo­ple have strong strike pow­er any­more, but if you're a work­er who can be eas­i­ly replaced, sec­ondary boy­cotts are often cru­cial," he said. ​"Scab­by the Rat is often deployed at loca­tions where the protest can't be lim­it­ed to the par­tic­u­lar employ­er that you have in dis­pute with."
Pope said Gen­er­al Coun­sel Robb is try­ing to ​"move that line over and say things that used to be con­sid­ered more like leaflet­ing, more like pure speech, are now going to be con­sid­ered more like mixed speech and con­duct," which the NLRA does not pro­tect. Seat­tle Uni­ver­si­ty con­sti­tu­tion­al and labor law pro­fes­sor Char­lotte Gar­den said that if a case reach­es the fed­er­al courts, it might bring the NLRB and the con­ser­v­a­tive-dom­i­nat­ed Supreme Court into conflict.
"Cre­at­ing a new oppor­tu­ni­ty for the Court to con­front the sort of cramped First Amend­ment treat­ments that [unions] get might actu­al­ly result in an expan­sion of union First Amend­ment rights," Gar­den said, adding that the court has ​"been fair­ly absolute about peo­ple's rights to engage in activ­i­ties like pick­et­ing. It's hard to imag­ine how or why there would be a par­tic­u­lar carve out for unions."
As the deci­sion over Scab­by and oth­er union prac­tices play out, look­ing at the rat's his­to­ry reveals how the NLRB and labor law has always been enmeshed with par­ti­san politics.
Local 150 first had humans dress in rat cos­tumes (which proved too hot and uncom­fort­able) and devel­oped Scab­by in the fall of 1988 to ​"iden­ti­fy unscrupu­lous con­trac­tors to the pub­lic," said spokesman Maher. They held a nam­ing con­test for Scab­by (the win­ner com­ing from the prac­tice of ​"scab" labor) and main­tained a fleet of ​"rat patrol" cars paint­ed yel­low. Around the same time, the Illi­nois-based Dis­trict Coun­cil 1 of the Inter­na­tion­al Union of Brick­lay­ers and Allied Craft­work­ers start­ed using inflat­able rats, as detailed in a 2013 Vice fea­ture by Sarah Jaffe. Scab­by was brought to life by Big Sky Bal­loons and Search­lights, which has since cre­at­ed oth­er union fig­ures like the ​"Fat Cat," ​"Greedy Pig" and Bull Dog ​"Bul­ly." Dis­trict Coun­cil 1 Pres­i­dent James Allen said Scab­by is more effec­tive than the pick­et­ing signs they tra­di­tion­al­ly relied on.
"No one real­ly paid much atten­tion," said Allen. ​"But when you blow up a 14-foot rat, it gets the pub­lic's atten­tion and also gets the contractor's atten­tion or the developer's atten­tion and they don't like it."
Allen described Scab­by as the union's ​"head mas­cot," and recalled ral­lies where trade unions came togeth­er, dis­play­ing upwards of 25 Scab­bys. But he said Dis­trict Coun­cil 1 no longer uses the inflat­able in instances that don't legal­ly qual­i­fy as pri­ma­ry pick­et­ing, such as ban­ner­ing or dis­trib­ut­ing infor­ma­tion to the pub­lic, known as handbilling.
In 2011, the NLRB under Chair­man Wilma Lieb­man ruled that dis­play­ing Scab­by at sec­ondary employ­ers was pro­tect­ed under the NLRA. The Board's opin­ion in Sheet Met­al Work­ers Local 15 stat­ed, "[Scab­by] cer­tain­ly drew atten­tion to the Union's griev­ance and cast asper­sions on [the con­trac­tor], but we per­ceive noth­ing in the loca­tion, size, or fea­tures of the bal­loon that were like­ly to fright­en those enter­ing the hos­pi­tal, dis­turb patients or their fam­i­lies, or oth­er­wise inter­fere with the busi­ness of the hospital."
The Oba­ma-era NLRB cement­ed pro­tec­tions for many employ­ees such as grad­u­ate stu­dents. In 2015, the Board also secured a vic­to­ry for unions when it expand­ed the def­i­n­i­tion of ​"joint employ­er" under the Act. The rul­ing there­by extend­ed statu­to­ry rights to employ­ees to engage in bar­gain­ing with con­trac­tors, who often attempt to skirt lia­bil­i­ty in dis­putes through webs of sub­con­tract­ing and oth­er sec­ondary employ­ment relationships.
But now, the Trump-appoint­ed NLRB threat­ens these advances. Grad­u­ate stu­dents at the Uni­ver­si­ty of Chica­go, Yale and Boston Col­lege with­drew their case wor­ried the Trump-appoint­ed NLRB would over­turn prece­dent. Last year, the NLRB reversed the ​"joint employ­er" rule, but the U.S. Court of Appeals for the D.C Cir­cuit affirmed the Oba­ma rule, stat­ing Board mem­ber William Emmanuel did not recuse him­self despite a poten­tial con­flict of interest.
Among union advo­cates, the recent shock of media cov­er­age has brought renewed sup­port for Scab­by. The hash­tag #SaveScab­by made the rounds on social media. Pop­u­lar Twit­ter account @ScabbyTheRat shared, ​"Three hours after find­ing out #NLRB coun­sel Peter Robb intends to get rid of me, I picked up over 1.5% MORE fol­low­ers. Biggest sin­gle day ever. I've got­ta ask: is there any­thing more reli­able than the eter­nal incom­pe­tence of Trump appointees?"
The per­son behind @ScabbyTheRat wish­es to stay anony­mous. In an email inter­view they said they help work­ers find local unions and use Scab­by ​"to stand up for the for­got­ten peo­ple who cre­ate all the value."
"For decades work­ing peo­ple have known Scab­by as an inter­na­tion­al sym­bol of protest, of their right to self-defense," they wrote. ​"On Twit­ter, I've lent my own nat­ur­al voice to the account, and I think the voice works in part because I'm a work­ing-class tech­ni­cian by trade and a free­lance writer."
Moshe Mar­vit, a lawyer and fel­low with The Cen­tu­ry Foun­da­tion, said no mat­ter how the Board rules on Scab­by, his fate could end up in the fed­er­al courts, which are increas­ing­ly filled with Trump-appoint­ed judges. But whether Scab­by is con­sid­ered a coer­cive form of pick­et­ing or a beloved fig­ure of col­lec­tive action pro­tect­ed as free speech, he's cement­ed him­self in the 21st cen­tu­ry union debate.
"What [Scab­by] sig­nals is that there is a labor dis­pute here, so I think that employ­ers, busi­ness­es they sim­ply don't want that," Mar­vit said, adding, ​"Peo­ple feel real affec­tion toward the rat because it says some­thing. It's a sign of pow­er that they can do this. I think that's why Trump's NLRB is now try­ing to con­sid­er ban­ning it because it gives work­ers a form of power."
Han­nah Steinkopf-Frank
is a Chica­go-based free­lance writer and pho­tog­ra­ph­er. Her work has appeared in the Chica­go Tri­bune, Atlas Obscu­ra, Bitch Media, the Colum­bia Jour­nal­ism Review, JSTOR Dai­ly and Paper Mag­a­zine, among others.