In Georgia, Brian Kemp Put on a Master Class in Voter Suppression
Secretary of State Brian Kemp's shameful voter suppression tactics led to 53,000 registrations being put on hold, 70% of whom were African Americans.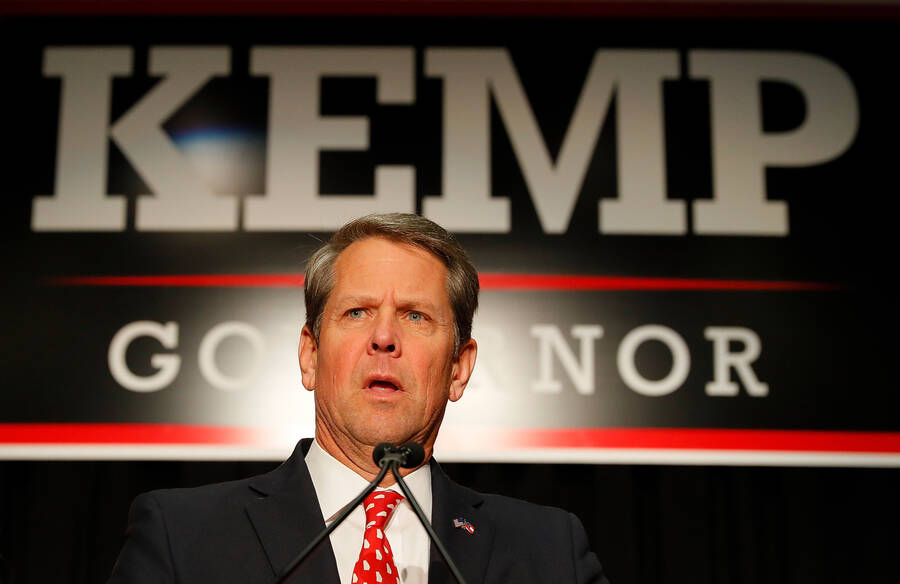 As of 8am today, Novem­ber 7, the Geor­gia gov­er­nor's race remains extreme­ly close, with GOP can­di­date Bri­an Kemp hold­ing onto a slim lead over demo­c­rat Stacey Abrams. While it seems like­ly that he will eke out a vic­to­ry in the state, the way he achieved this vic­to­ry involved a style of vot­er sup­pres­sion often uti­lized by despots and dictators.
What Kemp did in Georgia was perhaps the most shameless display of voter suppression we've seen in decades.
This is not to say that vot­er sup­pres­sion is a new tac­tic—it isn't. And this is not to say that vot­er sup­pres­sion is not ram­pant through­out the coun­try cur­rent­ly—it is. But what Kemp did in Geor­gia was per­haps the most shame­less dis­play we've seen in decades.
Bri­an Kemp is cur­rent­ly Geor­gia's sec­re­tary of state, which means he is in charge of the elec­tion he's run­ning in. Giv­en the obvi­ous con­flict of inter­est, one might assume that Kemp would resign or, at the very least, attempt to sep­a­rate him­self from the elec­tion so as to not appear as though he is using his pow­er to attain vic­to­ry. One would be dead wrong in that assump­tion. Instead, Kemp decid­ed to go full-on auto­crat, refus­ing to acknowl­edge any poten­tial con­flicts of inter­est and bar­rel­ing for­ward using his office as a vicious tool for vot­er suppression.
Last year, Kemp purged over half-a-mil­lion vot­ers from the rolls claim­ing that they had moved from the state. An inves­ti­ga­tion by Greg Palast and led by Cohere­One's John Lenser found that 340,134 peo­ple had­n't moved. This tac­tic, known as ​"purge by post­card," is often applied by GOP lead­ers attempt­ing to lim­it vot­er par­tic­i­pa­tion. Palast details the process in Truthout, but the basic idea is sim­ple: You receive a post­card in the mail, a post­card that could eas­i­ly be con­fused with junk mail, and if you do not fill out that post­card and return it, you're purged from the rolls — that's it. The Truthout piece also points out that the ​"purge by post­card" process — and this will sur­prise no one who's been pay­ing atten­tion — tends to result in many African Amer­i­cans being purged.
But Kemp did­n't stop there. To ensure that Geor­gia would­n't be the first state in the coun­try to elect an African-Amer­i­can woman as their gov­er­nor, he announced Novem­ber 4, with zero evi­dence, that the democ­rats had attempt­ed to hack the state's vot­er reg­is­tra­tion sys­tem and that his office would be open­ing an inves­ti­ga­tion. He post­ed it front-and-cen­ter on the state depart­men­t's web­site under the head­line: ​"After Failed Hack­ing Attempt, SOS Launch­es Inves­ti­ga­tion into Geor­gia Demo­c­ra­t­ic Par­ty." Fol­low­ing the announce­ment, many Geor­gians called for Kemp to resign, but he again refused.
This was­n't the first time Kemp said Geor­gia's vot­ing sys­tem had been hacked. In Decem­ber 2016, Kemp said the Depart­ment of Home­land Secu­ri­ty attempt­ed to hack into Geor­gia's vot­ing data­base. A fed­er­al review found that no such hack­ing occurred.
Even though Kem­p's most recent claim of hack­ing was unfound­ed, one would think he would do every­thing in his pow­er to secure the vot­ing sys­tem in his state for the future. Again, one would be dead wrong. Geor­gia's elec­tion secu­ri­ty is one of the worst in the coun­try, and yet Kemp declined help from the Depart­ment of Home­land Secu­ri­ty on this front.
Kemp's attempts to sup­press vot­ers didn't stop there. He also tried to use what's known as the ​"exact match" require­ment which would purge a vot­er for incon­sis­ten­cies such as a mis­placed hyphen, a dif­fer­ence in an accent mark, or the absence of a mid­dle ini­tial. In oth­er words, every­thing needs to match exact­ly on all of your forms or you can't vote. This led to 53,000 reg­is­tra­tions being put on hold, 70% of whom were African Amer­i­cans.
On elec­tion day there were reports of three-hour-plus wait times as well as machine mal­func­tions, and a lack of pow­er cords to run the machines in Snel­lville, Geor­gia, which has a high­er than aver­age African-Amer­i­can population.
Kemp did­n't even both­er to hide any of his actions. He used his office to com­mit vot­er sup­pres­sion through pro­pa­gan­da, loop­holes and out­right lies. He put on a dis­grace­ful mas­ter­class in vot­er sup­pres­sion and his lega­cy as gov­er­nor should be for­ev­er taint­ed by the well-worn, white suprema­cist tac­tics he employed.
Jesse Mechan­ic
is the found­ing edi­tor of The Over­grown and has con­tributed to Truthout, Huff­Post and numer­ous oth­er pub­li­ca­tions. He's appeared on C‑Span's The Wash­ing­ton Jour­nal, Colum­bia Uni­ver­si­ty's #Dis­rup­tive, Human­i­ty in the Head­lines and This Is Hap­pen­ing. Fol­low him on Twit­ter: @Jmechanic.