Broken Eggs, But No Omelet
All austerity has wrought in Europe is a messy kitchen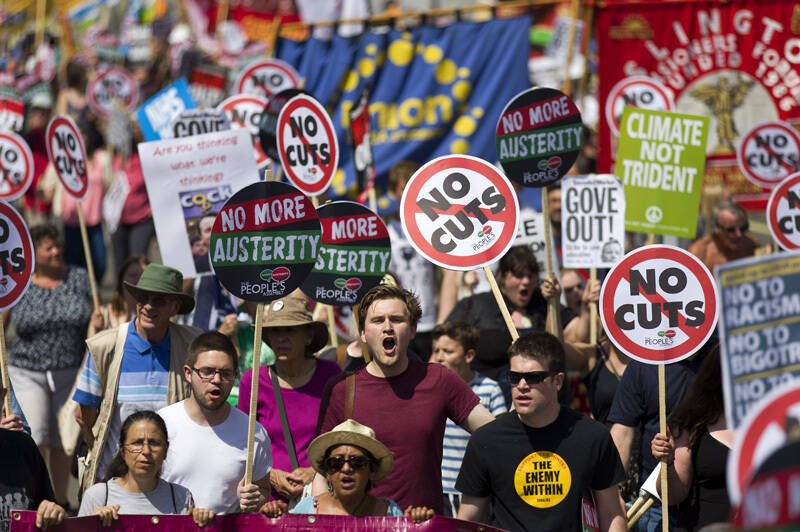 After the elec­toral tri­umph of the anti-immi­grant Euroscep­tic par­ties in France and the Unit­ed King­dom in May, many lib­er­als expressed their shock and wor­ry. How­ev­er, there was some­thing of a feigned naiveté in their indig­na­tion and won­der at the Right vic­to­ries. What one should won­der about is why it took the anti-immi­grant Right so long to make a deci­sive breakthrough.
Walter Benjamin's old thesis that behind every rise of fascism, there is a failed revolution, not only still holds today, but is more pertinent than ever.
When Jean-Marie Le Pen — founder of the French far-right Nation­al Front par­ty that tri­umphed in France's recent Euro­pean Par­lia­ment elec­tions — made a taste­less gas-cham­ber joke about a French pop singer of Jew­ish descent, his daugh­ter Marine Le Pen, the par­ty leader, pub­licly crit­i­cized him, there­by pro­mot­ing her image as her father's human face. It is irrel­e­vant whether this fam­i­ly con­flict is staged or real — the oscil­la­tion between the two faces, the bru­tal one and the civ­i­lized one, is what defines today's pop­ulist Right. Beneath the civ­i­lized pub­lic mask lurks its bru­tal, obscene real face, and the dif­fer­ence between the two is only the degree to which the hid­den face is open­ly exposed. Even if this under­side remains total­ly out of sight, it is there as a silent pre­sup­po­si­tion, as an invis­i­ble point of ref­er­ence. With­out her father's specter, Marine Le Pen doesn't exist.
There is no sur­prise in Marine Le Pen's mes­sage: It's the usu­al anti-elit­ist, work­ing-class patri­o­tism that tar­gets transna­tion­al finan­cial pow­ers and the alien­at­ed Brus­sels bureau­cra­cy. She rejects the unelect­ed Brus­sels finan­cial tech­nocrats who bru­tal­ly enforce the inter­ests of inter­na­tion­al finan­cial cap­i­tal and pro­hib­it indi­vid­ual states from pri­or­i­tiz­ing the wel­fare of their own peo­ple. She thus advo­cates a pol­i­tics that con­nects with the wor­ries and cares of ordi­nary work­ing peo­ple. Le Pen forms a clear con­trast to the ster­ile Euro­pean tech­nocrats: While her party's Fas­cist out­bursts are a thing of the past, she brings pas­sion back to pol­i­tics. Even some dis­ori­ent­ed left­ists suc­cumb to the temp­ta­tion to defend her. What unites Le Pen and her Euro­pean left­ist sym­pa­thiz­ers is their shared rejec­tion of a strong Europe and their desire for a return to sov­er­eign­ty of nation states.
The prob­lem with this shared rejec­tion is that, as they say in a joke, Le Pen is not look­ing for the caus­es of the dis­tress­es in the dark cor­ner where they real­ly are, but under the light, because one sees bet­ter there. Instead of try­ing to dis­cern the antag­o­nisms of today's glob­al cap­i­tal­ism, she focus­es on easy tar­gets like immi­grants whose pres­ence is vis­i­ble to every­one on our streets. Le Pen's mes­sage begins with the right premise: the fail­ure of the aus­ter­i­ty pol­i­tics prac­ticed by the Brus­sels experts. When the Roman­ian left­ist writer Panait Istrati vis­it­ed the Sovi­et Union in the 1930s, the time of the big purges and show tri­als, a Sovi­et apol­o­gist try­ing to con­vince him of the need for vio­lence against ene­mies of the state evoked the proverb, ​"You can't make an omelet with­out break­ing eggs." To which Istrati terse­ly replied: ​"All right. I can see the bro­ken eggs. Where's this omelet of yours?" We should say the same about the aus­ter­i­ty mea­sures imposed by the Brus­sels tech­nocrats: ​"OK, you are break­ing our eggs around Europe, but where's the omelet you have promised us?"
The least one can say about the cri­sis, which has last­ed since 2008, is that it offers proof that it is not the peo­ple but these experts them­selves who, for the most part, don't know what they are doing. In West­ern Europe we are wit­ness­ing a grow­ing inabil­i­ty of the rul­ing elite; they know less and less how to rule. Look at how Europe is deal­ing with the Greek cri­sis: putting pres­sure on Greece to repay debts, but at the same time ruin­ing its econ­o­my through imposed aus­ter­i­ty mea­sures and there­by mak­ing sure the Greek debt will nev­er be repaid. In June 2013 the Wall Street Jour­nal leaked inter­nal Inter­na­tion­al Mon­e­tary Fund (IMF) doc­u­ments show­ing that the eco­nom­ic dam­age to Greece from aggres­sive aus­ter­i­ty mea­sures may be as much as three times larg­er than pre­vi­ous­ly assumed, there­by can­celling out the IMF's pre­vi­ous pre­scrip­tion of aus­ter­i­ty as the solu­tion to the Euro­zone cri­sis. Now, after hun­dreds of thou­sands of jobs have been lost because of such ​"mis­cal­cu­la­tions," the IMF admits that forc­ing Greece and oth­er debt-bur­dened coun­tries to reduce their deficits too quick­ly would be counterproductive.
The ongo­ing EU pres­sure on Greece to imple­ment aus­ter­i­ty mea­sures fits per­fect­ly with what psy­cho­analy­sis calls super­ego. Super­ego is not an eth­i­cal agency prop­er, but a sadis­tic agent that bom­bards the sub­ject with impos­si­ble demands, obscene­ly enjoy­ing the subject's fail­ure to com­ply with them. How­ev­er, the para­dox of the super­ego is that, as Freud saw clear­ly, the more we obey its demands, the more we feel guilty. Imag­ine a vicious teacher who gives to his pupils impos­si­ble tasks, and then sadis­ti­cal­ly jeers when he sees their anx­i­ety and pan­ic. This is what is so ter­ri­bly wrong with the EU com­mands: They don't even give a chance to Greece; the Greek fail­ure is part of the game. It is as if the providers and care­tak­ers of debt accuse the indebt­ed coun­tries of not feel­ing enough guilt.
There­in resides the true mes­sage of the ​"irra­tional" pop­u­lar protests across Europe: The pro­test­ers know very well what they don't know; they don't pre­tend to have fast and easy answers. But what their instincts are telling them is nonethe­less true: that those in pow­er also don't know. In Europe today, the blind are lead­ing the blind. Aus­ter­i­ty pol­i­tics is not real­ly sci­ence, not even in a min­i­mal sense; it is much clos­er to a con­tem­po­rary form of super­sti­tion — a kind of gut reac­tion to an impen­e­tra­ble com­plex sit­u­a­tion, a blind reac­tion of ​"things went wrong, we are some­how guilty, we have to pay the price and suf­fer, so let's do some­thing that hurts and spend less." Aus­ter­i­ty is not ​"too rad­i­cal," as some left­ist crit­ics claim, but, on the con­trary, too super­fi­cial, an act of avoid­ing the true roots of the crisis.
The dark corner
Can the idea of a unit­ed Europe be reduced to the reign of the Brus­sels tech­nocrats? The proof that this is not the case is that the Unit­ed States and Israel, two nation-states obsessed with their sov­er­eign­ty, at some deep and often obfus­cat­ed lev­el per­ceive the EU as the ene­my. This per­cep­tion, kept under con­trol in the pub­lic polit­i­cal dis­course, explodes in its under­ground obscene dou­ble. In Israel, crazy sto­ries about the country's right to throw out Pales­tini­ans are ground­ed in Exo­dus, in par­tic­u­lar God's com­mand to the Jews, as they approached their land after 40 years of wan­der­ing around, to mer­ci­less­ly slaugh­ter the tribes that were liv­ing there. In the Unit­ed States, the vision is dou­bled by the extreme Right Chris­t­ian fun­da­men­tal­ist polit­i­cal vision with its obses­sive fear of the New World Order, as exem­pli­fied in the works of Tim LaHaye. The title of one of LaHaye's nov­els points in this direc­tion: The Europa Con­spir­a­cy. The ene­mies of the Unit­ed States are not Mus­lim ter­ror­ists; they are mere­ly pup­pets secret­ly manip­u­lat­ed by the Euro­pean sec­u­lar­ists — the true forces of the Antichrist who want to weak­en the Unit­ed States and estab­lish the New World Order under the dom­i­na­tion of the UN. In a way, they are right in this per­cep­tion: Europe is not just anoth­er geopo­lit­i­cal pow­er block, but a glob­al vision that is ulti­mate­ly incom­pat­i­ble with nation-states, a vision of a transna­tion­al order that guar­an­tees cer­tain rights (wel­fare, free­dom, etc.) to all the world's peo­ple. This is why the EU has the propen­si­ty to expand well beyond the fron­tiers of old Europe. This is why the Euro­pean dream still has uni­ver­sal appeal. This dimen­sion of the EU pro­vides the key to the so-called Euro­pean ​"weak­ness": there is a sur­pris­ing cor­re­la­tion between Euro­pean uni­fi­ca­tion and its loss of glob­al mil­i­tary-polit­i­cal power.
So what is wrong with the Brus­sels tech­nocrats? Not only their mea­sures and their false exper­tise, but even more their modus operan­di. The basic mode of pol­i­tics today is a depoliti­cized admin­is­tra­tion and coor­di­na­tion of inter­ests by an elite corps of experts. The only way to intro­duce pas­sion into this pol­i­tics-free zone, to active­ly mobi­lize peo­ple, is through fear: fear of immi­grants, fear of crime, fear of god­less sex­u­al deprav­i­ty, fear of the exces­sive State itself (with its bur­den of high tax­a­tion), fear of eco­log­i­cal cat­a­stro­phe, fear of harass­ment (polit­i­cal cor­rect­ness is the exem­plary lib­er­al form of the pol­i­tics of fear). Pro­gres­sive lib­er­als are, of course, hor­ri­fied by pop­ulist racism. How­ev­er, a clos­er look soon reveals how their mul­ti­cul­tur­al tol­er­ance of and respect for (eth­nic, reli­gious, sex­u­al) oth­ers share with anti-immi­grants a basic premise: the fear of oth­ers as clear­ly dis­cernible in the lib­er­als' obses­sion with harass­ment. Health harass­ment when I am dis­turbed by a shame­less smok­er, ver­bal harass­ment when I over­hear a low­er-class guy telling a dirty joke. … The Oth­er is fine, but only inso­far as his pres­ence is not intru­sive, inso­far as this Oth­er is not real­ly Other.
No won­der the top­ic of ​"tox­ic sub­jects" has gained ground recent­ly. The pred­i­cate ​"tox­ic" cov­ers a series of prop­er­ties that belong to total­ly dif­fer­ent lev­els — nat­ur­al, cul­tur­al, psy­cho­log­i­cal, polit­i­cal. A ​"tox­ic sub­ject" can be an immi­grant with a dead­ly dis­ease who should be quar­an­tined; a ter­ror­ist whose dead­ly plans should be pre­vent­ed and who belongs in Guan­tá­namo (an emp­ty zone exempt­ed from the rule of law); a fun­da­men­tal­ist ide­ol­o­gist who should be silenced because he is spread­ing hatred; or a par­ent, teacher or priest who abus­es and cor­rupts chil­dren. What is tox­ic is ulti­mate­ly the for­eign Neigh­bor as such, so that the ulti­mate aim of all rules of inter­per­son­al rela­tions is to quar­an­tine, or at least neu­tral­ize and con­tain, this tox­ic dimension.
On today's mar­ket, we find a whole series of prod­ucts deprived of their malig­nant prop­er­ty: cof­fee with­out caf­feine, cream with­out fat, beer with­out alco­hol. And the list goes on. The Col­in Pow­ell doc­trine of war­fare with no casu­al­ties (on our side, of course) becomes war­fare with­out war­fare; the con­tem­po­rary rede­f­i­n­i­tion of pol­i­tics as the art of expert admin­is­tra­tion becomes pol­i­tics with­out pol­i­tics; up to today's tol­er­ant lib­er­al mul­ti­cul­tur­al­ism, which becomes an expe­ri­ence of the Oth­er deprived of its Oth­er­ness. Is this detox­i­fi­ca­tion of the immi­grant Oth­er not the main point of Nigel Farage's Unit­ed King­dom Inde­pen­dence Par­ty pro­gram? Farage repeat­ed­ly empha­sizes that he is not against the pres­ence of for­eign work­ers in the Unit­ed King­dom — that he high­ly appre­ci­ates the hard-work­ing Poles and their con­tri­bu­tion to the British econ­o­my. This is the stance of the ​"civ­i­lized" anti-immi­grant Right: the pol­i­tics of detox­i­fied neigh­bor — good Poles ver­sus bad immi­grants. This vision of the detox­i­fi­ca­tion of the Neigh­bor presents a clear pas­sage from abject bar­barism to bar­barism with a human face. In what con­di­tions does it arise?
Wal­ter Benjamin's old the­sis that behind every rise of Fas­cism there is a failed rev­o­lu­tion not only still holds today, but is more per­ti­nent than ever. Right­ist lib­er­als like to point out sim­i­lar­i­ties between Left and Right ​"extrem­isms": Hitler's ter­ror and camps imi­tat­ed Bol­she­vik ter­ror, the Lenin­ist par­ty is today alive in al Qae­da. But does this not indi­cate how Fas­cism takes the place of a failed left­ist rev­o­lu­tion? Its rise is the Left's fail­ure, but simul­ta­ne­ous­ly proof that there was a rev­o­lu­tion­ary poten­tial that the Left was not able to mobi­lize. And does the same not hold for today's so-called ​"Islamo-Fas­cism"? Does the rise of rad­i­cal Islamism not cor­re­late with the dis­ap­pear­ance of the sec­u­lar Left in Mus­lim coun­tries? Today, when Afghanistan is por­trayed as the utmost Islam­ic fun­da­men­tal­ist coun­try, who remem­bers that, 36 years ago, it was a coun­try with strong sec­u­lar tra­di­tion, includ­ing a pow­er­ful Com­mu­nist par­ty that took pow­er there inde­pen­dent­ly of the Sovi­et Union? As Thomas Frank has shown, the same goes for Kansas: The very state that was, until the 1970s, the bedrock of rad­i­cal left­ist pop­ulism is today the bedrock of Chris­t­ian fun­da­men­tal­ism. And the same goes for Europe: The fail­ure of the left­ist alter­na­tive to glob­al cap­i­tal­ism has birthed anti-immi­grant populism.
Even in the case of clear­ly fun­da­men­tal­ist move­ments, one should be care­ful not to miss the social com­po­nent. The Tal­iban are reg­u­lar­ly pre­sent­ed as a fun­da­men­tal­ist Islamist group enforc­ing its rule with ter­ror — how­ev­er, when, in the spring of 2009, they took over the Swat Val­ley in Pak­istan, the New York Times report­ed that they engi­neered a class revolt that exploit­ed pro­found fis­sures between a small group of wealthy land­lords and their land­less ten­ants. If, by tak­ing advan­tage of the farm­ers' plight, the Tal­iban are rais­ing alarm about the risks to Pak­istan, which remains large­ly feu­dal, what pre­vents lib­er­al democ­rats in Pak­istan as well as the Unit­ed States from sim­i­lar­ly ​"tak­ing advan­tage" of this plight and try­ing to help the land­less farm­ers? The sad impli­ca­tion of this fact is that the feu­dal forces in Pak­istan are the ​"nat­ur­al ally" of the lib­er­al democ­ra­cy. And, mutatis mutan­dis (chang­ing only those things that need to be changed), the same goes for Farage and Le Pen: Their rise is the obverse of the demise of the rad­i­cal Left.
The les­son that fright­ened lib­er­als should learn is this: Only a rad­i­cal­ized Left can save what is worth sav­ing in the lib­er­al lega­cy. The sad prospect that lurks if this will not hap­pen is the uni­ty of the two poles — the rule of name­less finan­cial tech­nocrats wear­ing a mask of pop­ulist pseudo-passions.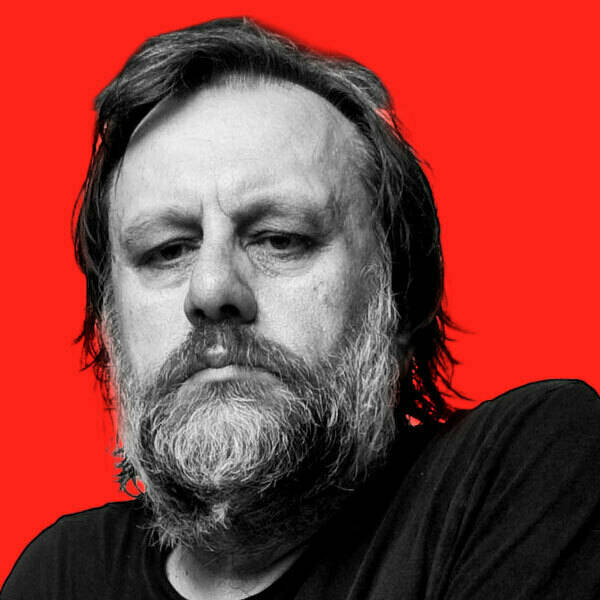 Slavoj Žižek
, a Sloven­ian philoso­pher and psy­cho­an­a­lyst, is a senior researcher at the the Insti­tute for Human­i­ties, Birk­beck Col­lege, Uni­ver­si­ty of Lon­don. He has also been a vis­it­ing pro­fes­sor at more than
10
uni­ver­si­ties around the world. Žižek is the author of many books, includ­ing Liv­ing in the End Times, First As Tragedy, Then As Farce, The Year of Dream­ing Dan­ger­ous­ly and Trou­ble in Paradise.