Slavoj Zizek: Lessons From the "Airpocalypse"
On China's smog problem and the ecological crisis.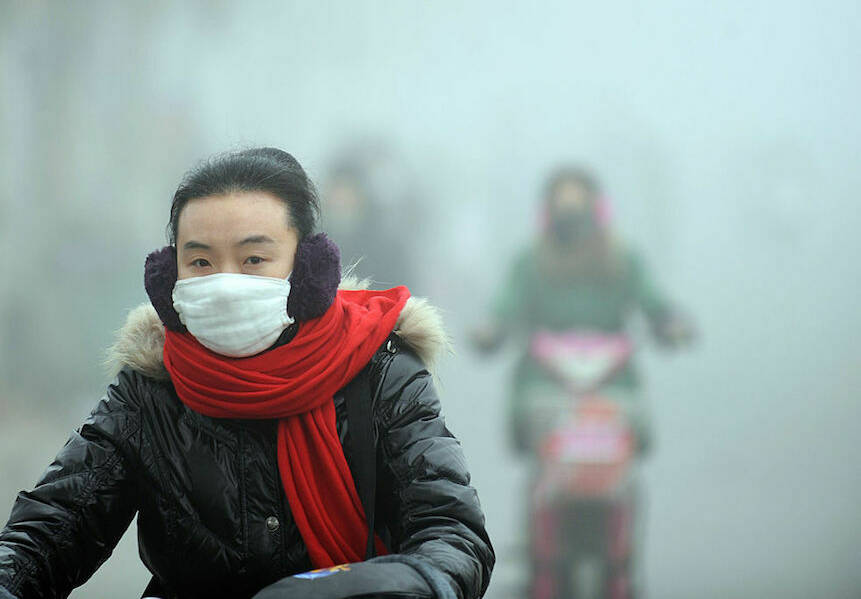 In Decem­ber 2016, smog in big Chi­nese cities became so thick that thou­sands fled into the coun­try­side, try­ing to reach a place where one could still see blue sky — this ​"air­poca­lypse" affect­ed half a bil­lion peo­ple. For those who remained, mov­ing around began to resem­ble life in a post-apoc­a­lyp­tic movie: peo­ple walk­ing around with large gas masks in a smog where even near­by trees were invis­i­ble. The class dimen­sion played a cru­cial role: Before the author­i­ties had to close air­ports because of the bad air, those who could afford an expen­sive flight aban­doned the affect­ed cities. And, to add insult to injury, Bei­jing's law­mak­ers con­sid­ered list­ing smog as a mete­o­ro­log­i­cal dis­as­ter, an act of nature, not an effect of indus­tri­al pol­lu­tion, to pre­vent blam­ing the author­i­ties for the cat­a­stro­phe. A new cat­e­go­ry was thus added to the long list of refugees from wars, droughts, tsunamis, earth­quakes, eco­nom­ic crises, etc. — smog refugees.
The airpocalypse in China is a clear indication of the limits of our predominant environmentalism, this strange combination of catastrophism and routine, of guilt-feeling and indifference.
Per­haps the most sur­pris­ing thing about this air­poca­lypse is its quick nor­mal­iza­tion: After the author­i­ties could no longer deny the prob­lem, they estab­lished pro­ce­dures that would some­how enable peo­ple to con­tin­ue their dai­ly life by way of fol­low­ing new rou­tines, as if the cat­a­stroph­ic smog were just a new fact of life. On des­ig­nat­ed days, you try to stay at home as much as pos­si­ble and, if nec­es­sary, walk around with masks. Chil­dren rejoice in the news that on many days schools are closed — an oppor­tu­ni­ty to stay at home and play. Mak­ing a trip to the coun­try­side, where the blue sky is still vis­i­ble, becomes a spe­cial occa­sion one looks for­ward to (there are already agen­cies in Bei­jing spe­cial­ized for such one-day trips). The impor­tant thing is not to pan­ic and to main­tain the appear­ance that, in spite of all trou­bles, life goes on …
Such a reac­tion is under­stand­able if we take into account that we are being con­front­ed by some­thing so com­plete­ly out­side our col­lec­tive expe­ri­ence that we don't real­ly see it, even when the evi­dence is over­whelm­ing. For us, that ​"some­thing" is a blitz of enor­mous bio­log­i­cal and phys­i­cal alter­ations in the world that has been sus­tain­ing us. In order to cope with this threat, our col­lec­tive ide­ol­o­gy is mobi­liz­ing mech­a­nisms of dis­sim­u­la­tion and self-decep­tion which go up to the direct will to igno­rance: ​"a gen­er­al pat­tern of behav­ior among threat­ened human soci­eties is to become more blind­ered, rather than more focused on the cri­sis, as they fail."
One thing is sure: An extra­or­di­nary social and psy­cho­log­i­cal change is tak­ing place right in front of our eyes — the impos­si­ble is becom­ing pos­si­ble. An event first expe­ri­enced as impos­si­ble but not real (the prospect of a forth­com­ing cat­a­stro­phe which, how­ev­er prob­a­ble we know it is, we do not believe will effec­tive­ly occur and thus dis­miss as impos­si­ble) becomes real but no longer impos­si­ble (once the cat­a­stro­phe occurs, it is ​"renor­mal­ized," per­ceived as part of the nor­mal run of things, as always-already hav­ing been pos­si­ble). The gap which makes these para­dox­es pos­si­ble is the one between knowl­edge and belief: we know the (eco­log­i­cal) cat­a­stro­phe is pos­si­ble, prob­a­ble even, yet we do not believe it will real­ly happen.
Recall the siege of Sara­je­vo in the ear­ly 1990s: The fact that a ​"nor­mal" Euro­pean city of half a mil­lion inhab­i­tants will be encir­cled, starved, reg­u­lar­ly bombed, its cit­i­zens ter­ror­ized by sniper fire, etc., and that this will go on for 3 years, would have been con­sid­ered unimag­in­able before 1992 — it would have been extreme­ly easy for the West­ern pow­ers to break the siege and open a small safe cor­ri­dor to the city. When the siege began, even the cit­i­zens of Sara­je­vo thought this is a short-term event, try­ing to send their chil­dren to safe­ty ​"for a week or two, till this mess is over." And then, very fast, the siege was ​"nor­mal­ized." This same pas­sage from impos­si­bil­i­ty to nor­mal­iza­tion (with a brief inter­me­di­ary stage of pan­icky numb­ness) is clear­ly dis­cernible in how the U.S. lib­er­al estab­lish­ment react­ed to Trump's vic­to­ry. It is also clear­ly at work in how state pow­ers and big cap­i­tal relate to eco­log­i­cal threats like the ice melt­down on the poles. The very same politi­cians and man­agers who, until recent­ly, dis­missed the fears of glob­al warm­ing as the apoc­a­lyp­tic scare-mon­ger­ing of ex-Com­mu­nists, or at least as pre­ma­ture con­clu­sions based on insuf­fi­cient evi­dence, assur­ing us that there is no rea­son for pan­ic, that, basi­cal­ly, things will go on as usu­al, are now all of a sud­den treat­ing glob­al warm­ing as a sim­ple fact, as part of the way things are ​"going on as usual" …
In July 2008, CNN was repeat­ed­ly show­ing a report ​"The Green­ing of Green­land," cel­e­brat­ing the new oppor­tu­ni­ties that the melt­ing of ice offers to Green­lan­ders — they can already grow veg­eta­bles in the open land, etc. The obscen­i­ty of this report is not only that it focus­es on the minor ben­e­fit of a glob­al cat­a­stro­phe; it also plays on the dou­ble mean­ing of ​"green" in our pub­lic speech ("green" for veg­e­ta­tion; ​"green" for eco­log­i­cal con­cerns), so that the fact that more veg­e­ta­tion can grow on the Green­land soil because of glob­al warm­ing is asso­ci­at­ed with the ris­ing of eco­log­i­cal aware­ness. Are such phe­nom­e­na not yet anoth­er exam­ple of how right Nao­mi Klein was when, in her Shock Doc­trine, she described the way glob­al cap­i­tal­ism exploits cat­a­stro­phies (wars, polit­i­cal crises, nat­ur­al dis­as­ters) to get rid of the ​"old" social con­straints and impose its agen­da on the slate cleared by the cat­a­stro­phe? Per­haps, the forth­com­ing eco­log­i­cal dis­as­ters, far from under­min­ing cap­i­tal­ism, will serve as its great­est boost.
What gets lost in this shift is the prop­er sense of what is going on, with all the unex­pect­ed traps the cat­a­stro­phe hides. For exam­ple, one of the unpleas­ant para­dox­es of our predica­ment is that the very attempts to coun­ter­act oth­er eco­log­i­cal threats may con­tribute to the warm­ing of the poles: the ozone hole helps shield the inte­ri­or of the Antarc­tic from glob­al warm­ing, so if it is healed, the Antarc­tic could quick­ly catch up with the warm­ing of the rest of the Earth… One thing at least is sure. In the last decades, it was fash­ion­able to talk about the pre­dom­i­nant role of ​"intel­lec­tu­al labor" in our postin­dus­tri­al soci­eties — how­ev­er, mate­ri­al­i­ty is now reassert­ing itself with a vengeance in all its aspects, from the forth­com­ing strug­gle for scarce resources (food, water, ener­gy, min­er­als) to envi­ron­men­tal pollution.
Even when we pro­fess the readi­ness to assume our respon­si­bil­i­ty for eco­log­i­cal cat­a­stro­phes, this can be a tricky strat­a­gem to avoid the true dimen­sions of a cat­a­sat­ro­phe. There is some­thing decep­tive­ly reas­sur­ing in this readi­ness to assume the guilt for the threats to our envi­ron­ment: We like to be guilty since, if we are guilty, then it all depends on us, we pull the strings of the cat­a­stro­phe, so we can also save our­selves sim­ply by chang­ing our lives. What is real­ly dif­fi­cult for us (at least for us in the West) to accept is that, as indi­vid­u­als, we are reduced to a pure­ly pas­sive role of those who can only sit and watch what our fate will be — to avoid such a sit­u­a­tion, we are prone to engage in a fran­tic obses­sive activ­i­ty, recy­cle old paper, buy organ­ic food, what­ev­er, just so that we can be sure that we are doing some­thing, mak­ing our con­tri­bu­tion — like a soc­cer fan who sup­ports his team in front of a TV screen at home, shout­ing and jump­ing from his seat, in a super­sti­tious belief that this will some­how influ­ence the outcome.
It is true that the typ­i­cal form of fetishist dis­avow­al apro­pos ecol­o­gy is: ​"I know very well (that we are all threat­ened), but I don't real­ly believe it (so I am not ready to do any­thing real­ly impor­tant like chang­ing my way of life)." But there is also the oppo­site form of dis­avow­al: ​"I know very well that I can­not real­ly influ­ence the process which can lead to my ruin (like a vol­canic out­burst), but it is nonethe­less too trau­mat­ic for me to accept this, so I can­not resist the urge to do some­thing, even if I know it is ulti­mate­ly mean­ing­less." Is it not for the same rea­son that we buy organ­ic food? Who real­ly believes that the half-rot­ten and expen­sive ​"organ­ic" apples are real­ly health­i­er? The point is that, even if they real­ly are health­i­er (and many of them prob­a­bly are), we buy them because by way of buy­ing them, we do not just buy and con­sume a prod­uct — we simul­ta­ne­ous­ly do some­thing mean­ing­ful, show our care and glob­al aware­ness, we par­tic­i­pate in a large col­lec­tive project.
We have to fin­ish with such games. The air­poca­lypse in Chi­na is a clear indi­ca­tion of the lim­its of our pre­dom­i­nant envi­ron­men­tal­ism, this strange com­bi­na­tion of cat­a­strophism and rou­tine, of guilt-feel­ing and indif­fer­ence. Ecol­o­gy is today one of the major ide­o­log­i­cal bat­tle­fields, with a whole series of strate­gies to obfus­cate the true dimen­sions of the eco­log­i­cal threat: (1) sim­ple igno­rance: It's a mar­gin­al phe­nom­e­non, not wor­thy of our pre­oc­cu­pa­tion, life (of cap­i­tal) goes on, nature will take care of itself; (2) sci­ence and tech­nol­o­gy can save us; (3) leave the solu­tion to the mar­ket (high­er tax­a­tion of the pol­luters, etc.); (4) super­ego pres­sure on per­son­al respon­si­bil­i­ty instead of large sys­temic mea­sures: Each of us should do what he/​she can — recy­cle, con­sume less, etc.; (5) maybe the worst of them all – worst in its ide­o­log­i­cal effects — is the advo­cat­ing of a return to nat­ur­al bal­ance, to a more mod­est, tra­di­tion­al life by means of which we renounce human hubris and become again respect­ful chil­dren of our Moth­er Nature.
Does the pre­dom­i­nant eco­log­i­cal dis­course not address us as a pri­ori guilty, indebt­ed to moth­er nature, under the con­stant pres­sure of the eco­log­i­cal super­ego-agency which address­es us in our indi­vid­u­al­ty: ​"What did you do today to repay your debt to nature? Did you put all news­pa­pers into a prop­er recy­cle bin? And all the bot­tles of beer or cans of Coke? Did you use your car where you could have used a bike or some means of pub­lic trans­port? Did you use air con­di­tion­ing instead of just open­ing wide the win­dows?" The ide­o­log­i­cal stakes of such indi­vid­u­al­iza­tion are eas­i­ly dis­cernible: I get lost in my own self-exam­i­na­tion instead of rais­ing much more per­ti­nent glob­al ques­tions about our entire indus­tri­al civ­i­liza­tion. Plus one should note how this cul­pa­bil­i­ti­za­tion is imme­di­ate­ly sup­ple­ment­ed by an easy way out: recy­cle, buy organ­ic food, use renew­able ener­gy, etc., and you no longer have to feel guilty, you can enjoy your life as usual.
Anoth­er trap to be avoid­ed is the mor­al­iz­ing anti-cap­i­tal­ism — all the talk about how cap­i­tal­ism is sus­tained by the ego­tist greed of indi­vid­ual cap­i­tal­ists for more pow­er and wealth. In actu­al cap­i­tal­ism, per­son­al greed is sub­or­di­nat­ed to the imper­son­al striv­ing of the cap­i­tal itself to repro­duce and to expand. One is thus almost tempt­ed to say that what we real­ly need is more, not less, enlight­ened ego­tism. Take the eco­log­i­cal threat: no pseu­do-ani­mistic love for nature is need­ed to act here, just a long-term ego­tist inter­est. The con­flict between cap­i­tal­ism and ecol­o­gy may appear to be a typ­i­cal con­flict between patho­log­i­cal ego­tis­tic-util­i­tar­i­an inter­ests and the prop­er­ly eth­i­cal care for the com­mon good of human­i­ty. Upon a clos­er look, it imme­di­ate­ly becomes clear that the sit­u­a­tion is exact­ly the oppo­site one: It is our eco­log­i­cal con­cerns that are ground­ed in the util­i­tar­i­an sense of sur­vival: They sim­ply stand for the enlight­ened self-inter­est, at its high­est for the inter­est of the future gen­er­a­tions against our imme­di­ate inter­est. The New Age spir­i­tu­al­ist notion of the sacred­ness of life as such, of the right of envi­ron­ment to its preser­va­tion, etc., plays no nec­es­sary role in our eco­log­i­cal aware­ness. If we are look­ing for the eth­i­cal dimen­sion in this entire affair, it is to be found in capitalism's uncon­di­tion­al com­mit­ment to its own ever-expand­ing repro­duc­tion: a cap­i­tal­ist who ded­i­cates him­self uncon­di­tion­al­ly to the cap­i­tal­ist self-expan­sive dri­ve is effec­tive­ly ready to put every­thing, includ­ing the sur­vival of human­i­ty, at stake, not for any ​"patho­log­i­cal" gain or goal, but just for the sake of the repro­duc­tion of the sys­tem as end-in-itself. Fiat prof­i­tus pereat mundus (let prof­its be made, though the world per­ish) is what we pre­sume to be its mot­to. This eth­i­cal mot­to is, of course, weird, if not out­right evil — how­ev­er, from a strict Kant­ian per­spec­tive, we should not for­get that what makes it repul­sive to us is our pure­ly ​"patho­log­i­cal" sur­vival­ist reac­tion: a cap­i­tal­ist, inso­far as he acts ​"in accor­dance with his notion," is some­one who faith­ful­ly pur­sues a uni­ver­sal goal, with­out regard for any ​"patho­log­i­cal" obstacles.
So what is to be done, as Lenin would have put it? In his What Hap­pened in the XXth Cen­tu­ry?, Peter Slo­ter­dijk pro­vides his own out­line of what is to be done in the XXIst cen­tu­ry, best encap­su­lat­ed in the titles of the first two essays in the book, ​"The Anthro­pocene" and ​"From the Domes­ti­ca­tion of Man to the Civ­i­liz­ing of Cultures."
"Anthro­pocene" des­ig­nates a new epoch in the life of our plan­et in which we, humans, can­not any longer rely on the Earth as a reser­voir ready to absorb the con­se­quences of our pro­duc­tive activ­i­ty: We can­not any longer afford to ignore the side effects (col­lat­er­al dam­age) of our pro­duc­tiv­i­ty, they can­not any longer be reduced to the back­ground of the fig­ure of human­i­ty. We have to accept that we live on a ​"Space­ship Earth," respon­si­ble and account­able for its con­di­tions. Earth is no longer the impen­e­tra­ble back­ground of our pro­duc­tive activ­i­ty, it emerges as a(nother) finite object that we can inad­ver­tent­ly destroy or trans­form to make it unliv­able. This means that, at the very moment when we become pow­er­ful enough to affect the most basic con­di­tions of our life, we have to accept that we are just anoth­er ani­mal species on a small plan­et – what enforces this accep­tance is our very glob­al destruc­tive pow­er. A new way to relate to our envi­rons is nec­es­sary once we real­ize this: no longer a hero­ic work­er express­ing his/​her cre­ative poten­tials and draw­ing from the inex­haustible resources from his/​her envi­rons but a much more mod­est agent col­lab­o­rat­ing with his/​her envi­rons, per­ma­nent­ly nego­ti­at­ing a tol­er­a­ble lev­el of safe­ty and stability.
Is the very mod­el of ignor­ing the col­lat­er­al dam­age not cap­i­tal­ism? What mat­ters in cap­i­tal­ist repro­duc­tion is the self-enhanc­ing cir­cu­la­tion focused on prof­it, and the col­lat­er­al dam­age done to the envi­rons not includ­ed into costs of pro­duc­tion is in prin­ci­ple ignored — even the attempts to take it into account through tax­a­tion (or by way of direct­ly putting a price tag on every nat­ur­al resource one uses, includ­ing air) can­not but mis­fire. So in order to estab­lish this new mode of relat­ing to our envi­rons, a rad­i­cal politi­co-eco­nom­ic change is nec­es­sary, what Slo­ter­dijk calls ​"the domes­ti­ca­tion of the wild ani­mal Cul­ture." Till now, each cul­ture edu­cat­ed and dis­ci­plined its own mem­bers and guar­an­teed civic peace among them in the guise of state pow­er, but the rela­tion­ship between dif­fer­ent cul­tures and states was per­ma­nent­ly under the shad­ow of poten­tial war, with each state of peace noth­ing more than a tem­po­rary armistice. As Hegel con­cep­tu­al­ized it, the entire eth­ic of a state cul­mi­nates in the high­est act of hero­ism, the readi­ness to sac­ri­fice one's life for one's nation-state, which means that the wild bar­bar­ian rela­tions between states serve as the foun­da­tion of the eth­i­cal life with­in a state. Is today's North Korea, with its ruth­less pur­suit of nuclear weapons and rock­ets to hit with them dis­tant tar­gets, not the ulti­mate car­i­ca­ture of this log­ic of uncon­di­tion­al Nation-State sovereignty?
The moment we ful­ly accept the fact that we live on a Space­ship Earth, the task that urgent­ly impos­es itself is that of civ­i­liz­ing civ­i­liza­tions them­selves, of impos­ing uni­ver­sal sol­i­dar­i­ty and coop­er­a­tion among all human com­mu­ni­ties, a task ren­dered all the more dif­fi­cult by the ongo­ing rise of sec­tar­i­an reli­gious and eth­nic ​"hero­ic" vio­lence and readi­ness to sac­ri­fice one­self (and the world) for one's spe­cif­ic Cause. The over­com­ing of cap­i­tal­ist expan­sion­ism, wide inter­na­tion­al coop­er­a­tion and sol­i­dar­i­ty should also be able to trans­form itself into an exec­u­tive pow­er ready to vio­late state sov­er­eign­ty, etc. Are these not all mea­sures des­tined to pro­tect our nat­ur­al and cul­tur­al com­mons? If they do not point towards com­mu­nism, if they do not imply a com­mu­nist hori­zon, then the term ​"com­mu­nism" has no mean­ing at all.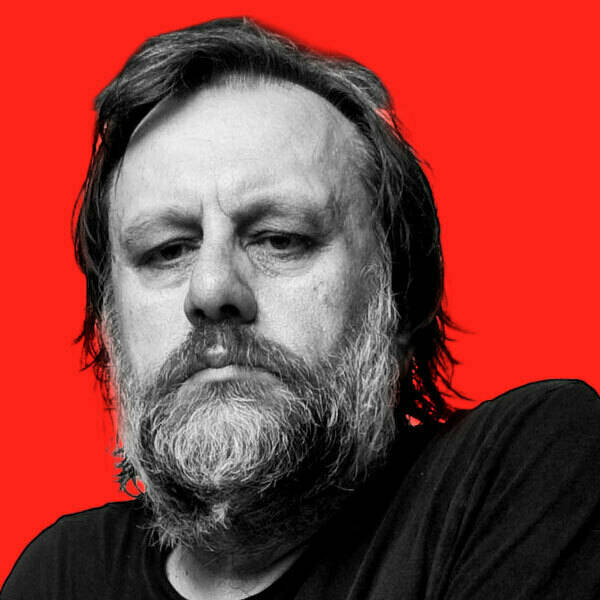 Slavoj Žižek
, a Sloven­ian philoso­pher and psy­cho­an­a­lyst, is a senior researcher at the the Insti­tute for Human­i­ties, Birk­beck Col­lege, Uni­ver­si­ty of Lon­don. He has also been a vis­it­ing pro­fes­sor at more than
10
uni­ver­si­ties around the world. Žižek is the author of many books, includ­ing Liv­ing in the End Times, First As Tragedy, Then As Farce, The Year of Dream­ing Dan­ger­ous­ly and Trou­ble in Paradise.