Slavoj Zizek: We Must Rise from the Ashes of Liberal Democracy
Trump is a threat to global stability—only a new Left international can beat him.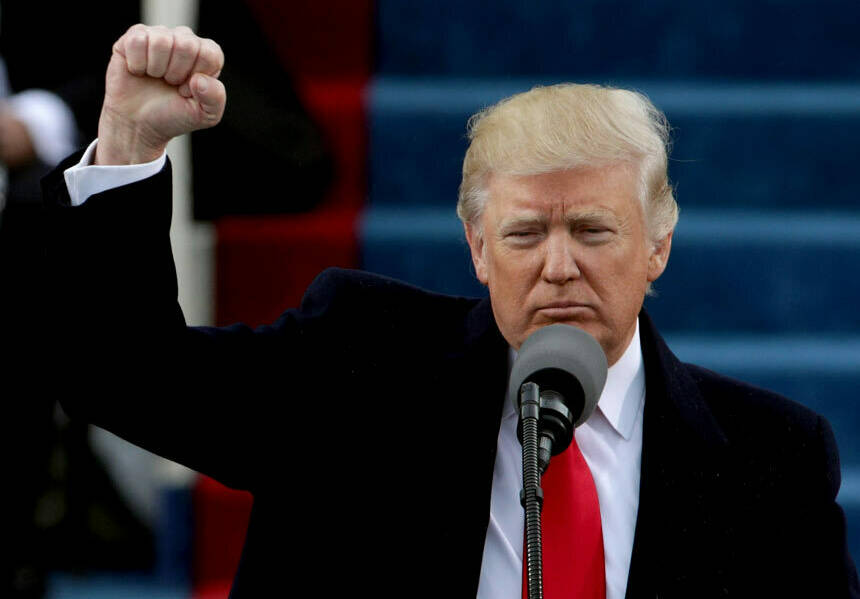 Don­ald Trump's Jan­u­ary 20 inau­gur­al address was ide­ol­o­gy at its purest, its sim­ple mes­sage rely­ing on a series of obvi­ous incon­sis­ten­cies. At its most ele­men­tary it sound­ed like some­thing that Bernie Sanders could have said: I speak for all you for­got­ten, neglect­ed and exploit­ed hard­work­ing peo­ple. I am your voice. You are now in pow­er. How­ev­er, beyond the obvi­ous con­trast between these procla­ma­tions and Trump's ear­ly nom­i­na­tions (Rex Tiller­son, the voice of exploit­ed, hard­work­ing peo­ple?), a series of clues give a spin to his messaging.
Trump talked about Wash­ing­ton elites, not about cap­i­tal­ists and big bankers. He talked about dis­en­gag­ing from the role of the glob­al police­man, but he promis­es the destruc­tion of Mus­lim ter­ror­ism. At oth­er times, he has said he will pre­vent North Kore­an bal­lis­tic tests and con­tain China's occu­pa­tion of South Chi­na Sea islands. So what we are get­ting is glob­al mil­i­tary inter­ven­tion­ism exert­ed direct­ly on behalf of Amer­i­can inter­ests, with no human-rights and-democ­ra­cy mask. Back in the 1960s, the mot­to of the ear­ly eco­log­i­cal move­ment was ​"Think glob­al­ly, act locally!"
Trump promis­es to do the exact oppo­site: ​"Think local­ly, act glob­al­ly." In the 20th cen­tu­ry, one need not pro­claim ​"Amer­i­ca first!" It was a giv­en. The fact that Trump pro­claimed it indi­cates that in the 21st cen­tu­ry Amer­i­can glob­al inter­ven­tion­ism will go on in a more bru­tal way. Iron­i­cal­ly, the Left, which has long crit­i­cized the U.S. pre­ten­sion to be the glob­al police­man, may begin to long for the old days when, in all its hypocrisy, the Unit­ed States imposed demo­c­ra­t­ic stan­dards onto the world.
Yet, the most depress­ing aspect of the post-elec­toral peri­od in the Unit­ed States is not Trump's poli­cies, but the Demo­c­ra­t­ic Par­ty establishment's reac­tion to its his­toric defeat: an oscil­la­tion between two extremes, the hor­ror at the Big Bad Wolf called Trump and its obverse, the nor­mal­iza­tion of the sit­u­a­tion, the idea that noth­ing extra­or­di­nary hap­pened. On the one hand, MSNBC's Chris Matthews said he detect­ed in Trump's inau­gur­al address some­thing ​"Hit­ler­ian." On the oth­er, Politico's John Bres­na­han report­ed that Nan­cy Pelosi ​"repeat­ed­ly brings up the events of a decade ago. For her, the les­son is clear — past is pro­logue. What worked before will work again. Trump and the Repub­li­cans will over­reach, and Democ­rats have to be ready to jump at the oppor­tu­ni­ty when they do."
In oth­er words, Trump's elec­tion is just anoth­er rever­sal in the nor­mal exchange of Repub­li­can and Demo­c­ra­t­ic pres­i­dents — Rea­gan, Bush, Clin­ton, Bush, Oba­ma and now Trump. Such a stance total­ly ignores the real mean­ing of Trump's elec­tion: the weak­ness­es of the Demo­c­ra­t­ic Par­ty that ren­dered this vic­to­ry pos­si­ble and the rad­i­cal restruc­tur­ing of the entire polit­i­cal space that it announces.
But what if his project of mod­er­ate pro­tec­tion­ism, large pub­lic works and job cre­ation, com­bined with anti-immi­grant secu­ri­ty mea­sures and a new per­vert­ed peace with Rus­sia, some­how works and gives some short-term results? That is what hor­ri­fied left lib­er­als real­ly fear: that Trump will some­how not be a catastrophe.
We should not suc­cumb to such pan­ic. Even if Trump will appear suc­cess­ful, the results of his pol­i­tics will be ambigu­ous at best for ordi­nary peo­ple, who will soon feel the pain of this suc­cess. The only way to defeat Trump— and to redeem what is worth sav­ing in lib­er­al democ­ra­cy — is to detach our­selves from lib­er­al democracy's corpse and estab­lish a new Left. Ele­ments of the pro­gram for this new Left are easy to imag­ine. Trump promis­es the can­cel­la­tion of the big free trade agree­ments sup­port­ed by Clin­ton, and the left alter­na­tive to both should be a project of new and dif­fer­ent inter­na­tion­al agree­ments. Such agree­ments would estab­lish pub­lic con­trol of the banks, eco­log­i­cal stan­dards, work­ers rights, uni­ver­sal health­care, pro­tec­tions of sex­u­al and eth­nic minori­ties, etc. The big les­son of glob­al cap­i­tal­ism is that nation states alone can­not do the job — only a new polit­i­cal inter­na­tion­al has a chance of bridling glob­al capital.
An old anti-Com­mu­nist left­ist once told me the only good thing about Stal­in was that he real­ly scared the big West­ern pow­ers, and one could say the same about Trump: The good thing about him is that he real­ly scares liberals.
After World War II, West­ern pow­ers respond­ed to the Sovi­et threat by focus­ing on their own short­com­ings, which led them to devel­op the wel­fare state. Will today's left-lib­er­als be able to do some­thing similar?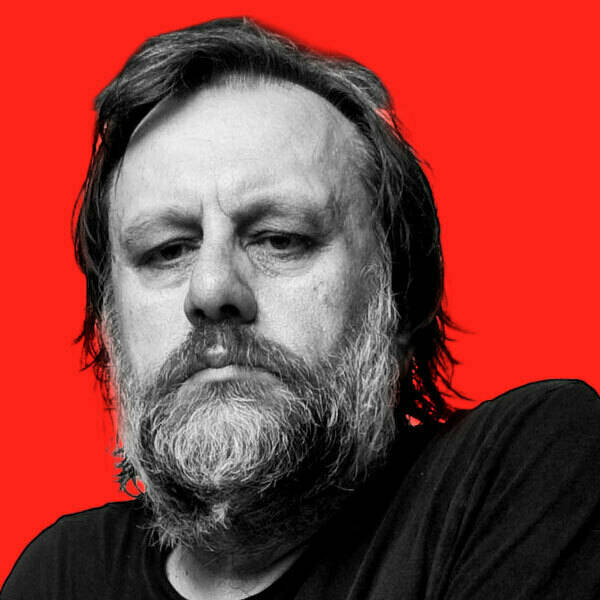 Slavoj Žižek
, a Sloven­ian philoso­pher and psy­cho­an­a­lyst, is a senior researcher at the the Insti­tute for Human­i­ties, Birk­beck Col­lege, Uni­ver­si­ty of Lon­don. He has also been a vis­it­ing pro­fes­sor at more than
10
uni­ver­si­ties around the world. Žižek is the author of many books, includ­ing Liv­ing in the End Times, First As Tragedy, Then As Farce, The Year of Dream­ing Dan­ger­ous­ly and Trou­ble in Paradise.