Brooklyn Sweet'N Low Workers Face Mass Layoffs To Make Way for Luxury Condos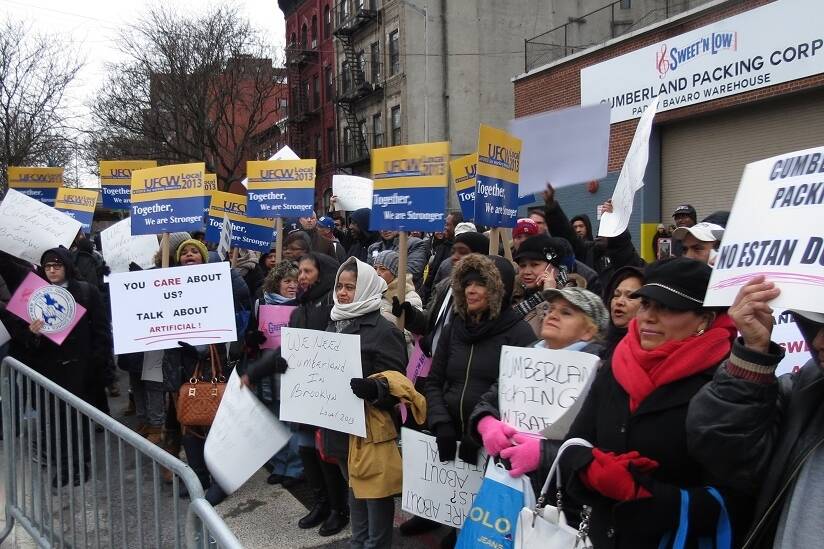 This post first appeared at Labor Notes.
The work­ers who make Sweet'N Low start­ed the new year with some bit­ter news. Their fac­to­ry — in ever-gen­tri­fy­ing Brook­lyn, New York — will shut down in the next few months, like­ly to make way for lux­u­ry condos.
"It was a com­plete blind­side," said Louis Mark Carotenu­to, pres­i­dent of Food and Com­mer­cial Work­ers (UFCW) Local 2013. Since Sep­tem­ber the union had been in nego­ti­a­tions with fam­i­ly-owned Cum­ber­land Pack­ing for a new col­lec­tive bar­gain­ing agreement.
At five build­ings in and near Brooklyn's Navy Yard, work­ers pro­duce, pack­age, and ship Sweet'N Low, Ste­via, Sug­ar in the Raw, and oth­er In the Raw prod­ucts, includ­ing a new line of beverages.
"Nev­er dur­ing the course of nego­ti­a­tions did they both­er to bring up com­pet­i­tive pres­sures," said Carotenu­to. ​"It's not about com­pe­ti­tion, it's about real estate value.
"They told us, ​'We sim­ply had an offer that we couldn't refuse,'" said Mis­cha Gaus, the local's polit­i­cal direc­tor (and a for­mer edi­tor of Labor Notes).
The com­pa­ny admits, accord­ing to the union, that the plant is still prof­itable. In fact, the con­tract there isn't near­ly as rich as oth­er union­ized sug­ar-pro­duc­ing facilities.
"I'm one of the work­ers who makes Sweet'N Low for your morn­ing cof­fee," said com­pound mix­er Jahan Khan, a bar­gain­ing com­mit­tee mem­ber, at a ral­ly four days after work­ers got the word. ​"I live up the street from the com­pa­ny. I want to stay there. But what future do we have, if our jobs disappear?"
RIS­ING RENTS
The major­i­ty of the 320 work­ers in the fac­to­ry are Lati­no immi­grants. Pack­ing depart­ment work­ers Glo­ria Felipe, Estela Pal­ma, and Maria Mer­az, who all came from Mex­i­co as teenagers, list­ed off the home coun­tries of some of their co-work­ers: ​"the Domini­can Repub­lic, Mex­i­co, Guatemala, Paraguay, Peru, Trinidad and Toba­go, Haiti."
Felipe came from Mex­i­co at 16 and has worked in this fac­to­ry for 44 years. Mer­az, who's put in 25 years, said she had just returned from vaca­tion when she heard the news: ​"I nev­er thought the com­pa­ny would one day shut its doors. It's a shock."
"It's been a good job," said Pal­ma. ​"They've always treat­ed us well and said we're a fam­i­ly. We're con­fused. Our fam­i­lies, and many sin­gle moth­ers, depend on this job."
Mechan­ic Esvin Mendez, from Guatemala, has worked here for 19 years. Although salaries increase with senior­i­ty, he still only makes $15 an hour — not enough, he says, giv­en ris­ing rents and the cost of rais­ing a family.
But Mendez is on the upper end of the wage scale. Accord­ing to UFCW, three-quar­ters of Cum­ber­land work­ers are paid less than $15 an hour, and there's an aver­age pay gap of $2.12 between men and women, who tend to have dif­fer­ent job titles. One-quar­ter make less than $10.
LAST FEW FACTORIES
The com­pa­ny plans to keep its exec­u­tive offices in Brook­lyn, but to move all blue-col­lar work out of the city.
The union sees Cumberland's move as part of a dev­as­tat­ing trend that's purg­ing the bor­ough of its Black and Brown res­i­dents. Most of the work­ers live in Brook­lyn and Queens, some of them in the thou­sands of units of pub­lic hous­ing around the cor­ner from the factory.
The union is fight­ing to keep these 320 jobs in Brook­lyn; this is one of the area's last big fac­to­ries. One strat­e­gy is to oppose any rezon­ing of Cumberland's prop­er­ties for real estate development.
A num­ber of local politi­cians pledged their sup­port at a Jan­u­ary 12 ral­ly. ​"We are not going to allow a rezon­ing here," said City Coun­cil­woman Lau­rie Cum­bo, ​"so that lux­u­ry con­dos can be built and so that peo­ple who do not look like you and me, and who didn't build Brook­lyn, can move in here. Your chil­dren and your grand­chil­dren deserve to live here."
New York City Pub­lic Advo­cate Tish James also promised to work with local elect­ed offi­cials to oppose any rezon­ing. She attacked the com­pa­ny for accept­ing $1.7 mil­lion in tax­pay­er sub­si­dies from the city. ​"From 2006 to 2012 your hand was open, and now you want to close the door."
Despite the sub­si­dies, ​"in our opin­ion, they've failed to rein­vest in the tech­nol­o­gy here and in the work­ers," said Carotenuto.
'

WE WANT TO STAY'
Local 2013 met with Cum­ber­land man­age­ment again Jan­u­ary 13. But the com­pa­ny is so far insist­ing only on bar­gain­ing over the closure's effects on work­ers, which could include the tim­ing of lay­offs or sev­er­ance pay.
The plant could close as lit­tle as 60 days after Jan­u­ary 14, when Work­er Adjust­ment Retrain­ing and Noti­fi­ca­tion (WARN) notices were sent out. While the com­pa­ny has pledged there will be no lay­offs until May, union offi­cials say they no longer trust Cumberland's word.
Nativi­dad Sanchez, from the Domini­can Repub­lic, is rais­ing a three-year-old and a nine-year-old on her job at the fac­to­ry. ​"We're from Brook­lyn, and we want to stay in Brook­lyn," she said.
"How would you feel if you gave so much of your life to a com­pa­ny and they said they're closing?"