The victory of conservative candidate Oscar Berger over left-wing opponent Alvaro Colom in Guatemala's run-off presidential election December 27 may be good for the Bush administration and big business but is disappointing for Guatemala's rural poor.

Berger, of the Grand National Alliance, received just more than 54 percent of the vote to Colom's 46 percent, completing an electoral process that stalled in November when none of the 11 candidates received the required 50 percent to win the election outright.

Only 47 percent of Guatemala's 5 million registered voters cast ballots, 11 percent less than in the initial race, but the election was considered a success nonetheless. Few incidents of violence or voter fraud, which plagued the run-up election, were reported in this, the nation's second democratic election since the end of its 36-year-long civil war in 1996.

Berger, a businessman, lawyer and mayor of Guatemala City throughout the '90s, swore to stay out of politics after his defeat four years ago but was persuaded to run for office by Guatemala's most powerful business interests.

Engineer and businessman Colom of the New National Alliance had the support of rural Mayans and vowed to help Guatemala's poor and prevent privatization of state companies.

Berger's pro-business and pro-free-trade agenda should boost relations with the United States. Geoff Thale, a senior Central America associate for the Washington Office on Latin America, a think tank that promotes human rights in Latin America, referred to Berger's economic policy as "very similar to that of the Bush administration." Berger plans to continue negotiations for a U.S.-Guatemala free trade agreement stalled by a lack of cooperation in the U.S. war on drugs by his predecessor, Alfonso Portillo.

Colom conceded to Berger on December 29 but refused a position in his government, saying: "We congratulate him and I appreciate the invitation he extended to me. But out of respect for the more than 1 million Guatemalans who disagree with his opinions, I won't accept."

Berger's support came mostly from urban areas, and Colom supporters worry that he doesn't understand the rural, native population and their harsh living conditions. "The win is good for Berger but not for the poor people," said Georgina Martinez, a Colom supporter. "Berger is with the rich people."

Unlike his predecessor, Berger has said he is committed to following the U.N. peace accord of 1996 that ended Guatemala's civil war. Two days after the election, Guatemala's Nobel laureate, Rigoberta Menchu, and other human rights activists urged Berger to implement the accords. "[They] offer us a national agenda and they offer us a chance to make the country more democratic," Menchu said. "Important provisions of the accords have stagnated; it is time to revive them."

Efrain Rios Montt, an ally of Portillo at one time supported by the United States, placed third. He faces genocide charges in Guatemala and Spain for his ruthless tenure in 1982 and 1983 and did not receive U.S. support in this election.
For a limited time: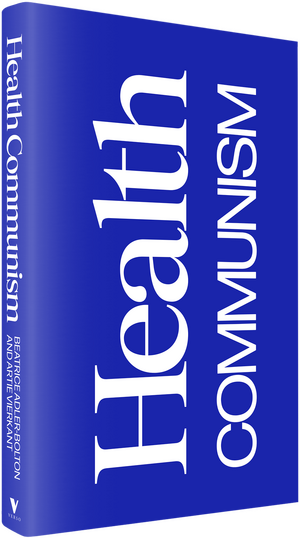 Donate $25 or more to support In These Times and we'll send you a copy of Health Communism.
A searing analysis of health and illness under capitalism from hosts of the hit podcast "Death Panel," Health Communism looks at the grave threat capitalism poses to global public health, and at the rare movements around the world that have successfully challenged the extractive economy of health.
"This is a book you should read before you die, because the ideas synthesized by Adler-Bolton and Vierkant could save our collective lives." –Jon Shaffer