Unocal Off the Hook?
Myanmar villagers still seek restitution for human rights violations.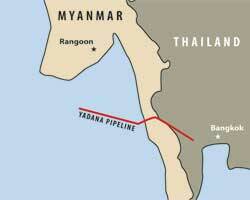 For now, Cal­i­for­nia ener­gy giant Uno­cal Corp. is not liable for the rape, mur­der, tor­ture and forced labor that occurred dur­ing con­struc­tion of the $1.2 bil­lion, 40-mile Yadana nat­ur­al gas pipeline in Bur­ma, now Myan­mar. On Jan­u­ary 23, Los Ange­les Coun­ty Supe­ri­or Court Judge Vic­to­ria Chaney con­clud­ed that Uno­cal could not be held account­able for the actions of its sub­sidiaries — but ruled that the case could move for­ward if plain­tiff attor­neys used oth­er means to prove libability.
The court found that vic­tims' tes­ti­mo­ny was well doc­u­ment­ed and that ​"the evi­dence does sug­gest that Uno­cal knew that forced labor was being uti­lized and that they ben­e­fit­ed from the prac­tice." The noto­ri­ous­ly bru­tal Burmese mil­i­tary was con­tract­ed to act as secu­ri­ty on the project for its builders: Uno­cal, French com­pa­ny Total and sub­sidiaries of both.
The fed­er­al case Doe v. Uno­cal was filed in 1996 under the Alien Tort Claims Act (ATCA) of 1789 on behalf of 15 vil­lagers. They charged that Uno­cal under­stood the tac­tics being used by Burma's vio­lent mil­i­tary régime when col­lab­o­rat­ing on the project.
A Los Ange­les fed­er­al dis­trict court agreed to hear the case a year lat­er, deter­min­ing that cor­po­ra­tions could be held liable under ATCA for human rights abus­es on for­eign soil. After three years of dis­cov­ery the case was dis­missed in 2000, but the Ninth Cir­cuit Court of Appeals ruled that it could be heard in civ­il court. Twen­ty-five cas­es have been filed using ATCA since 1980, but Uno­cal was the first com­pa­ny to stand tri­al in a civ­il suit on U.S. soil.
Vil­lagers tes­ti­fied in ​"Entrenched," an inves­tiga­tive report by Earth­Rights Inter­na­tion­al, that they were forced to relo­cate to the pipeline area, quar­ter sol­diers, assist in sweep­ing for land­mines, car­ry sup­plies and ammu­ni­tion, and stand sen­try duty to watch for insur­gent attacks — labor referred to as ​"peo­ples' con­tri­bu­tions" by the Burmese army. Threats and intim­i­da­tion were used to gain com­pli­ance. A vil­lage head­man report­ed­ly met week­ly with the mil­i­tary offi­cers, offer­ing gifts and receiv­ing new orders for his village.
Non-com­pli­ance with mil­i­tary orders led to shock­ing abus­es. One unco­op­er­a­tive head­man was buried up to his neck while fel­low vil­lagers were forced at gun­point to kick and stomp on his head.
The Inter­na­tion­al Labor Orga­ni­za­tion (ILO) described the sit­u­a­tion at the pipeline as ​"a saga of untold mis­ery and suf­fer­ing, oppres­sion and exploita­tion of large sec­tions of the pop­u­la­tion inhab­it­ing Myan­mar by the Gov­ern­ment, mil­i­tary, and oth­er pub­lic offi­cers." The ILO's most recent assess­ment con­firmed that the sit­u­a­tion con­tin­ues to worsen.
Since the State Peace and Devel­op­ment Coun­cil gov­ern­ment of Bur­ma forcibly took pow­er in 1988, prof­its from the use of forced labor and envi­ron­men­tal destruc­tion have been used to keep the régime in pow­er. Sta­tis­tics from the Burmese mil­i­tary reveal that ​"peo­ples' con­tri­bu­tions" to rur­al devel­op­ment projects increased 25-fold between 1990 and 1996.
Judge Chaney con­clud­ed that the sub­sidiaries were ​"com­mon and legit­i­mate" and that par­ent com­pa­ny Uno­cal is not liable because the sub­sidiaries have the finan­cial resources to be held account­able under Cal­i­for­nia law. But Anne Richard­son, an attor­ney for the plain­tiffs, argued that Unocal's sub­sidiaries did not have suf­fi­cient finan­cial resources at the time the cas­es were filed.
If the court had ruled in favor of the vil­lagers in the first phase of the tri­al, Uno­cal faced $1 bil­lion in resti­tu­tion monies. Dan Stromer, attor­ney for the plain­tiffs, vowed to con­tin­ue the fight for com­pen­sa­tion even though Uno­cal lawyer Daniel Petro­cel­li laud­ed the rul­ing as a ​"com­plete vic­to­ry and vindicaton."
Judith Chom­sky, a lawyer for the plain­tiffs said, ​"If the case can go to a jury, the lay­ers and lay­ers of com­pa­nies Uno­cal cre­at­ed to hide its respon­si­bil­i­ties will be meaningless."
Lit­i­gants revived ATCA amid ris­ing human rights abus­es per­pe­trat­ed by U.S. com­pa­nies on for­eign soil. The act was passed in 1789 as part of the orig­i­nal Judi­cia­ry Act and assert­ed that ​"dis­trict courts shall have orig­i­nal juris­dic­tion of any civ­il action by an alien for a tort (crime) only, com­mit­ted in vio­la­tion of the law of nations or a treaty of the Unit­ed States." The Tor­ture Vic­tim Pre­ven­tion Act, passed by Con­gress, bol­stered the ATCA, which has been used to sue many U.S. cor­po­ra­tions abroad, includ­ing Chevron, Exxon Mobil, Coca-Cola, Tex­a­co and Gap.