The Other Victims of California's Fires: Workers Inhaling Toxic Fumes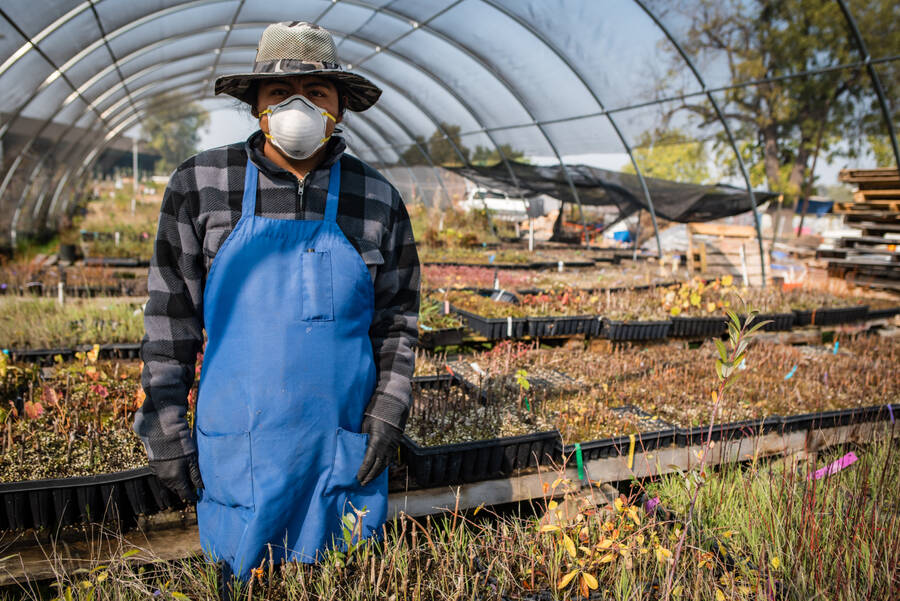 With the death toll now stand­ing at 42 and with some 7,200 struc­tures destroyed, offi­cials are now call­ing the wild­fire in Par­adise, CA (dubbed the ​"Camp Fire") the dead­liest and most destruc­tive in California's recent his­to­ry. Two oth­er mas­sive fires — dubbed the Hill Fire and Woolsey Fire are simul­ta­ne­ous­ly scorch­ing South­ern California.
As front­line fire­fight­ers — includ­ing many prison labor­ers—con­tin­ue to bat­tle the blaze while health­care providers work around the clock treat­ing fire vic­tims, mil­lions of oth­er work­ers far away from the infer­no are feel­ing a sec­ondary impact: tox­ic smoke.
In the San Fran­cis­co Bay Area, over 160 miles away from the Camp Fire, air qual­i­ty dra­mat­i­cal­ly declined almost imme­di­ate­ly after the fires broke out. Over the past week, AirNow, a gov­ern­ment web­site report­ing real-time air qual­i­ty data has shown the Bay Area hov­er­ing between 150 – 200 on the fed­er­al Air Qual­i­ty Index (AQI), sur­pass­ing 200 (or ​"very unhealthy" lev­els) in parts of the Bay. The high­er the AQI val­ue, the more pol­lut­ed the skies are and the more con­cern there is for pub­lic health.
This week, the Bay Area also saw the sec­ond high­est amount of fine par­tic­u­late mat­ter in the air ever record­ed. This sub­stance is not only made up of smoke from charred forests, but could con­tain every­thing that gets incin­er­at­ed when res­i­dences go up in flames: cars, fuel, bat­ter­ies, light bulbs, clean­ing prod­ucts, plas­tics, uphol­stery and more.
Pub­lic health offi­cials have been advis­ing res­i­dents of affect­ed areas to stay indoors to avoid the unhealthy air that can lead to headaches, dizzi­ness, short­ness of breath, cough­ing, wheez­ing, eye irri­ta­tion and worse.
How­ev­er, for many work­ers who work out­doors for a liv­ing, that's eas­i­er said than done.
While many white col­lar work­ers don pro­tec­tive masks to com­mute to office jobs where recir­cu­lat­ed air con­di­tion­ing pro­vides some mea­sure of pro­tec­tion from the smoky skies, hun­dreds of thou­sands of farm­work­ers, day labor­ers, land­scap­ers, con­struc­tion work­ers, pub­lic works employ­ees and oth­ers have no choice but to work through the harm­ful haze — at great detri­ment to their health.
Many of these work­ers hail from neigh­bor­hoods and work­sites already fac­ing increased lev­els of tox­ins. Com­pound­ing the sit­u­a­tion, these are also often the very same work­ers who are least pro­tect­ed by work­er health and safe­ty regulations.
"It's been hor­ri­ble," says Kywan­na Reed, who has been work­ing 10-hour days out­side this week as a traf­fic con­troller. ​"I wake up with headaches. I go to sleep with headaches. I have a headache right now, and a bag of headache med­i­cine in the truck. My whole res­pi­ra­to­ry sys­tem is messed up. My cowork­er had a nose­bleed and went home sick."
Reed said her employ­er, Amer­i­can Con­struc­tion & Sup­ply Inc., did not pro­vide masks to employees.
"Employ­ers should pass out masks and you could choose to wear them or not," says Reed, ​"But right now, they're not doing anything."
Oth­er work­ers, how­ev­er, say their employ­ers are pro­vid­ing masks while ver­bal­ly encour­ag­ing work­ers to pro­tect themselves.
Cesar Fragoso, who works as a land­scap­er for Plant­i­ng Jus­tice, said the non-prof­it nurs­ery in East Oak­land passed out masks to employees.
"I work out­side every day, weed­ing and trans­plant­i­ng plants. I can feel the smoke in my nose. My eyes start­ed itch­ing. I've been cough­ing. The masks help, but it's trag­ic that we have to go through this in order for peo­ple to acknowl­edge what we are doing to the envi­ron­ment," says Fragoso.
A 2017 news release from the Cal­i­for­nia Divi­sion of Occu­pa­tion­al Safe­ty and Health (Cal/​OSHA) advis­es that ​"Employ­ers with oper­a­tions exposed to wild­fire smoke must con­sid­er tak­ing appro­pri­ate mea­sures as part of their Injury and Ill­ness Pre­ven­tion Pro­gram under Title 8 sec­tion 3203 of the Cal­i­for­nia Code of Reg­u­la­tions and as required under sec­tion 5141 (Con­trol of Harm­ful Expo­sure to Employees)."
Those mea­sures include ​"using a fil­tered ven­ti­la­tion sys­tem in indoor work areas," ​"lim­it­ing the time that employ­ees work out­doors" and ​"pro­vid­ing work­ers with res­pi­ra­to­ry pro­tec­tive equipment."
How­ev­er, as work­er advo­cates note, hold­ing employ­ers account­able for tak­ing such mea­sures can be a challenge.
"Even though peo­ple we know from Cal/​OSHA have made a tremen­dous effort, their pres­ence in the field is so lim­it­ed that it is real­ly hard for them to do any kind of enforce­ment or imple­men­ta­tion," says Dino­rah Bar­ton-Anto­nio of the Labor and Occu­pa­tion­al Health Pro­gram at UC Berkeley.
Oth­er work­ers say they wouldn't use a mask even it was pro­vid­ed, cit­ing the already high­ly dan­ger­ous nature of their indus­tries. Six­ty-three-year-old car­pen­ter Ruel Bernard smelled the smoke and start­ed sneez­ing this week as he hung sid­ing at a res­i­den­tial con­struc­tion site, but chose not to wear a mask.
"Us old­er gen­er­a­tion of con­struc­tion work­ers, our bod­ies have been tox­ic waste dumps from the get-go. I start­ed work­ing in New York in 1971, break­ing down plas­tic walls, climb­ing around in attics filled with insu­la­tion and dust. Every day I hurt myself at work, so at some point you're just like ​'Fuck it,'" explains Bernard. ​"I know that's a dinosaur, macho atti­tude. But that atti­tude helps us sur­vive in this industry."
The idea that the smoke from the wild­fires is just one ingre­di­ent in an already tox­ic soup of work­ing con­di­tions res­onates in farm­work­er communities.
Lucas Zuck­er is the Pol­i­cy Direc­tor at Cen­tral Coast Unit­ed for a Sus­tain­able Econ­o­my (CAUSE), which works with immi­grant farm­work­ers in Ven­tu­ra and San­ta Bar­bara Coun­ties. Dur­ing last summer's wild­fires, CAUSE dis­trib­uted N95 masks to work­ers in the field.
"Farm work is already dan­ger­ous on the day-to-day. This area has some of the high­est use of tox­ic pes­ti­cides," notes Zuck­er. ​"But then with the wild­fires, the ag indus­try push­es to har­vest their crop quick­ly to pre­vent dam­age to crops like straw­ber­ries and avo­ca­dos. So we actu­al­ly see an increase in pro­duc­tion, with obvi­ous impli­ca­tions for human health. Where­as a white col­lar work­er might be able to take time off and have that paid, for farm­work­ers who get paid piece rate it's hard for them to take that time off if they're already liv­ing pay­check to paycheck."
While much of the con­ver­sa­tion in the Bay Area about pro­tec­tion from the smoke has focused on masks, some work­ers point to hav­ing pow­er on the job — whether that be in the form of a union con­tract or work­er own­er­ship — as one of the largest fac­tors in ensur­ing work­er health and safety.
"We have a union here. It helps us get through things like this because I feel like we have some cama­raderie and I can take steps to take care of myself with­out wor­ry­ing that I'll lose my job," says Daniel DeBolt, who works as a deck­hand on the fer­ry boats that shut­tle tourists and com­muters from Oak­land to San Fran­cis­co and who has been expe­ri­enc­ing headaches and fatigue all week.
Work­er pow­er on the job was also key for Dante Ortiz from Root Vol­ume, a work­er-owned land­scap­ing cooperative.
"In 20 years of build­ing gar­dens in wild­fire-prone areas like Col­orado and Cal­i­for­nia, I'd nev­er had a day where we had to pull out because of air qual­i­ty, but that hap­pened last Fri­day. We were doing heavy exca­va­tion, trench­ing for retain­ing walls. It's hard work. You're breath­ing heav­i­ly, which is the worst thing you could be doing," says Ortiz. ​"So we all decid­ed it was time to get out of there. Being in a work­er coop­er­a­tive gave us the agency to make that deci­sion for ourselves."
How­ev­er, oth­er work­ers like day labor­ers don't have sta­ble employ­ment or con­sis­tent employers.
Accord­ing to Gabriela Gali­cia, the Exec­u­tive Direc­tor of the Street Lev­el Health Project in Oak­land, CA, ​"Work­ers stand on the cor­ner for up to eight hours a day wait­ing for work. Many cor­ners are already near tox­ic fumes, and now work­ers are out in the smoke too."
Gali­cia notes that many work­ers are already think­ing about head­ing north in search of work rebuild­ing fire-dev­as­tat­ed com­mu­ni­ties, which car­ries its own risks to work­ers' rights and their health. Work­er exploita­tion and wage theft has marred recon­struc­tion in post-dis­as­ter recov­ery efforts across the country.
"We've seen too many nat­ur­al dis­as­ters where day labor­ers have been tak­en advan­tage of," says Gali­cia. ​"They are human beings. They're help­ing to rebuild. Treat them with dignity."
As human-dri­ven cli­mate change inten­si­fies and more of Cal­i­for­nia becomes engulfed in flames, work­ers won­der whether toil­ing in tox­ic air is becom­ing ​"the new nor­mal" — or if there can be a just tran­si­tion to a new way of relat­ing to land and labor.
CAUSE's Lucas Zuck­er explains, ​"Ulti­mate­ly, we need state or fed­er­al dis­as­ter aid that can fill in the gaps for work­ers exposed to dis­as­ter or tox­ic con­di­tions so that they don't have to make that hor­ri­ble choice between putting food on their family's table or being exposed to tox­ic conditions."
Brooke Ander­son is an Oak­land, Cal­i­for­nia-based orga­niz­er and pho­to­jour­nal­ist. She has spent 20 years build­ing move­ments for social, eco­nom­ic, racial and eco­log­i­cal jus­tice. She is a proud union mem­ber of the Pacif­ic Media Work­ers Guild, CWA 39521, AFL-CIO.