California's New Crisis Pregnancy Center Law Creates a Roadblock for Anti-Abortion Activists
CPCs have been repeatedly charged with providing misleading or, in some cases completely false, information for pregnant women.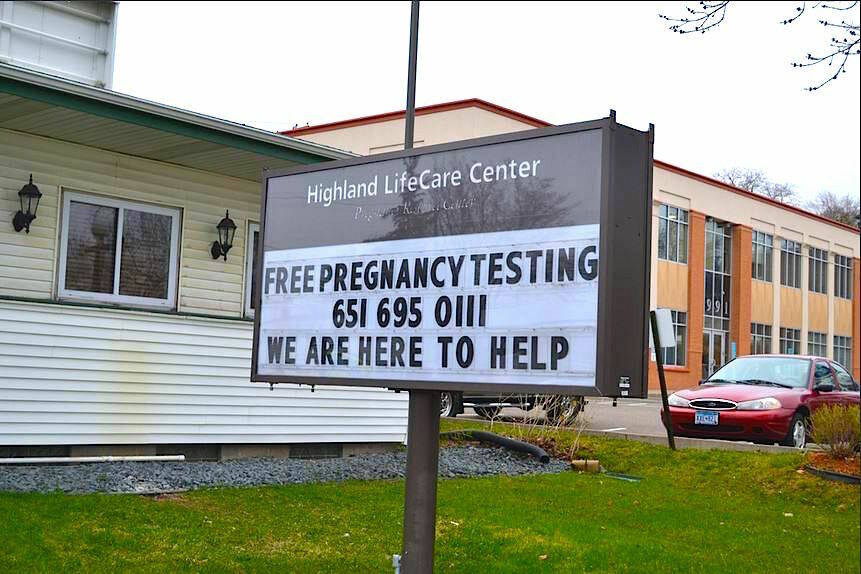 Ear­li­er this month, Cal­i­for­nia Gov­er­nor Jer­ry Brown signed the nation's first statewide law to reg­u­late cri­sis preg­nan­cy cen­ters (CPCs). CPCs are facil­i­ties that work to coun­sel women out of hav­ing abor­tions, offer­ing them resources like dia­pers, baby for­mu­la and mater­ni­ty clothes, but also often dis­sem­i­nat­ing mis­lead­ing or out­right false med­ical infor­ma­tion. Boost­ed by gov­ern­ment fund­ing under George W. Bush, they have pro­lif­er­at­ed over the past 15 years, with an esti­mat­ed 3,500 nation­wide — out­num­ber­ing real abor­tion clin­ics 3‑to‑1.
Crisis pregnancy center advocates usually deny that CPCs mislead women, arguing that those who come to visit are well aware of the clinics' anti-abortion slant. But investigations by reproductive-rights groups and Congress have found that CPCs often set up shop in close proximity to real reproductive health facilities and hide their anti-abortion agenda when women call seeking information.
California's Repro­duc­tive Free­dom, Account­abil­i­ty, Com­pre­hen­sive Care and Trans­paren­cy (FACT) Act, which over­whelm­ing­ly passed the state assem­bly in May, is being hailed as a land­mark vic­to­ry in a nation­wide effort to push back against the rise of CPCs.
The new law, set to take effect Jan­u­ary 1, will gov­ern California's near­ly 170 CPCs, about 60 per­cent of which oper­ate with no med­ical license. The law requires unli­censed facil­i­ties to post a notice — in ​"no less than 48-point type" — stat­ing that they have nei­ther a state med­ical license nor licensed med­ical staff. Licensed CPCs, for their part, will be required to inform women about avail­able pub­lic assis­tance for con­tra­cep­tion, abor­tion and pre­na­tal care.
Whether or not the law can with­stand a court chal­lenge, how­ev­er, remains to be seen. The decades-old move­ment to reg­u­late CPCs has been repeat­ed­ly thwart­ed by First Amend­ment challenges.
Although CPCs began crop­ping up in the late 1960s as indi­vid­ual states lift­ed their bans on abor­tion, the clin­ics flew under the radar until the 1980s and 1990s, when they became a sub­ject of a heat­ed debate that went all the way to halls of Con­gress. Detrac­tors argued that CPCs' strate­gies to lure in women — such as offer­ing free non-diag­nos­tic ultra­sounds and staffing their non-med­ical vol­un­teers in white lab coats — amount­ed to false adver­tis­ing. Defend­ers said their actions were pro­tect­ed speech.
The pas­sage of the Per­son­al Respon­si­bil­i­ty and Work Oppor­tu­ni­ty Rec­on­cil­i­a­tion Act in 1996 — or ​"wel­fare reform" — increased fed­er­al fund­ing for absti­nence edu­ca­tion and helped to fuel the expan­sion of CPCs, as In These Times report­ed in 2002. The law enabled the Bush admin­is­tra­tion to fun­nel $60 mil­lion in fed­er­al absti­nence-only funds to cri­sis preg­nan­cy cen­ters between 2001 and 2005, often dou­bling or tripling the cen­ters' annu­al budgets.
In response, a num­ber of inves­ti­ga­tions into CPC prac­tices were launched. A 2006 con­gres­sion­al inves­ti­ga­tion, ini­ti­at­ed by Rep. Hen­ry Wax­man (D‑Calif.), looked specif­i­cal­ly at CPCs that received fed­er­al fund­ing, and found that most pro­vid­ed women with false or mis­lead­ing med­ical infor­ma­tion, which ​"often gross­ly exaggerate[ed] the risks." (Fed­er­al fund­ing for CPCs con­tin­ues today, despite the Oba­ma administration's efforts to end it.) NAR­AL, a nation­al pro-choice orga­ni­za­tion, has also been inves­ti­gat­ing CPCs for more than a decade, and has dis­cov­ered that staffers rou­tine­ly over­stat­ed the risks of abor­tion or sim­ply lied — telling women that end­ing a preg­nan­cy would lead to infer­til­i­ty, breast can­cer or even sui­cide. A 2008 NAR­AL inves­ti­ga­tion into 11 cri­sis preg­nan­cy cen­ters across the state of Mary­land found that ​"every CPC vis­it­ed pro­vid­ed mis­lead­ing or, in some cas­es com­plete­ly false, information."
Draw­ing on the Wax­man report and NARAL's inves­ti­ga­tions, in 2009, Bal­ti­more passed the first-ever leg­is­la­tion designed to curb CPCs' mis­lead­ing adver­tis­ing prac­tices. Chal­leng­ing CPCs from a false adver­tis­ing per­spec­tive was, in part, a strate­gic deci­sion. As Slate​'s Emi­ly Bazelon report­ed in 2009, ​"There's a whole branch of law, com­mer­cial speech, to explain why false adver­tis­ing gets less First Amend­ment pro­tec­tion." The law required Bal­ti­more CPCs to dis­play signs — in both Eng­lish and in Span­ish — clar­i­fy­ing that they do not pro­vide abor­tion or birth con­trol refer­rals. Sim­i­lar laws were soon passed in New York City, Austin, and San Francisco.
These ordi­nances were all chal­lenged in court on First Amend­ment grounds. CPC back­ers argue that the reg­u­la­tions vio­late their reli­gious free­dom and their right to free speech. Baltimore's law was struck down in 2011 and is still tied up in court appeals. Austin's was over­turned, as were key aspects of New York's law. Giv­en their free ser­vices and non­prof­it sta­tus­es, judges have tend­ed to see CPCs' speech as ​"non­com­mer­cial" — a des­ig­na­tion that gen­er­al­ly receives greater con­sti­tu­tion­al pro­tec­tion than com­mer­cial speech. But San Francisco's law, which passed in 2011, has thus far with­stood legal chal­lenge.
Pro-choice advo­cates in Cal­i­for­nia tread­ed very care­ful­ly in draft­ing the FACT Act. ​"We paid a lot of atten­tion to the bills craft­ed in oth­er cities," says Amy Everitt, the state direc­tor of NAR­AL Pro-Choice Cal­i­for­nia. NAR­AL also enlist­ed the help of Attor­ney Gen­er­al Kamala Har­ris, a Demo­c­rat, to iden­ti­fy lan­guage that might be deemed unconstitutional.
Everitt explains that laws which require cen­ters to post signs describ­ing what they do not pro­vide (such as abor­tion refer­rals) have tend­ed to be more legal­ly vul­ner­a­ble than those that require facil­i­ties to dis­trib­ute ​"neu­tral" infor­ma­tion about avail­able gov­ern­ment ser­vices. So the FACT Act only requires licensed clin­ics to inform women of the many ser­vices avail­able to preg­nant women. In Cal­i­for­nia, state Med­ic­aid funds can cov­er the cost of an abor­tion, and mil­lions of Cal­i­forn­ian women became eli­gi­ble for Med­ic­aid with the pas­sage of the Afford­able Care Act.
"In Cal­i­for­nia, we have some of the best pro-choice poli­cies in the whole coun­try, but if women aren't aware of what's avail­able to them, then they can't use them," says Everitt. ​"They need to find out about their options, and they need to find them out when they are actu­al­ly out seek­ing care and information."
Cri­sis preg­nan­cy cen­ters have already filed two suits against the Repro­duc­tive FACT Act. The law ​"is an out­ra­geous and uncon­sti­tu­tion­al vio­la­tion of both the right of free speech and the right of free­dom of reli­gion for our mem­bers in Cal­i­for­nia," said Thomas Gless­ner, the pres­i­dent of the Nation­al Insti­tute of Fam­i­ly and Life Advo­cates, in an email quot­ed in Life News. ​"The Act uncon­sti­tu­tion­al­ly forces pro-life preg­nan­cy cen­ters, on pain of gov­ern­ment penal­ty, to engage in gov­ern­ment dis­claimers that they would not oth­er­wise provide."
In response, Everitt notes that the state has a ​"pub­lic health inter­est" in ensur­ing that women can access high-qual­i­ty repro­duc­tive care. ​"Women are seek­ing their options," she says. ​"They are going online and they are look­ing for infor­ma­tion to make their deci­sions about unin­tend­ed preg­nan­cy or preg­nan­cy scares, and they were not get­ting the infor­ma­tion they want­ed in cer­tain places like CPCs."
Cri­sis preg­nan­cy cen­ter advo­cates usu­al­ly deny that CPCs mis­lead women, argu­ing that those who come to vis­it are well aware of the clin­ics' anti-abor­tion slant. But inves­ti­ga­tions by repro­duc­tive-rights groups and Con­gress have found that CPCs often set up shop in close prox­im­i­ty to real repro­duc­tive health facil­i­ties and hide their anti-abor­tion agen­da when women call seek­ing infor­ma­tion. CPCs have also spent sig­nif­i­cant sums of mon­ey to adver­tise their ser­vices mis­lead­ing­ly in news­pa­pers, on bill­boards, on social media and through Inter­net search engines.
While the fate of California's new law remains uncer­tain, ener­gized advo­cates are deter­mined to build on their new­found polit­i­cal momen­tum. Everitt says she hopes their new law will serve as a mod­el ​"for every state to pursue."The new mea­sures are ​"what it looks like to respect women," adds Ilyse Hogue, the pres­i­dent of NAR­AL Pro-Choice America."Empower us and trust us to make the best deci­sions for our­selves and our families."