Free Speech In an Age of Campus Protest
How the media can work for, and against, the wave of anti-racist actions by students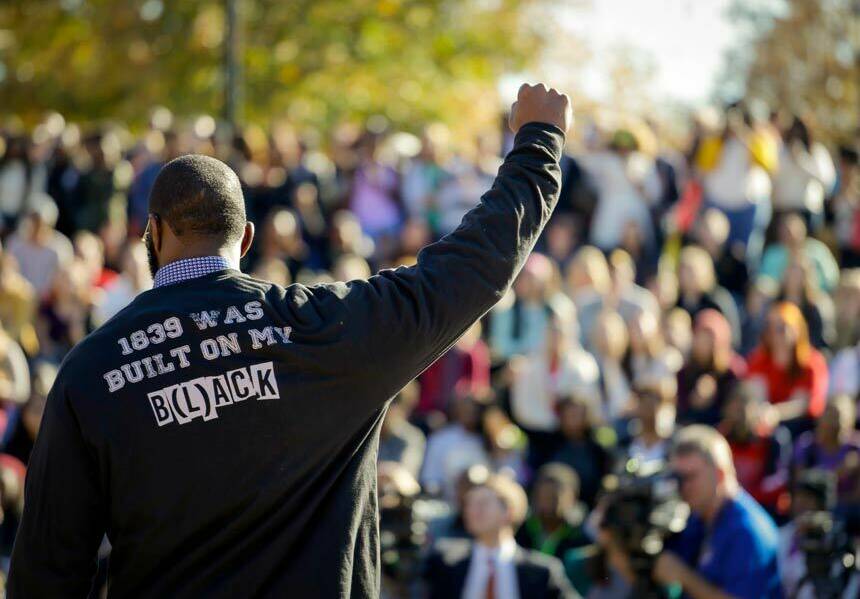 In Novem­ber 2015, protests demand­ing insti­tu­tion­al change in response to repeat­ed racist inci­dents on the Uni­ver­si­ty of Mis­souri cam­pus in Colum­bia, Mo., spread around the coun­try under the ban­ner of #Black­On­Cam­pus and #Stu­dent­Black­Out.
Journalists can help educate the public at large about what is going on. I hope that students who are activists will help educate the journalists. If you tell your story to the journalists and have this open dialogue, then the result can be greater enlightenment for the citizens in general.
On Nov. 9, 2015, Uni­ver­si­ty of Mis­souri sys­tem Pres­i­dent Tim Wolfe resigned. His res­ig­na­tion came after sus­tained activism through­out the fall semes­ter by Miz­zou stu­dents call­ing them­selves Con­cerned Stu­dent 1950 (the year that the uni­ver­si­ty admit­ted its first Black stu­dent), a hunger strike by grad­u­ate stu­dent Jonathan But­ler and a boy­cott by mem­bers of the school's foot­ball team.
On the day of Wolfe's depar­ture, a video went viral show­ing Uni­ver­si­ty of Mis­souri Assis­tant Pro­fes­sor Melis­sa Click call­ing for ​"some mus­cle" to keep jour­nal­ists from cov­er­ing the stu­dent protest encamp­ment on the school's Car­na­han Quad. Much main­stream media atten­tion shift­ed away from stu­dent demands to jour­nal­ists' First Amend­ment rights to report in pub­lic spaces.
To go beyond the head­line-gen­er­at­ing viral video, In These Times invit­ed three peo­ple to dis­cuss con­nec­tions to the broad­er Black Lives Mat­ter move­ment, how jour­nal­ists can build trust with com­mu­ni­ties of col­or and where the move­ment might go in 2016: Yamiesha Bell, a grad­u­ate stu­dent at the Uni­ver­si­ty of Con­necti­cut and orga­niz­er with the Black Lib­er­a­tion Col­lec­tive (BLC); Sandy David­son, a Cura­tors' Teach­ing Pro­fes­sor at the Uni­ver­si­ty of Mis­souri School of Jour­nal­ism and attor­ney for the Colum­bia Mis­souri­an, the Mis­souri School of Journalism's news­pa­per; and Asha Rosa, a Black queer writer, stu­dent at Colum­bia Uni­ver­si­ty and co-chair of the NYC Chap­ter of Black Youth Project 100.
What did you all make of the Mis­souri stu­dents and pro­fes­sor who attempt­ed to pre­vent jour­nal­ists from doc­u­ment­ing their protest?
SANDY: After the inci­dent with Pro­fes­sor Click, the media flipped the atten­tion, and it became a ques­tion of First Amend­ment rights and pho­to­jour­nal­ists. But this uni­ver­si­ty is home to the first jour­nal­ism school. So we had some con­flict. Part of the dif­fi­cul­ty in Mis­souri was that a pho­to­jour­nal­ist from our school was assigned to doc­u­ment some­thing that was his­tor­i­cal and news­wor­thy, that was tak­ing place in a pub­lic space. I regret that the stu­dents didn't take the oppor­tu­ni­ty to get their mes­sage out.
ASHA: Black peo­ple have our rights vio­lat­ed all the time. Part of protest is tak­ing over spaces and set­ting the terms of how the space is going to be used. Black orga­niz­ers are work­ing toward their own self-deter­mi­na­tion, and if they're going to set cer­tain rules, they don't nec­es­sar­i­ly need to explain to peo­ple why. They don't nec­es­sar­i­ly have to obey all of the laws. The police cer­tain­ly aren't.
YAMIESHA: I don't blame the stu­dents at Miz­zou for telling the jour­nal­ists, ​"This isn't your space." Because that real­ly wasn't their space.
How can we keep the focus on issues of racial equality?
ASHA: We need to con­nect expe­ri­ences of racism on col­lege cam­pus­es to the racist vio­lence that those same insti­tu­tions let hap­pen. At Colum­bia, we see the uni­ver­si­ty work­ing with the NYPD to police folks in West Harlem. That impacts Black stu­dents and the Black peo­ple that Colum­bia is try­ing to push out of this neighborhood.
YAMIESHA: That respon­si­bil­i­ty unfor­tu­nate­ly falls on stu­dents of col­or. We have to ensure that these top­ics are not only just talked about but act­ed on. High­er edu­ca­tion was nev­er meant for peo­ple of col­or. That's clear in the poli­cies and the prac­tices that we expe­ri­ence today.
SANDY: It's not just stu­dents' respon­si­bil­i­ty — it's faculty's, too. Miz­zou held a ​"teach-in" where 11 Black fac­ul­ty mem­bers shared their expe­ri­ences with racial inequal­i­ty, then stu­dents and fac­ul­ty got to ask ques­tions. That's the kind of con­ver­sa­tion we should be encour­ag­ing on col­lege campuses.
YAMIESHA: You can put as many Black pres­i­dents into lead­er­ship as you want, but if the sys­tem is bad, if the prac­tices are bad, it won't mat­ter who you have in lead­er­ship because high­er edu­ca­tion is inher­ent­ly racist and sex­ist and homo­pho­bic and transphobic.
Sandy, in a Chron­i­cle of High­er Edu­ca­tion arti­cle you are fea­tured in, you men­tioned you start and end your class­es say­ing ​"knowl­edge is pow­er." What exact­ly does that mean?
SANDY: It means that you know your rights so that when you speak, you speak on author­i­ty. So if some­body is try­ing to shut a jour­nal­ist down, and say you don't have the right to do that, the jour­nal­ist can say, ​"Oh yes, I do."
ASHA: I've found that it's real­ly hard to facil­i­tate a work­shop in a room full of Black folks who've expe­ri­enced unlaw­ful police harass­ment and say, ​"This is what the law says." It's one thing to know the ​"rights" you have accord­ing to the law. It's anoth­er thing to have the pow­er to demand they be respect­ed. Knowl­edge is impor­tant, but to argue that it's the same as pow­er would imply that Black peo­ple are oppressed because we are une­d­u­cat­ed or unaware. Knowl­edge can open our eyes to the fact that we need to build pow­er, but it will not free us alone.
Why are safe spaces impor­tant for movements?
YAMIESHA: Safe spaces allow you to be hap­py and be free, and not to have to apol­o­gize for that. The first time I was in a safe space was an all-Black space that was inten­tion­al, I just cried, because I've nev­er felt so much love and so appre­ci­at­ed just for me being me. It's so impor­tant for Black folks to see what a safe space looks like and feels like in order to be able to say, ​"I deserve this every sin­gle day of my life."
ASHA: We're try­ing to man­i­fest the world we want to see, and we're try­ing to act that out by cre­at­ing spaces where we agree to relate to one anoth­er in the ways that we want to. My whole com­mu­ni­ty acts like my fam­i­ly. Because we don't accept how things hap­pen in soci­ety, part of the orga­niz­ing is cre­at­ing spaces that reflect our val­ue. That's been true through­out the his­to­ry of Black orga­niz­ing: Peo­ple want­ed inte­gra­tion, so they sat at the counter and act­ed out a world in which they legit­i­mate­ly could sit at the counter.
How can jour­nal­ists do a bet­ter job of build­ing trust with com­mu­ni­ties of col­or and oth­er mar­gin­al­ized peoples?
SANDY: Train­ing is so impor­tant. We have a mul­ti­cul­tur­al class that all jour­nal­ism stu­dents have to take. And we want to have jour­nal­ists who are part of dif­fer­ent communities.
ASHA: I don't see jour­nal­ists com­ing to orga­niz­ers for quotes for con­text about the move­ment in the way they should. We need to dis­man­tle this notion of an expert as being con­nect­ed to a degree or some cre­den­tial. Peo­ple on the ground are experts of what's going on.
Where will things go in the New Year?
ASHA: A nation­al coali­tion is form­ing. Folks should expect nation­al demands and a high­er lev­el of nation­al coor­di­na­tion. We'll be dis­rupt­ing things on cam­pus­es. And our demands will include sym­bol­ic things but also struc­tur­al shifts in how uni­ver­si­ties treat peo­ple of col­or on cam­pus and how that relates to sys­tems of polic­ing and racism.
YAMIESHA: We need to fight white suprema­cy and anti-Black­ness on every front. We're build­ing stu­dent pow­er so that we can make those demands. This sys­tem wasn't built for us, but we're here now and we're demand­ing to be safe in these spaces.
SANDY: And jour­nal­ists are going to be there to cov­er it. Jour­nal­ists can help edu­cate the pub­lic at large about what is going on. I hope that stu­dents who are activists will help edu­cate the jour­nal­ists. If you tell your sto­ry to the jour­nal­ists and have this open dia­logue, then the result can be greater enlight­en­ment for the cit­i­zens in general.
ASHA: Black stu­dent orga­niz­ers are stu­dents now, but we're going to be Black for the rest of our lives, and that fact is not lost on us as stu­dent orga­niz­ers. From Black col­lege stu­dents in the Ivy League to high school dropouts to incar­cer­at­ed Black folks, this is one movement.
YAMIESHA: In BLC, we often use the quote, ​"We refuse to be your silent, respectable mark­ers of diver­si­ty." This is the year when stu­dents are col­lec­tive­ly say­ing, ​"We're not doing this any­more." Peo­ple talk about how we need reform, but reform isn't enough. We need to get rid of the high­er edu­ca­tion sys­tem as it is and cre­ate a new one, because that sys­tem is not accept­able, it's not acces­si­ble, and this is not a safe space for peo­ple of col­or. And that goes for a whole lot of oth­er sys­tems we have in place in this coun­try and in this world.
Jill Hop­ke
is Assis­tant Pro­fes­sor of Jour­nal­ism in the Col­lege of Com­mu­ni­ca­tion at DePaul Uni­ver­si­ty in Chica­go. Her research focus­es on par­tic­i­pa­to­ry and net­worked uses of emerg­ing dig­i­tal and mobile media plat­forms, with an empha­sis on the ways in which envi­ron­men­tal activists use these tools.