Can Civilization Survive Capitalism?
On global warming, indigenous peoples and scientists face off against capitalist policymakers.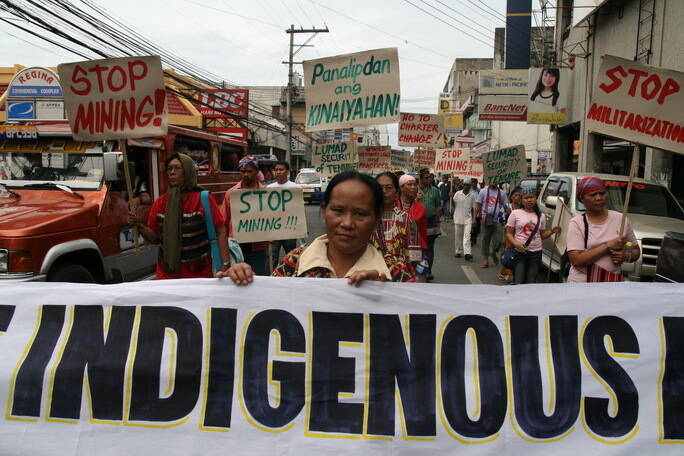 There is ​"cap­i­tal­ism" and then there is ​"real­ly exist­ing capitalism."
The countries with large and influential indigenous populations are well in the lead in seeking to preserve the planet. The countries that have driven indigenous populations to extinction or extreme marginalization are racing toward destruction.
The term ​"cap­i­tal­ism" is com­mon­ly used to refer to the U.S. eco­nom­ic sys­tem, with sub­stan­tial state inter­ven­tion rang­ing from sub­si­dies for cre­ative inno­va­tion to the ​"too-big-to-fail" gov­ern­ment insur­ance pol­i­cy for banks.
The sys­tem is high­ly monop­o­lized, fur­ther lim­it­ing reliance on the mar­ket, and increas­ing­ly so: In the past 20 years the share of prof­its of the 200 largest enter­pris­es has risen sharply, reports schol­ar Robert W. McCh­es­ney in his new book Dig­i­tal Dis­con­nect.
​"Cap­i­tal­ism" is a term now com­mon­ly used to describe sys­tems in which there are no cap­i­tal­ists: for exam­ple, the work­er-owned Mon­drag­on con­glom­er­ate in the Basque region of Spain, or the work­er-owned enter­pris­es expand­ing in north­ern Ohio, often with con­ser­v­a­tive sup­port—both are dis­cussed in impor­tant work by the schol­ar Gar Alper­ovitz.
Some might even use the term ​"cap­i­tal­ism" to refer to the indus­tri­al democ­ra­cy advo­cat­ed by John Dewey, Amer­i­ca's lead­ing social philoso­pher, in the late 19th cen­tu­ry and ear­ly 20th century.
Dewey called for work­ers to be ​"mas­ters of their own indus­tri­al fate" and for all insti­tu­tions to be brought under pub­lic con­trol, includ­ing the means of pro­duc­tion, exchange, pub­lic­i­ty, trans­porta­tion and com­mu­ni­ca­tion. Short of this, Dewey argued, pol­i­tics will remain ​"the shad­ow cast on soci­ety by big business."
The trun­cat­ed democ­ra­cy that Dewey con­demned has been left in tat­ters in recent years. Now con­trol of gov­ern­ment is nar­row­ly con­cen­trat­ed at the peak of the income scale, while the large major­i­ty ​"down below" has been vir­tu­al­ly dis­en­fran­chised. The cur­rent polit­i­cal-eco­nom­ic sys­tem is a form of plu­toc­ra­cy, diverg­ing sharply from democ­ra­cy, if by that con­cept we mean polit­i­cal arrange­ments in which pol­i­cy is sig­nif­i­cant­ly influ­enced by the pub­lic will.
There have been seri­ous debates over the years about whether cap­i­tal­ism is com­pat­i­ble with democ­ra­cy. If we keep to real­ly exist­ing cap­i­tal­ist democ­ra­cy—RECD for short—the ques­tion is effec­tive­ly answered: They are rad­i­cal­ly incompatible.
It seems to me unlike­ly that civ­i­liza­tion can sur­vive RECD and the sharply atten­u­at­ed democ­ra­cy that goes along with it. But could func­tion­ing democ­ra­cy make a difference?
Let's keep to the most crit­i­cal imme­di­ate prob­lem that civ­i­liza­tion faces: envi­ron­men­tal cat­a­stro­phe. Poli­cies and pub­lic atti­tudes diverge sharply, as is often the case under RECD. The nature of the gap is exam­ined in sev­er­al arti­cles in the cur­rent issue of Daedalus, the jour­nal of the Amer­i­can Acad­e­my of Arts and Sciences.
Researcher Kel­ly Sims Gal­lagher finds that ​"One hun­dred and nine coun­tries have enact­ed some form of pol­i­cy regard­ing renew­able pow­er, and 118 coun­tries have set tar­gets for renew­able ener­gy. In con­trast, the Unit­ed States has not adopt­ed any con­sis­tent and sta­ble set of poli­cies at the nation­al lev­el to fos­ter the use of renew­able energy."
It is not pub­lic opin­ion that dri­ves Amer­i­can pol­i­cy off the inter­na­tion­al spec­trum. Quite the oppo­site. Opin­ion is much clos­er to the glob­al norm than the U.S. gov­ern­men­t's poli­cies reflect, and much more sup­port­ive of actions need­ed to con­front the like­ly envi­ron­men­tal dis­as­ter pre­dict­ed by an over­whelm­ing sci­en­tif­ic con­sen­sus—and one that's not too far off; affect­ing the lives of our grand­chil­dren, very likely.
As Jon A. Kros­nick and Bo MacIn­nis report in Daedalus: ​"Huge majori­ties have favored steps by the fed­er­al gov­ern­ment to reduce the amount of green­house gas emis­sions gen­er­at­ed when util­i­ties pro­duce elec­tric­i­ty. In 2006, 86 per­cent of respon­dents favored requir­ing util­i­ties, or encour­ag­ing them with tax breaks, to reduce the amount of green­house gas­es they emit. Also in that year, 87 per­cent favored tax breaks for util­i­ties that pro­duce more elec­tric­i­ty from water, wind or sun­light. These majori­ties were main­tained between 2006 and 2010 and shrank some­what after that."
The fact that the pub­lic is influ­enced by sci­ence is deeply trou­bling to those who dom­i­nate the econ­o­my and state policy.
One cur­rent illus­tra­tion of their con­cern is the ​"Envi­ron­men­tal Lit­er­a­cy Improve­ment Act" pro­posed to state leg­is­la­tures by ALEC, the Amer­i­can Leg­isla­tive Exchange Coun­cil, a cor­po­rate-fund­ed lob­by that designs leg­is­la­tion to serve the needs of the cor­po­rate sec­tor and extreme wealth.
The ALEC Act man­dates ​"bal­anced teach­ing" of cli­mate sci­ence in K‑12 class­rooms. ​"Bal­anced teach­ing" is a code phrase that refers to teach­ing cli­mate-change denial, to ​"bal­ance" main­stream cli­mate sci­ence. It is anal­o­gous to the ​"bal­anced teach­ing" advo­cat­ed by cre­ation­ists to enable the teach­ing of ​"cre­ation sci­ence" in pub­lic schools. Leg­is­la­tion based on ALEC mod­els has already been intro­duced in sev­er­al states.
Of course, all of this is dressed up in rhetoric about teach­ing crit­i­cal think­ing—a fine idea, no doubt, but it's easy to think up far bet­ter exam­ples than an issue that threat­ens our sur­vival and has been select­ed because of its impor­tance in terms of cor­po­rate profits.
Media reports com­mon­ly present a con­tro­ver­sy between two sides on cli­mate change.
One side con­sists of the over­whelm­ing major­i­ty of sci­en­tists, the world's major nation­al acad­e­mies of sci­ence, the pro­fes­sion­al sci­ence jour­nals and the Inter­gov­ern­men­tal Pan­el on Cli­mate Change.
They agree that glob­al warm­ing is tak­ing place, that there is a sub­stan­tial human com­po­nent, that the sit­u­a­tion is seri­ous and per­haps dire, and that very soon, maybe with­in decades, the world might reach a tip­ping point where the process will esca­late sharply and will be irre­versible, with severe social and eco­nom­ic effects. It is rare to find such con­sen­sus on com­plex sci­en­tif­ic issues.
The oth­er side con­sists of skep­tics, includ­ing a few respect­ed sci­en­tists who cau­tion that much is unknown—which means that things might not be as bad as thought, or they might be worse.
Omit­ted from the con­trived debate is a much larg­er group of skep­tics: high­ly regard­ed cli­mate sci­en­tists who see the IPC­C's reg­u­lar reports as much too con­ser­v­a­tive. And these sci­en­tists have repeat­ed­ly been proven cor­rect, unfortunately.
The pro­pa­gan­da cam­paign has appar­ent­ly had some effect on U.S. pub­lic opin­ion, which is more skep­ti­cal than the glob­al norm. But the effect is not sig­nif­i­cant enough to sat­is­fy the mas­ters. That is pre­sum­ably why sec­tors of the cor­po­rate world are launch­ing their attack on the edu­ca­tion­al sys­tem, in an effort to counter the pub­lic's dan­ger­ous ten­den­cy to pay atten­tion to the con­clu­sions of sci­en­tif­ic research.
At the Repub­li­can Nation­al Com­mit­tee​'s Win­ter Meet­ing a few weeks ago, Louisiana Gov. Bob­by Jin­dal warned the lead­er­ship that ​"We must stop being the stu­pid par­ty. We must stop insult­ing the intel­li­gence of voters."
With­in the RECD sys­tem it is of extreme impor­tance that we become the stu­pid nation, not mis­led by sci­ence and ratio­nal­i­ty, in the inter­ests of the short-term gains of the mas­ters of the econ­o­my and polit­i­cal sys­tem, and damn the consequences.
These com­mit­ments are deeply root­ed in the fun­da­men­tal­ist mar­ket doc­trines that are preached with­in RECD, though observed in a high­ly selec­tive man­ner, so as to sus­tain a pow­er­ful state that serves wealth and power.
The offi­cial doc­trines suf­fer from a num­ber of famil­iar ​"mar­ket inef­fi­cien­cies," among them the fail­ure to take into account the effects on oth­ers in mar­ket trans­ac­tions. The con­se­quences of these ​"exter­nal­i­ties" can be sub­stan­tial. The cur­rent finan­cial cri­sis is an illus­tra­tion. It is part­ly trace­able to the major banks and invest­ment firms' ignor­ing ​"sys­temic risk"—the pos­si­bil­i­ty that the whole sys­tem would col­lapse—when they under­took risky transactions.
Envi­ron­men­tal cat­a­stro­phe is far more seri­ous: The exter­nal­i­ty that is being ignored is the fate of the species. And there is nowhere to run, cap in hand, for a bailout.
In future, his­to­ri­ans (if there are any) will look back on this curi­ous spec­ta­cle tak­ing shape in the ear­ly 21st cen­tu­ry. For the first time in human his­to­ry, humans are fac­ing the sig­nif­i­cant prospect of severe calami­ty as a result of their actions—actions that are bat­ter­ing our prospects of decent survival.
Those his­to­ri­ans will observe that the rich­est and most pow­er­ful coun­try in his­to­ry, which enjoys incom­pa­ra­ble advan­tages, is lead­ing the effort to inten­si­fy the like­ly dis­as­ter. Lead­ing the effort to pre­serve con­di­tions in which our imme­di­ate descen­dants might have a decent life are the so-called ​"prim­i­tive" soci­eties: First Nations, trib­al, indige­nous, aboriginal.
The coun­tries with large and influ­en­tial indige­nous pop­u­la­tions are well in the lead in seek­ing to pre­serve the plan­et. The coun­tries that have dri­ven indige­nous pop­u­la­tions to extinc­tion or extreme mar­gin­al­iza­tion are rac­ing toward destruction.
Thus Ecuador, with its large indige­nous pop­u­la­tion, is seek­ing aid from the rich coun­tries to allow it to keep its sub­stan­tial oil reserves under­ground, where they should be.
Mean­while the U.S. and Cana­da are seek­ing to burn fos­sil fuels, includ­ing the extreme­ly dan­ger­ous Cana­di­an tar sands, and to do so as quick­ly and ful­ly as pos­si­ble, while they hail the won­ders of a cen­tu­ry of (large­ly mean­ing­less) ener­gy inde­pen­dence with­out a side glance at what the world might look like after this extrav­a­gant com­mit­ment to self-destruction.
This obser­va­tion gen­er­al­izes: Through­out the world, indige­nous soci­eties are strug­gling to pro­tect what they some­times call ​"the rights of nature," while the civ­i­lized and sophis­ti­cat­ed scoff at this silliness.
This is all exact­ly the oppo­site of what ratio­nal­i­ty would pre­dict—unless it is the skewed form of rea­son that pass­es through the fil­ter of RECD.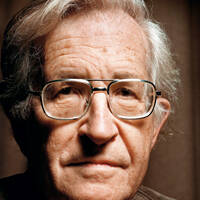 Noam Chom­sky
is Insti­tute Pro­fes­sor and Pro­fes­sor of Lin­guis­tics (Emer­i­tus) at the Mass­a­chu­setts Insti­tute of Tech­nol­o­gy, and the author of dozens of books on U.S. for­eign pol­i­cy. His most recent book is
Who Rules the World?
from Met­ro­pol­i­tan Books.