How Wall Street Is Cashing In on Climate Catastrophe
Come hell or high water, the finance industry will make a killing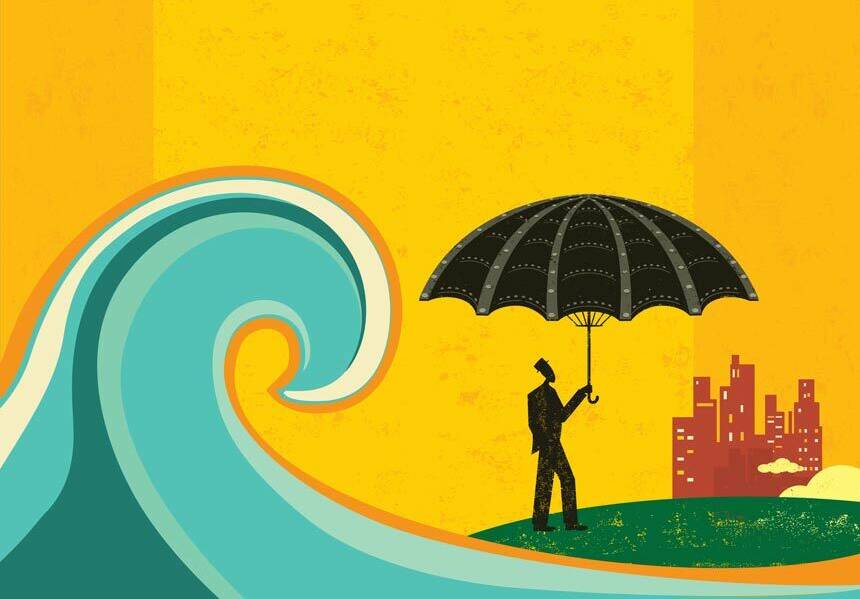 Big­ger and more expen­sive storms are brew­ing. One study found that as much as $507 bil­lion worth of U.S. coastal prop­er­ty could be under­wa­ter by 2100. With $416 bil­lion in assets at risk, the Organ­i­sa­tion for Eco­nom­ic Co-oper­a­tion and Devel­op­ment labels Mia­mi as the city that could face the most prop­er­ty dam­age world­wide as a result of ris­ing tides. Hur­ri­cane Kat­ri­na already claimed $48.7 bil­lion in insured loss­es; Hur­ri­cane Sandy caused $18.75 bil­lion worth.
If you're looking to invest in the cat bond market, the odds are good that even a major storm won't cut into your returns.
Gov­ern­ments, mean­while, are doing lit­tle to pre­pare. As we head into this year's cli­mate talks in Paris, prospects seem dim for a com­pre­hen­sive plan to scale back emis­sions to the extent required to pre­vent cat­a­stroph­ic warm­ing. In the Unit­ed States, Depart­ment of Ener­gy sci­en­tist Tom Wilbanks has called this country's crum­bling infra­struc­ture, which is woe­ful­ly ill-equipped to cope with even mod­er­ate cli­mate impacts, ​"a nation­al cri­sis." On top of that, our fed­er­al dis­as­ter response mech­a­nisms remain slug­gish, still under­fund­ed and encum­bered by the bureau­crat­ic mis­man­age­ment that char­ac­ter­ized the respons­es to Kat­ri­na and Sandy.
But thanks to Wall Street's abil­i­ty to turn a sow's ear into a silk purse, one dis­as­ter man­age­ment tool is start­ing to gain traction.
The ​"cat­a­stro­phe bond," devised in the after­math of 1992's Hur­ri­cane Andrew, is a form of ​"rein­sur­ance." Rein­sur­ance pro­tects insur­ance com­pa­nies in case they can't pay out — for exam­ple, after a flur­ry of simul­ta­ne­ous claims fol­low­ing a cat­a­stroph­ic event. Stung by Kat­ri­na and Sandy, in the last decade insur­ance com­pa­nies and eager investors have fueled an aver­age annu­al growth of as much as 25 per­cent in what is known as the ​"cat bond" mar­ket, with a record $8 bil­lion sold to investors in 2014 alone. These finan­cial instru­ments are also being float­ed as a solu­tion for the risk incurred by pub­lic-sec­tor enti­ties that range from the debt-rid­den Nation­al Flood Insur­ance Pro­gram to impov­er­ished coun­tries that could face bank­rupt­cy should a mas­sive storm hit.
There's just one hitch: Cat bonds are fun­da­men­tal­ly finan­cial instru­ments, hawked by Wall Street firms and glob­al rein­sur­ance com­pa­nies that have no duty to the public.
A cat bond is born
Here's how cat bonds work: Say an insur­ance com­pa­ny in Flori­da is look­ing to buy an extra lay­er of insur­ance for itself in case of a par­tic­u­lar­ly severe hur­ri­cane sea­son. It might draft up a con­tract with a rein­sur­er that — in return for a hefty fee — will set up a spe­cial-pur­pose vehi­cle (SPV), a legal enti­ty cre­at­ed specif­i­cal­ly to man­age cat bond trans­ac­tions. The SPV then sells cat bonds to investors, whose prin­ci­pal goes into a fund, typ­i­cal­ly housed in off­shore tax havens like Bermu­da. These bonds offer investors, who are gen­er­al­ly larg­er insti­tu­tion­al play­ers like hedge or pen­sion funds, the promise of steady returns. Pay­outs come from the insur­ance company's pre­mi­ums, plus any inter­est that accrues on the invest­ment prin­ci­pal. Should the cat bond ​"trig­ger" — in this case, if a ​"once in a life­time" hur­ri­cane tears through Flori­da — investors lose their mon­ey and the insur­ance com­pa­ny uses the cat fund to pay claims. Oth­er­wise, investors can claim back their prin­ci­pal at the end of the bond's term.
In the­o­ry, cat bonds are high-risk, high-reward invest­ments that also pro­vide insur­ers an alter­na­tive to tra­di­tion­al rein­sur­ance, which has been around for over a cen­tu­ry. In real­i­ty, as ​"spec­u­la­tive" prod­ucts go, they make a fair­ly safe bet for investors — which, iron­i­cal­ly, is what can make them a risky prospect for insur­ance com­pa­nies. As Tom Keatinge, for­mer man­ag­ing direc­tor of JPMor­gan Chase's insur­ance cap­i­tal man­age­ment team, told Bloomberg Busi­ness, ​"For a cat bond to trig­ger, you need a bull's‑eye to be hit instead of a gen­er­al shot in the right direc­tion." In cre­at­ing the bond, teams of deriv­a­tives experts and geo­sci­en­tists sift through piles of data on past storms and emer­gent weath­er pat­terns in order to mod­el and pre­dict the exact chances that an event will cause a cer­tain amount of dam­age to a cer­tain place with­in a cer­tain time peri­od. Only after a cat­a­stro­phe caus­es a cer­tain amount of dam­age or cross­es a cer­tain mete­o­ro­log­i­cal thresh­old will the bond be triggered.
As of 2012, just eight of the 232 cat bonds issued since 1996 had paid out. Only one was trig­gered dur­ing 2005's bru­tal hur­ri­cane sea­son, which caused more than $100 bil­lion in dam­ages. Insur­ance con­sult­ing firm Lane Finan­cial LLC reports that, in sum, investors have lost just $682 mil­lion of the $51 bil­lion in cat bonds they pur­chased in the same peri­od. Using com­put­er mod­el­ing, one insur­ance firm esti­mates that the prob­a­bil­i­ty a storm will be large enough to trig­ger a pay­out to insur­ers is just 2.89 per­cent. If you're look­ing to invest in the cat bond mar­ket, the odds are good that even a major storm won't cut into your returns.
Recent­ly, how­ev­er, Hur­ri­cane Patri­cia has giv­en some investors a rea­son to sweat. Investors are anx­ious­ly await­ing news on the fate of a $100 mil­lion cat bond—Mul­ti­Cat Mex­i­co Ltd.—struc­tured for the Mex­i­can gov­ern­ment in 2012 by Gold­man Sachs and the world's largest rein­sur­ers, Munich Re and Swiss Re, with the help of the World Bank. Whether or not the $100 mil­lion will be deposit­ed into Mexico's dis­as­ter fund depends on whether atmos­pher­ic pres­sure with­in Patri­cia ever dropped below 920 mil­libars. The low­er a hurricane's atmos­pher­ic pres­sure, the stronger its force.
As Patri­cia-lev­el storms become more com­mon, the ques­tion of who con­trols relief fund­ing post-dis­as­ter will become increas­ing­ly weighty.
None of these con­cerns have stopped cat bond pro­po­nents from extolling their virtues. In July, Gold­man Sachs boast­ed of hav­ing struc­tured $14 bil­lion in cat bonds since 2006 as part of its ​"long-stand­ing com­mit­ment to har­ness mar­kets and deploy cap­i­tal to scale-up clean ener­gy tech­nolo­gies and facil­i­tate the tran­si­tion to a low-car­bon ener­gy future." The World Bank, the Unit­ed Nations and the Union of Con­cerned Sci­en­tists have all her­ald­ed cat bonds as a way to lever­age pri­vate cap­i­tal mar­kets to pro­tect against cli­mate cat­a­stro­phe. In 2014, the World Bank cre­at­ed a $30 mil­lion cat bond to cov­er the risk of trop­i­cal cyclones and earth­quakes in 16 coun­tries, includ­ing Haiti.
In the Unit­ed States, cor­po­ra­tions are hyp­ing cat bonds as a pri­vate-mar­ket solu­tion to the Nation­al Flood Insur­ance Program's $24 bil­lion debt (caused almost entire­ly by Kat­ri­na and Sandy). The Nation­al Asso­ci­a­tion of Mutu­al Insur­ance Com­pa­nies tes­ti­fied before Con­gress last year that ​"ced­ing a por­tion of the NFIP's risk to the pri­vate sec­tor through rein­sur­ance and cat­a­stro­phe bonds could reduce tax­pay­er expo­sure to future debt."
Though framed as a con­ve­nient, mar­ket-friend­ly means to help gov­ern­ments and insur­ance com­pa­nies cope with dis­as­ter, cat bonds are no sub­sti­tute for pub­lic sec­tor invest­ment in resilien­cy and robust fed­er­al dis­as­ter relief. And judg­ing from these prod­ucts' short his­to­ry, we should be vig­i­lant as to whether the pri­vate sector's ​"inno­v­a­tive" cat­bond solu­tion to cli­mate dis­as­ter tru­ly serves the pub­lic good, or is anoth­er way to increase pri­vate profits.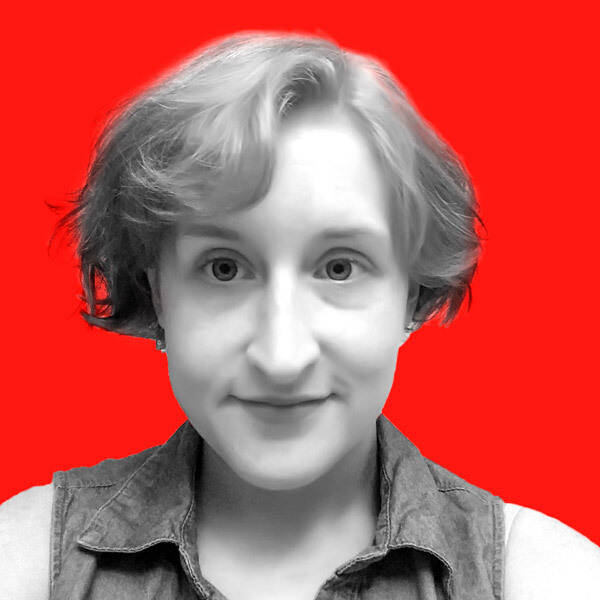 Kate Aronoff
is a Brook­lyn-based jour­nal­ist cov­er­ing cli­mate and U.S. pol­i­tics, and a con­tribut­ing writer at The Inter­cept. Fol­low her on Twit­ter @katearonoff.