The Catholic Church Siphoned Away $30 Million Paid to Native People for Stolen Land
Free, government-funded schools were rarely built on reservations—meaning that for many Native families, Catholic mission schools were the only option.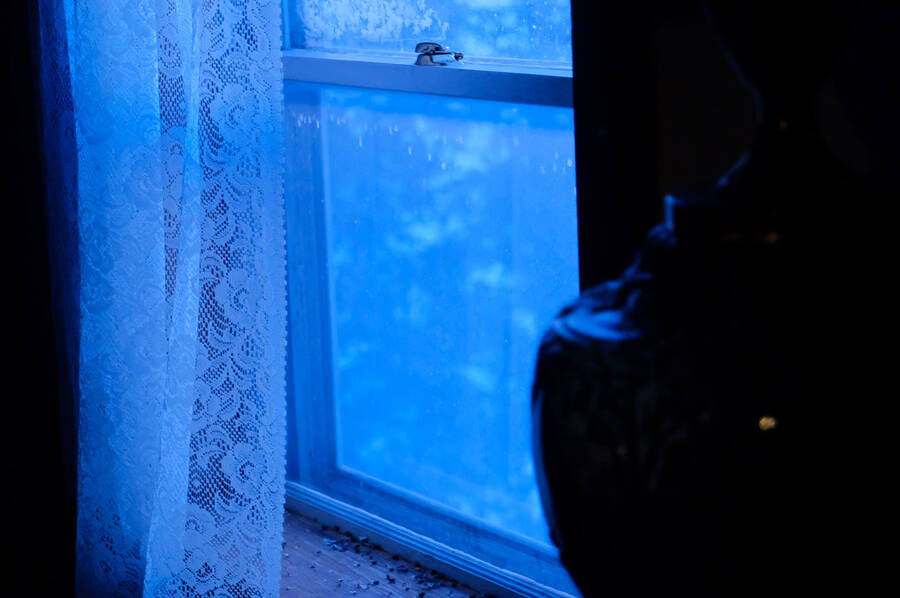 The brit­tle wood­en floors creak as we climb the stairs to the long room that served as a dor­mi­to­ry for Ojib­we girls at St. Mary's Mis­sion School on the Red Lake Indi­an Reser­va­tion in Minnesota.
"My moth­er slept here," says Kathryn ​"Jody" Beaulieu, 70, my guide and a Red Lake trib­al cit­i­zen. She points to one end of the nar­row room. A few white iron bed frames are still stacked in the cor­ner. ​"Her sis­ters slept down at the oth­er end, about 100 feet away."
Beaulieu's moth­er, Ruth Jour­dain-Fevig, was 6 when she was sent away to the mis­sion school in the ear­ly 1930s. ​"She said she was afraid and tried to crawl into bed with her old­er sis­ters, but the nun would scold her and drag her back to her bed," Beaulieu says. ​"It was as though they had no com­pas­sion for the suf­fer­ing of a child. Her sis­ters must have seemed so far away."
It took decades for Ruth, who died in 2015, to tell Beaulieu about her expe­ri­ences. Even then, it was only in brief. ​"I had no idea she'd gone to school here until we went on a tour of the mis­sion build­ings in the 1990s," Beaulieu says. ​"I think she must have sup­pressed the mem­o­ry of her days here until we walked up the stairs and she phys­i­cal­ly stood in this spot. I think it was just too painful for her."
Indi­an board­ing and day schools attempt­ed, for decades, to forcibly assim­i­late Native chil­dren. The schools have a long, doc­u­ment­ed his­to­ry of abuse and cul­tur­al debase­ment. For­mer stu­dents have recount­ed sex­u­al abuse, cor­po­ral pun­ish­ment and neglect at the hands of teach­ers and admin­is­tra­tors. Stu­dents were pro­hib­it­ed from speak­ing Native lan­guages and prac­tic­ing Native tra­di­tions, often with the threat of vio­lence. Abuse was report­ed at both gov­ern­ment-run and reli­gious institutions.
Of the approx­i­mate­ly 400 Indi­an board­ing and day schools in the Unit­ed States (which start­ed around 1830), the fed­er­al gov­ern­ment oper­at­ed more than half. Var­i­ous Chris­t­ian denom­i­na­tions oper­at­ed the remain­ing schools, but the Catholic Church dom­i­nat­ed the field with about 100. My moth­er attend­ed one of these schools in the 1930s and 1940s: St. Mary's Indi­an Board­ing School on the Bad Riv­er Ojib­we Reser­va­tion in Wis­con­sin, about 250 miles from Red Lake. Like oth­ers, my moth­er car­ried the trau­ma and shame of that expe­ri­ence her entire life.
The eco­nom­ic vio­la­tions com­mit­ted at these schools, how­ev­er, have not been wide­ly report­ed. A year­long effort from Type Inves­ti­ga­tions and In These Times has found that, for the greater part of the 20th cen­tu­ry, the fed­er­al gov­ern­ment rout­ed funds — des­ig­nat­ed as direct pay­ments for Native peo­ple — to Catholic mis­sion schools, drain­ing fam­i­lies of mil­lions of dol­lars by today's measures.
For many par­ents, some of whom were bare­ly lit­er­ate, the approval to send their chil­dren to these reli­gious board­ing schools took the form of thumbprints. Pressed on gov­ern­ment forms, signed and wit­nessed by church and gov­ern­ment offi­cials, these thumbprints autho­rized the mis­sion schools to take por­tions of treaty and trust funds—owed to Native fam­i­lies by the fed­er­al gov­ern­ment in exchange for their land — to pay tuition.
Osten­si­bly, Native Amer­i­cans chose to send their chil­dren to these mis­sion schools rather than free, gov­ern­ment-fund­ed schools. But fed­er­al schools were rarely built on reser­va­tions in the ear­ly 20th cen­tu­ry. With the dis­tri­b­u­tion of rations and oth­er goods also some­times depen­dent on Native chil­dren attend­ing school, Native Amer­i­cans were often effec­tive­ly coerced into pay­ing for their own assimilation.
In 1920, Beaulieu's grand­fa­ther, Joseph Jour­dain, signed a peti­tion allow­ing St. Mary's to take por­tions of his treaty and trust funds to cov­er tuition. Although tuition costs var­ied, Jour­dain agreed to pay approx­i­mate­ly three shares of his treaty funds annu­al­ly — more than $400 today.
"In those days on the reser­va­tion, peo­ple hunt­ed and fished all year round, like sub­sis­tence liv­ing," Beaulieu says. She sur­mis­es there was not much cash mon­ey avail­able to pay for things.
The sight of her grandfather's name on the peti­tion offers Beaulieu an uncom­fort­able, tan­gi­ble proof of her mother's expe­ri­ence. ​"Not only was my mom sep­a­rat­ed from her sis­ters dur­ing nights, she was also sep­a­rat­ed from her par­ents dur­ing her time at the mis­sion," she reflects later.
"That must have been a ter­ri­ble mem­o­ry for her."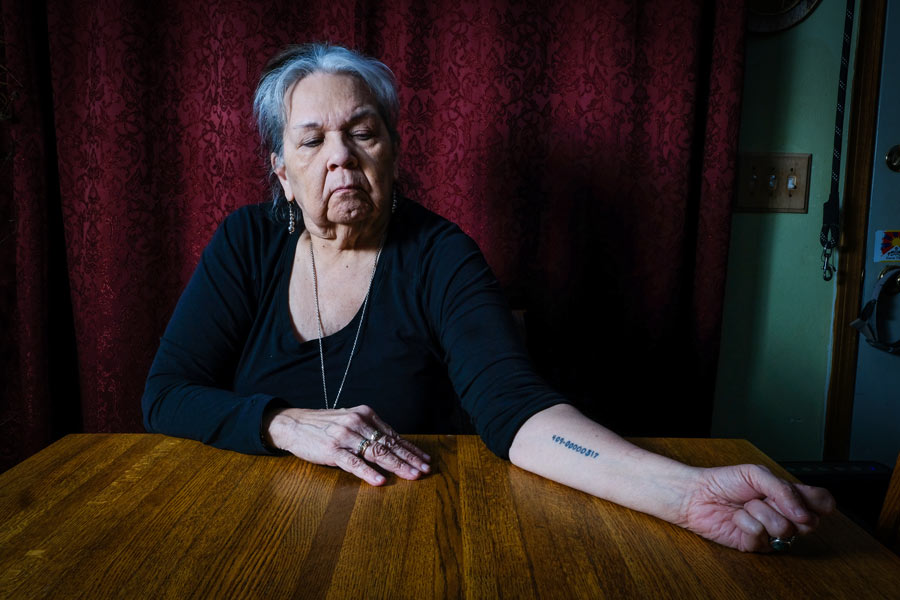 Jody Beaulieu, 70, dis­plays a tat­too of her trib­al enroll­ment num­ber — issued by the fed­er­al gov­ern­ment — to call atten­tion to the colo­nial con­struct of mea­sur­ing trib­al mem­ber­ship. (Mary Annette Pember)
The sto­ry of Indi­an treaties and sub­se­quent fed­er­al Indi­an poli­cies is a labyrinth of con­fus­ing and some­times con­flict­ing actions aimed at solv­ing the ​"Indi­an prob­lem." Native Amer­i­cans liv­ing on ances­tral lands pre­sent­ed an obsta­cle to colonists' occu­pa­tion and set­tle­ment. From 1778 to 1871, hun­dreds of treaties, signed by the U.S. gov­ern­ment, promised Native peo­ple not only cash and goods but often health­care and edu­ca­tion — in exchange for more than 1.5 bil­lion acres. Sub­se­quent poli­cies, like the 1887 Dawes Act, appro­pri­at­ed even more land. Indi­vid­ual treaty and trust funds were estab­lished by the fed­er­al gov­ern­ment to pay Native peo­ples for prof­its earned through the use of their ced­ed lands.
But the schools promised by the fed­er­al gov­ern­ment were not built on every reser­va­tion. Mean­while, the gov­ern­ment gave Chris­t­ian church­es, includ­ing the Catholic Church, land for mis­sion schools. Fed­er­al schools were also known to be par­tic­u­lar­ly cru­el to Native stu­dents, often for­bid­ding con­tact between stu­dents and fam­i­lies. This led some par­ents to opt for reli­gious board­ing schools in the hope that their chil­dren would be treat­ed mar­gin­al­ly better.
In 1900, Catholic lead­er­ship intro­duced the idea of allow­ing Native Amer­i­cans to autho­rize the fed­er­al gov­ern­ment to divert indi­vid­ual Native treaty and trust funds to pay for tuition at Catholic schools. Short­ly after, a group of three Sioux Indi­ans from South Dako­ta sued the fed­er­al gov­ern­ment, argu­ing the agree­ments amount­ed to theft. School­ing should have already been pro­vid­ed for free, the plain­tiffs argued, through pre­vi­ous treaties. The case, Quick Bear v. Leupp, reached the Supreme Court in 1908.
Ulti­mate­ly, the court ruled that mis­sion school lead­ers could ask Native Amer­i­cans to use indi­vid­ual treaty and trust funds to pay tuition at their reli­gious schools. Chief Jus­tice Melville Fuller wrote that for­bid­ding Natives to use their mon­ey as they want­ed would deny them free exer­cise of their rights. Begin­ning in 1908, then, the prin­ci­pal of each school was required to gath­er sig­na­tures (or thumbprints) from par­ents to autho­rize the use of the funds. The peti­tions then had to be sub­mit­ted to the Bureau of Catholic Indi­an Mis­sions (BCIM) and the Bureau of Indi­an Affairs.
The cumu­la­tive drain from Native fam­i­lies' wealth was sig­nif­i­cant. Type Inves­ti­ga­tions and In These Times locat­ed annu­al reports from BCIM for nine years that Catholic mis­sion schools received fund­ing this way. Giv­en the lim­it­ed infor­ma­tion avail­able to the pub­lic, it is dif­fi­cult to know the total amount of funds paid to the mis­sions dur­ing this peri­od. These records, how­ev­er, offer a glimpse of the scope.
In 1910, BCIM records show Native Amer­i­can par­ents signed over $128,308 to the mis­sion schools — more than $3.5 mil­lion today. In 1935, the schools received $234,675 from Native trust and treaty funds — about $4.3 mil­lion today. In total, over the nine years records were avail­able (1910, 1933, 1935, 1939 – 1943, 1954), Native par­ents gave the schools some $30.4 mil­lion, adjust­ed for inflation.
This num­ber does not include fed­er­al stu­dent rations divert­ed to schools, oth­er fed­er­al fund­ing, the val­ue of the exten­sive Native lands giv­en to the schools by the gov­ern­ment, nor the oth­er 53 years between 1908 and 1970 for which records were unavailable.
Accord­ing to a report from the Raynor Memo­r­i­al Libraries at Mar­quette Uni­ver­si­ty, a Catholic Jesuit uni­ver­si­ty that main­tains a spe­cial col­lec­tion of BCIM archives, the prac­tice stopped in the 1970s — because the Native trusts had been siphoned to depletion.
Kath­leen Holsch­er, chair of Roman Catholic stud­ies at the Uni­ver­si­ty of New Mex­i­co, says the board­ing schools played a num­ber of impor­tant roles for the Catholic Church. Mis­sion work with Native Amer­i­cans ele­vat­ed the Church in the eyes of the gen­er­al pub­lic, for exam­ple, as Catholic mis­sions came to be seen as inte­gral to the Amer­i­can project of ​"civ­i­liz­ing" the Amer­i­can wilderness.
The pro­gram began a part­ner­ship with the gov­ern­ment that solid­i­fied the Catholic Church's polit­i­cal con­nec­tions. Holsch­er notes, for exam­ple, that William Ketcham, BCIM direc­tor, was appoint­ed by Pres­i­dent William Taft in 1912 to the Board of Indi­an Com­mis­sion­ers, a con­gres­sion­al advi­so­ry board. But the Church need­ed mon­ey to fund its expen­sive mis­sions. ​"Catholic lead­ers pro­fessed great inter­est in sav­ing Native Amer­i­can souls, but in order to do so, they had to make mon­ey," Holsch­er says.
Many Native par­ents had lit­tle choice in send­ing their chil­dren to the near­by Catholic mis­sion schools. Lack of trans­porta­tion, for exam­ple, pre­vent­ed atten­dance at gov­ern­ment-fund­ed schools miles away. As penal­ty for tru­an­cy, the fed­er­al gov­ern­ment could with­hold food rations and goods for an entire family.
Accord­ing to Frank Dick­en­son, 90, who is Ojib­we, such was the case in Red Lake. The fed­er­al gov­ern­ment promised the Red Lake Nation edu­ca­tion in exchange for their lands. A fed­er­al­ly fund­ed Bureau of Indi­an Affairs school was locat­ed on the reser­va­tion, but it was more than 5 miles from the town of Red Lake, inac­ces­si­ble for many in rur­al Minnesota's extreme winters.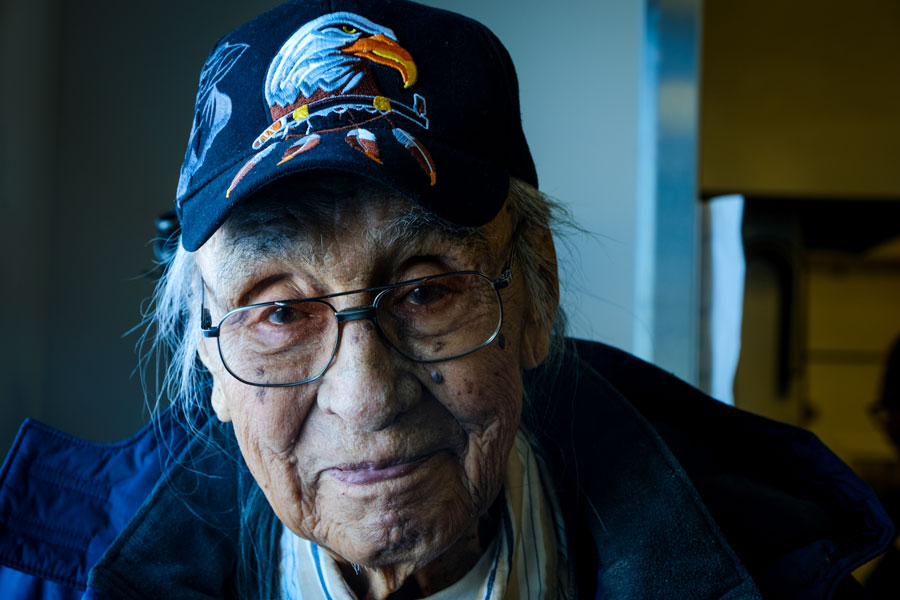 Frank Dick­en­son, 90, attend­ed St. Mary's school. He recalls the priests beat­ing stu­dents for minor rule infrac­tions. (Mary Annette Pember)
In a sun­ny room crowd­ed with elders jok­ing togeth­er as they eat their dai­ly meal, Dick­en­son care­ful­ly runs his index fin­ger down the col­umn of thumbprints and names on the 1920 peti­tion that his grand­moth­er signed to direct her treaty and trust funds to St. Mary's.
"Here's my grand­ma, Jen­nie Mason," he says. Mason, too, had signed the doc­u­ment with her thumbprint. Accord­ing to Dick­en­son, who him­self attend­ed St. Mary's in the 1940s, Native par­ents held lit­tle author­i­ty over mis­sion school poli­cies and pro­ce­dures. He recalls wit­ness­ing harsh beat­ings of stu­dents by priests for being late to class and oth­er minor infractions.
"No one would believe us if we com­plained to the Church or the Indi­an agents," says Dick­en­son, refer­ring to gov­ern­ment offi­cials who over­saw dis­per­sal of funds and trib­al adher­ence to U.S. fed­er­al rules. The nuns and priests, Dick­en­son says, ​"wrote every­thing down in reports to the gov­ern­ment. Accord­ing to those reports, they were always in the right.
"Kids were always run­ning away from the mis­sion school. We used to have a tru­ant offi­cer on the reser­va­tion. He was always busy chas­ing kids through the woods. We ran away because they were so cru­el to us."
Red Lake cit­i­zens often fed their fam­i­lies through hunt­ing and gath­er­ing, with very lit­tle in the way of cash. The impact of using per­son­al por­tions of trust and treaty funds to pay tuition was substantial.
"One time I looked in the cup­board and there was noth­ing there," Dick­en­son recalls. ​"I asked Mom, ​'Aren't we going to have any din­ner?' She fixed us some salt pork and pota­toes but she told us, ​'You have to share that.' "
Dick­en­son remem­bers the qual­i­ty and amount of food as mea­ger. Some for­mer stu­dents say they were asked to cov­er school costs in yet anoth­er way — by work­ing for half the school day. Tom Der­agon, 69, attend­ed St. Mary's on the Bad Riv­er Reser­va­tion from first through eighth grade. ​"In sec­ond grade, I start­ed tak­ing care of the chick­en coop … before school" for the nuns and priests, says Der­agon. ​"I did that for five, six years. … I was pay­ing off a book bill." His father also gave the school free fire­wood every few weeks to help pay the bill.
Peo­ple sel­dom ques­tioned the harsh rules and work­ings of the school, accord­ing to Der­agon. The Treaty of 1854 had promised mon­ey to build schools for Bad Riv­er and sur­round­ing bands of Ojib­we. But ​"there was no oth­er option" than St. Mary's, Der­agon says. Stu­dents couldn't attend the near­est pub­lic school, about 25 miles away in the town of Ash­land, until high school. ​"I hon­est­ly didn't learn very much [at St. Mary's]. I learned more from my old­er broth­ers and sis­ters. … You didn't even have to pass your class. They'd push you on [to the next grade] any­way," he adds.
Accord­ing to Del­phine Hurd, 73, who attend­ed St. Mary's in Bad Riv­er in the 1950s and 1960s, stu­dents were ostra­cized for not hav­ing mon­ey. ​"The nuns shamed us if our folks were poor or drank, or if we came from [sin­gle-par­ent] homes," says Hurd, who was raised by a sin­gle moth­er. ​"We were always treat­ed as ​'less than.'"
It is impos­si­ble to deter­mine how much the siphon­ing away of these mil­lions con­tributes to indige­nous pover­ty today. But the dimin­ish­ment of mon­e­tary and cul­tur­al wealth, through fed­er­al and church poli­cies, has played a large role in trau­ma­tiz­ing and impov­er­ish­ing Native Americans.
Today, the pover­ty rate among Native Amer­i­cans is almost dou­ble the nation­al aver­age. One in four Native adults lives below the pover­ty line, as does one in three children.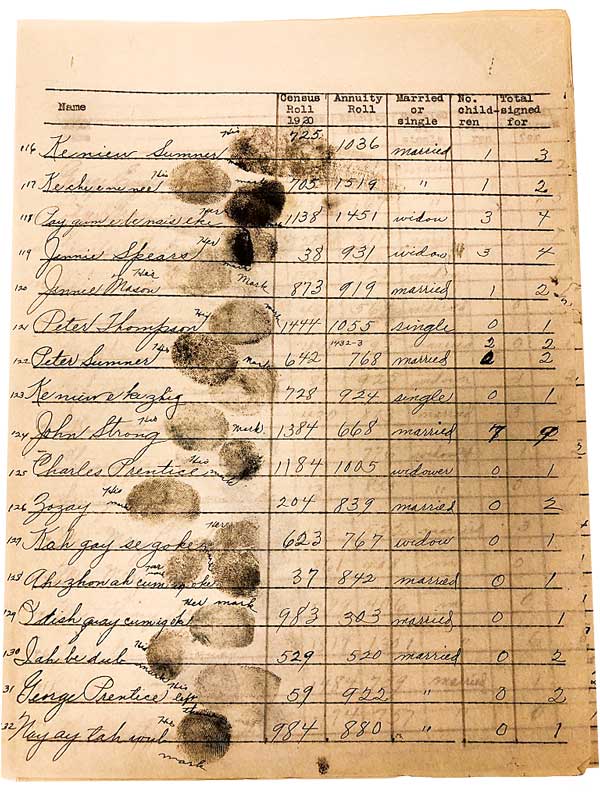 Thumbprints from Native par­ents were used to ​"sign over" Indi­an treaty and trust funds to Catholic mis­sion schools through­out the 20th cen­tu­ry. (Mary Annette Pember)
Among tribes, some scat­tered resis­tance did exist against the use of indi­vid­ual treaty funds for Catholic mis­sion schools. Numer­ous archival threads of cor­re­spon­dence between school prin­ci­pals and the BCIM ref­er­ence dif­fi­cul­ties in per­suad­ing Native peo­ple to sign over their funds both before and after the Quick Bear v. Leupp deci­sion. Ketcham wrote to Sen­a­tor Nel­son Aldrich in 1906, for exam­ple, to com­plain about requir­ing Native Amer­i­cans to sign peti­tions: ​"The Indi­ans are indig­nant over the sac­ri­fices required of them and begin to look upon the mis­sion­ar­ies and schools as mercenaries."
In anoth­er exam­ple, in 1929, Ben­jamin Thomp­son of the Low­er Brule Reser­va­tion in South Dako­ta wrote to his local Bureau of Indi­an Affairs agent, ​"to ask you please erase my name from that paper I signed. I do not wish to sign over mon­ey which my chil­dren have com­ing to them for the ben­e­fit of the Catholic Church. The paper was bad­ly mis­rep­re­sent­ed to us." The agent for­ward­ed Thompson's let­ter to the Com­mis­sion­er of Indi­an Affairs, who lat­er indi­cat­ed Thompson's name was removed from the petition.
The Red Lake gen­er­al coun­cil passed a res­o­lu­tion in 1935 declar­ing tuition con­tracts with St. Mary's cov­er a sin­gle year, where­as pre­vi­ous con­tracts extend­ed over sev­er­al years. The coun­cil also resolved that St. Mary's should pro­vide prop­er food and should not be run for profit.
A Red Lake Indi­an Agency social work­er sent a memo in 1937 to agency super­in­ten­dent Ray­mond H. Bit­ney regard­ing tuition pay­ment to St. Mary's, explain­ing that Red Lake mem­bers were con­cerned about trib­al funds and the poor qual­i­ty of edu­ca­tion at the mis­sion school. The com­plaints, how­ev­er, do not appear to have had any impact on the tuition paid to the school.
In a series of 1934 and 1935 let­ters from Sis­ter Macaria, prin­ci­pal of St. Mary's in Bad Riv­er, to the Rev. William Hugh­es, BCIM direc­tor, and Eliz­a­beth Yerxa, direc­tor of the Juve­nile Depart­ment of the Wis­con­sin State Board of Con­trol, Macaria com­plains about the inter­fer­ence of state reg­u­la­tors at St. Mary's. Though there is no anec­do­tal evi­dence that she ever did so, she asks Hugh­es for per­mis­sion to keep chil­dren in her charge from being reunit­ed with their par­ents for non-pay­ment of tuition.
In his response, Hugh­es advised Macaria to instead seek pay­ment from the coun­ty court, writ­ing, ​"You can scarce­ly hold a child as a hostage until the par­ent pays."
A con­gres­sion­al report released after a 1952 House res­o­lu­tion autho­riz­ing an inves­ti­ga­tion of the Bureau of Indi­an Affairs stat­ed, ​"The social con­di­tions on this reser­va­tion are, with­out ques­tion, the poor­est in the entire juris­dic­tion. … Edu­ca­tion on the Bad Riv­er Reser­va­tion has not been ade­quate to meet the needs of the local Indi­an." Although the inves­ti­ga­tion doesn't name St. Mary's explic­it­ly, no oth­er schools exist­ed on the reser­va­tion at the time.
The Catholic mis­sion school in Bad Riv­er closed in 1969. Archivist Mark Thiel has over­seen the BCIM records at Mar­quette Uni­ver­si­ty for sev­er­al decades. He admits the mis­sion schools were strict and would be con­sid­ered inap­pro­pri­ate today, but describes them as offer­ing ​"tough love." ​"When you're look­ing at some­thing from a past era and you're apply­ing con­tem­po­rary stan­dards, I think that there's a bias there," Thiel says. ​"I think you need to look at it from the lens of the past era." Accord­ing to the Amer­i­can Indi­an Catholic Schools Net­work (AIC­SN), 26 Catholic Indi­an mis­sion schools remain in the Unit­ed States, sev­en belong­ing to AIC­SN. Catholic Indi­an schools are now indi­vid­u­al­ly respon­si­ble for rais­ing most of their funds for oper­a­tions, says Bri­an Col­lier, AIC­SN direc­tor and fac­ul­ty for the Alliance for Catholic Edu­ca­tion at the Uni­ver­si­ty of Notre Dame. Native stu­dents must still pay tuition (no longer siphoned from treaty funds), though some receive scholarships.
Accord­ing to Col­lier, cor­po­ral pun­ish­ment is not tol­er­at­ed, nor is the demean­ing of Native cul­tures and lan­guages. Mike Hougen, cur­rent prin­ci­pal at St. Mary's in Red Lake, agrees that is the case at his school.
The com­mu­ni­ty is ​"very sup­port­ive of the school," Hougen says. ​"We include some Ojib­we cul­tur­al activ­i­ties such as maple sug­ar­ing and have an Ojib­we word of the day."
Hougen does rec­og­nize the school's his­to­ry. ​"We are well aware of the need for deal­ing with St. Mary's painful past," he says. ​"The board­ing school wasn't always a pos­i­tive expe­ri­ence for Native peo­ple. We are work­ing with the com­mu­ni­ty to pur­sue heal­ing and reconciliation."
Char­maine Bran­chaud, Red Lake trib­al cit­i­zen and board mem­ber at St. Mary's Mis­sion School, says ​"Par­ents like the small class sizes at St. Mary's. Stu­dents get more one-on-one atten­tion than they do at pub­lic school."
Bran­chaud had not pre­vi­ous­ly been aware of the use of treaty funds to pay tuition at the school. Hougen declined to respond to emailed ques­tions about the practice.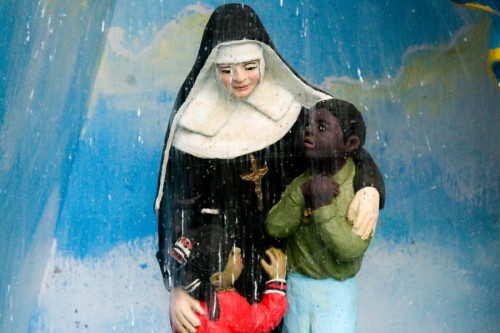 Although the St. Mary's school on the Bad Riv­er Reser­va­tion is no longer stand­ing, a small out­door chapel remains with this stat­ue inside. (Mary Annette Pember)
Many Chris­t­ian denom­i­na­tions have apol­o­gized for their involve­ment in oper­at­ing Indi­an res­i­den­tial and board­ing schools both in the Unit­ed States and Cana­da. The Catholic Church, how­ev­er, has not issued an apol­o­gy.
At the U.S. Con­fer­ence of Catholic Bish­ops (USC­CB) office in Wash­ing­ton, D.C., in ear­ly March, I showed Father Michael Car­son, assis­tant direc­tor for Native Amer­i­can Affairs, copies of the Red Lake peti­tions from 1920, as well as archival doc­u­ments show­ing Native oppo­si­tion to the use of treaty trust funds to pay tuition at the Catholic mis­sion schools.
When asked if he had any response after review­ing the doc­u­ments, he said, ​"No." When asked why Catholic lead­ers tar­get­ed these funds in par­tic­u­lar, he respond­ed, ​"I do not know."
Accord­ing to Car­son, the USC­CB sub­com­mit­tee on Native Amer­i­cans is ​"look­ing at an apol­o­gy for the board­ing school peri­od," and ​"we've made it clear to Catholic lead­ers that [rec­on­cil­i­a­tion] needs to be dealt with at the high­est lev­el with­in the sub­com­mit­tee and Bish­ops Conference."
Car­son declined to pro­vide any details about the work of the Native Amer­i­can sub­com­mit­tee, nor offered fur­ther com­ment about the Catholic Church's siphon­ing of board­ing school funds and the alle­ga­tions around the treat­ment of stu­dents at reli­gious schools. The chair­man of the sub­com­mit­tee, Bish­op James Wall, indi­cat­ed through a spokesper­son that he could be avail­able for an inter­view, but lat­er declined and did not respond to fol­low-up requests.
Father Mau­rice Sands, Direc­tor of the Bureau of Catholic Indi­an Mis­sions, did not respond to mul­ti­ple requests for an inter­view or an emailed let­ter request­ing comment.
Accord­ing to board­ing school sur­vivors and advo­cates, Native wealth goes far beyond the mon­e­tary val­ue of their lands and resources. It extends to their cul­tures, lan­guages and traditions.
Any future repa­ra­tions, many feel, should take the form of acknowl­edge­ment by and apolo­gies from gov­ern­ments and church­es for their roles in the board­ing schools, edu­cat­ing the pub­lic about this his­to­ry, and offer­ing finan­cial sup­port for men­tal health pro­grams in Indi­an Country.
Jody Beaulieu recalls how her uncle, Roger Jour­dain, for­mer Red Lake trib­al chair­man, often spoke of the Unit­ed States cre­at­ing a Mar­shall Plan to help rebuild Indi­an Coun­try, sim­i­lar to how the Euro­pean recov­ery pro­gram helped rebuild the con­ti­nent after World War II. The Catholic Church and oth­er enti­ties that oper­at­ed Native board­ing schools, Beaulieu sug­gests, could par­tic­i­pate in rebuild­ing the Red Lake com­mu­ni­ty by rehab­bing the three-sto­ry St. Mary's build­ing that housed the girls' dorm, where her moth­er slept so many years ago, into a youth shelter.
"They could cre­ate a safe home for some of our kids who are in great need," Beaulieu says. ​"Many of our kids live in homes made unsafe by drug abuse and violence."
Over­whelm­ing­ly, sur­vivors and advo­cates speak about the need for trans­paren­cy. ​"We just want the truth from the fed­er­al gov­ern­ment and church­es that oper­at­ed board­ing schools," says Chris­tine Diindi­isi McCleave, cit­i­zen of the Tur­tle Moun­tain Band of Chippe­wa in North Dako­ta and exec­u­tive direc­tor of the Nation­al Native Amer­i­can Board­ing School Heal­ing Coali­tion (NABS), a non­prof­it advo­ca­cy organization.
Much of the infor­ma­tion about the schools is scat­tered in fed­er­al and reli­gious board­ing school archives through­out the Unit­ed States. In Jan­u­ary 2020, NABS received fund­ing to start dig­i­tiz­ing fed­er­al board­ing school archives and mak­ing them avail­able to the pub­lic. The grant, how­ev­er, does not include the exten­sive BCIM archives at Marquette.
Mark Thiel oppos­es the NABS dig­i­ti­za­tion of the Mar­quette archives and says there are no cur­rent plans to dig­i­tize them. "[The NABS project is] pro­mot­ing a par­ti­san agen­da," he says. ​"I don't like the idea of com­bin­ing the archives with a par­ti­san agenda."
Col­lier, direc­tor of the AIC­SN, says the net­work advo­cates that ​"all reli­gious and fed­er­al Indi­an board­ing school archives, includ­ing those at [Mar­quette], be released imme­di­ate­ly to trib­al nations." Col­lier adds, ​"If it is too bur­den­some for tribes, then NABS is a good orga­ni­za­tion to take over this work and dig­i­tize the material."
Amy Cary, head of Spe­cial Col­lec­tions and Uni­ver­si­ty Archives at Mar­quette, says the deci­sion actu­al­ly lies with the orga­ni­za­tion that gave Mar­quette the archives, the BCIM. Over­all, McCleave says, ​"We are look­ing for some sort of truth and rec­on­cil­i­a­tion com­mis­sion," as was done in Cana­da. Between 2007 and 2015, the Cana­di­an gov­ern­ment pro­vid­ed cash set­tle­ments for school sur­vivors, gath­ered their sto­ries in a report avail­able online, pro­vid­ed fund­ing for men­tal health heal­ing, issued a pub­lic apol­o­gy, host­ed nation­al events to share the his­to­ry with the pub­lic and required gov­ern­ment and reli­gious orga­ni­za­tions involved to pro­vide access to their archives.
"What we would like instead of rec­on­cil­i­a­tion," McCleave con­tin­ues, ​"is trans­for­ma­tive jus­tice." Accord­ing to Denise Laji­modiere, an Indi­an board­ing school his­to­ry researcher at North Dako­ta State Uni­ver­si­ty, church­es and the gov­ern­ment have a legal and moral oblig­a­tion to sup­port heal­ing efforts among Native peoples.
"My hope is to see finan­cial sup­port from the fed­er­al gov­ern­ment and church­es to cre­ate heal­ing efforts that are spe­cif­ic to the trau­ma suf­fered at board­ing schools," says Laji­modiere, whose father was a board­ing school sur­vivor. ​"We need coun­selors who are trained in the his­to­ry of board­ing schools — the loss­es of our her­itage, land and families."
Del­phine Hurd, from Bad Riv­er, agrees: ​"I think [the Church] and gov­ern­ment should apol­o­gize for all the things they did to us," she says. ​"I think if they owned all that they did to us, then some sort of rec­on­cil­i­a­tion could happen."
This arti­cle was sup­port­ed by a grant from the Leonard C. Good­man Insti­tute for Inves­tiga­tive Report­ing, and was report­ed in part­ner­ship with Type Inves­ti­ga­tions, which pro­vid­ed fact-check­ing by Nina Zweig. https://​www​.type​in​ves​ti​ga​tions​.org/