Meet the Hawkish Liberal Think Tank Powering the Kamala Harris Campaign
The Center for a New American Security has long pushed Democrats to embrace war and militarism—and it's poised to play an influential role in a future Democratic administration.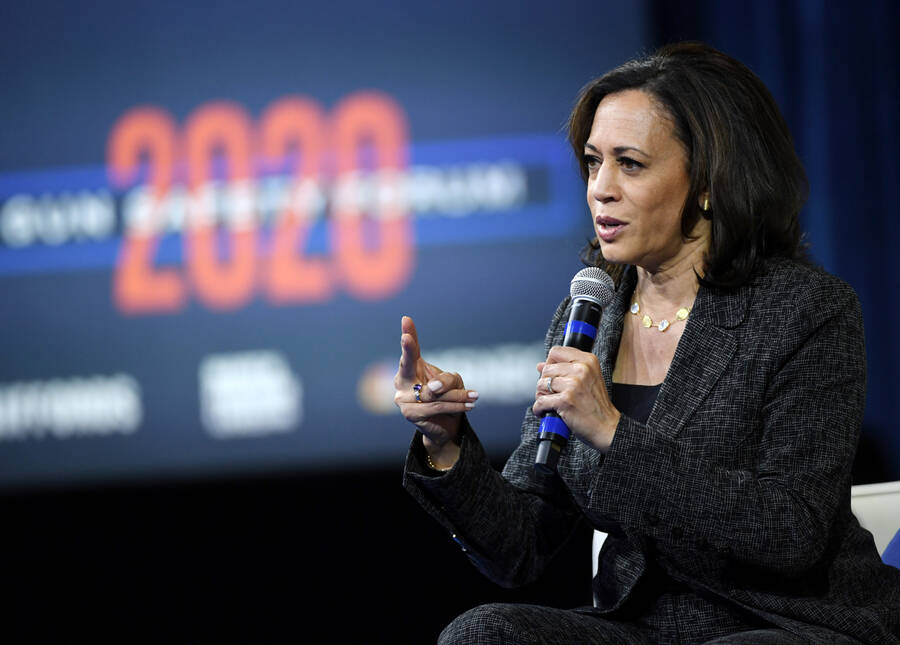 If you liked Hillary Clinton's for­eign pol­i­cy, you can keep it.
Though Hillary Clinton's loss meant CNAS hasn't had the influence over the halls of power it expected, a wide-open Democratic contest means a second opportunity.
That's the mes­sage many Demo­c­ra­t­ic vot­ers are receiv­ing this elec­tion, as they pre­pare to pick a con­tender from the grad­u­al­ly win­now­ing field of can­di­dates to take on Don­ald Trump in 2020. And the rea­son is the con­tin­u­ing influ­ence of a think-tank called the Cen­ter for a New Amer­i­can Secu­ri­ty (CNAS).
The influ­ence of CNAS on the 2020 elec­tion, at this point, is being chan­neled through the cam­paign of Sen. Kamala Har­ris (D‑CA), who has drawn heav­i­ly from its ranks to fill her line-up of for­eign pol­i­cy advi­sors. But giv­en its sta­tus as the go-to foun­tain­head of Demo­c­ra­t­ic for­eign pol­i­cy ideas, there is every chance its alum­ni could be part of anoth­er future Demo­c­ra­t­ic administration.
Found­ed on the eve of what was thought to almost cer­tain­ly be a com­ing Clin­ton pres­i­den­cy over a decade ago, CNAS has left its fin­ger­prints all over the past ten years of Demo­c­ra­t­ic for­eign pol­i­cy. With its bipar­ti­san make-up and cen­trist approach, the think tank has served as a cru­cial well­spring for con­ven­tion­al for­eign pol­i­cy think­ing that has shaped the actions and ideas of both the Oba­ma admin­is­tra­tion and Clinton's 2016 run.
Even as the Amer­i­can pub­lic has slow­ly turned against end­less war, CNAS' pre­scrip­tions have stayed sooth­ing­ly famil­iar: Stay the course in ongo­ing wars, step up efforts to counter Rus­sia, Chi­na and oth­er adver­saries, and dig deep­er into the con­flicts the Unit­ed States has so far only dipped a toe into.
Though Clinton's loss meant CNAS hasn't had the influ­ence over the halls of pow­er it expect­ed, a wide-open Demo­c­ra­t­ic con­test means a sec­ond oppor­tu­ni­ty. And it seems Cal­i­for­nia Sen. Kamala Har­ris is its favored can­di­date, as her for­eign pol­i­cy advi­so­ry team is stocked with the think tank's alum­ni and its co-founder.
The cre­ation of CNAS
CNAS was born dur­ing the Bush years as the for­eign pol­i­cy equiv­a­lent to the Cen­ter for Amer­i­can Progress (CAP): a lib­er­al-to-cen­trist think tank that would dou­ble as a pol­i­cy house for an even­tu­al Demo­c­ra­t­ic pres­i­dent. Estab­lished in 2007, CNAS came onto the scene as the Bush pres­i­den­cy was com­ing to a close and the Democ­rats bat­tled it out to see who would replace him. The tim­ing was sym­bol­ic, sug­gest­ing the eclipse of neo­con­ser­v­a­tive for­eign pol­i­cy by a new, lib­er­al era.
CNAS had anoth­er sim­i­lar­i­ty to CAP: its Clin­ton con­nec­tions. It had been found­ed by two for­mer Pen­ta­gon offi­cials under Bill Clinton's pres­i­den­cy, one of whom was Michèle Flournoy, and its board was stacked with that administration's alum­ni: Clinton's for­mer Defense Sec­re­tary William J. Per­ry, his for­mer Sec­re­tary of State Madeleine Albright, and long­time Clin­ton con­fi­dant and CAP Pres­i­dent and CEO John Podes­ta. Aim­ing to be ​"strict­ly non­par­ti­san," as Flournoy put it, CNAS also court­ed Repub­li­cans, and its board also fea­tured Bush's for­mer Deputy Sec­re­tary of State Richard Armitage.
Hillary Clin­ton her­self deliv­ered the keynote speech at CNAS's inau­gur­al forum, speak­ing about the threat of ​"nuclear ter­ror­ism," high­light­ing the chal­lenges of a ​"ris­ing Chi­na," and call­ing for mil­i­tary inter­ven­tion in Dar­fur. As the New York Times not­ed, CNAS looked ​"an awful lot like a shad­ow pol­i­cy appa­ra­tus for Hillary Rod­ham Clinton's pres­i­den­tial campaign."
At the time, Flournoy and the CNAS were described as a new batch of ​"lib­er­al real­ists," who craft­ed for­eign pol­i­cy sup­pos­ed­ly based on prag­ma­tism, not ide­ol­o­gy — and stood on the oppo­site side of pro­gres­sives who want­ed to scale back U.S. involve­ment in the world. The Unit­ed States, she explained in 2007, is a force for good in the world. Flournoy appeared to hold this view years lat­er, telling the Coun­cil on For­eign Rela­tions in 2013 that the Unit­ed States ​"still has an indis­pens­able lead­er­ship role to play" because ​"no oth­er coun­try" can ​"put togeth­er inter­na­tion­al coali­tions to solve shared prob­lems the way we can."
Flournoy has a long his­to­ry inside the for­eign pol­i­cy estab­lish­ment. Under Bill Clin­ton, she cut her teeth as the prin­ci­pal deputy assis­tant sec­re­tary of defense for strat­e­gy and threat reduc­tion, and as deputy assis­tant sec­re­tary of defense for strat­e­gy. While there, Flournoy helped draft the 1997 Qua­dren­ni­al Defense Review, which, among oth­er things, ​"deter­mined that U.S. forces must be capa­ble of fight­ing and win­ning two major the­ater wars near­ly simul­ta­ne­ous­ly." This two-war doc­trine, arguably obso­lete even dur­ing the post-Cold War moment in which the review was draft­ed, would even­tu­al­ly be jet­ti­soned by the Bush admin­is­tra­tion. Flournoy came to agree, though only because its focus on ground war was incom­pat­i­ble with an age of more fre­quent air and sea power.
Despite Clinton's pri­ma­ry loss in 2008, and her rival Barack Obama's seem­ing­ly diver­gent approach to for­eign pol­i­cy, CNAS was neat­ly fold­ed into the Oba­ma gen­er­al elec­tion cam­paign. The think tank had one of its first big vic­to­ries when it helped push Oba­ma away from the anti-war posi­tion he had cam­paigned on. While Oba­ma had pledged dur­ing the pri­ma­ry race to start with­draw­ing troops from Iraq imme­di­ate­ly upon enter­ing office, with the CNAS hav­ing become ​"some­thing like Obama's for­eign pol­i­cy think-tank" in the words of the New Yorker's George Pack­er, Oba­ma now refined his posi­tion. He would instead adopt the Bush administration's approach of stay­ing the course in Iraq with no timetable for with­draw­al. It was a sig­nif­i­cant ear­ly vic­to­ry for CNAS, whose think­ing would increas­ing­ly depart from the Oba­ma admin­is­tra­tion over the fol­low­ing years.
Just as Oba­ma hand­ed his tran­si­tion on domes­tic pol­i­cy over to the Clin­tonites, allow­ing Podes­ta to staff the admin­is­tra­tion with var­i­ous neolib­er­al appointees, he did the same on for­eign pol­i­cy. Oba­ma named Flournoy and anoth­er for­mer Clin­ton offi­cial, John White, to head his takeover of the defense depart­ment, and a host of oth­ers involved in CNAS found them­selves on his list of nation­al secu­ri­ty per­son­nel. Susan Rice, who would serve as Obama's UN ambas­sador, was a CNAS board mem­ber, and in Feb­ru­ary, Flournoy would become the administration's under­sec­re­tary of defense for policy.
Flournoy depart­ed the admin­is­tra­tion in 2012, but Obama's for­eign pol­i­cy con­tin­ued to boast the CNAS' imprint. Break­ing his cam­paign pledge, Oba­ma stayed the course in Iraq, only with­draw­ing troops by the end of 2011 because the Iraqi gov­ern­ment refused to allow them to remain. He launched the dis­as­trous war on Libya, fur­ther desta­bi­liz­ing the Mid­dle East and North Africa, an action favored by Flournoy on human­i­tar­i­an grounds, and pushed the con­tro­ver­sial Trans-Pacif­ic Part­ner­ship (TPP) agree­ment, some­thing long endorsed by the think-tank, and which Flournoy called ​"the most impor­tant thing" and ​"foun­da­tion­al" to the administration's ​"rebal­ance" toward Asia. While such deci­sions can't be sole­ly attrib­uted to CNAS, the fact that his admin­is­tra­tion boast­ed mul­ti­ple offi­cials asso­ci­at­ed with the think-tank points to its influ­ence over Obama's for­eign policy.
Yet Oba­ma also reject­ed the CNAS line at times, as made clear in a major 2016 report pub­lished by the think-tank. Titled ​"Extend­ing Amer­i­can Pow­er," the report bore Flournoy's name on its list of endorsers. With Flournoy rumored to be Clinton's defense sec­re­tary pick, the report was inter­pret­ed by news out­lets as a peek into a future Clin­ton for­eign pol­i­cy, one that would be marked­ly more aggres­sive than Obama's.
Among the report's pre­scrip­tions were to ​"sig­nif­i­cant­ly increase U.S. nation­al secu­ri­ty and defense spend­ing," approve the TPP as a coun­ter­weight against Chi­na, ensure the inter­na­tion­al cam­paign against ISIS ​"is scaled up sub­stan­tial­ly," and reserve the mil­i­tary option for Iran. Some of these pro­pos­als ran express­ly counter to Obama's approach, call­ing for the Unit­ed States to send lethal arms to Ukraine and mil­i­tar­i­ly inter­vene in Syr­ia, both moves he had been resist­ing to vary­ing extents. The CNAS report also dab­bled in domes­tic pol­i­cy, prais­ing the explo­sion of fos­sil fuel extrac­tion under Oba­ma for ​"offer[ing] sig­nif­i­cant strate­gic advan­tage that can help extend Amer­i­can pow­er," and call­ing for ​"bal­anc­ing tax­es and enti­tle­ments to put U.S. debt on a more sus­tain­able tra­jec­to­ry." All of this was at the ser­vice of main­tain­ing ​"the longevi­ty of a rules-based inter­na­tion­al sys­tem favor­able to U.S. interests."
Clinton's loss to Trump pre­vent­ed this vision from com­ing to fruition. But the 2020 cam­paign has giv­en CNAS anoth­er chance to insert its influ­ence into the halls of power.
Advis­ing the Har­ris campaign
Despite the large 2020 field, Kamala Har­ris quick­ly emerged as the heir to Hillary Clinton's polit­i­cal net­work. By July, she had locked down the sec­ond most big-mon­ey for­mer Oba­ma and Clin­ton donors after Joe Biden, and Clinton's wealthy donor net­work in Cal­i­for­nia and Flori­da, in par­tic­u­lar, coa­lesced around the Cal­i­for­nia Sen­a­tor. When it comes to staff, Har­ris' sis­ter and cam­paign chair Maya was Clinton's 2015 senior pol­i­cy advi­sor. Har­ris has also tapped Clinton's gen­er­al coun­sel Marc Elias, among oth­er for­mer Clin­ton staffers.
Har­ris has con­tin­ued this pat­tern in the realm of for­eign pol­i­cy, stack­ing her team with CNAS per­son­nel. One is David Cohen, Obama's for­mer under-sec­re­tary for ter­ror­ism and finan­cial intel­li­gence and then deputy direc­tor of the CIA, who is now the think-tank's adjunct senior fel­low focus­ing on tech­nol­o­gy and nation­al secu­ri­ty. Anoth­er is Matt Olsen, the for­mer gen­er­al coun­sel for the NSA and for­mer Nation­al Coun­tert­er­ror­ism Cen­ter direc­tor, both under Oba­ma, who serves in an iden­ti­cal role at CNAS. Har­ris' Nation­al Secu­ri­ty Advi­sor Halie Soifer, who had served in that same role for Har­ris in the Sen­ate, came out of the think tank's Next Gen­er­a­tion Nation­al Secu­ri­ty Fel­low program.
But the most notable name on Har­ris' list of for­eign pol­i­cy advi­sors is Michele Flournoy, who found­ed CNAS, served as its pres­i­dent for two years, and was once expect­ed to help lead U.S. for­eign pol­i­cy under a prospec­tive Pres­i­dent Hillary Clinton.
In 2002, while a senior advi­sor at the Cen­ter for Strate­gic and Inter­na­tion­al Stud­ies (CSIS), Flournoy endorsed Bush's emerg­ing doc­trine of pre-emp­tive war.
"In some cas­es, pre­emp­tive strikes against an adver­sary's [weapons of mass destruc­tion] capa­bil­i­ties may be the best or only option we have to avert a cat­a­stroph­ic attack against the Unit­ed States," she said then.
Flournoy laid out her views on the mat­ter more ful­ly in a June 2002 edi­to­r­i­al for the Wash­ing­ton Post, co-writ­ten with Vince LaFleur, a for­mer mem­ber of the Nation­al Secu­ri­ty Coun­cil staff who was then a vis­it­ing fel­low at the CSIS. Bush was ​"right to insist on pre­emp­tion as a viable pol­i­cy option," they wrote, but wrong to treat it as the entire strat­e­gy, and more effort should be put into pre­ven­tion, such as non-pro­lif­er­a­tion treaties. They not­ed the dif­fi­cul­ties of apply­ing a pol­i­cy of pre-emp­tion: the clos­er a coun­try comes to devel­op­ing a weapon of mass destruc­tion, the hard­er it is to attack, but ​"the ear­li­er a pres­i­dent wants to launch a first strike, the more dif­fi­cult it will be politically."
A year lat­er, as the Unit­ed States began its for­ay into Iraq, Flournoy warned the sin­gle-mind­ed focus on the war was tak­ing oxy­gen from oth­er issues. ​"If we do noth­ing, North Korea will be a nuclear weapons pow­er," she said. ​"We should do every­thing in our pow­er stop that."
Under Oba­ma, Flournoy ​"pushed hard" for mil­i­tary inter­ven­tion in Libya, accord­ing to a 2011 Huff­in­g­ton Post pro­file of Flournoy. The Libyan adven­ture became arguably Obama's great­est for­eign pol­i­cy blun­der, the result­ing anar­chy cre­at­ing a pipeline of arms to extrem­ists across neigh­bor­ing coun­tries, and the coun­try descend­ed into ground zero for the migrant cri­sis while human slav­ery became a fix­ture. Even so, two years after for­mer dic­ta­tor Muam­mar Gaddafi had been deposed, Flournoy told the Coun­cil on For­eign Rela­tions: ​"I think we were right to do it."
Such a record helped Flournoy become the neo­con­ser­v­a­tives' choice to replace Obama's Defense Sec­re­tary Robert Gates in 2012. At the time, Repub­li­can Sen­a­tor Chuck Hagel was the fron­trun­ner to suc­ceed Gates, a choice hat­ed by the country's war hawks due to Hagel's crit­i­cism of the Iraq War, his affin­i­ty for diplo­ma­cy and engage­ment, and his dis­taste for eco­nom­ic sanc­tions. Faced with this choice, Flournoy was endorsed by neo­cons such as Bill Kris­tol, Paul Wol­fowitz and Jen­nifer Rubin, who cast a poten­tial Flournoy appoint­ment as a vic­to­ry for diver­si­ty and fem­i­nism, despite the fact that Flournoy's pre­ferred poli­cies had been destruc­tive to the world's pop­u­la­tion of women.
Under Oba­ma, Flournoy had argued stren­u­ous­ly against the administration's total with­draw­al from Iraq, a view shared by the mil­i­tary brass, and she had pushed for a resid­ual force to stay behind to no avail. She would lat­er take a more aggres­sive line than the admin­is­tra­tion on sev­er­al con­flicts. She crit­i­cized the Oba­ma administration's ISIS pol­i­cy for hav­ing ​"under-resourced" its ​"mil­i­tary dimen­sions," called for greater U.S. involve­ment in the Syr­i­an civ­il war and urged the sup­ply­ing of weapons to Ukraine. A 2016 report co-authored by Flournoy stat­ed that ​"Wash­ing­ton and oth­er cap­i­tals have not devot­ed suf­fi­cient atten­tion to the threat posed by Rus­sia and its impli­ca­tions for West­ern secu­ri­ty," and rec­om­mend­ed ​"direct mil­i­tary assis­tance" to Ukraine ​"in far larg­er amounts than pro­vid­ed to date."
After leav­ing the Oba­ma admin­is­tra­tion, Flournoy bid­ed her time, mak­ing rec­om­men­da­tions from the out­side while wait­ing to re-enter gov­ern­ment under the more hawk­ish Hillary Clin­ton, whose cam­paign she was advis­ing. She argued force­ful­ly for pass­ing the TPP, urg­ing observers to ​"move beyond the usu­al eco­nom­ic argu­ments" over the deal and instead ​"con­sid­er the extra­or­di­nary geopo­lit­i­cal stakes involved." She crit­i­cized the administration's dead­line for with­draw­al from Afghanistan, by then already the longest war in U.S. his­to­ry, and was one of 23 sig­na­to­ries call­ing on Oba­ma to reverse course.
With domes­tic ener­gy pro­duc­tion emerg­ing ​"as a new source of strength," she urged Oba­ma to rescind the ​"out­dat­ed and coun­ter­pro­duc­tive" ban on domes­tic oil exports, a mea­sure he took that has helped turn the Unit­ed States into one of the world's major fos­sil fuel exporters and sped up the cli­mate cri­sis. She also called for a ​"broad­er and more inten­sive effort" against ISIS that involved giv­ing arms to local tribes, ramp­ing up the U.S. air war on the group, greater aid to the Syr­i­an oppo­si­tion, and even putting ​"boots on the ground" to fight them.
Almost all of these ideas would make their way into the CNAS' ​"Extend­ing Amer­i­can Pow­er" report in 2016.
It's dif­fi­cult not to sus­pect a link between the sources of CNAS' cor­po­rate fund­ing and the for­eign pol­i­cy it pur­sues. Accord­ing to its web­site, from 2017 – 2018, CNAS received $500,000 or more from defense con­trac­tor Northrop Grum­man, between $100,000 and $249,000 from firms like Boe­ing, Lock­heed Mar­tin and Raytheon, and between $50,000 to $99,999 from BAE Sys­tems. And it's not just arms man­u­fac­tur­ers. Oth­er finan­cial con­trib­u­tors to CNAS include Pru­den­tial Finan­cial, Gold­man Sachs, Bank of Amer­i­ca Mer­rill Lynch, BP, Exxon­Mo­bil, Com­cast, Face­book and Google.
So per­haps it's no won­der that its cur­rent CEO is Richard Fontaine, a for­mer for­eign pol­i­cy advi­sor to the late Sen. John McCain, whose his­to­ry of push­ing for wars is near­ly unpar­al­leled even in Wash­ing­ton. Or that CNAS puts out reports like this 2019 pub­li­ca­tion, titled ​"Why Amer­i­ca Needs a New Way of War," that describes U.S. armed forces as ​"crit­i­cal to sus­tain­ing the US-led glob­al order," and advo­cates a peace-through-strength approach to for­eign pol­i­cy. Or that chal­leng­ing the pow­er of Rus­sia and Chi­na con­tin­ues to dom­i­nate the think tank, rather than advo­cat­ing a for­eign pol­i­cy that cen­ters inter­na­tion­al co-oper­a­tion to tack­le an inten­si­fy­ing world­wide eco­log­i­cal cri­sis, as fig­ures such as Bernie Sanders have been advo­cat­ing.
Toward 2020
If per­son­nel is pol­i­cy, Kamala Har­ris' line-up of for­eign pol­i­cy advi­sors sug­gests that the Wash­ing­ton con­sen­sus on for­eign pol­i­cy will con­tin­ue unim­ped­ed should Har­ris secure the nom­i­na­tion and defeat Pres­i­dent Trump. More than that, it sug­gests the so-called mil­i­tary-indus­tri­al com­plex that Pres­i­dent Dwight Eisen­how­er warned about near­ly 60 years ago will stay untouched, with Har­ris' line-up of advi­sors a walk­ing embod­i­ment of the inter­sec­tion of inter­ven­tion­ist for­eign pol­i­cy and cor­po­rate interests.
And if Har­ris does not win the Demo­c­ra­t­ic nom­i­na­tion, CNAS will like­ly main­tain its influ­ence. As a think-tank with deep ties to the Demo­c­ra­t­ic and nation­al secu­ri­ty estab­lish­ments, CNAS per­son­nel are on deck to be tapped to fill any future Demo­c­ra­t­ic administration's for­eign pol­i­cy team, the same way CAP per­son­nel are expect­ed to on the domes­tic side.
For some, this will be a wel­come return to ​"nor­mal­cy" after Trump's errat­ic and often con­tra­dic­to­ry for­eign pol­i­cy. Yet it holds sig­nif­i­cant risks, not just for this com­ing elec­tion, but for the future of the Unit­ed States. There is evi­dence that the more inter­ven­tion­ist for­eign pol­i­cy tout­ed by Clin­ton in 2016, thanks in part to her con­sul­ta­tion with Flournoy, helped cost her votes in the key blue states that flipped to Trump that year.
It's also an open ques­tion how long the Unit­ed States can sus­tain mas­sive mil­i­tary spend­ing and an over­stretched over­seas pres­ence as it grap­ples with accu­mu­lat­ing domes­tic crises. And that's not to men­tion the stress­es on regions like the Mid­dle East and North Africa that have been con­sis­tent­ly desta­bi­lized by U.S. actions, decade after decade.
For those look­ing to make a break from decades of Clin­tonite for­eign pol­i­cy, this will mean more than just not vot­ing for the can­di­dates whose staff are packed with its pro­po­nents. It will also mean bat­tling against their inclu­sion in a future Demo­c­ra­t­ic admin­is­tra­tion, who­ev­er wins.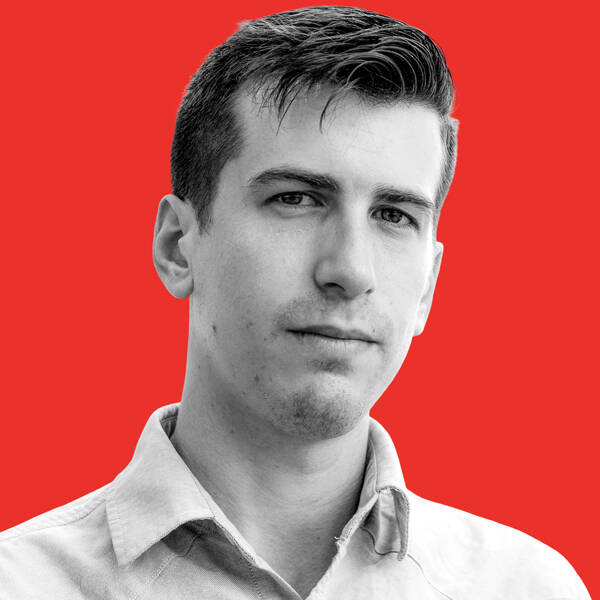 Branko Marcetic
is a staff writer at Jacobin mag­a­zine and a
2019
 – 
2020
Leonard C. Good­man Insti­tute for Inves­tiga­tive Report­ing fel­low. He is work­ing on a forth­com­ing book about Joe Biden.