Charter Schools Stay Open During Strike, But Solidarity Lurks Inside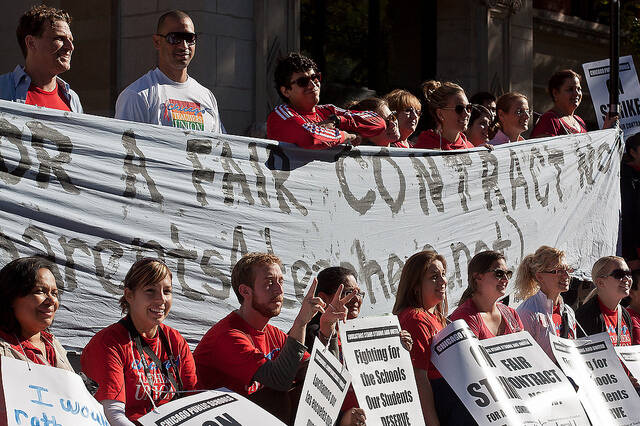 For the second day in a row on Tuesday, tens of thousands of Chicago Teachers Union members and supporters, clad in red shirts, flooded the city's downtown to push for concessions in contract negotiations with the city. As the third-largest school district in the nation, and the birthplace of Arne Duncan's model of education reform, the Chicago teachers' strike may well turn into a referendum on the direction of public education nationwide — including on the growth of non-unionized charter schools, which Mayor Rahm Emanuel plans to continue expanding in the city.
But as striking teachers continue to turn the city into a sea of red, many charter-school operators are seeing green. For the Chicago's 52,000 charter students, school is in session as usual this week — a fact some are touting as a boon for charter expansion.
The longer the strike continues, charter operators claim, the more likely it is that parents will look to options not impacted by labor disputes.
​"If this strike happens, it will awaken parents' interest in terms of ​'Why can't we have more choice' (and) ​'Why do we have to be stuck without having a voice,'" United Neighborhood Organization CEO Juan Rangel told the Chicago Tribune last week. ​"I think parents are going to be frustrated when they see 50,000 kids having an education, going to school without interruption and their kids are not."
The teachers' strike, the first in Chicago in 25 years, is also the first ever to take place in a city with a large charter sector. About 12 percent of Chicago students are enrolled in charters, a figure that has doubled in the past five years. CTU staff coordinator Jackson Potter notes that charter schools are ​"the elephant in the room" during the negotiations. Charter expansion is broader than any set of issues that the union can resolve through a contract, but the district is counting on the continued growth of charters as it pushes changes that will lead to more school closings and teacher layoffs. By striking, the CTU hopes to stave off many of the measures pushed by charter advocates — merit-based pay, longer school days and ​"flexibility" in teacher retention.
Many charter operators have aligned themselves publicly against the teachers' union. After Rangel blasted the CTU in a recent speech to the City Club of Chicago, CTU staffer Kenzo Shibata wrote in the Huffington Post that the influential charter chain was being used by the mayor as a ​"proxy" to attack the union.
But Potter says that the role of charter teachers during the strike could ​"cut both ways," providing not only a foil for unionized teachers but a potential base for expanded organizing. The strike could also help build the nascent solidarity between the Chicago Teacher's Union and the small but growing number of unionized charters in the city. To date, 14 charter schools have unionized under the Alliance of Charter Teachers and Staff (ACTS) Local 4343, which like the CTU is part of the American Federation of Teachers. (State law mandates that public and charters school teachers cannot be part of the same local or collectively bargain together.)
​"Charter schools are often used to put a wedge between teachers," Brian Harris, the president of ACTS, tells In These Times. ​"But it doesn't have to be that way." At a recent AFT convention, ACTS Local 4343 put forward a resolution calling for a moratorium on new charter schools in Chicago.
Harris says that the teachers' strike could call attention to working conditions within charters, including long hours, high turnover and lower pay than their public sector counterparts. While the Illinois Interactive Report Card reports that the average CTU salary is $71,000, estimates put the average Chicago charter teacher salary at $45,000.
On Monday, ACTS Local 4343 issued a statement of solidarity with the CTU, and Harris says that many charter teachers are wearing red shirts or donating food and funds in support of strikers. But thanks to the controversial practice of housing charters in public-school buildings, this week some charter students and teachers are walking into school across picket lines.
While some analysts predicted that a strike could see picketers confronting charter teachers, the CTU has emphasized solidarity between the sectors. But at one ​"co-located" school (there are about 20 in Chicago), teachers reportedly picketed outside of the entrance of the Urban Prep Charter Academy for Young Men in Englewood on Monday, chanting, ​"stop the cuts."
At Doolittle Elementary School in Chicago's Bronzeville neighborhood, picketers said that teachers at the adjoining Chicago High School for the Arts had mostly been using the back door rather than walking past the lines. Since the two schools began sharing space, Doolittle has lost part of its third floor to art studio space for charter students, a development that angered many elementary-school teachers. But strikers also said that some charter teachers and parents had arrived wearing red shirts to show their support. ​"They're doing what they need to do, and we're doing what we need to do," one Doolittle teacher on the picket line told In These Times.
All of the city's unionized charter schools have no-strike clauses in their contracts, says Harris, but those that share buildings with public schools have been finding other ways to support the strike. Chicago Talent Development Charter High School, the city's first union-backed charter, has suspended classes for the first week of the strike after discussions with neighboring Crane High School, saying it wants to ​"maximize the potential for a productive and positive working relationship among all adults in this building." But it has announced that it will reopen them, regardless of whether the strike has ended, on September 17.
Charters are criticized for sucking public funding out of open enrollment schools and weakening the ranks of teachers' unions. But most unions have now accepted charters as a fact of life and moved toward unionizing their teachers. According to data collected by the National Alliance for Public Charter Schools, about 12 percent of charters nationwide are unionized.
The decision by teachers' unions to stop fighting charters tooth and nail, and in some cases to back the expansion of unionized charters, has been criticized by some as collusion. But Potter emphasizes that the question of charters is in fact ​"the perennial question for the labor movement: How do you organize the unorganized? Any union that fails to answer that question is a dinosaur."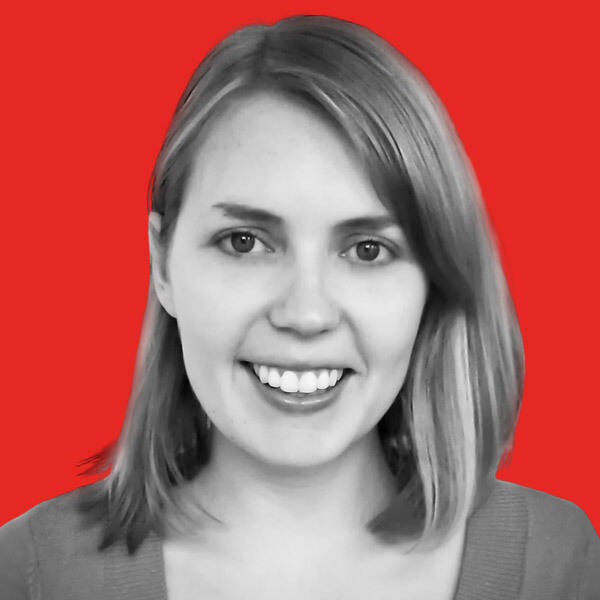 Rebecca Burns is an In These Times contributing editor and award-winning investigative reporter. Her work has appeared in Bloomberg, the Chicago Reader, ProPublica, The Intercept, and USA Today. Follow her on Twitter @rejburns.