Chicago's Charter School Strike Wave Keeps On Winning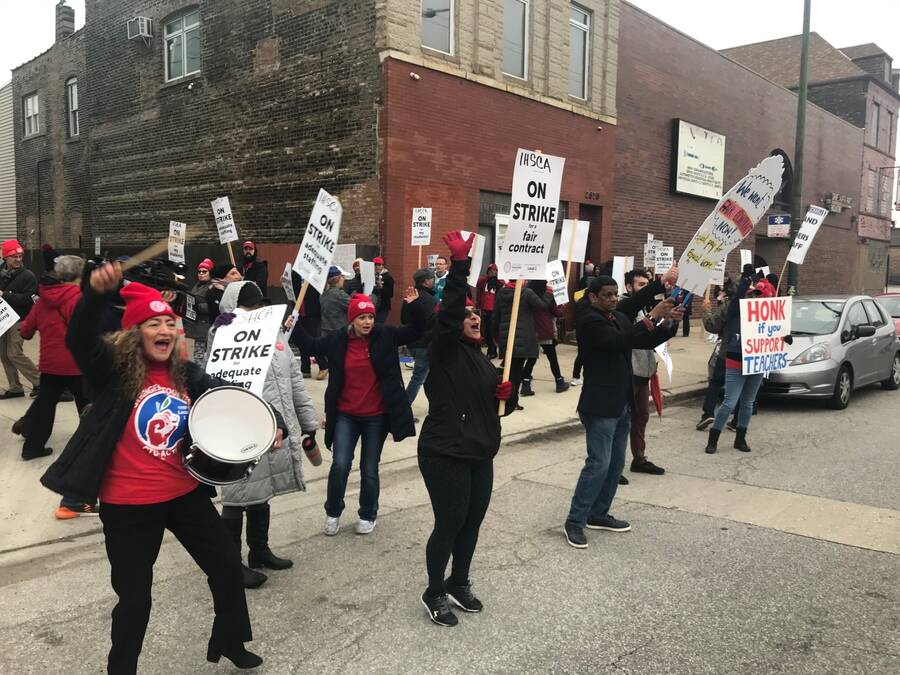 Chica­go char­ter teach­ers are rack­ing up firsts. In Decem­ber 2018, Chica­go saw the first-ever walk­out at a char­ter net­work in the Unit­ed States. And on Thurs­day, teach­ers employed by two oth­er pri­vate oper­a­tors launched the nation's first mul­ti-employ­er char­ter school strike.
"We've been bar­gain­ing since last sum­mer, and the process has been insult­ing to edu­ca­tors," said Car­lene Car­pen­ter, a social stud­ies teacher at the Lati­no Youth High School (LYHS), which is affil­i­at­ed with the Youth Con­nec­tion Char­ter School net­work. ​"If char­ter oper­a­tors real­ly cared about edu­ca­tion, we wouldn't be here today."
The past six months have seen more than 700 char­ter teach­ers at 22 dif­fer­ent cam­pus­es walk off the job over stalled con­tract nego­ti­a­tions. All of them are rep­re­sent­ed by the Chica­go Teach­ers Union's recent­ly formed char­ter divi­sion, which has been bar­gain­ing with teach­ers at 11 dif­fer­ent oper­a­tors using a set of com­mon demands hashed out last spring. Key issues include pay bumps for char­ter teach­ers and sup­port staff, who are typ­i­cal­ly paid less than their coun­ter­parts in dis­trict-run schools, as well as caps on class sizes, and more coun­selors and men­tal health sup­ports for students.
At the end of the school day Wednes­day, char­ter teach­ers from across the city held a May Day ral­ly at the Chica­go High School for the Arts (ChiArts), a school that oper­ates pri­vate­ly on a con­tract with the dis­trict. That makes it tech­ni­cal­ly dis­tinct from an inde­pen­dent­ly char­tered school, putting it in a gray area that the union says school admin­is­tra­tion has exploit­ed in order to skirt reg­u­la­tions and avoid pay­ing into the teach­ers' pen­sion fund.
Com­par­a­tive­ly low pay and ben­e­fits have result­ed in high turnover and the dis­rup­tion of stu­dents' edu­ca­tion, said Emi­ly Maassen, a ChiArts teacher who spoke at the ral­ly. ​"Edu­ca­tors leave and they're replaced by a com­put­er pro­gram," she said, refer­ring to an online learn­ing pro­gram used in the school.
Ear­ly Thurs­day morn­ing, ChiArts set­tled a con­tract with the union, nar­row­ly avoid­ing a walk­out. (Details of the agree­ment were not imme­di­ate­ly avail­able.) Anoth­er school, Youth Con­nec­tion Lead­er­ship Acad­e­my in the city's Bronzeville neigh­bor­hood, also reached an agree­ment with teach­ers Wednesday.
But at Lati­no Youth High School, as well as two schools run by the non-prof­it Insti­tu­to del Pro­gre­so Lati­no, which serve about 1,000 pre­dom­i­nant­ly Lat­inx stu­dents from the city's south and west sides, nego­ti­a­tions stalled, result­ing in walkouts.
Car­pen­ter, who has taught at LYHS for near­ly six years, said that the school's man­age­ment ​"walked away from the bar­gain­ing table" at 5 p.m. Wednesday.
Pilsen Well­ness Cen­ter, the non­prof­it that oper­ates the school, also sent a let­ter to par­ents Wednes­day that the union said is inten­tion­al­ly misleading.
The let­ter, reviewed by In These Times, says that while oth­er char­ter net­works have accept­ed the CTU's demands because they are financed direct­ly by the school dis­trict, ​"we receive the major­i­ty of our fund­ing from Youth Con­nec­tion Char­ter School (YCCS), a small char­ter net­work with lim­it­ed finan­cial resources."
In fact, with 19 cam­pus­es, YCCS is the largest char­ter net­work in Chica­go. While it con­tracts with var­i­ous non­prof­it oper­a­tors, it holds the char­ters to schools in its net­work and receives pub­lic fund­ing accord­ing to the same for­mu­la as oth­er char­ter schools. The union con­tends that the net­work receives ​"mil­lions of pub­lic dol­lars" that it siphons away from the class­room toward ​"man­age­ment fees and bloat­ed exec­u­tive pay­rolls and salaries."
In response to ques­tions from In These Times, LYHS said in an e‑mail that while YCCS receives funds from CPS, ​"they do not pass 100 per­cent of the fund­ing they receive from CPS to all of their campuses."
LYHS said in the e‑mail that since 2016, Pilsen Well­ness Cen­ter has pro­vid­ed 6,500 clin­i­cal hours of men­tal health treat­ment to stu­dents. The school said that it does not ask stu­dents for proof of immi­gra­tion sta­tus, in com­pli­ance with fed­er­al law, and that it assists unin­sured stu­dents in apply­ing for Med­ic­aid. Undoc­u­ment­ed immi­grants are not eli­gi­ble for Medicaid.
In an unusu­al move, Chica­go Pub­lic Schools CEO Jan­ice Jack­son weighed in on char­ter labor strife this week in a let­ter to CTU and schools offi­cials. Jack­son said she was ​"very con­cerned" about the effect of the strike on at-risk stu­dents the schools serve, many of whom have already dropped out of oth­er schools or crossed paths with the crim­i­nal jus­tice system.
Teach­ers and staff say they're on strike to ensure that stu­dents have access to coun­selors and ade­quate spe­cial edu­ca­tion services.
"We serve stu­dents that expe­ri­ence trau­ma at high­er-than-nor­mal rates, and they need these resources," said Car­pen­ter. The school cur­rent­ly has just one coun­selor, mean­ing that there is a wait­list for stu­dents ​"who are self-refer­ring and request­ing ser­vices," accord­ing to Carpenter.
More­over, accord­ing to the union, insur­ance billing is cur­rent­ly required for men­tal health ser­vices at LYHS, effec­tive­ly exclud­ing undoc­u­ment­ed stu­dents who make up a large part of the school's population.
The two pre­vi­ous char­ter strikes in Chica­go have end­ed with increas­es in teacher and staff pay, as well as wins for stu­dent resources. Those include caps on class sizes, carve-outs dur­ing the school day for spe­cial edu­ca­tion case man­agers and strength­ened ​"sanc­tu­ary school" pro­tec­tions that pro­hib­it schools from shar­ing infor­ma­tion with immi­gra­tion enforce­ment — most of which Chica­go Pub­lic School teach­ers can­not for­mal­ly bar­gain over, due to restric­tive state law.
"We're rais­ing stan­dards," said Chris Baehrend, pres­i­dent of the CTU's char­ter division.
The union is still in nego­ti­a­tions with three oth­er char­ter oper­a­tors, and more strikes could fol­low this spring. The strat­e­gy of nego­ti­at­ing con­tracts simul­ta­ne­ous­ly has paid off, said Baehrend, forc­ing char­ter oper­a­tors to take mea­sures that were pre­vi­ous­ly off the table, such as cut­ting admin­is­tra­tion costs.
"We've learned that their bot­tom line is their bot­tom line," said Baehrend. ​"But our bot­tom line is what stu­dents deserve."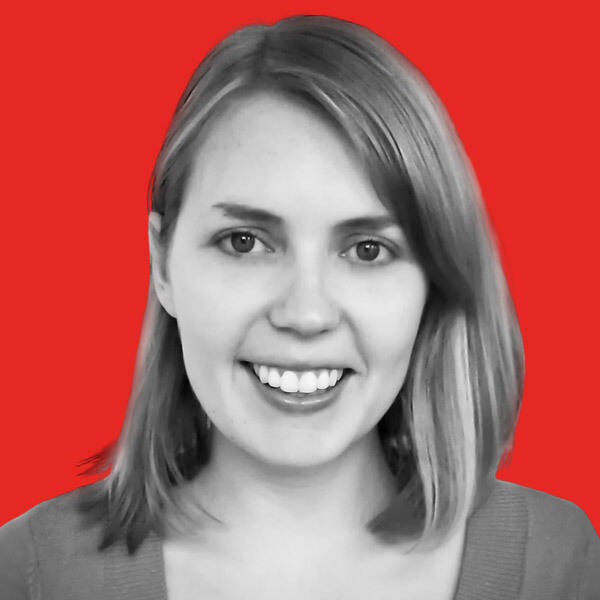 Rebec­ca Burns
is an award-win­ning inves­tiga­tive reporter whose work has appeared in The Baf­fler, the Chica­go Read­er, The Inter­cept and oth­er out­lets. She is a con­tribut­ing edi­tor at In These Times. Fol­low her on Twit­ter @rejburns.