"We Demand Food for Thought": UIC Grad Workers On Strike for Living Wages and Respect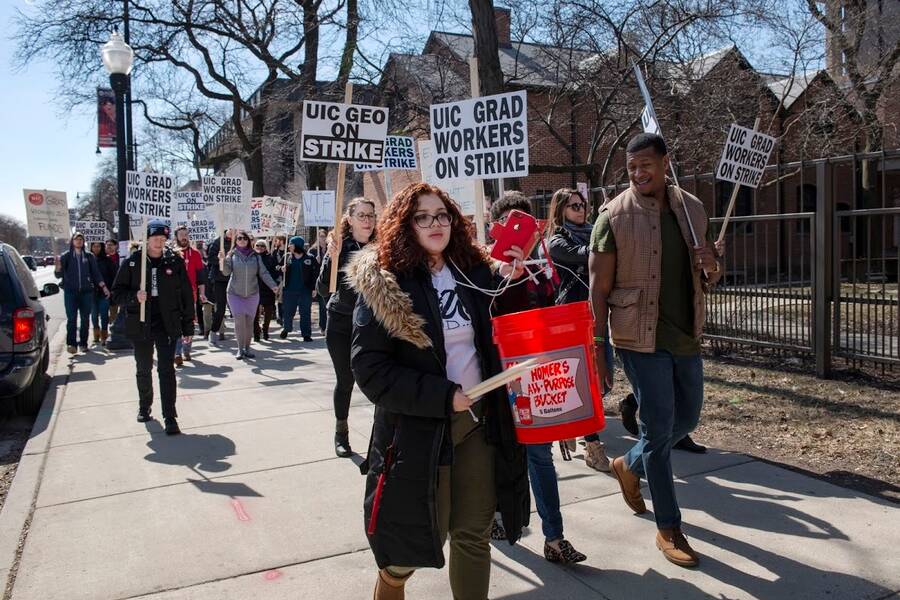 In front of the his­toric Jane Addams Hull-House Muse­um on March 19, Uni­ver­si­ty of Illi­nois at Chica­go (UIC) grad­u­ate work­ers began an indef­i­nite strike. The union is join­ing a nation­al move­ment of high­er edu­ca­tion employ­ees demand­ing liv­able wages and bet­ter work­ing con­di­tions in the often-unsta­ble field of academia.
The strike is the result of more than a year of nego­ti­a­tions between UIC Grad­u­ate Employ­ees Orga­ni­za­tion (GEO) Local 6297 and the uni­ver­si­ty admin­is­tra­tion. Since Sep­tem­ber 2018, over 1,500 teach­ing and grad­u­ate assis­tants have worked with­out a con­tract. An over­whelm­ing 99.5 per­cent of UIC GEO mem­bers autho­rized a strike last month as part of a wave of edu­ca­tor work actions, from pub­lic school teach­ers in Los Ange­les and West Vir­ginia to fac­ul­ty at Rut­gers Uni­ver­si­ty and Wright State Uni­ver­si­ty. Jeff Schuhrke, co-pres­i­dent of the UIC GEO and labor his­to­ry Ph.D. can­di­date, said the strike exem­pli­fies the vital labor grad­u­ate stu­dents provide.
"The Uni­ver­si­ty of Illi­nois sys­tem just seems to not care about its employ­ees and is always very hos­tile to col­lec­tive bar­gain­ing and to unions," Schuhrke told In These Times. ​"They just try to low­ball us and they dis­re­spect us. We're fed up with it, obviously."
UIC grad­u­ate employ­ees make a min­i­mum salary of $18,065 for two semes­ters of 20-hour work weeks, with $13,502 in fee and tuition waivers. Schuhrke said this doesn't account for the amount and qual­i­ty of labor, which can include teach­ing class­es for up to 60 stu­dents. He said since the union was rec­og­nized by the uni­ver­si­ty in 2004, ​"mod­est" rais­es haven't account­ed for increas­ing uni­ver­si­ty fees, which cut into grad­u­ate employ­ees' salaries. Cur­rent­ly, UIC GEO is seek­ing a 24 per­cent pay increase over three years, with the uni­ver­si­ty offer­ing 11.5 percent.
"They can give us rais­es all they want," he said, ​"but as long as they can just intro­duce new fees any time they feel like it or increase the fees, that just serves as a back door pay cut."
In recent years, the uni­ver­si­ty has boast­ed record-high enroll­ment and projects to improve exist­ing infra­struc­ture and invest in aca­d­e­m­ic expan­sions, includ­ing recent­ly acquir­ing the John Mar­shall Law School. Schuhrke said, ​"The rea­son stu­dents come here is for an edu­ca­tion, not the shiny new build­ings, and we're the ones pro­vid­ing that education."
The strike is already hav­ing an impact on cam­pus with some class­es can­celed. On the sun­ny Tues­day after­noon out­side the bustling UIC Stu­dent Cen­ters, hun­dreds of grad­u­ate stu­dents and allies pick­et­ed with clever signs like, ​"We Demand Food for Thought," and clas­sic protest chants, such as, ​"This is what democ­ra­cy looks like." A giant inflat­able Moth­er Jones rep­re­sent­ing the icon­ic social­ist labor orga­niz­er watched over the crowd. UIC GEO also orga­nized a GoFundMe to cov­er strike costs and poten­tial docks in salary, which Schuhrke said the uni­ver­si­ty might use as a scare tactic.
Many strik­ing stu­dents said they don't make enough to pay for liv­ing expens­es and rely on food aid and oth­er assis­tance. A Ph.D. stu­dent in the biol­o­gy depart­ment who prefers to remain anony­mous said he's work­ing on get­ting Med­ic­aid for his young child, as he can't afford cam­pus health care, even with a waiver.
"Bet­ter salaries is an impor­tant step: low­er fees, low­er tuition," he said. ​"Those things real­ly impact us because we don't have huge salaries, so every small amount that we can save is a huge help."
Inter­na­tion­al stu­dents who, accord­ing to Schuhrke, make up a lit­tle under half of the GEO UIC mem­bers, are also cen­tral to bar­gain­ing. They face an addi­tion­al fee each semes­ter, as well as work lim­i­ta­tions, par­tic­u­lar­ly dur­ing the summer.
Domini­can Repub­lic-native Natalia Ruiz-Var­gas came to Chica­go to com­plete a Ph.D. in biol­o­gy, but said the finan­cial strains can be alien­at­ing for peo­ple who are not U.S. nation­als. ​"If you have fam­i­ly back home and you're alone over here and some­one gets sick, you can't real­ly find the mon­ey to go back, so it can be a lit­tle lone­li­er," she said. ​"We can't apply for any finan­cial aid out­side of what we already have from the university."
When reached for com­ment, the uni­ver­si­ty sent a press release that high­light­ed the union's right to demon­strate, but stat­ed, ​"We believe that this work stop­page is not in the best inter­est of the Uni­ver­si­ty, or our stu­dents." While strik­ing grad­u­ate assis­tants aren't com­plet­ing instruc­tion, men­tor­ing and course­work revi­sion, many of their stu­dents are express­ing solidarity.
Eng­lish and polit­i­cal sci­ence under­grad­u­ate Joseph Strom is part of the UIC Stu­dent and Work­er Advo­ca­cy Net­work. A res­i­dent assis­tant on cam­pus, Strom said the strike is an oppor­tu­ni­ty to edu­cate stu­dents about labor issues instead of pair­ing co-eds against their edu­ca­tors. He said some of his pro­fes­sors are express­ing sup­port by giv­ing online work so they don't have to cross the pick­et line. The UIC Unit­ed Fac­ul­ty union is also cur­rent­ly in nego­ti­a­tions, hav­ing worked with­out a con­tract since last fall.
GEO Co-Pres­i­dent Schuhrke said, ​"We talked to a lot of our stu­dents before­hand and let them know why we're doing this, that our work­ing con­di­tions are their learn­ing conditions."
Mem­bers of GEO Uni­ver­si­ty of Illi­nois at Urbana-Cham­paign (UIUC) in South­ern Illi­nois are com­ing to Chica­go to increase demon­stra­tion num­bers, as they go up against the same admin­is­tra­tion. In Feb­ru­ary 2018, the UIUC GEO led an almost two-week long strike for high­er salaries and guar­an­teed tuition waivers. The plas­tic buck­ets that pro­vid­ed a sound­track to their pick­et are now being used by UIC stu­dents. UIUC GEO trea­sur­er Allan Axel­rod, who stud­ies agri­cul­tur­al and bio­log­i­cal engi­neer­ing, is spend­ing spring break mak­ing mul­ti­ple trips with fel­low grad­u­ate students.
"We under­stand all the issues that are going on there, espe­cial­ly things like the high­er inci­dence of men­tal health issues that is a prod­uct of the poor work­ing con­di­tions of grad­u­ate employ­ees," said Axel­rod. ​"When we show sol­i­dar­i­ty, we actu­al­ly are paving the path toward improv­ing our own work­ing con­di­tions because we're under the same threat each bar­gain­ing cycle."
For Axel­rod and oth­ers, this extends beyond the pub­lic uni­ver­si­ty sys­tem. A 2016 Nation­al Labor Rela­tions Board (NLRB) deci­sion grant­i­ng pri­vate uni­ver­si­ty stu­dents employ­ee sta­tus has gal­va­nized stu­dent work­ers to orga­nize through col­lec­tive labor. Only a few miles from UIC's Near West Side cam­pus, Uni­ver­si­ty of Chica­go grad­u­ate stu­dents have fought since 2007 for recog­ni­tion of their Grad­u­ate Stu­dent Union (GSU). Last fall, they par­tic­i­pat­ed in one of their school's biggest demon­stra­tions in recent years, a response to their over­whelm­ing vote in favor of union­iza­tion despite admin­is­tra­tive pushback.
GSU brought its case to the NLRB, but with­drew along with Yale Uni­ver­si­ty and Boston Col­lege, wor­ried that under Pres­i­dent Trump, a busi­ness-friend­ly Repub­li­can major­i­ty would over­turn the 2016 prece­dent. Fur­ther, last year's Janus Supreme Court deci­sion pre­vents pub­lic sec­tors unions from col­lect­ing dues from non­mem­bers. Co-Pres­i­dent Schuhrke said they saw a slight mem­ber­ship decrease fol­low­ing Janus, but it ​"made them more mil­i­tant and more angry." No mat­ter how long the UIC strike lasts, grad­u­ate stu­dents are clear­ly using it as a teach­able moment.
"This [uni­ver­si­ty] admin­is­tra­tion has a great respon­si­bil­i­ty," said Schuhrke. ​"We hope our stu­dents are learn­ing by par­tic­i­pat­ing in this and watch­ing this how to stand up for your rights, stand up for jus­tice and organize."
Han­nah Steinkopf-Frank
is a Chica­go-based free­lance writer and pho­tog­ra­ph­er. Her work has appeared in the Chica­go Tri­bune, Atlas Obscu­ra, Bitch Media, the Colum­bia Jour­nal­ism Review, JSTOR Dai­ly and Paper Mag­a­zine, among others.