How Chicago's Grassroots Movements Defeated Rahm Emanuel at the Polls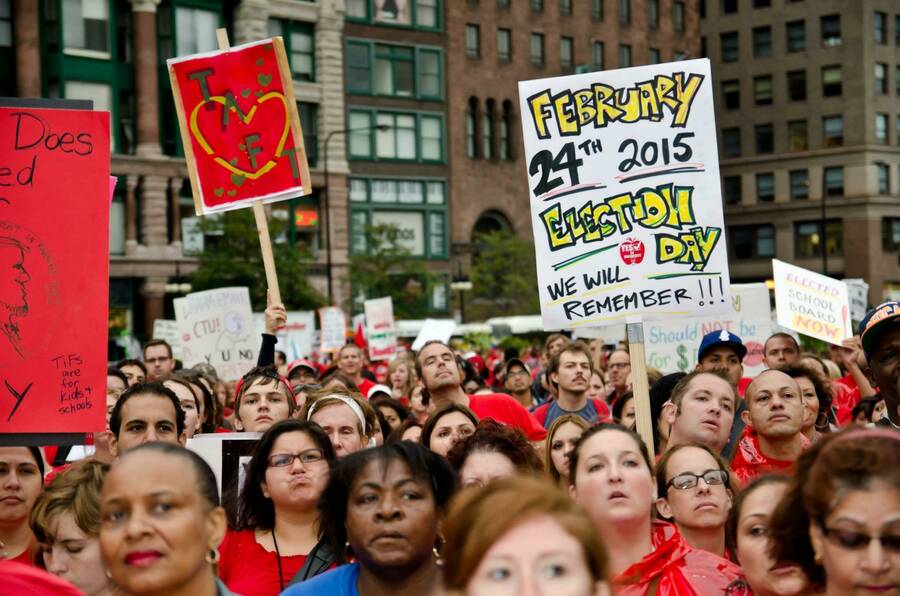 On Tuesday, February 24, Jesús ​"Chuy" García shook up Chicago, and the nation, by forcing a key pro-corporate Democratic Party figurehead and the mayor of the 1%, Rahm Emanuel, into a run-off election for mayor of Chicago. The win has unleashed incredible excitement in Chicago — and more than a few questions about how this runoff was achieved. Many observers' first instinct might be to ask, ​"What changed in Chicago?" But for those looking for lessons in the grassroots-powered victory, a more instructive question would be, ​"What was built — and how"?
Tuesday's success is bigger than any one organization. What Chicago's various social movements have built did not materialize over the course of one election cycle and cannot be understood as just a set of electoral strategies, clever tactics or shrewd messaging. For years, Chicago has been an epicenter of militant, grassroots organizing that has come to deeply resonate with working class families. A long-term transformative vision lies at the heart of this organizing, taking aim at oppressive systems and corporate interests that exploit and divide people along lines of class and race.
From the occupation of Republic Windows and Doors by rank-and-file workers to the occupation of schools and mental health clinics closed by Emanuel in black and brown communities; from the Chicago Teachers Union strike of 2012 to sustained action against the Chicago Mercantile Exchange and LaSalle Street banks; from radical immigrant youth organizing against deportations and xenophobia to the #BlackLivesMatter movement; community and labor organizers have been waging a clear, escalating fight against the corporate agenda. The foundation for the February 24 election was built over four years of coalition work; popular education; big, bold fights; and a clear analysis around race and class.
Our movement is broad and deep. Here's how we built it.
Building up electoral strength
We have greater electoral capacity than ever before. SEIU Healthcare Illinois Indiana (HCII) drove significant resources in 2014 to community organizations to register over 100,000 new voters in Cook County, most of whom were in Chicago. When Chicago Teachers Union (CTU) President Karen Lewis was unable to run for mayor after a brain tumor diagnosis, she and her union made a quick endorsement of García. This gave the instant credibility, palpable excitement and real boots-on-the-ground capacity that was needed to get over 60,000 petition signatures for García to get on the ballot in one month's time — more signatures than any other candidate, including Emanuel.
Indeed, Karen Lewis' role in this moment cannot be underestimated. She captured the imagination — and the support — of working and middle class families across the city, because she was such a fierce fighter for equity and justice. The clarity of her repeated message that the moment was about the movement, that the grassroots organizing had built up to such a pitch that City Hall was firmly within reach, was pivotal. When the CTU and SEIU HCII fully backed García, it gave him a base of resources to build upon. With additional support from house parties in neighborhoods across the city and small online donations, García raised enough money to credibly compete.
Coalitions have power
In December 2010, just a few months after six-term mayor Richard M. Daley announced he would not run for re-election, Grassroots Collaborative organized a mayoral candidate forum attended by 2,600 people, including members of more than 30 community organizations across the city. The power and excitement of that room — a room that reflected the diversity of Chicago's neighborhoods — created a sense of political possibility. The election of Emanuel a few months later, though disappointing, could not erase a new sense of hope about governance of our city.
In our coalition work, we've seen the power of organizing not around a single issue, but around a long-term collaboration rooted in a shared analysis. Dozens of organizations have come together under the banner of Take Back Chicago to engage in multi-issue organizing for several years now. We have done deep political education with grassroots leaders and have transformed the way organizations across the city think about issue campaigns.
This work goes far beyond relationships of paid staff. The relationship between CTU and neighborhood groups like Kenwood Oakland Community Organization (KOCO) or Brighton Park Neighborhood Council (BPNC), for example, is about the relations — both alliances and tensions — that exist between the community groups' members who are parents or LSC members and CTU delegates and activists at those schools. For example, KOCO parents who voiced issues of race and democracy in education have profoundly impacted teacher activism over the years, including the current fight for an elected school board. There's still more to do here, but multi-scale relationships and an intersectional analysis play a significant role in what has been built.
Ideology matters
In May 2011, soon after the city elections, Grassroots Collaborative member organizations, including the community organizing group Action Now, BPNC, CTU, SEIU HCII, and several other allied unions and community groups, attended a strategic planning session to assess the moment and plan for the future. The conclusion of our discussion that day was sharp: Though Emanuel had tremendous power and would be moving an agenda of privatization and austerity, it was the corporations behind him that held the real power — and that we needed to target.
This analysis set forth four years of organizing against hundreds of millions in subsidies to downtown corporations and hundreds of millions of tax dollars siphoned off by Wall Street banks—organizing that directly linked Emanuel with the 1% benefiting from his policies. This was a shift for many of our organizations, with a long history of pressuring elected officials around short-term policy victories or defaulting to defensive campaigns attempting to limit cuts impacting specific programs or constituencies.
Instead, organizations took on the risks of longer-term campaigns focused on systemic causes, engaged in political education of our members and communities and politicized the debate about budget cuts and the supposed need for austerity.
But again, more than an ideology shared by paid organizers, what has been most significant is the deep popular education work done with rank-and-file leaders of our unions and community groups around core issues of race and class. We didn't just decide that top leaders and campaigners needed to come to the correct power analysis, and develop the proper ideology, to implement the cleverest campaign strategy. We treated political education as an essential step that the whole of our organizations would need to embrace: If we couldn't win people to a large, structural idea and change what they believe about racism and our economy, we wouldn't be able to build a movement with any real power.
Indeed, no organization better reflected this truth than Southside Together Organizing for Power (STOP). When Emanuel announced his plan to close half of the city's public mental health clinics in his first budget, grassroots leaders of STOP took bold, relentless action. They sat-in outside Emanuel's office, marched on his home, camped outside a clinic for days and occupied one of the closed clinics until forcibly removed by police. They set the tone for the anti-austerity fights to come.
Militant, democratic unionism
The rise of the Chicago Teachers Union hit a high point in September 2012, when 25,000 teachers and paraprofessionals walked out of their schools, striking over class sizes, a vastly unequal public school system (160 schools in Chicago don't have a library, for example, with 140 of them south of North Ave, a dividing line between Chicago's wealthier and whiter north side and the predominantly Black and Latino west and south sides), the dramatic loss of black teachers in CPS, and schools with classrooms hitting 100 degrees without air conditioning.
For nine days, thousands of parents and community members expressed their strong support of teachers and their union, led by President Karen Lewis, against Emanuel, an out-of-touch bully whose education policies were increasingly seen as racist and aligned with the corporate profit motive, not the needs of students. The streets of Chicago were swarmed with striking teachers and supporters clad in the CTU's signature red shirts. In a poll taken in August 2014, almost two years after the strike, 62% of voters said they agree with the CTU, not Emanuel, on education.
An election that saw 89% of voters express movement-level support for an elected school board, and that saw Emanuel, despite his $30 million war chest, fail to win the vote of a majority of Chicagoans, stands as testament to voters' desire for democracy and accountability around public education. Indeed, parent support and militant unionism aren't separate phenomena: a certain kind of militant unionism has actually helped change Chicagoans' views on these issues rather than alienating them. City residents have grown tired of the mayor taking extreme action on education, and the complete lack of democracy in education. Closing 50 schools in majority black communities, despite widespread protest, continues to define this election.
Changing the conversation around income and race inequality
Much organizing across the city during this period took on the direct ways that Emanuel's actions were hurting working families in Chicago. The downtown recipients of tax increment financing funds (TIFs), a scheme that diverts hundreds of millions of dollars in property tax money from schools, parks and other city services to primarily fund major corporations like United Airlines and the Chicago Mercantile Exchange, were the site of numerous creative actions that ultimately led to the return of $130 million in TIF funds from wealthy corporations and the TIF slush fund, with millions more in years to come.
A report by Grassroots Collaborative in 2013 made the startling finding that of 52,404 jobs created in downtown, only 1 in 4 actually went to Chicagoans. Among the Chicagoans who did receive those jobs, most went to white-majority zip codes, with workers in Black and Latino-majority zip codes suffering huge job losses in that same period. The report disrupted Rahm's narrative of a booming economy throughout the entire city of Chicago, and themes of strong downtown development versus neighborhood neglect became central to the mayoral and aldermanic campaigns. This work helped inform the analysis of many organizations, helping to link the specific issues of their constituencies to a bigger picture of inequality in the city's economy.
In 2007, the municipal elections were defined by a community-labor campaign that demanded that big-box stores like Walmart pay a living wage in Chicago. Six anti-living wage aldermen were defeated, replaced by a cohort of living wage supporters. Some of these aldermen have remained staunch allies, while others have left our coalition and joined Rahm's agenda over time. Last week's municipal elections were different. It was not about a single issue, but instead about multiple issues connected to a corporate agenda; education, housing, a $15 minimum wage. It was about income inequality and a desire to have local elected leaders with a commitment to working families, not just the 1%.
Since the 2007 election, we have also succeeded in building independent political organizations with a long-term vision and a clear analysis of what has been happening to our city. Grassroots Illinois Action, our sister political organization, endorsed García for mayor, along with 23 progressive aldermanic candidates. We built two ward committees in working class communities of color around a working families agenda of a $15 minimum wage, an Elected Representative School Board and quality affordable housing.
One of our endorsed candidates is in a run-off against a machine-backed candidate. Though the other lost her race to the runoff by 145 votes, GIA's 26th Ward Committee of parents, teachers, and tenants are energized and already engaged in continued organizing, with a commitment to stay engaged over the long haul. Reclaim Chicago, a new 501©4 coalition, also dug deep on two aldermanic races, winning one race outright and helping get another to a run-off.
United Working Families, founded by Action Now, CTU, SEIU HCII and GIA, holds the greatest potential for a citywide independent political organization — and holds the potential to become a third party (or in Chicago's case, a second party to the left of the corporate-controlled Democrats).
UWF trained dozens of aldermanic candidates, endorsed 16, won seven races outright and got six more in runoffs. Just as importantly, we helped to recruit thousands of people to engage in independent political action, outside the Democratic machine, as part of a plan to win power for working class communities.
So what was built to make Tuesday's election victories happen? Organizations with a clear political ideology and a willingness to take real risks helped grow a grassroots movement for change, and long-term coalitions built around a shared analysis (rather than a single issue or short-term campaign) encouraged organizations to feel accountable to a broader movement.
We measured progress against a vision of winning power for working class and oppressed communities, and pushed back against the narrow-minded focus that often plagues social justice organizations. We understood the importance of conducting political education and leadership development for thousands of rank-and-file activists while running smart campaigns that produced real wins. García stepped into that moment that we had created, drafted by movement leaders after Karen Lewis was forced to leave the race, and working families in Chicago responded.
What happens next will be a real fight for democratic governance for all Chicagoans — an idea rebirthed four years ago after years of ceding the possibility during decades of Democratic Machine rule. Our broad movement under the banner of Take Back Chicago is less than six weeks away from another major step forward in doing just that — taking Chicago back.