Chicago's Citywide Strike Just Spread to Charter School Teachers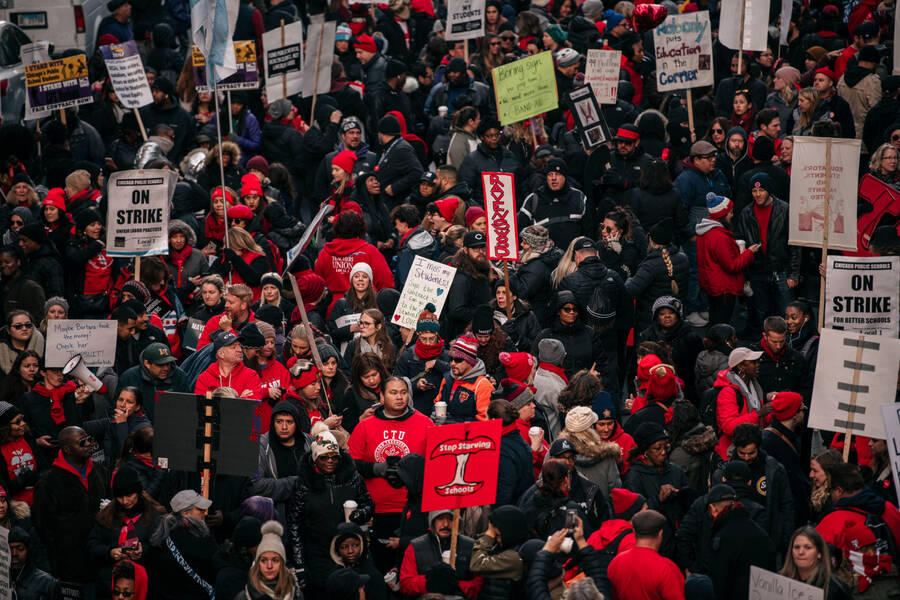 More than 32,000 Chicago Public School (CPS) teachers and staff — one out every 100 people in the city — have been on strike since October 17. On Tuesday, the ranks of the striking workers — represented by the Chicago Teachers Union (CTU) and SEIU Local 73 — swelled a little further as nearly 40 teachers walked off the job at Passages Charter School on the city's north side.
This is the first time that district and charter teachers have struck simultaneously in Chicago, an occasion marked by high energy and a raucous chorus of ​"Solidarity Forever" on the picket line. The city's unionized charter teachers all belong to CTU, which represents 25,000 CPS teachers and support staff, following a merger last year. Members of the Association of Flight Attendants' Master Executive Council, which represents United Airlines workers preparing to negotiate a new contract, also joined the group.
"We feel really powerful today," Kady Pagano, a pre-kindergarten teacher at Passages who is on the union's negotiating team, told In These Times. This is Pagano's first time on strike, after teaching last year at a non-union community center. ​"The difference is night and day," she said.
It's also the fourth time Chicago charter teachers have struck in the last year, with the last strike against two separate operators leading to wins on issues like class-size caps, and staffing and pay bumps for teachers and staff making well below their CPS equivalents. Since the city's first charter school unionized in 2009, Chicago has been a hotbed for organizing in the traditionally union-free industry. While ex-charter boss Juan Rangel boasted during the 2012 CTU strike that his schools were free from labor strife, the tables have turned dramatically since then.
In the last year, several charter school operators have settled contracts at the eleventh-hour, as the union attempts to bring standards up across the charter industry by bargaining 11 separate contracts from a common set of proposals.
"Every other operator has met our demands so far," says Chris Baehrend, president of CTU's charter division. ​"It shows that they're not unreasonable or impossible, but we have to fight for them anyway."
The demands echo those that the CTU is making in ongoing negotiations with the city's school board: adequate staffing of nurses, counselors and social workers, as well as resources for special-education students and English language learners.
Passages teachers say that's especially important at their school, which has one of the highest percentages of refugee students in Chicago schools, including about 40 percent non-native English speakers.
Many students are experiencing post-traumatic stress or culture shock, according to teachers, but the school only hired a full-time counselor this year. Prior to that, the position sat vacant for four years.
Katherine Mydra, the new counselor at Passages this year, noted that there's currently no guarantee that the school will fill the position again next year — unless the union wins one in its contract.
Teachers also say they've had to fight tooth and nail for ​"sanctuary" language guaranteeing that the school won't work with Immigration and Customs Enforcement (ICE) — even though its parent organization, Asian Human Services (AHS), is a non-profit that emphasizes its ​"expertise in the challenges facing refugees, immigrants and other underserved communities."
AHS did not respond immediately to a request for comment. In a statement addressed to parents and posted on its website, the organization described the negotiations as ​"primarily related to compensation" and said, ​"We hope these matters will be resolved in a way that is satisfactory to all Passages employees and protects the financial stability of the school and its ability to serve its students."
The union says it is seeking full information on AHS' finances, but the group's 990 filings show that CEO Craig Maki draws a $250,000 salary. Passages teachers make as little as $35,000 annually.
Mydra said that going on strike feels ​"consistent" with what she does as a school counselor. ​"I teach my students to advocates for themselves and others," she said. ​"That's what we're doing right now."
Did you know?
Many nonprofits have seen a big dip in support in the first part of 2021, and here at In These Times, donation income has fallen by more than 20% compared to last year. For a lean publication like ours, a drop in support like that is a big deal.

After everything that happened in 2020, we don't blame anyone for wanting to take a break from the news. But the underlying causes of the overlapping crises that occurred last year remain, and we are not out of the woods yet. The good news is that progressive media is now more influential and important than ever—but we have a very small window to make change.

At a moment when so much is at stake, having access to independent, informed political journalism is critical. To help get In These Times back on track, we've set a goal to bring in 500 new donors by July 31. Will you be one of them?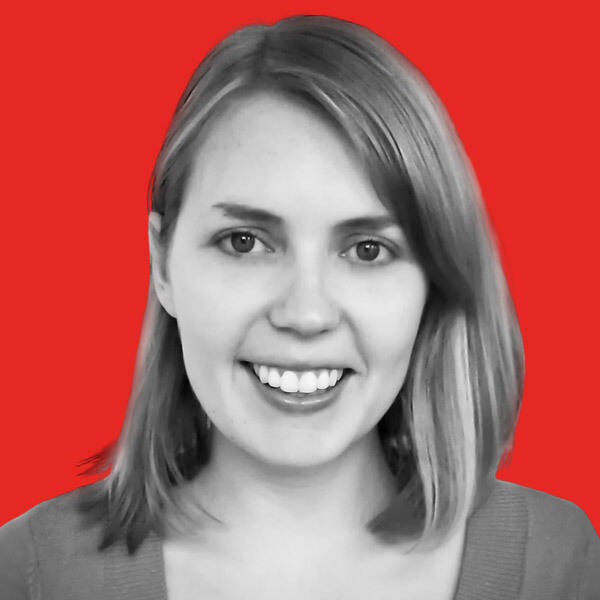 Rebecca Burns
is an award-winning investigative reporter whose work has appeared in The Baffler, the Chicago Reader, The Intercept and other outlets. She is a contributing editor at In These Times. Follow her on Twitter @rejburns.
Here's how you can help
In These Times is funded entirely by readers like you, but through the first half of 2021, reader donations are down 20% compared to last year. If that continues, it could spell real trouble for In These Times. We're running a short fundraising drive (from now until July 31) to get things back on track. Will you chip in?