What's at Stake in Chicago Teachers' Strike: Whether Unions Can Bargain for the Entire Working Class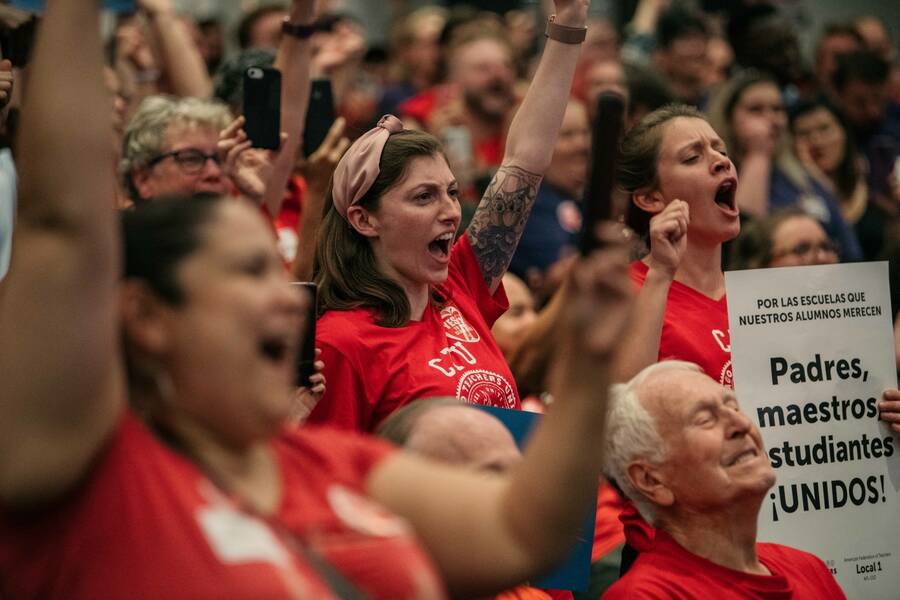 "Solv­ing Chicago's afford­able hous­ing cri­sis? What's that got to do with a labor con­tract for educators?"
That's the ques­tion the Chica­go Sun-Times edi­to­r­i­al board asked last week as the city's teach­ers and school sup­port staff inched clos­er to an Octo­ber 17 strike date, with lit­tle progress made in nego­ti­a­tions for a new contract.
A stand­off at the bar­gain­ing table over the Chica­go Teach­ers Union's (CTU) pack­age of hous­ing demands dom­i­nat­ed the city's news cycle last week. The union is ask­ing Chica­go Pub­lic Schools (CPS) to pro­vide hous­ing assis­tance for new teach­ers, hire staff mem­bers to help stu­dents and fam­i­lies in dan­ger of los­ing hous­ing, and take oth­er steps to advo­cate for more afford­able hous­ing over­all in the city.
In response, recent­ly elect­ed May­or Lori Light­foot accused the union of hold­ing up con­tract nego­ti­a­tions, and the Sun-Times chid­ed teach­ers to take a ​"real­i­ty check."
It's true that CPS has no legal oblig­a­tion to bar­gain with the union over afford­able hous­ing pol­i­cy. But it's hard­ly unre­lat­ed — an esti­mat­ed 17,000 stu­dents in the city are home­less, as CTU Vice Pres­i­dent Sta­cy Davis Gates stat­ed on Chica­go Tonight.
Hous­ing advo­cates agree. ​"The may­or's view reflects a very nar­row under­stand­ing of the pro­fes­sion­al respon­si­bil­i­ties of pub­lic school edu­ca­tors," says Marnie Brady, assis­tant pro­fes­sor at Mary­mount Man­hat­tan Col­lege and research com­mit­tee co-chair of the nation­al Homes For All cam­paign. ​"The liv­ing con­di­tions of their stu­dents are indeed the work­ing con­di­tions of their classrooms."
By rais­ing an issue that affects not only teach­ers, but the com­mu­ni­ties they live and work in, CTU is deploy­ing a strat­e­gy known as ​"bar­gain­ing for the com­mon good." That approach was key to the union's vic­to­ry in its land­mark 2012 walk­out, but a poten­tial strike of 35,000 school and parks work­ers this week is shap­ing up to be an even more dra­mat­ic test.
Bar­gain­ing for the com­mon good
Dur­ing their eight-day strike in 2012, Chica­go teach­ers ral­lied under the slo­gan ​"fight­ing for the schools our stu­dents deserve." By high­light­ing issues such as class sizes, stan­dard­ized test­ing, preda­to­ry Wall Street deals and a pat­tern of racist dis­in­vest­ment in the city, teach­ers helped secure wide sup­port from the city's par­ents while wring­ing con­ces­sions from then-May­or Rahm Emanuel.
The CTU also helped gal­va­nize a new wave of teacher mil­i­tan­cy that's seen unions in red states use unau­tho­rized strikes to address abysmal state fund­ing for edu­ca­tion and protest tax breaks for the rich and the fos­sil-fuel indus­try.
Teach­ers in cities like Los Ange­les, mean­while, have won con­tracts that include more nurs­es and addi­tion­al resources for stu­dents, as well as spe­cial pro­vi­sions requir­ing the dis­trict to pro­vide immi­gra­tion sup­port for stu­dents and cur­tail school poli­cies that the union said amount­ed to racial profiling.
The increas­ing embrace of ​"com­mon good" bar­gain­ing by teach­ers has, in turn, helped boost pub­lic sup­port of their unions nation­wide — from 30 per­cent in 2015 to 43 per­cent in 2019, accord­ing to a poll from Edu­ca­tion Next.
Fre­quent­ly vil­i­fied as greedy in the media, teach­ers unions often have their hands tied by laws restrict­ing the issues they can bar­gain and strike over. Per a 1995 Illi­nois law, for exam­ple, the only ​"manda­to­ry" bar­gain­ing issues for Chica­go teach­ers are pay, ben­e­fits and the length of the school day. But unions can still mobi­lize pub­lic pres­sure to try to force employ­ers to nego­ti­ate over addi­tion­al demands.
In 2013, cit­ing inspi­ra­tion from Chica­go, the St. Paul Fed­er­a­tion of Teach­ers (SPFT) worked with com­mu­ni­ty allies to joint­ly draw up a list of 29 demands to bring into its con­tract nego­ti­a­tions, includ­ing the expan­sion of preschool, reforms to school dis­ci­pline pro­ce­dures and the reduc­tion of stan­dard­ized test­ing. While the school dis­trict ini­tial­ly refused to nego­ti­ate over 18 of these areas, a unit­ed front by teach­ers and com­mu­ni­ty mem­bers even­tu­al­ly pres­sured it to include lan­guage on almost every area in the SPFT's new contract.
"I had nego­ti­at­ed almost a dozen pre­vi­ous con­tracts for the SPFT," explained the union's then-pres­i­dent Mary Cathryn Rick­er in a 2015 arti­cle for Dis­sent. ​"But, for the first time, I felt that sign­ing a con­tract was just one step in build­ing a larg­er movement."
These vic­to­ries helped give birth to a for­mal net­work called ​"Bar­gain­ing for the Com­mon Good," which now includes some 50 unions and com­mu­ni­ty orga­ni­za­tions. The goal is to expand labor's scope of bar­gain­ing beyond wages and ben­e­fits to advance a broad, work­ing-class agen­da and go on the attack against shared ene­mies, includ­ing Wall Street and cor­po­rate America.
Three strikes at once
Chica­go remains at the cut­ting edge of this effort. This fall, it may not be just CTU walk­ing out — school sup­port staff and Chica­go Parks Dis­trict work­ers rep­re­sent­ed by SEIU 73 have also set strike dates of Octo­ber 17. While nego­ti­at­ing sep­a­rate­ly, the unions are push­ing a com­mon nar­ra­tive: The new may­or must get the city's pri­or­i­ties in check by com­mit­ting more resources to vital pub­lic ser­vices and the work­ers who make them run.
Oth­er key issues include ade­quate staffing of nurs­es, coun­selors and librar­i­ans — which many of the city's schools lack entire­ly — rolling back the pri­va­ti­za­tion of school ser­vices, cre­at­ing enforce­able sanc­tu­ary pro­tec­tions for undoc­u­ment­ed stu­dents, and lift­ing pover­ty wages for school sup­port staff and part-time parks workers.
The unions have also tak­en on the ques­tion of where the mon­ey to accom­plish all this could come from. The Chica­go Teach­ers Union has been lead­ing the fight against mas­sive tax give­aways to devel­op­ers through the city's Tax Incre­ment Financ­ing (TIF) pro­gram. Ear­li­er this year, SEIU 73 mem­bers wad­ed into what's often a third-rail for pub­lic-sec­tor unions when they protest­ed out­side Chica­go Police Depart­ment head­quar­ters to demand the city stop divert­ing resources from schools and parks to the police budget.
Venus Vali­no, a mem­ber of SEIU 73's bar­gain­ing team, notes that the parks dis­trict has been sub­si­diz­ing police patrols to the tune of about $4 mil­lion a year. But she rarely sees police where she works, in Wolfe Park on the city's far South­east Side, while deal­ing with peri­od­ic dri­ve-by shoot­ings, and a teen who was stabbed in the neck.
"That mon­ey is going to tourist areas, and we're most­ly left to fend for our­selves," Vali­no says. She would pre­fer that resources be put back into ded­i­cat­ed park secu­ri­ty guards who are famil­iar with the area, as well as pub­lic pro­gram­ming that would ben­e­fit the neigh­bor­hood. Two-thirds of park staff are part-time and receive zero paid-time-off, she adds.
As a 20-year parks work­er, Vali­no sees her role as sim­i­lar to that of a teacher. Dur­ing the 2012 teach­ers strike, she remem­bers, she helped take care of 300 school chil­dren when the city made use of parks for its con­tin­gency plan. The fact that parks work­ers could be out on strike at the same time as teach­ers this year will put a squeeze on both city agen­cies and par­ents, but Vali­no says that since the union announced a poten­tial strike, she's been receiv­ing calls of sup­port from par­ents she's worked with over the years.
"We're always there for the pub­lic, and we see the needs of the pub­lic," she says. ​"When it was freez­ing this win­ter, we're the ones who opened up warm­ing cen­ters. I'm real­ly touched that the pub­lic is think­ing about how they can sup­port us."
Why afford­able housing?
The close rela­tion­ship between pub­lic unions and the com­mu­ni­ties they serve can make them espe­cial­ly well-suit­ed to bring the con­cerns of those com­mu­ni­ties to the bar­gain­ing table. The CTU's demand for afford­able hous­ing is per­haps the bold­est exam­ple of this, and it's one that labor com­men­ta­tors have been urg­ing unions to take up in recent years.
Light­foot and media com­men­ta­tors, con­verse­ly, have attempt­ed to use this demand to paint the CTU as out-of-touch and dri­ve a wedge in pub­lic sup­port. ​"If the CTU strikes over this one, we pre­dict it will not go down well with most of the rest of the city," wrote the Sun-Times edi­to­r­i­al board.
Eva Jaramil­lo, a moth­er of three who is cur­rent­ly in court fight­ing her family's evic­tion, tells In These Times that she is grate­ful to see the teach­ers union tak­ing up the issue. Jaramillo's 10-year-old daugh­ter attends North Riv­er Ele­men­tary, just blocks from the Albany Park apart­ment where the fam­i­ly has lived for 16 years. Ear­li­er this year, Jaramil­lo was served with an evic­tion notice after com­plain­ing about mal­func­tion­ing heat dur­ing the win­ter. Two oth­er fam­i­lies in the build­ing who report­ed­ly com­plained about con­di­tions are also fac­ing evic­tion, which would rep­re­sent a vio­la­tion of Chicago's land­lord-ten­ant laws. The group has formed a ten­ants union and protest­ed out­side the landlord's home, but one of Jaramillo's biggest con­cerns is that her daugh­ter will have to trans­fer schools.
"She loves every­thing about her school," Jaramil­lo said in Span­ish. ​"She wakes up excit­ed to go, and when she is sick, she cries because she doesn't want to miss a day. This sit­u­a­tion has affect­ed her the most, because she doesn't want to leave the school."
Chica­go stu­dents liv­ing in tem­po­rary hous­ing sit­u­a­tions have the right to remain enrolled in their cur­rent school, and can stay until the aca­d­e­m­ic year if they find new hous­ing. But Jaramil­lo is skep­ti­cal that, if her fam­i­ly is evict­ed, they will ulti­mate­ly be able to find afford­able hous­ing any­where nearby.
The school dis­trict doesn't keep sta­tis­tics on how hous­ing dis­place­ment ulti­mate­ly con­tributes to school enroll­ment, but anec­do­tal evi­dence sug­gests that in many neigh­bor­hoods, they're close­ly linked.
In Albany Park, a gen­tri­fy­ing neigh­bor­hood in the city's north­west side, the Autonomous Ten­ants Union doc­u­ment­ed how a 2017 mass-evic­tion in a sin­gle build­ing being rehabbed by its new own­er impact­ed some 30 chil­dren who attend­ed Hib­bard Elementary.
Data from a study released in May shows that the evic­tion rate is twice the city­wide aver­age in some Black neigh­bor­hoods, includ­ing ones where schools were shut­tered in 2013 due to pur­port­ed under-enroll­ment. Thanks to the mod­el known as stu­dent-based bud­get­ing, when stu­dents and their fam­i­lies have been forced out of schools, fund­ing fol­lows them. This cycle of hous­ing dis­place­ment and school dis­in­vest­ment has played a promi­nent role in dri­ving thou­sands of Black res­i­dents from Chica­go each year.
For these rea­sons, it's hard for Jaramil­lo to under­stand how the city could con­sid­er hous­ing and schools as unre­lat­ed. ​"The school and home have a deep rela­tion­ship," she says. ​"The school is the sec­ond home, but chil­dren also need their first home to be a sta­ble one."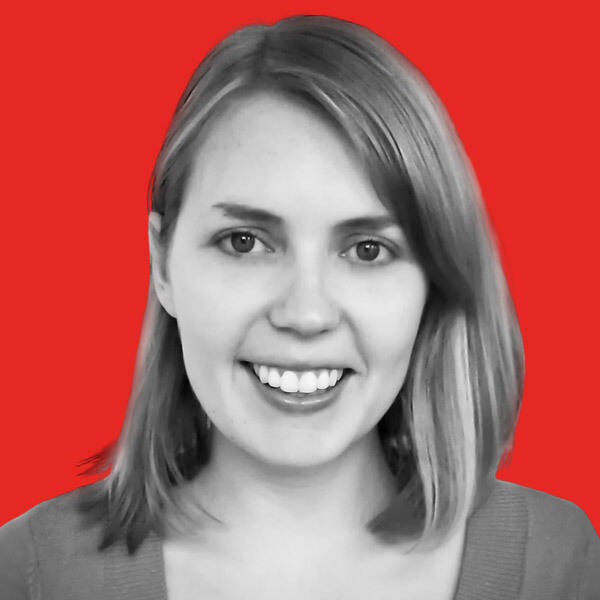 Rebec­ca Burns
is an award-win­ning inves­tiga­tive reporter whose work has appeared in The Baf­fler, the Chica­go Read­er, The Inter­cept and oth­er out­lets. She is a con­tribut­ing edi­tor at In These Times. Fol­low her on Twit­ter @rejburns.