As I sat in the café of a Borders bookstore in Chicago huddled over my laptop and struggling to write about children and commercialism, I was interrupted by an annoying clamor of loud talk, screams and laughter. I looked over and to my horror discovered it was a group of … kids! How dare children disrupt my ruminations on childhood!
Accepting my fate, I behaved like a social researcher: I observed the scene. ​"Welcome to Borders Explorers," exclaimed their hostess in a voice intended for seven-year-olds. ​"We are excited to have you here. We have a lot of fun things planned for your stay with us." On each table stood a cardboard cutout of the ​"Border Explorer" – a goofy-looking cartoon character sporting winged goggles and an outfit that intimated a ​'50s version of a ​"futuristic" space suit. Clearly a boy (explorers are still male, apparently), the character displayed a gigantic ​"B" on his belt.
As the students colored in an image of the Borders Explorer character, the staff member explained the morning's plan. Each table would be given several topics, such as ​"seals" and ​"mountains," to be divided among the students, who would then go to the children's section and find books on the topic.
The children's section was clearly ​"kid-themed," with an entranceway in colorful ​"kid letters," a soft stars-and-planets carpet, floor level displays and a nonlinear arrangement of bookshelves. The iconography and organization of the section revealed the same method of age ascendance that I had found in my historical research on the rise of the child consumer. The books and small toys intended for the youngest children were situated in the back corner; the age ladder progressively moved up toward the entrance area where items intended for the oldest children (9 and 10-year-olds) were displayed. Such an arrangement is designed to avoid exposing the older children to undesirable ​"babyish" things – which could ​"pollute" them by association – while giving the younger children, who must pass through this area, a feeling of maturity, perhaps even of desire.
Brands and branding
Delightful and insidious at once, Borders endeavors to brand the experience of reading and exploring ideas. Paradoxically, Borders strives, on the one hand, to stimulate the children's curiosity and, on the other, to numb their critical faculties with characters, arts-and-crafts activities and merchandise placement. They're encouraged to explore everything about Borders – except of course the company's brand strategy.
Branding resides, first and foremost, in the realm of design. The quintessential marriage of art and commerce, branding, when it works best, is inspired by aesthetic sensibility and intuition, and guided by market research. Brands – their iconography, acoustics, tastes, physical feelings and smells – coax us to react but not to analyze. Every moment is to be infused not just with ​"style" or ​"beauty," but with emotional bonding to a corporate entity. At least, this is the dream of brand managers. Art, in its most general sense, serves as an ideal vehicle for connecting human emotions to a material object because it strikes us at a pre-analytic level. We experience it and react to it before we can reflect on it.
However, corporate ingenuity and the colonization of art and design for promotional effect is not the entire story. Children and adults, after all, want things, buy things and identify with things. We are not completely helpless creatures, but active beings searching for meaning and significance.
Meaning-full brands
The kids' market has proven lucrative (well into $100 billion annually), in large part because both kids and parents derive personal wellbeing from the goods and images of contemporary consumer capitalism. When asked why she put ​"Blues Clues" characters on her four-year-old's birthday cake, a 33-year-old mother told me that a simple ​"Happy Birthday" was generic and not special.
Brands – in their artful presence as icons, images and styles – seek to accomplish the somewhat contradictory task of allowing people to forge personal identities out of mass-produced, mass-distributed, readily available goods and images. To grasp the power of brand appeal, one need only think of those who tattoo the Nike swoosh on their bodies, name their kids after global brands like Puma or spend hours blogging about their favorite products.
Retailers, designers, marketers and merchandisers have known for the better part of a century something that social scientists are now just learning. To cultivate a consumer market at a deep level, beyond simple functional need, consumers must be approached and addressed as having desires and aspirations that transcend the specific product at hand. For many of us, as brand managers have discovered, the ​"need" for belonging, for intimacy, for respect, for individuality and for being seen as someone worthy in the eyes of others is what drives consumption and brand attachment. Some of the key ​"needs" of children, who by default are relatively powerless economically (but quite powerful emotionally), include recognition, aspiration and a sense of ownership over their world.
Kids aspire to be older than they are at whatever age because, early in life, they recognize their position on the lower rungs of the social ladder. Hence retailers, like Borders, design spaces that encode both aspiration to older, more autonomous identities and distance from younger, undesirable selves. Any savvy package designer knows that a child's product, if it is to have any chance on the market, must appear to appeal to the age group just older than the intended end-user. Something intended for a six-year-old boy will probably not do well if a six-year-old is pictured on it – better an eight-year-old.
Making such appeals directly to a child is, historically speaking, new and revolutionary. The recognition and appeasement of the child's point of view in commercial contexts began in the ​'30s and marked a change not only in marketing and merchandising, but in parent-child relations as well. The child's view now must be acknowledged, addressed and satisfied in many arenas of social life. For a parent to do otherwise is to set themselves up as morally suspect.
The strongest institutional urge to ​"know" and speak to the child's view comes from the world of marketing, branding and design. It is marketers, often more than parents, who are in tune with kids and their worlds. They visit children's bedrooms and query them about their decorating, clothing and music choices. They attend girls' sleepover parties and convene focus groups to observe ​"tweens" discussing the benefits of various products. In doing so, marketers venerate children's commercial choices as a democratic exercise. They insist that, in this way, they are ​"empowering" children.
These children certainly appeared to be ​"empowered" as they actively delved into the books. But, I had to wonder, if it is the kind of power that will transcend its corporate inspired origins and help the kids navigate contemporary life, or if this ​"category management" will serve only to infuse brand attachment into the minds of those just learning about the world. It is almost criminal to discourage the next generation from reading and engaging with books. This day, however, was not about books or reading for the young Explorers. It was about engineering the Borders™ experience and cultivating consumers, ultimately re-empowering those who already have the power to produce experiences in addition to products.
A version of this essay appeared in the catalogue for Branded and On Display, an art exhibit at the Krannert Art Museum, University of Illinois, Champaign. January-March 2007.
Be one of the first
Help kick off the new era of In These Times! Without a media that brings people together and creates a written record of the struggles of workers, their voices will be fragmented and forgotten.
The mission of In These Times is to be that written record, and to guide and grow those movements.
We have a lot of work ahead of us, and that work starts today. Early support is the most valuable support, and that's why we're asking you to pitch in now. If you are excited for this new era of In These Times, please make a donation today.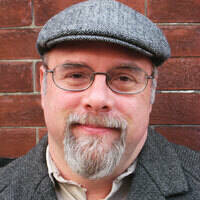 Daniel Thomas Cook
, Associate Professor of Childhood Studies and Sociology at Rutgers University in Camden, NJ, writes on consumer society.