Chokwe Antar Lumumba's Election Marks a New Era for Jackson—And for the South
Jackson, Mississippi's likely new mayor puts his city in the vanguard of progressive politics nationwide.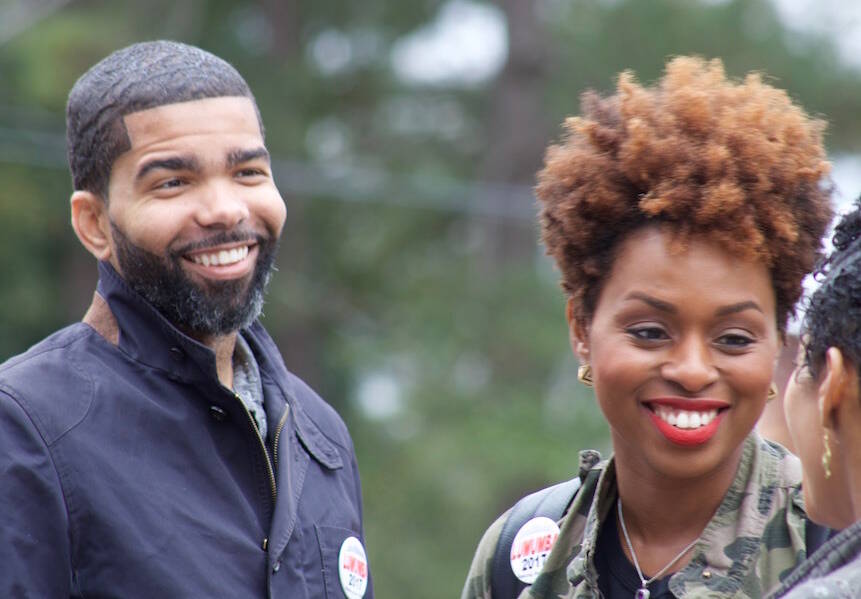 JACK­SON, MISS. — ​"Peo­ple get ready, there's a train a‑comin'."
Perhaps no mayor nationwide has gone so far as Lumumba in suggesting that the solutions for these crises lie not in the ministrations of technocratic policy advisers, but in the people themselves.
The words from the Cur­tis May­field song rang out at Chok­we Antar Lumumba's vic­to­ry par­ty on Tues­day night. By 8:30, it was clear Lumum­ba would win over 50 per­cent of the vote, avoid­ing a runoff to win the Demo­c­ra­t­ic pri­ma­ry for may­or of Jack­son, Mis­sis­sip­pi. With only a per­func­to­ry gen­er­al elec­tion in his way (to take place in June), Lumum­ba will almost cer­tain­ly be the city's next mayor.
The elec­tion places Jack­son — pop­u­la­tion 170,000, 80 per­cent black — in the van­guard of pro­gres­sive pol­i­tics, offer­ing clear lessons for pro­gres­sive forces across the coun­try: First, that seiz­ing polit­i­cal pow­er at the munic­i­pal lev­el is a crit­i­cal step toward any change on a nation­al lev­el. And sec­ond, that there's no time to spare — orga­niz­ing to win local pow­er can start now.
In Jack­son itself, the elec­tion her­alds a new era. Like the coun­try as a whole, Jack­son is beset by numer­ous crises: eco­nom­ic inequal­i­ty, pover­ty, bud­get cuts, crum­bling road and water infra­struc­ture, preda­to­ry con­trac­tors and financiers.
Per­haps no may­or nation­wide has gone so far as Lumum­ba in sug­gest­ing that the solu­tions for these crises lie not in the min­is­tra­tions of tech­no­crat­ic pol­i­cy advis­ers, but in the peo­ple them­selves—in work­ing class and Black peo­ple, in peo­ple active­ly mar­gin­al­ized by the polit­i­cal sta­tus quo.
To para­phrase Fan­nie Lou Hamer, Jack­son was sick and tired of being sick and tired. Ebony Lumum­ba, the candidate's wife, quot­ed Matthew 20:16 ​"The last shall be first and the first shall be last." ​"Mis­sis­sip­pi has been last for too long. Jack­son has been last for too long."
Lumum­ba and his allies in Mal­colm X Grass­roots Move­ment and Coop­er­a­tion Jack­son, smart­ing from the close 2014 loss to cor­po­rate-backed neolib­er­al Tony Yarber, had spent years hon­ing deep orga­niz­ing in the city, con­tact­ing as many peo­ple as pos­si­ble with the Lumum­ba agen­da for ​"an eco­nom­ics by the peo­ple and for the peo­ple [rather than] an eco­nom­ics that ben­e­fits the few."
That, com­bined with a diverse array of local and nation­al sup­port — includ­ing dozens of vol­un­teers from the city work­ers union, rep­re­sent­ed by the Com­mu­ni­ca­tions Work­ers of Amer­i­ca, the only union to back Lumum­ba; the Work­ing Fam­i­lies Par­ty; Democ­ra­cy for Amer­i­ca; Green Par­ty vice pres­i­den­tial nom­i­nee Aja­mu Bara­ka; and Black and work­ing-class orga­niz­ing projects work­ing to trans­form the South — helped ensure his win.
Toward the top of Lumumba's agen­da is fight­ing to stop a state takeover of the city's air­port. A pend­ing law­suit against the takeover will begin court pro­ceed­ings in the fall. Lumum­ba will also need to stave off a rumored takeover of the city's school dis­trict by the state, as well as work to end the unpop­u­lar fur­lough of city workers.
There is much stand­ing in Lumum­ba's way: Near-total Repub­li­can con­trol of state gov­ern­ment; the fur­ther star­va­tion of urban areas by the Trump bud­get; rat­ings agen­cies such as Moody's that pun­ish Jack­son by fur­ther cut­ting its already-low cred­it rat­ing; the con­trac­tors that have been liv­ing high on the hog from the city with­out giv­ing back.
But on Tues­day night, a glimpse of the new New South — a South based on human and worker's rights, rather than a South con­trolled by a tiny elite — was at hand. Forces of reac­tion have held Mis­sis­sip­pi back since the end of Recon­struc­tion. This elec­tion, then, begins the process of lib­er­at­ing territory.
Matthew Cun­ning­ham-Cook
is a labor researcher and writer liv­ing in Prince George's Coun­ty, Mary­land. You can con­tact him at m.cunninghamcook [at] gmail​.com.