What Noam Chomsky Got Right About NAFTA
In 1994, writing for In These Times, Noam Chomsky predicted the trade deal would cause "rural misery and a surplus of labor" and "the fading of meaningful and democratic processes."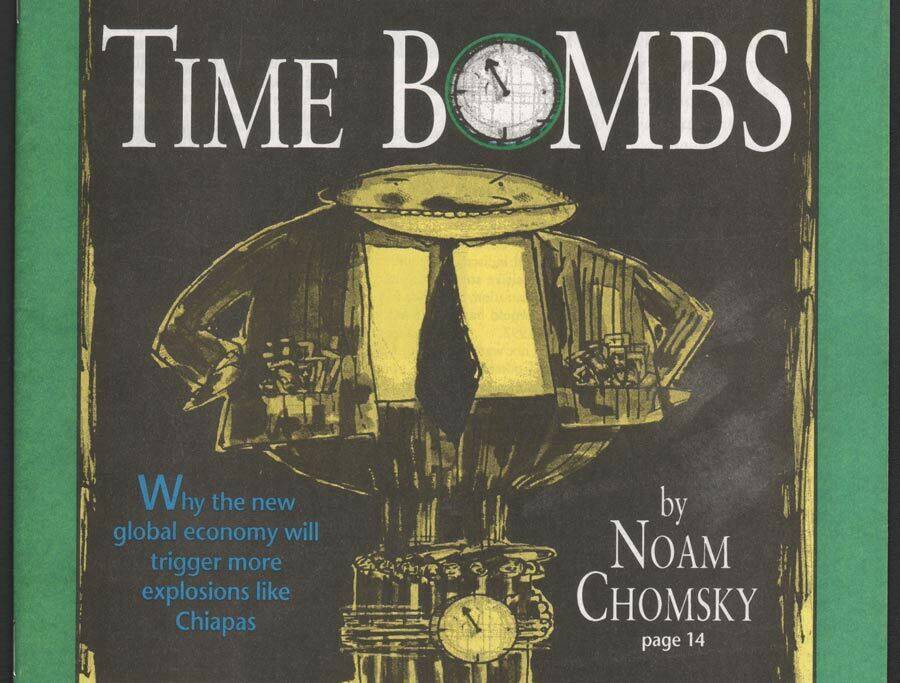 On Jan. 1, 1994, the day the North Amer­i­can Free Trade Agree­ment (NAF­TA) went into effect, the Zap­atista Army of Nation­al Lib­er­a­tion — aka the Zap­atis­tas — led an armed upris­ing in the Mex­i­can state of Chi­a­pas in protest.
Noam Chomsky predicted the deal would provoke more protests and a cascade of economic woes
In our Feb. 21, 1994, cov­er sto­ry, ​"Time Bombs: Why the New Glob­al Econ­o­my Will Trig­ger More Explo­sions Like Chi­a­pas," Noam Chom­sky pre­dict­ed the deal would pro­voke more protests and a cas­cade of eco­nom­ic woes:
NAF­TA is expect­ed to dri­ve large num­bers of [Mex­i­can] work­ers off the land, con­tribut­ing to rur­al mis­ery and a sur­plus of labor. …
The social and eco­nom­ic real­i­ties polar­iz­ing Amer­i­can soci­ety … have been car­ried anoth­er step for­ward by NAF­TA. The con­cept of ​"effi­cien­cy," as defined by those of wealth and priv­i­lege, offers noth­ing to the grow­ing sec­tors of the pop­u­la­tion that are use­less for prof­it­mak­ing, and thus have been dri­ven to pover­ty and despair. …
"Many econ­o­mists think NAF­TA could drag down pay, because low­er Mex­i­can wages could have a grav­i­ta­tion­al effect on the wages of Amer­i­cans," Steven Pearl­stein report­ed in the Wash­ing­ton Post. That is expect­ed even by NAF­TA advo­cates, who rec­og­nize that less skilled work­ers — about 70 per­cent of the work­force— are like­ly to suf­fer wage loss. …Cap­i­tal can move freely, and work­ers and com­mu­ni­ties suf­fer the con­se­quences. … [These include] a low-wage, low-growth, high-prof­it future, with increas­ing polar­iza­tion and social dis­in­te­gra­tion. Anoth­er con­se­quence is the fad­ing of mean­ing­ful and demo­c­ra­t­ic process­es as deci­sion-mak­ing is vest­ed in pri­vate insti­tu­tions and the qua­si-gov­ern­men­tal struc­tures that are coa­lesc­ing around them, what the Finan­cial Times calls a ​"de fac­to world gov­ern­ment" that oper­ates in secret and with­out accountability.
Not to men­tion, one might add, for the ben­e­fit of the wealthy.
So where has NAF­TA got­ten us today? How pre­scient was Chomsky?
The trade deal's effects on Mex­i­can farm­ers was much as pre­dict­ed. Accord­ing to the country's Cen­sus, there were 4.9 mil­lion few­er fam­i­ly farm­ers in Mex­i­co in 2007 com­pared to 1991 — large­ly, says a Cen­ter for Eco­nom­ic and Pol­i­cy Research study, due to an influx of U.S.- sub­si­dized corn and oth­er prod­ucts. This, in turn, helped lead to a surge of migra­tion to the Unit­ed States, where the num­ber of Mex­i­can-born res­i­dents grew from 4.5 mil­lion in 1990 to 12.6 mil­lion in 2009.
In the Unit­ed States, too, many of Chomsky's wor­ries have become real­i­ty. Rob Scott, a senior econ­o­mist at the Eco­nom­ic Pol­i­cy Insti­tute (EPI), esti­mates that between 1993 and 2010, 682,900 U.S. jobs have dis­ap­peared due to trade with Mex­i­co. An addi­tion­al 3.4 mil­lion jobs — 75 per­cent in man­u­fac­tur­ing — were lost due to trade with Chi­na between 2001 and 2015.
"Trade is the sin­gle most impor­tant cause of man­u­fac­tur­ing job loss," Scott says. ​"It is an urban myth that it is caused by improve­ments in technology.
"The growth of trade, par­tic­u­lar­ly imports from low-wage coun­tries, explains 90 per­cent of the sup­pres­sion of wages of non-col­lege edu­cat­ed work­ers since 1995."
Two-thirds of U.S. adults are non-col­lege edu­cat­ed. Accord­ing to EPI data, the bot­tom 70 per­cent of U.S. male work­ers saw their hourly wages, adjust­ed for infla­tion, rise only 6.6 per­cent between 1995 and 2013 — while the top 5 per­cent of men saw their wages increase 27 per­cent. (Most man­u­fac­tur­ing work­ers are men, and women have seen high­er wage gains.)
Wis­con­sin, Michi­gan and Penn­syl­va­nia, says Scott, ​"have been hit hard by trade deficits with Chi­na and Mex­i­co. … These vot­ers are aware of the down­ward pres­sure on wages. They can't get good jobs. Their chil­dren can't get jobs and then move out of state. So those who are left are old­er and whiter, and they have seen their com­mu­ni­ties dis­in­te­grate." These are the vot­ers who gave Trump his victory.
Trump cam­paigned in oppo­si­tion to NAF­TA, and his admin­is­tra­tion is cur­rent­ly rene­go­ti­at­ing the deal. U.S. Trade Rep­re­sen­ta­tive Robert Lighthiz­er told CNBC on March 28 that he was ​"opti­mistic" the par­ties would come to some agree­ment ​"in the next lit­tle bit." What that will look like is anyone's guess.
But, Scott says, trade with Chi­na has had an even big­ger impact on U.S. jobs. There, too, Trump is play­ing to his base, announc­ing tar­iffs on steel and alu­minum imports. While EPI econ­o­mists have writ­ten in favor of tar­iffs, they are con­tro­ver­sial among progressives.
Regard­less of tar­iffs' eco­nom­ic mer­its, it's clear Trump is using anger at bad trade deals to stoke nativism and xeno­pho­bia. The rise of rightwing nation­al­ism may be NAFTA's lat­est tick­ing time bomb.