Will Dems Fight the Nomination of Brett Kavanaugh? Organizers Are Pushing Chuck Schumer To Act.
A conversation with an organizer from Indivisible.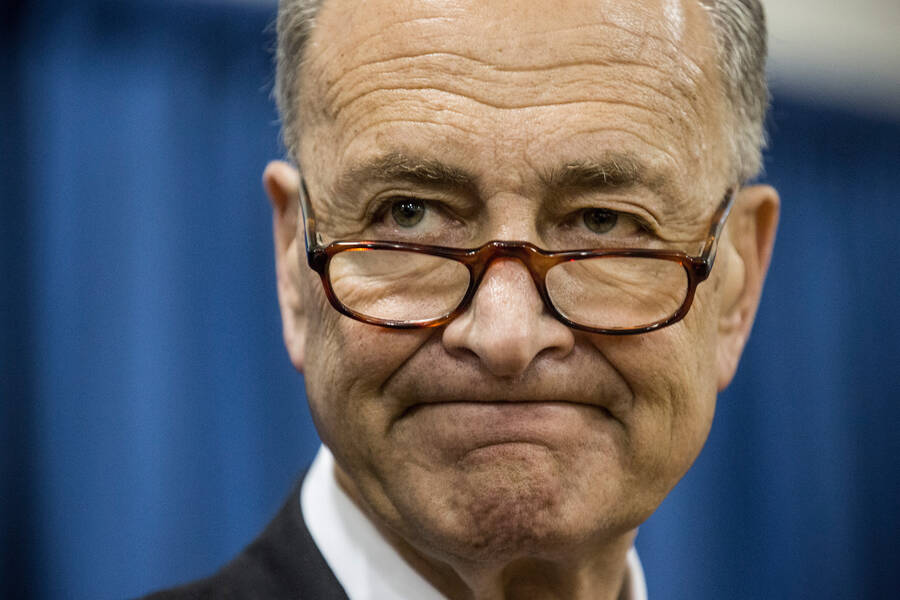 Wel­come to Inter­views for Resis­tance. We're now into the sec­ond year of the Trump admin­is­tra­tion, and the last year has been filled with ups and downs, impor­tant vic­to­ries, suc­cess­ful hold­ing cam­paigns, and painful defeats. We've learned a lot, but there is always more to learn, more to be done. In this now-week­ly series, we talk with orga­niz­ers, agi­ta­tors, and edu­ca­tors, not only about how to resist, but how to build a bet­ter world.
All elected officials are there for one reason, because they were elected by people going out and voting for them.
Liat Olenick: Hi, my name is Liat Olenick, I'm a pub­lic-school teacher and also the co-pres­i­dent of Indi­vis­i­ble Nation BK, which is a Brook­lyn-based activist group.
Sarah Jaffe: We're talk­ing today because you had a ral­ly last week tar­get­ing Sen­ate Demo­c­ra­t­ic leader Chuck Schumer, right? Can you tell us how that came off?
Liat: We held a ral­ly out­side his Man­hat­tan office, and we have held pre­vi­ous ral­lies out­side his house as well. The pur­pose of this ral­ly was to push him to lead the Demo­c­ra­t­ic cau­cus and unite them in oppos­ing the nom­i­na­tion of Brett Kavanaugh. Because of the make­up of the Sen­ate, the only way that we real­ly have a chance at block­ing this nom­i­na­tion is if Democ­rats are unit­ed, so his lead­er­ship is essential.
Sarah: This is not the first time that you've protest­ed Chuck Schumer, as you said. Talk about the impor­tance of groups chal­leng­ing Demo­c­ra­t­ic lead­er­ship and demand­ing that they stand up to Trump.
Liat: Indi­vis­i­ble is all about hold­ing your own elect­ed offi­cials account­able. As a Brook­lyn group, we meet in Prospect Heights, Boerum Hill, Park Slope area. We're lit­er­al­ly in his back­yard, right near his house. Because we're so close to him, we kind of feel a spe­cial respon­si­bil­i­ty to con­tin­ue to hold him account­able and put pres­sure on him to be the leader that we need right now.
All elect­ed offi­cials are there for one rea­son, because they were elect­ed by peo­ple going out and vot­ing for them. When we sig­nal to our rep­re­sen­ta­tives what we want them to do, that we are thank­ful for some­thing, or that we are dis­ap­point­ed in actions that they have tak­en, they pay atten­tion. They ulti­mate­ly want to get reelect­ed and stay in office. The whole Indi­vis­i­ble mod­el is based on that.
Sarah: Have you got­ten any response from his office to these actions?
Liat: Yes, we talk to his staff pret­ty fre­quent­ly. They know about the ral­ly. We always invite them to come and talk to peo­ple when we do a ral­ly like that or a protest. They did not come down this time around. We did let them know about it in advance, and they cer­tain­ly were aware that it is hap­pen­ing. We were in con­ver­sa­tion with them about the Supreme Court nom­i­na­tion and all the oth­er things that are going on.
Sarah: You said they didn't come down this time, but they have before?
Liat: Yes. We have held pre­vi­ous sim­i­lar ral­lies, espe­cial­ly last sum­mer with the Afford­able Care Act (ACA) repeal fight. In those instances, the staff would often come down and talk to peo­ple, which was real­ly appre­ci­at­ed. But, they did not do that this time.
Sarah: Aside from the ACA repeal, what are some of the oth­er ral­lies that you have held? What were the tar­gets and the demands?
Liat: In terms of Schumer, specif­i­cal­ly, we have also orga­nized a lot of actions around the DREAM Act. Last win­ter we staged one protest in Grand Army Plaza, which is two blocks from his house. We staged one protest direct­ly out­side his home about the DREAM Act because that is an area where we want­ed to see stronger lead­er­ship, in terms of using his lever­age to pro­tect Dream­ers which is obvi­ous­ly still an issue.
Then, last sum­mer, we were fight­ing Trump­care. We orga­nized one or two ral­lies out­side his office. Then, way back in Jan­u­ary of 2017, there were some protests in Grand Army Plaza and near his house that were more focused on push­ing him to oppose Trump's cab­i­net appoint­ments. We did not orga­nize that, but we did par­tic­i­pate. So, there has been kind of a sim­i­lar local con­sis­tent push to urge him to be a stronger ​"No" in the Sen­ate and to unite his cau­cus on some key issues.
Sarah: Tell me about the make­up of the group. Who are the peo­ple? Are these long­time activists? Are these first-time activists get­ting involved because of Trump? Tell me how that came togeth­er and who the aver­age per­son in the group is.
Liat: We got start­ed in Decem­ber of 2016. It was very much a response to the elec­tion. How­ev­er, I would say there is a wide range of expe­ri­ences in the group in terms of polit­i­cal activ­i­ty and work. There are some peo­ple who have been engaged in some form of activism for years and years and years, and there are some peo­ple who are new to tak­ing polit­i­cal action in this way.
I think I am kind of a mid­dle-ground exam­ple. I am a teacher, but I have been an edu­ca­tion advo­cate for a long time: I have been orga­niz­ing and writ­ing and protest­ing on issues relat­ed to edu­ca­tion, but I was kind of siloed. Then, after the elec­tion, it was like, ​"No, I need to orga­nize every­thing, I can't just focus on this one issue." I felt like I need­ed to learn and kind of spread out to things that were bigger.
Sarah: With­in the group, was any­body opposed to the idea of chal­leng­ing Democrats?
Liat: With­in Indi­vis­i­ble groups across the city and the state, there is a fair degree of uni­ty with regards to how we see Sen­a­tor Schumer's role in par­tic­u­lar. And there is a wide­spread desire to see stronger lead­er­ship from him, not just spe­cif­ic to our group.
We don't real­ly see it as chal­leng­ing Democ­rats. We see it as doing the basic demo­c­ra­t­ic job of hold­ing elect­ed offi­cials account­able no mat­ter what par­ty they are a part of. That is our role as active and informed con­stituents — to make sure that our elect­ed offi­cials are real­ly rep­re­sent­ing us and our inter­ests. That guides our work relat­ed to Sen­a­tor Schumer, but also oth­er elect­ed offi­cials that we inter­act with.
Sarah: Going for­ward, the Supreme Court nom­i­na­tion is one fight, and we're lead­ing into midterm elec­tions. What do you want to see from Sen­a­tor Schumer and the Demo­c­ra­t­ic lead­er­ship going forward?
Liat: With regard to the Supreme Court, we want to see a unit­ed Demo­c­ra­t­ic cau­cus. It is very sim­ple, and it is essen­tial. We have seen that be effec­tive last sum­mer with the ACA repeal fight. The only rea­son we were able to stop the repeal of the ACA is because we had a unit­ed Demo­c­ra­t­ic cau­cus and it did not hurt Democ­rats in polling or mes­sag­ing — or any­thing — to take a strong stance on an issue that affect­ed mil­lions of people.
We see the same issue at stake with this. Health­care is at stake com­bined with so many oth­er issues, includ­ing the pos­si­bil­i­ty that our pres­i­dent could attempt to par­don him­self. We just expect a clear, firm line on the Supreme Court nom­i­na­tion where all Democ­rats are say­ing, ​"We are vot­ing no." What­ev­er their indi­vid­ual rea­sons are, that will vary depend­ing on what state they are from, but we expect unity.
Then, going for­ward into the elec­tions, we would real­ly like to see him take a more active role in help­ing to craft Demo­c­ra­t­ic pri­or­i­ties and mes­sag­ing, because he is not very vis­i­ble in this. This is actu­al­ly some­thing that we have met with him in per­son about when he put out this Bet­ter Deal plat­form, which has a lot of real­ly good poli­cies in it. But we are not see­ing it pro­mot­ed or shared with the pub­lic in a way that is effective.
We had pushed for Sen­a­tor Schumer to hold a town hall in New York City for over a year. He hasn't held one in years and years and years, and we felt like this is what lead­er­ship is about and he needs to talk direct­ly to con­stituents. Eliz­a­beth War­ren and Bernie Sanders are hold­ing nation­al­ly tele­vised town halls where they are talk­ing to mil­lions of Amer­i­cans. He is minor­i­ty leader. He needs to put him­self out there. There was a town hall sched­uled for the first week in July which we were very excit­ed about and it was can­celled at the last minute because of some trav­el issue.
Inter­views for Resis­tance is a project of Sarah Jaffe, with assis­tance from Lau­ra Feuille­bois and sup­port from the Nation Insti­tute. It is also avail­able as a pod­cast on iTunes. Not to be reprint­ed with­out permission.
Sarah Jaffe
is a for­mer staff writer at
In These Times
and author of
Nec­es­sary Trou­ble: Amer­i­cans in Revolt
, which Robin D.G. Kel­ley called ​
"
The most com­pelling social and polit­i­cal por­trait of our age." You can fol­low her on Twit­ter
@sarahljaffe
.