McDonald's Management's Response to Workers' Burns on the Job: "Just Put Some Mustard On It"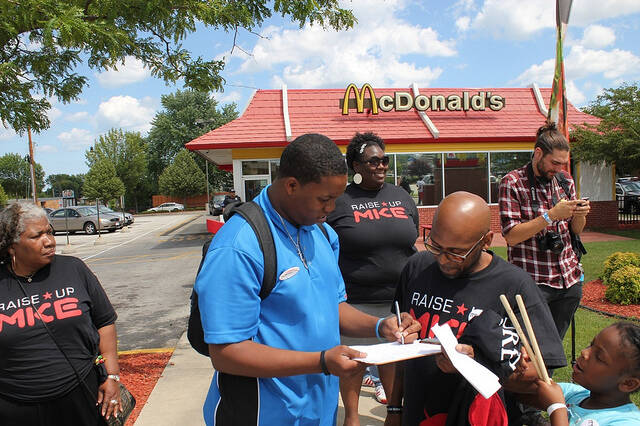 If accu­sa­tions of pover­ty wages, racial dis­crim­i­na­tion, sex­u­al harass­ment and ram­pant wage theft weren't enough, McDonald's work­ers also say they bare the brunt of haz­ardous con­di­tions on the job. On Mon­day, work­ers across 19 cities filed 28 health and safe­ty com­plaints with the fed­er­al Occu­pa­tion­al Safe­ty and Health Admin­is­tra­tion (OSHA) and oth­er state agencies.
As a part of the nation­al cam­paign Fight for 15, an effort backed by the Ser­vice Employ­ees Inter­na­tion­al Union (SEIU) to orga­nize for a $15 per hour min­i­mum wage, the low-wage work­ers say that under­staffing com­bined with pres­sure from man­age­ment to work at break­neck speeds has cre­at­ed a dan­ger­ous work envi­ron­ment where work­ers rou­tine­ly suf­fer severe burns and oth­er injuries.
Although a McDonald's spokesper­son claimed the com­plaints ​"are part of a larg­er strat­e­gy orches­trat­ed by activists tar­get­ing [the McDonald's] brand and designed to gen­er­ate media cov­er­age," a sur­vey con­duct­ed by Hart Research Asso­ciates on behalf of the Nation­al Coun­cil for Occu­pa­tion­al Safe­ty and Health affirmed the griev­ances. The sur­vey found that 79% of fast food work­ers had been burned on the job in the past year, and of those, almost all of them report­ed mul­ti­ple burns over that same time.
Despite work­ing amid con­di­tions that they say include sear­ing hot fry­ers and ovens, boil­ing grease, slip­pery floors and caus­tic clean­ing chem­i­cals, work­ers say safe­ty pre­cau­tions are near­ly nonex­is­tent and sel­dom enforced. Many work­ers said they had nev­er received safe­ty train­ing, wear only plas­tic gloves for pro­tec­tion and have been advised by man­age­ment to treat severe burns with condiments.
In a video pro­duced by the cam­paign, two work­ers tell sto­ries of going to man­age­ment after receiv­ing burns while work­ing. Man­age­men­t's response, accord­ing to both work­ers, was to apply mus­tard to the wounds.
ThinkProgress​'s Bryce Covert tells the sto­ry of Chica­go McDonald's work­er Brit­tney Berry, who has worked for the com­pa­ny since 2011 and makes $8.30 an hour.
Berry says she suf­fered a severe burn and nerve dam­age on her fore­arm from an acci­dent. ​"The man­agers at the store con­stant­ly push us to work fast," she said on a call with the press. ​"I've been repeat­ed­ly burned on the job."

The worst came one day when she slipped on a greasy floor and caught her arm on a hot grill. ​"The burn almost burned my entire fore­arm, and as I fell I twist­ed my wrist, caus­ing nerve dam­age I still have today," she said. ​"I worked through tears from the pain." In response, how­ev­er, her man­ag­er told her to put mus­tard on the injury, yet once she final­ly was rushed to the hos­pi­tal she was imme­di­ate­ly put on mor­phine. She end­ed up miss­ing work for three weeks with­out pay and then going on med­ical leave for six months. ​"My injury was dev­as­tat­ing," she said.
The charges, made against both fran­chise own­ers and the McDonald's cor­po­rate head­quar­ters, fol­low a slew of lit­i­ga­tion brought for­ward by the Fight for 15 cam­paign against McDonald's in recent months. Notably, they have includ­ed a civ­il rights suit filed in Jan­u­ary and the land­mark Decem­ber deci­sion by the Nation­al Labor Rela­tions Board (NLRB) to label the McDonald's fran­chise a joint employer.
On April 15, these griev­ances will cul­mi­nate in anoth­er round of strikes and protests across the coun­try, as low-wage work­ers and sup­port­ers of Fight for 15 will ral­ly for high­er wages, improved work­ing con­di­tions and the right to form a union.
Lil­lian Osborne
is an under­grad­u­ate stu­dent at Loy­ola Uni­ver­si­ty Chica­go and an In These Times edi­to­r­i­al intern. She is also a con­trib­u­tor to the Loy­ola Phoenix.