McDonald's Management's Response to Workers' Burns on the Job: "Just Put Some Mustard On It"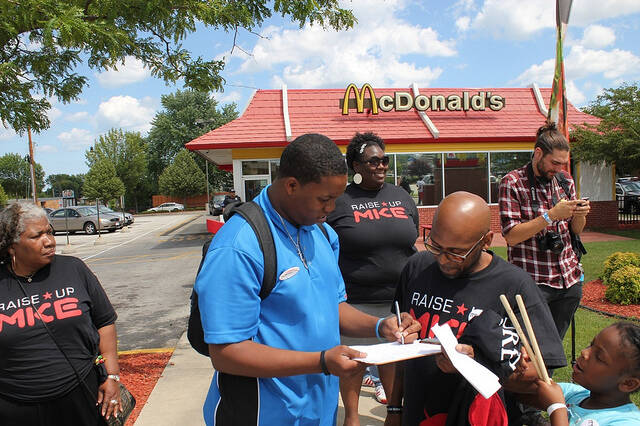 If accusations of poverty wages, racial discrimination, sexual harassment and rampant wage theft weren't enough, McDonald's workers also say they bare the brunt of hazardous conditions on the job. On Monday, workers across 19 cities filed 28 health and safety complaints with the federal Occupational Safety and Health Administration (OSHA) and other state agencies.
As a part of the national campaign Fight for 15, an effort backed by the Service Employees International Union (SEIU) to organize for a $15 per hour minimum wage, the low-wage workers say that understaffing combined with pressure from management to work at breakneck speeds has created a dangerous work environment where workers routinely suffer severe burns and other injuries.
Although a McDonald's spokesperson claimed the complaints ​"are part of a larger strategy orchestrated by activists targeting [the McDonald's] brand and designed to generate media coverage," a survey conducted by Hart Research Associates on behalf of the National Council for Occupational Safety and Health affirmed the grievances. The survey found that 79% of fast food workers had been burned on the job in the past year, and of those, almost all of them reported multiple burns over that same time.
Despite working amid conditions that they say include searing hot fryers and ovens, boiling grease, slippery floors and caustic cleaning chemicals, workers say safety precautions are nearly nonexistent and seldom enforced. Many workers said they had never received safety training, wear only plastic gloves for protection and have been advised by management to treat severe burns with condiments.
In a video produced by the campaign, two workers tell stories of going to management after receiving burns while working. Management's response, according to both workers, was to apply mustard to the wounds.
ThinkProgress​'s Bryce Covert tells the story of Chicago McDonald's worker Brittney Berry, who has worked for the company since 2011 and makes $8.30 an hour.
Berry says she suffered a severe burn and nerve damage on her forearm from an accident. ​"The managers at the store constantly push us to work fast," she said on a call with the press. ​"I've been repeatedly burned on the job."

The worst came one day when she slipped on a greasy floor and caught her arm on a hot grill. ​"The burn almost burned my entire forearm, and as I fell I twisted my wrist, causing nerve damage I still have today," she said. ​"I worked through tears from the pain." In response, however, her manager told her to put mustard on the injury, yet once she finally was rushed to the hospital she was immediately put on morphine. She ended up missing work for three weeks without pay and then going on medical leave for six months. ​"My injury was devastating," she said.
The charges, made against both franchise owners and the McDonald's corporate headquarters, follow a slew of litigation brought forward by the Fight for 15 campaign against McDonald's in recent months. Notably, they have included a civil rights suit filed in January and the landmark December decision by the National Labor Relations Board (NLRB) to label the McDonald's franchise a joint employer.
On April 15, these grievances will culminate in another round of strikes and protests across the country, as low-wage workers and supporters of Fight for 15 will rally for higher wages, improved working conditions and the right to form a union.
Lillian Osborne
is an undergraduate student at Loyola University Chicago and an In These Times editorial intern. She is also a contributor to the Loyola Phoenix.