This Chart Shows How Unions Help Redistribute Wealth Throughout American Society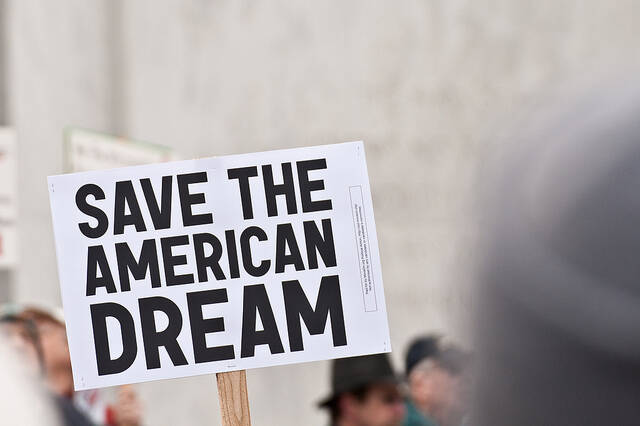 Why do unions mat­ter? They increase wages and ben­e­fits for their mem­bers, sure — but do they have any impact on soci­ety as a whole?
The Eco­nom­ic Pol­i­cy Insti­tute (EPI), a pro­gres­sive think­tank, pub­lished a chart ear­li­er this week show­ing a strik­ing cor­re­la­tion between the decline of union mem­ber­ship and the upsurge of income inequality.
While a vari­ety of fac­tors affect wealth inequal­i­ty and union mem­ber­ship, it's hard not to notice that the two graphs are near­ly mir­ror images of each oth­er: As union mem­ber­ship increas­es, the share of wealth by the rich­est 10 per­cent of Amer­i­cans decreas­es; as mem­ber­ship goes down, the wealthy's share goes up.
Accord­ing to the chart, based on stud­ies by Col­in Gor­don and an updat­ed analy­sis of tax data by Thomas Piket­ty and Emmanuel Saez, the per­cent of pub­lic and pri­vate sec­tor work­ers in unions con­tin­ues to fall, reach­ing its low­est rate since 1936 at 11.1 per­cent last year. At the same time, the share of income going to the top 10 per­cent of wage earn­ers reached an all-time high of 47.8 per­cent in 2012.
As mem­ber­ship increased after 1936 dur­ing the Great Depres­sion, peak­ing at 33.4 per­cent in 1945 and stay­ing about the same until 1960, the top 10 percent's share of wealth fell. At a height of 46.3 per­cent in 1932, the share of wealth held by the rich­est tenth fell to 31.5 per­cent by 1944, remain­ing sta­ble till about 1980. As union mem­ber­ship steadi­ly declined after 1980, the wealth­i­est Amer­i­cans saw their share of rich­es surge.
Gor­don explained the impor­tance of unions in oth­er realms beyond high­er wages for their mem­bers: ​"Unions at mid­cen­tu­ry also exert­ed con­sid­er­able polit­i­cal clout, sus­tain­ing oth­er polit­i­cal and eco­nom­ic choic­es (min­i­mum wage, job-based health ben­e­fits, Social Secu­ri­ty, high mar­gin­al tax rates, etc.) that damp­ened inequality."
As Doug Hen­wood recent­ly not­ed, despite the decline of over­all mem­ber­ship record­ed in the most recent fig­ures from the Bureau of Labor Sta­tis­tics, unions still improve wages and work­ing con­di­tions con­sid­er­ably, espe­cial­ly for demo­graph­ics sub­ject to the most work­place discrimination.
The EPI's chart is a visu­al tes­ta­ment to unions' abil­i­ty to impact not only their own mem­bers' lives, but also the dis­tri­b­u­tion of wealth in soci­ety as a whole. As unions decline, it's not just union mem­bers who lose out — the entire soci­ety los­es one of the main forces that can help make sure wealth does­n't con­geal among the richest.
While pri­vate-sec­tor union mem­ber­ship, which accounts for five times more employ­ment than pub­lic-sec­tor union mem­ber­ship, con­tin­ues to drop, pub­lic-sec­tor unions have large­ly remained sta­ble over the last 30 years. But with the con­tin­u­ing attacks on pub­lic-sec­tor unions by right-to-work state leg­is­la­tion and Supreme Court cas­es, one of the last bas­tions of strong union­ism in the U.S. may soon erode just like the pri­vate sec­tor. If the EPI's research is any indi­ca­tion, this could fore­shad­ow more egre­gious income inequal­i­ty to come.
Lil­lian Osborne
is an under­grad­u­ate stu­dent at Loy­ola Uni­ver­si­ty Chica­go and an In These Times edi­to­r­i­al intern. She is also a con­trib­u­tor to the Loy­ola Phoenix.