Slavoj Žižek: Clinton, Trump and the Triumph of Global Capitalism
Why the Hillary Clinton consensus is a threat to democracy—and the Left.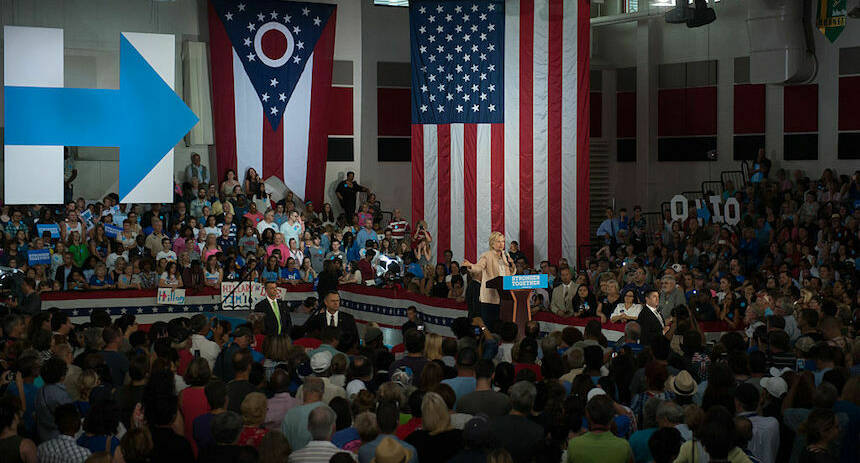 Roger Ebert once said that a film is as good as its vil­lain. Does this mean that the forth­com­ing U.S. elec­tions will be good since the ​"bad guy" (Don­ald Trump) is almost an ide­al vil­lain? Yes, but in a very prob­lem­at­ic sense. For the lib­er­al major­i­ty, the 2016 elec­tions rep­re­sent a clear-cut choice: Trump is ridicu­lous, exces­sive and vul­gar. He exploits our worst racist and sex­ist prej­u­dices such that big-name Repub­li­cans are aban­don­ing him in droves. If Trump remains the Repub­li­can can­di­date, we will get a tru­ly ​"feel-good elec­tion." In spite of all our prob­lems and pet­ty squab­bles, when there is a real threat to our basic demo­c­ra­t­ic val­ues we come togeth­er, just like France did after the ter­ror­ist attacks.
Trump is not the dirty water one should throw out to keep safe the healthy baby of U.S. democracy. He is the dirty baby who needs to be thrown out to make us believe that we got rid of the dirt.
But this com­fort­able demo­c­ra­t­ic con­sen­sus should wor­ry the Left. We should take a step back and turn the gaze on our­selves. What is the exact make­up of this all-embrac­ing demo­c­ra­t­ic uni­ty? Every­body is there, from Wall Street bankers to Bernie Sanders sup­port­ers and vet­er­ans of the Occu­py move­ment, from big busi­ness to trade unions, from army vet­er­ans to LGBT+ activists, from the ecol­o­gists hor­ri­fied by Trump's denial of glob­al warm­ing and the fem­i­nists delight­ed by the prospect of the first woman pres­i­dent to the ​"decent" Repub­li­can estab­lish­ment fig­ures ter­ri­fied by Trump's incon­sis­ten­cies and irre­spon­si­ble ​"dem­a­gog­ic" pro­pos­als. These very incon­sis­ten­cies make his posi­tion unique.
Yanis Varo­ufakis, the for­mer Greek finance min­is­ter, observed in a per­son­al e‑mail to me:
After Orlan­do, he came out all warm and fuzzy about LGBT victims/​people — in a man­ner that no oth­er Repub­li­can would have dared. Also, it is com­mon knowl­edge that he is not a ​"faith­ful" Chris­t­ian and that he only says that he is for show — and by ​'com­mon knowl­edge' I mean that this is known by the … Chris­t­ian sects that make up the U.S. fun­da­men­tal­ist front. Last­ly, his posi­tion on abor­tion has for decades been a lib­er­al one and it is, again, com­mon knowl­edge, that he does not favour a repeal of the Roe v. Wade Supreme Court deci­sion. In short, Trump has man­aged to change the cul­tur­al pol­i­tics of the Repub­li­can Par­ty for the first time since [Richard] Nixon. By adopt­ing a crass, misog­y­nist, racist lan­guage he has man­aged to release the Repub­li­can Par­ty from its tra­di­tion­al reliance on the Fun­da­men­tal­ist, the homo­pho­bic and the anti-abor­tion ide­o­log­i­cal strait­jack­et. It is a remark­able con­tra­dic­tion that only a Hegelian can grasp!
His ref­er­ence to Hegel is jus­ti­fied. Trump's vul­gar racist and misog­y­nist style is what enabled him to under­mine the Repub­li­can con­ser­v­a­tive-fun­da­men­tal­ist dog­ma. Trump is not sim­ply the can­di­date of con­ser­v­a­tive fun­da­men­tal­ists. (He is per­haps an even greater threat to them than to ​"ratio­nal" mod­er­ate Repub­li­cans.) The para­dox is, thus, that with­in the ide­o­log­i­cal space of the Repub­li­can Par­ty, Trump was only able to under­mine its fun­da­men­tal­ist core through racist and sex­ist pop­ulist vul­gar­i­ties. This com­plex­i­ty, of course, dis­ap­pears in the stan­dard left-lib­er­al demo­niza­tion of Trump. Why? To see this, we should again turn our gaze towards the Hillary Clin­ton consensus.
The pop­u­lar rage that gave birth to Trump also gave birth to Sanders. Both express wide­spread social and polit­i­cal dis­con­tent, but they do it in oppo­site ways — one engag­ing in right­ist pop­ulism and the oth­er opt­ing for the left­ist call for jus­tice. And here's the trick: The left­ist call for jus­tice tends to be com­bined with strug­gles for women's and gay rights, for mul­ti­cul­tur­al­ism and against racism. The strate­gic aim of the Clin­ton con­sen­sus is clear­ly to dis­so­ci­ate all these strug­gles from the left­ist call for jus­tice, which is why the liv­ing sym­bol of this con­sen­sus is Tim Cook. Cook, the CEO of Apple, proud­ly signed a pro-LGBT let­ter to North Car­oli­na Gov. Pat McCro­ry and can now eas­i­ly for­get about hun­dreds of thou­sands of Fox­conn work­ers in Chi­na assem­bling Apple prod­ucts in slave con­di­tions. He made his big ges­ture of sol­i­dar­i­ty with the under­priv­i­leged by demand­ing the abo­li­tion of gen­der-seg­re­gat­ed bathrooms.
If Cook is one liv­ing sym­bol of this con­sen­sus, Madeleine Albright, the first woman to be U.S. sec­re­tary of state, is anoth­er embod­i­ment. On CBS's 60 Min­utes (May 12, 1996), Albright was asked about the Iraq War: ​"We have heard that half a mil­lion chil­dren have died. I mean, that's more chil­dren than died in Hiroshi­ma. And, you know, is the price worth it?"
Albright calm­ly replied: ​"I think this is a very hard choice, but the price — we think the price is worth it."
Let's ignore most of the ques­tions this reply rais­es (includ­ing the inter­est­ing shift from ​"I" to ​"we:" I think it's a hard choice but we think the price is worth it) and focus on just one aspect: Can we imag­ine all the hell that would break out if the same answer were said by some­body like Vladimir Putin or Chi­nese Pres­i­dent Xi Jin­ping or the Iran­ian pres­i­dent? Would they not be denounced imme­di­ate­ly in all our head­lines as cold and ruth­less mon­sters? Cam­paign­ing for Clin­ton, Albright said: ​"There's a spe­cial place in hell for women who don't help each oth­er." (Mean­ing: women who vote for Sanders instead of Clin­ton.) Maybe we should amend this state­ment. There is a spe­cial place in hell for women — and men — who think half a mil­lion dead chil­dren is an afford­able price for a mil­i­tary inter­ven­tion that ruins a coun­try, while whole­heart­ed­ly sup­port­ing women's and gay rights at home.
Trump is not the dirty water one should throw out to keep safe the healthy baby of U.S. democ­ra­cy. He is the dirty baby who needs to be thrown out to make us believe that we got rid of the dirt, i.e., in order to make us for­get the dirt that remains, the dirt that lurks beneath the Hillary con­sen­sus. The mes­sage of this con­sen­sus to the Left is: You can get every­thing, we just want to keep the essen­tials, the unen­cum­bered func­tion­ing of the glob­al cap­i­tal. With this frame, Pres­i­dent Barack Obama's ​"Yes, we can!" acquires a new mean­ing: Yes, we can con­cede to all your cul­tur­al demands, with­out endan­ger­ing the glob­al mar­ket econ­o­my — so there is no need for rad­i­cal eco­nom­ic mea­sures. Or, as Uni­ver­si­ty of Ver­mont pro­fes­sor Todd McGowan put it (in a pri­vate com­mu­ni­ca­tion to me): ​"The con­sen­sus of ​'right-think­ing peo­ple' opposed to Trump is fright­en­ing. It is as if his excess licens­es the real glob­al cap­i­tal­ist con­sen­sus to emerge and to con­grat­u­late them­selves on their openness."
This is why Wik­iLeaks founder Julian Assange is right in his cru­sade against Clin­ton, and the lib­er­als who crit­i­cize him for attack­ing her, the only per­son who can save us from Trump, are wrong: The thing to attack and under­mine now is pre­cise­ly this demo­c­ra­t­ic con­sen­sus against the villain.
And what about poor Bernie Sanders? Unfor­tu­nate­ly, Trump hit the mark when he com­pared Sanders' endorse­ment of Clin­ton to an Occu­py par­ti­san back­ing Gold­man Sachs. Sanders should with­draw and remain silent in dig­ni­ty so that his absence will weigh heav­i­ly over the Clin­ton cel­e­bra­tions, remind­ing us what is miss­ing and, in this way, keep­ing the space open for more rad­i­cal alter­na­tives in the future.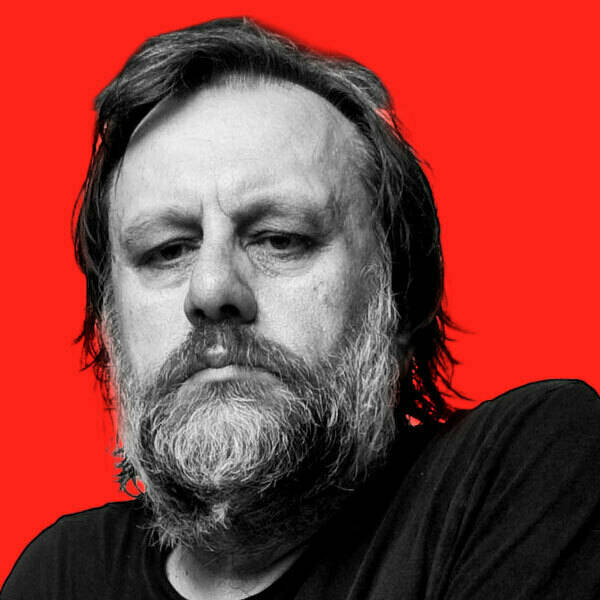 Slavoj Žižek
, a Sloven­ian philoso­pher and psy­cho­an­a­lyst, is a senior researcher at the the Insti­tute for Human­i­ties, Birk­beck Col­lege, Uni­ver­si­ty of Lon­don. He has also been a vis­it­ing pro­fes­sor at more than
10
uni­ver­si­ties around the world. Žižek is the author of many books, includ­ing Liv­ing in the End Times, First As Tragedy, Then As Farce, The Year of Dream­ing Dan­ger­ous­ly and Trou­ble in Paradise.