Even in Bankruptcy, Coal Companies Can't Stop Selling Out Workers
The industry sees its employees like it sees the Earth: Just another resource to exploit.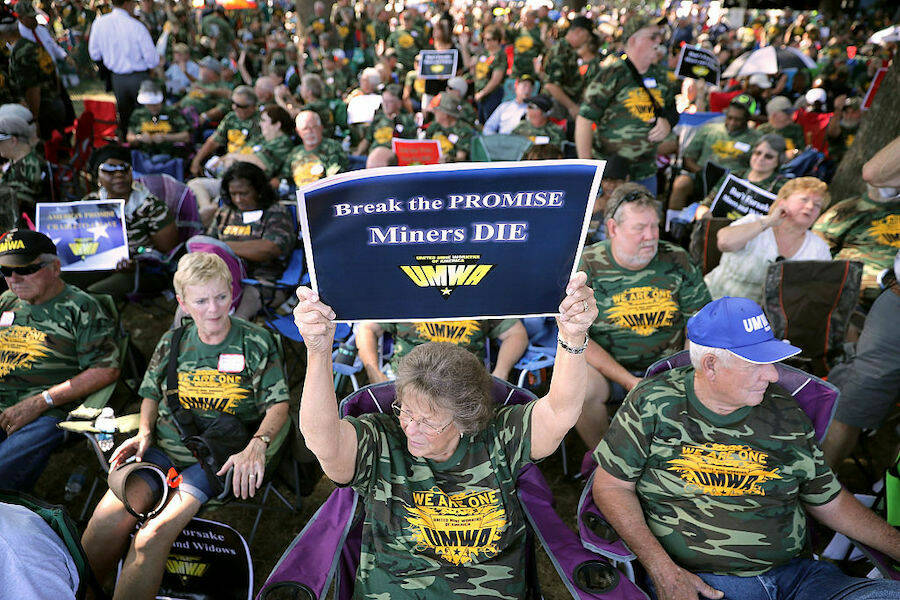 After key envi­ron­men­tal pro­tec­tions were rolled back by the exec­u­tive order of Pres­i­dent Don­ald Trump in March 2017 — includ­ing the Oba­ma-era Clean Pow­er Plan—coal mag­nate Robert E. Mur­ray cheered the news. ​"I think it's won­der­ful, not just for the Unit­ed States coal indus­try, our min­ers and their fam­i­lies, but it's won­der­ful for Amer­i­ca," said Mur­ray, then-CEO of Mur­ray Ener­gy, the largest pri­vate­ly owned coal com­pa­ny in the Unit­ed States. Mur­ray had aggres­sive­ly lob­bied for the roll­backs, and In These Times pub­lished pho­tos of his secret meet­ing, ear­li­er that month, to deliv­er a four-page roll­back wish list to Ener­gy Sec­re­tary Rick Per­ry. It was sealed with a hug between the two.
"The retirees are too old to go back to work. So what happens when they can't afford their house payment or car payment or medical bill?"
Mur­ray has por­trayed him­self as a cham­pi­on of coal min­ers against envi­ron­men­tal­ists. ​"I live among these peo­ple," he told the Guardian just before Trump signed the order. ​"These are the peo­ple who fought the wars and built our coun­try and they were for­got­ten by Democ­rats who had gone to Hol­ly­wood char­ac­ters, lib­er­al elit­ists and rad­i­cal environmentalists."
But Mur­ray Energy's 2019 bank­rupt­cy fil­ings tell a dif­fer­ent sto­ry. Authored by Murray's nephew and new CEO, Robert Moore, they point to oth­er coal com­pa­nies that ​"used bank­rupt­cy to reduce debt and low­er their cost struc­tures by elim­i­nat­ing cash inter­est oblig­a­tions and pen­sion and ben­e­fit oblig­a­tions." Reneg­ing on work­ers' hard-earned pen­sions and ben­e­fits has left com­peti­tors ​"bet­ter posi­tioned to com­pete for vol­ume and pric­ing in the cur­rent market."
The lan­guage sug­gests Mur­ray Ener­gy intends to fol­low the exam­ple of com­pa­nies like West­more­land Min­ing and Black­jew­el, using bank­rupt­cy to evade coal min­ers' health­care and pen­sion costs. In a par­tic­u­lar­ly das­tard­ly case, in 2007, Peabody Coal cre­at­ed Patri­ot Coal, a doomed-to-fail spin­off com­pa­ny, and dumped 10,000 retirees there; they lost their pen­sions after Patri­ot prompt­ly filed for bank­rupt­cy. But these bank­rupt com­pa­nies still man­age to make good on their debts to banks and hedge funds.
Gary Camp­bell, 37, a mem­ber of Unit­ed Mine Work­ers of Amer­i­ca (UMWA) and work­er at the Mur­ray Ener­gy-owned Mar­i­on Coun­ty Coal Com­pa­ny in West Vir­ginia, is scared for fel­low work­ers who have retired. ​"The retirees are too old to go back to work," Camp­bell says. ​"So what hap­pens when they can't afford their house pay­ment or car pay­ment or med­ical bill? They're being thrown to the curb. It's hor­ri­ble to see peo­ple treat­ed like this."
There's no ques­tion that coal work­ers face an uncer­tain future, but a phase­out of coal is a neces­si­ty: Coal is the high­est car­bon-emis­sion fuel source. A 2015 study found that to pre­vent the worst effects of cli­mate change, the vast major­i­ty of fos­sil fuels — includ­ing 92% of U.S. coal reserves — must stay in the ground. That pre­car­i­ty will be felt most by the poor and work­ing class who, unlike Robert E. Mur­ray, won't be able to retire to a seclud­ed man­sion when heat and nat­ur­al dis­as­ters threat­en their homes.
The way to cham­pi­on coal work­ers is not to save the indus­try from envi­ron­men­tal reg­u­la­tion, as Mur­ray would like us to think, but to ensure a just tran­si­tion from a fos­sil fuel econ­o­my — some­thing coal com­pa­nies have no inter­est in, but envi­ron­men­tal­ists and labor unions do. The Green New Deal res­o­lu­tion put for­ward in Feb­ru­ary 2019 by Rep. Alexan­dria Oca­sio­Cortez (D‑N.Y.) and Sen. Ed Markey (D‑Mass.) calls for the Unit­ed States ​"to achieve net­ze­ro green­house gas emis­sions through a fair and just tran­si­tion for all com­mu­ni­ties and work­ers." Such a shift could bring coal min­ers dig­ni­fied, union jobs in anoth­er sec­tor — whether it's coal cleanup, renew­able ener­gy, pub­lic trans­porta­tion, health­care or anoth­er field.
Stan­ley Sturgill, a retired UMWA coal min­er and cli­mate jus­tice activist, advo­cates a just tran­si­tion away from fos­sil fuels as part of a Green New Deal. ​"As far as a just tran­si­tion, the only way to look at it is you have to find some­thing equal or bet­ter pay­ing than [the jobs] they've got right now," Sturgill says. And it will be work­ers, not com­pa­nies, who become the crit­i­cal lead­ers in this process.
The just tran­si­tion can start imme­di­ate­ly: Sara Nel­son, pres­i­dent of the Asso­ci­a­tion of Flight Atten­dants-CWA and a vocal sup­port­er of the Green New Deal, has repeat­ed­ly called on cli­mate activists to sup­port the 2019 Amer­i­can Min­ers Act (AMA), sup­port­ed by UMWA. It would pro­tect the pen­sions of more than 100,000 coal min­ers whose retire­ment fund was deplet­ed by the 2008 crash and res­cue the health­care of min­ers whose com­pa­nies went bankrupt.
The AMA is only a first step. In a just world, a full tran­si­tion would include not only the dig­ni­fied union jobs called for by the Green New Deal res­o­lu­tion, but shut down the coal com­pa­nies and redis­trib­ute their assets to work­ers before they can go bank­rupt and aban­don their oblig­a­tions — or fur­ther harm the climate.
At the very least, the Robert Mur­rays of the world should be rec­og­nized for what they are: ene­mies of the work­ing peo­ple who, as Camp­bell puts it, ​"made them their for­tune." Coal com­pa­nies treat their work­ers just as they treat the earth: some­thing to extract val­ue from, then discard.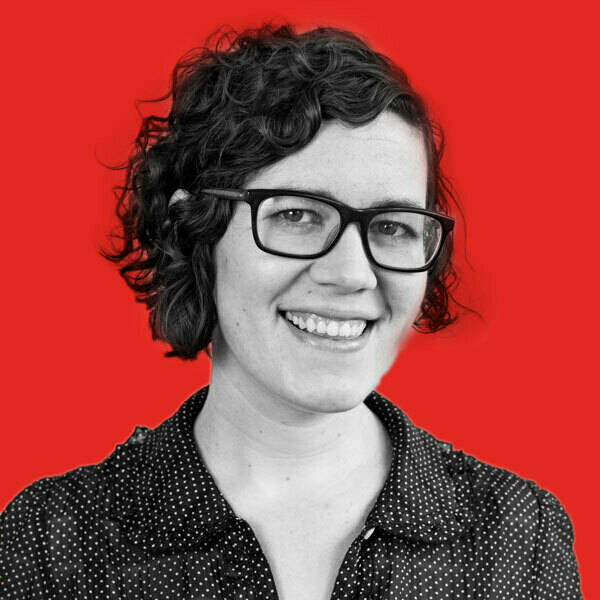 Sarah Lazare is web edi­tor at In These Times. She comes from a back­ground in inde­pen­dent jour­nal­ism for pub­li­ca­tions includ­ing The Inter­cept, The Nation, and Tom Dis­patch. She tweets at @sarahlazare.