Community College in the Crosshairs
Even as Obama is calling for free community college, California's landmark system is under attack by accreditors allied with ALEC and for-profit schools.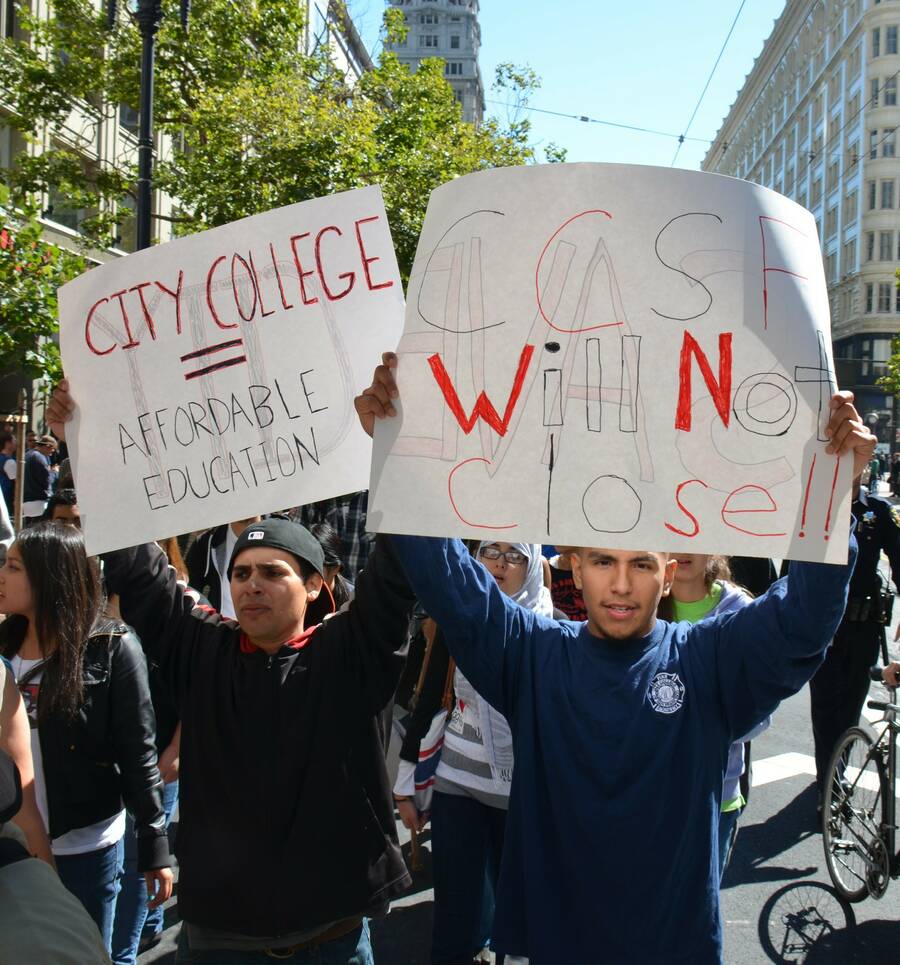 On Decem­ber 9, 2014, dozens of stu­dents and fac­ul­ty from the City Col­lege of San Fran­cis­co (CCSF) packed into a court­room to wit­ness the con­clu­sion of an unusu­al trial.
Activists fear that the closure of CCSF, one of the nation's oldest and largest community colleges, would open the floodgates of privatization in higher education and force students to choose between incurring high debt and quitting school.
Since July 2013 — when the Accred­it­ing Com­mis­sion for Com­mu­ni­ty and Junior Col­leges (ACCJC) announced it would revoke CCSF's accred­i­ta­tion — the stu­dent-fac­ul­ty Save CCSF Coali­tion has scram­bled to demon­strate that the school deserves to remain open by appeal­ing to pub­lic fig­ures and orga­niz­ing ral­lies and sit-ins. Loss of accred­i­ta­tion effec­tive­ly ensures a school's clo­sure by dis­qual­i­fy­ing it from receiv­ing fed­er­al mon­ey, includ­ing finan­cial aid for its students.
But that day in Decem­ber, CCSF wasn't the one in the hot seat. Instead, it was the accred­it­ing com­mis­sion, accused by the city of San Fran­cis­co of ille­gal con­flicts of inter­est that biased its deci­sion against CCSF.
Chief among those alleged con­flicts was ACCJC's rela­tion­ship with con­ser­v­a­tive groups and foun­da­tions that advance the agen­da of for-prof­it col­leges and pri­vate stu­dent-loan providers — such as the Lumi­na Foun­da­tion, a research and grant-mak­ing body that has close ties to pri­vate lender Sal­lie Mae (which until 2012 was a spon­sor of the right-wing Amer­i­can Leg­isla­tive Exchange Council's (ALEC) Edu­ca­tion Task Force). Notably, the ACCJC received a grant from the Lumi­na Foun­da­tion to help schools bet­ter assess ​"stu­dent learn­ing out­comes," or SLOs — a data-dri­ven method of eval­u­a­tion that crit­ics believe are inef­fec­tive mea­sures of stu­dent learn­ing that can nonethe­less be used to penal­ize fac­ul­ty. Fail­ure to ade­quate­ly imple­ment SLOs was one of the ACCJC's rea­sons for sanc­tion­ing CCSF.
"Put sim­ply," the law­suit explained, remov­ing access to com­mu­ni­ty col­leges ​"push­es stu­dents into for-prof­it col­leges and forces them to incur sig­nif­i­cant debt — to the ben­e­fit of for-prof­it col­leges and pri­vate lend­ing institutions."
In fact, that's already hap­pen­ing. A U.S. Trea­sury report released in Decem­ber 2012 found that state bud­get cuts to com­mu­ni­ty col­leges cor­re­late with increas­ing enroll­ment at for-prof­it schools, which near­ly 10 per­cent of stu­dents now attend. In many cas­es, the tran­si­tion from pub­lic to pri­vate is fueled by a so-called reform agen­da like the one advo­cat­ed by the Lumi­na Foun­da­tion and ALEC. It pro­motes increased ​"pro­duc­tiv­i­ty" in high­er edu­ca­tion through such mea­sures as rigid per­for­mance met­rics and an increased role for for-prof­it colleges.
Many see unset­tling par­al­lels between these mea­sures and the cor­po­rate-backed ​"reforms" pushed in K‑12 edu­ca­tion that have led to a rash of school clos­ings in urban areas. Edu­ca­tion activists fear that the clo­sure of CCSF, one of the nation's old­est and largest com­mu­ni­ty col­leges, would open the flood­gates of pri­va­ti­za­tion in high­er edu­ca­tion and force stu­dents to choose between incur­ring high debt and quit­ting school. Some of the college's more than 70,000 stu­dents would like­ly turn to San Francisco's for-prof­it col­leges, such as the Art Insti­tute of Cal­i­for­nia or Heald Col­lege, as well as the city's bur­geon­ing mar­ket of sleek online edu­ca­tion star­tups. While CCSF charges Cal­i­for­nia res­i­dents only $218 per semes­ter and a per-cred­it fee of $46, annu­al tuition and fees at the Art Insti­tute and Heald Col­lege amount to $21,000 and $26,000, respec­tive­ly.
A 2013 report from the San Fran­cis­co Board of Supervisor's Bud­get and Leg­isla­tive Ana­lyst esti­mat­ed the poten­tial eco­nom­ic costs of CCSF's clo­sure: The 16,000 stu­dents tak­ing ESL class­es at CCSF would earn approx­i­mate­ly $13,500 less per year if they were not able to gain Eng­lish skills, and 5,000 CCSF stu­dents who were work­ing toward a high school diplo­ma would lose an esti­mat­ed $8,800 in annu­al earn­ings. In a rapid­ly gen­tri­fy­ing San Fran­cis­co, CCSF has helped uphold val­ues of equi­ty and acces­si­bil­i­ty, says engi­neer­ing instruc­tor Wendy Kaufmyn, a mem­ber of the Save CCSF Coali­tion. ​"What ACCJC is say­ing is, ​'You can't afford those val­ues any­more,' " she says.
A vic­to­ry for CCSF?
On Fri­day, the coali­tion got good news: The judge issued a ten­ta­tive rul­ing against ACCJC, say­ing the com­mis­sion had engaged in ​"sig­nif­i­cant unlaw­ful prac­tices" in its eval­u­a­tion of CCSF. He direct­ed San Fran­cis­co City Attor­ney Den­nis Her­rera to write an injunc­tion spelling out the terms of ​"a full, fair recon­sid­er­a­tion of City Col­lege" by ACCJC. The judge will then final­ize the injunc­tion after con­sid­er­ing any objec­tions from ACCJC. CCSF can either opt for the recon­sid­er­a­tion or con­tin­ue with a ​"restora­tion" process offered by ACCJC last week.
The judge stopped short of over­turn­ing ACCJC's accred­i­ta­tion deci­sion com­plete­ly and reject­ed some of the city's claims about the agen­cy's con­flicts of inter­est, which ACCJC is hail­ing as a vic­to­ry. An ACCJC state­ment released fol­low­ing the rul­ing said that the agency was ​"extreme­ly grat­i­fied that after a full evi­den­tiary hear­ing and exten­sive brief­ing by the attor­neys, Judge Karnow essen­tial­ly found that the ACCJC did not do any­thing wrong with respect to its deci­sions regard­ing the accred­i­ta­tion of CCSF. Now the focus can hope­ful­ly return to the restora­tion of CCSF's accred­i­ta­tion status."
Nev­er­the­less, many observers have termed the rul­ing a sig­nif­i­cant win for CCSF sup­port­ers. The Cal­i­for­nia Fed­er­a­tion of Teach­ers, which rep­re­sents instruc­tion­al fac­ul­ty at the col­lege, said that the deci­sion ​"vin­di­cat­ed" the union's long­stand­ing claims that the accred­i­tor applies unfair and uneven sanc­tions to the state's com­mu­ni­ty col­leges. ​"ACCJC is not a fair and con­struc­tive over­seer of accred­i­ta­tion for California's com­mu­ni­ty col­leges," said Pres­i­dent Joshua Pechthalt in a state­ment. ​"Its bad behav­ior was revealed in this tri­al, and demon­strates the need for reform of com­mu­ni­ty col­lege accred­i­ta­tion in California."
As of Sep­tem­ber 2014, 15 oth­er CCC schools were in dan­ger of hav­ing their accred­i­ta­tion revoked by ACCJC. Activists say, there­fore, that the big­ger fight ahead is over the open access mis­sion of Cal­i­for­nia Com­mu­ni­ty Col­leges (CCC). In 1960, Cal­i­for­nia promised every res­i­dent access to high­er edu­ca­tion — if not through the more selec­tive Uni­ver­si­ty of Cal­i­for­nia or Cal­i­for­nia State schools, then through the com­mu­ni­ty col­leges. Today, 112 schools serve 2.1 mil­lion stu­dents, mak­ing CCC the largest sys­tem of high­er edu­ca­tion in the nation — and the typ­i­cal annu­al tuitions of about $1,200 make it one of the most afford­able. CCC tuitions stand in con­trast to the aver­age of $9,139 at the nation's pub­lic four-year col­leges and uni­ver­si­ties and $42,419 at pri­vate col­leges — result­ing in an aver­age nation­al stu­dent loan bur­den of almost $30,000 per grad­u­ate.
While accred­i­tors such as ACCJC must be autho­rized by the fed­er­al Depart­ment of Edu­ca­tion (DOE), they are pri­vate bod­ies and oper­ate with rel­a­tive auton­o­my, which crit­ics say makes them eas­i­ly swayed by out­side fun­ders and pri­or­i­ties. But, fol­low­ing a com­plaint from the Cal­i­for­nia Fed­er­a­tion of Teach­ers union, the DOE made a rare deter­mi­na­tion in Jan­u­ary 2014 that the ACCJC had vio­lat­ed a num­ber of cri­te­ria for recog­ni­tion, includ­ing the require­ment that ​"stan­dards, poli­cies and accred­i­ta­tion deci­sions are wide­ly accept­ed" by edu­ca­tors. The DOE warned that ACCJC could lose its abil­i­ty to accred­it col­leges if it does not come into compliance.
The tus­sle in Cal­i­for­nia between edu­ca­tion ​"reform­ers" and their crit­ics comes in the midst of a nation­wide con­ver­sa­tion about the role of com­mu­ni­ty col­leges in ensur­ing afford­able high­er edu­ca­tion. Pres­i­dent Oba­ma's plan, out­lined in last night's State of the Union address, to pro­vide two years of free com­mu­ni­ty col­lege to some stu­dents could breathe new life into school sys­tems hob­bled by fund­ing cuts, but is like­ly to face stiff oppo­si­tion from a Repub­lic-con­trolled Con­gress and pro­po­nents of for-prof­it schools.
It also remains to be seen whether Oba­ma's pro­nounce­ment that free tuition will be reserved for ​"respon­si­ble" stu­dents will prove over­ly restric­tive, and whether the plan will con­tain hid­den costs shoul­dered by stu­dents. For coali­tion mem­ber Kaufmyn, sav­ing com­mu­ni­ty col­leges such as CCSF means not just pre­vent­ing their clo­sure, but keep­ing them ​"open and acces­si­ble to those who need [them] most." Kaufmyn says that fac­ul­ty and stu­dents won't give up the fight to save CCS­F's open access pol­i­cy and the life­line it pro­vides for peo­ple of col­or, immi­grants and low-income residents.
Though CCSF has remained open, many stu­dents are already feel­ing the squeeze of finan­cial poli­cies imple­ment­ed in response to ACCJC's sanc­tions. Itzel Cal­vo, 20, enrolled at the col­lege in 2013 with hopes of major­ing in Latin Amer­i­can stud­ies and even­tu­al­ly trans­fer­ring into the Uni­ver­si­ty of Cal­i­for­nia sys­tem. But at the begin­ning of 2014, the admin­is­tra­tion began requir­ing stu­dents to pay each semester's tuition and fees up front, or enroll in a pay­ment plan requir­ing 20 per­cent down. For Cal­vo, who as an undoc­u­ment­ed immi­grant is inel­i­gi­ble for in-state tuition, com­ing up with a lump sum of $3,000 to reg­is­ter for class­es proved impos­si­ble. Pre­vi­ous­ly, she had been able to save up the mon­ey over the course of a semes­ter. Now, she has had to put her stud­ies on hold and is work­ing as a restau­rant host­ess, hop­ing to earn enough mon­ey to return. While the CCSF's new poli­cies have put a strain on her stud­ies, she believes its clo­sure would have put high­er edu­ca­tion per­ma­nent­ly out of reach. For many low-income stu­dents of col­or, espe­cial­ly the undoc­u­ment­ed, she says, ​"City Col­lege is the only option."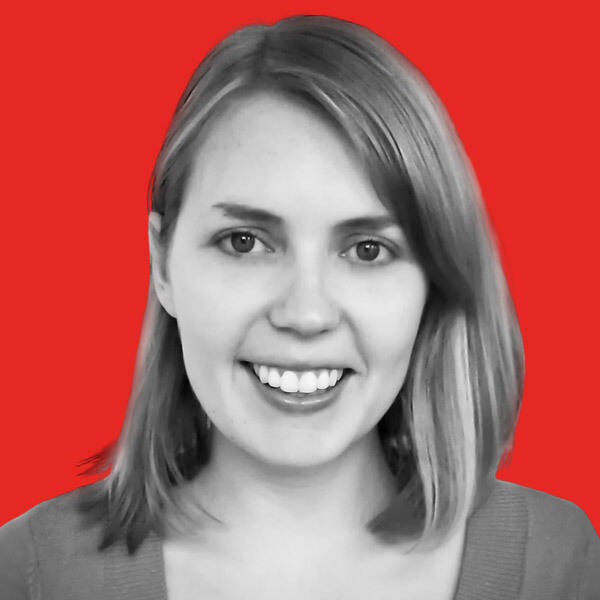 Rebec­ca Burns
is an award-win­ning inves­tiga­tive reporter whose work has appeared in The Baf­fler, the Chica­go Read­er, The Inter­cept and oth­er out­lets. She is a con­tribut­ing edi­tor at In These Times. Fol­low her on Twit­ter @rejburns.