At Long Last, Congress Hears From a Drone Strike Victim
A Pakistani family devastated by drones gave a landmark briefing on Tuesday.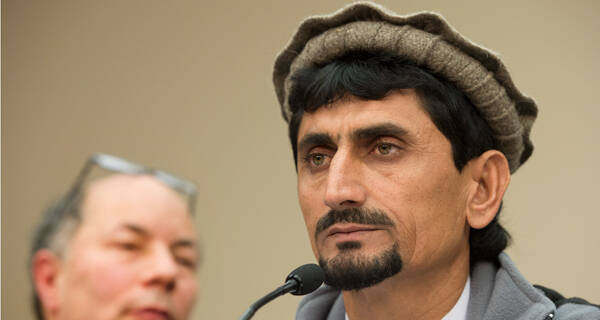 On Tues­day morn­ing, almost 10 years after the U.S. gov­ern­ment began using drones to tar­get sus­pect­ed mil­i­tants in Pak­istan — one of the tools of the War on Ter­ror that the Oba­ma admin­is­tra­tion has embraced and expand­ed since tak­ing office in 2009 — Con­gress heard from some of the policy's inno­cent vic­tims for the first time.
'I no longer prefer blue skies,' said 13-year-old Zubair, whose leg was injured with shrapnel from the attack. 'In fact, I now prefer gray skies. The drones do not fly when the skies are gray.'
In the Ray­burn House Office Build­ing, Pak­istani school teacher Rafiq ur Rehman and his two chil­dren, 13-year-old Zubair and 9‑year-old Nabi­la, recount­ed before five mem­bers of Con­gress how an Octo­ber 2012 drone strike in their native trib­al region of North Waziris­tan killed Rehman's 67-year-old moth­er and left the fam­i­ly phys­i­cal­ly and men­tal­ly scarred.
Mom­i­na Bibi was gar­den­ing on the eve of the Mus­lim holy day of Eid al-Adha, Rehman said, when she was hit and imme­di­ate­ly killed by the strike. Nabi­la and Zubair were also both injured. Nei­ther the CIA nor the White House has com­ment­ed on the spe­cif­ic attack.
​"As a teacher, my job is to edu­cate," Rehman said dur­ing his tes­ti­mo­ny, which was trans­lat­ed from Urdu. ​"But how do I teach some­thing like this? How do I explain what I myself do not under­stand? How can I in good faith reas­sure the chil­dren that the drone will not come back and kill them, too, if I do not under­stand why it killed my moth­er and injured my children?"
​"I no longer pre­fer blue skies," said 13-year-old Zubair, whose leg was injured with shrap­nel from the attack. ​"In fact, I now pre­fer gray skies. The drones do not fly when the skies are gray. When the sky bright­ens, drones return and we live in fear."
Orga­nized by Rep. Alan Grayson (D‑Fla.) in con­junc­tion with the pro­gres­sive media non-prof­it Brave New Foun­da­tion, the brief­ing was not a for­mal hear­ing. In fact, there were some con­cerns that it would not take place at all, giv­en that the family's lawyer, Shahzad Akbar, who has inves­ti­gat­ed drone strikes in Pak­istan for the last three years and directs the Foun­da­tion for Fun­da­men­tal Rights, was denied a visa by the U.S. gov­ern­ment. Lin­sey Peciko­nis, a spokesper­son for Brave New Foun­da­tion, says she wasn't sure the meet­ing was actu­al­ly going to hap­pen until the Rehman fam­i­ly phys­i­cal­ly made it out of the air­port in Wash­ing­ton last week.
Nonethe­less, five mem­bers of the House were in atten­dance, includ­ing Grayson, Reps. Jan Schakowsky (D‑Ill.), who's a mem­ber of the Intel­li­gence Com­mit­tee, Rush Holt (D‑N.J.), John Cony­ers (D‑Mich.) and Rick Nolan (D‑Minn.). In addi­tion to com­ments from the Rehman fam­i­ly and mem­bers of Con­gress, the brief­ing fea­tured remarks from Brave New Foun­da­tion Pres­i­dent Robert Green­wald and Jen­nifer Gib­son, a lawyer with the Unit­ed King­dom-based non-prof­it Reprieve.
Accord­ing to Gib­son, whose group has inves­ti­gat­ed and pub­li­cized the Unit­ed States' use of drones, the respon­si­bil­i­ty to prove that drone strikes are harm­ing inno­cent civil­ians must not remain on the civil­ians them­selves. ​"The onus is no longer on these vic­tims to pro­vide evi­dence of their case. They have done that," Gib­son said dur­ing the pre­sen­ta­tion. ​"The onus is now on Pres­i­dent Oba­ma and this admin­is­tra­tion to bring this war out of the shadows."
Though Tuesday's brief­ing was a mile­stone because it was the first face-to-face con­tact mem­bers of Con­gress have had with vic­tims of the drone wars, it was ulti­mate­ly short on spe­cif­ic demands or requests. All of the rep­re­sen­ta­tives on hand expressed gen­er­al con­cerns about the lack of trans­paren­cy, and the civil­ian costs. Cony­ers and Holt did call for a con­gres­sion­al inves­ti­ga­tion into the tar­get­ed killing pol­i­cy, but con­sid­er­ing their gen­er­al­ly lit­tle influ­ence over the Armed Ser­vice and Intel­li­gence Com­mit­tees, a for­mal inquiry is high­ly unlike­ly in the near term.
​"The appro­pri­ate com­mit­tees gen­er­al­ly are staffed by peo­ple, if I may say this, who are friends of the mil­i­tary-indus­tri­al com­plex," Grayson said.
Instead, the briefing's objec­tive seemed to be about putting gen­er­al­ized pres­sure on the White House to open up more about the legal jus­ti­fi­ca­tion and over­sight mech­a­nisms asso­ci­at­ed with its tar­get­ed killing pro­gram. To date, the admin­is­tra­tion has not released any legal mem­os jus­ti­fy­ing the policy.
Mean­while, dur­ing the last ten years, the CIA and Defense Department's drone strikes have killed almost 3,000 peo­ple in Pak­istan, Yemen and Soma­lia, accord­ing to the Lon­don-based Bureau of Inves­tiga­tive Jour­nal­ism. In Pak­istan specif­i­cal­ly, the Oba­ma admin­is­tra­tion has over­seen 325 of the 376 total strikes.
The brief­ing also came amid increased recent scruti­ny of the Unit­ed States' tar­get­ed killing pro­gram — both domes­ti­cal­ly and inter­na­tion­al­ly. Last week, Amnesty Inter­na­tion­al pub­lished a report con­clud­ing that CIA offi­cials in charge of the pol­i­cy in Pak­istan may have com­mit­ted war crimes, giv­en that the group esti­mates drone strikes have killed up to 900 civil­ians in the coun­try. Pakistan's Prime Min­is­ter Nawaz Sharif asked Pres­i­dent Oba­ma to end strikes in his coun­try dur­ing a meet­ing at the White House last week, and recent UN reports have also called on the Unit­ed States to launch a pub­lic inves­ti­ga­tion of its pro­gram in gen­er­al. The U.S. has since defend­ed the program's over­sight and legal­i­ty to the UN.
And on Thurs­day, Rep. Adam Smith (D‑Wash.), a sup­port­er of the Oba­ma administration's use of drones and the rank­ing mem­ber on the Armed Ser­vices Com­mit­tee, crit­i­cized the program's lack of trans­paren­cy — no small ges­ture giv­en his posi­tion and par­ty affiliation.
​"The admin­is­tra­tion, every admin­is­tra­tion, seems to think it should share noth­ing," Smith said dur­ing an event at the Cen­ter for Strate­gic Inter­na­tion­al Stud­ies, a promi­nent for­eign pol­i­cy think tank in Wash­ing­ton. ​"I think the admin­is­tra­tion believes … [they] gave a speech, [they] explained it … and now leave [them] alone, [they're] going to go back to work."
CODEPINK's Medea Ben­jamin, a long­time peace activist and per­haps the most well-known crit­ic of drone usage as a result of her exchange with the Pres­i­dent dur­ing a speech in May, says she was pleased with the briefing.
​"This is momen­tous, giv­en how under­cov­er the pro­gram has been until now," says Ben­jamin, who was also present at the brief­ing. ​"Just to bring them and host the fam­i­ly is a big step for a Demo­c­rat [Grayson] … Just the fact that the U.S. pub­lic is final­ly going to get to hear the sto­ry … of drone vic­tim fam­i­lies, that's momen­tous. It shouldn't be. It's dis­gust­ing that it is."
How­ev­er, she crit­i­cizes the fact that only Democ­rats were in atten­dance. ​"This should real­ly be a bipar­ti­san thing, giv­en that it's hard for Democ­rats to go up against Oba­ma and it's a lit­tle bit eas­i­er for the Repub­li­cans," she says. ​"So I think it real­ly needs to be much more bipartisan."
The rep­re­sen­ta­tives on hand also stopped short of endors­ing Amnesty's sug­ges­tion that strikes like the one that killed Mamana Bibi amount to war crimes. When In These Times asked the three mem­bers of Con­gress who were in the room about it in the brief­in­g's open-end­ed ques­tion-and-answer ses­sion, Holt did not answer and Nolan deflect­ed the query. Grayson lat­er said dur­ing the brief­ing that he didn't think drone strikes amount­ed to war crimes, because they aren't delib­er­ate­ly designed to kill civilians.
Ben­jamin isn't con­vinced. ​"I think I would be a lit­tle stronger in the con­dem­na­tion, of course, but I'm not a Con­gress­man. So I can call a war crime a war crime," she says.
But for the Rehman fam­i­ly, it doesn't mat­ter that the strikes' civil­ian casu­al­ties are unin­ten­tion­al. They, like many oth­ers in Pak­istan and else­where, are still suf­fer­ing from them. At one point dur­ing the brief­ing, a reporter asked Rafiq ur Rehman what he him­self would tell Pres­i­dent Oba­ma if giv­en the chance.
​"What I would say to Oba­ma is … that what hap­pened to me and my fam­i­ly was wrong," Rehman said through a trans­la­tor. ​"And I would ask him to find a peace­ful end to this war in my coun­try, to find an end to these drones."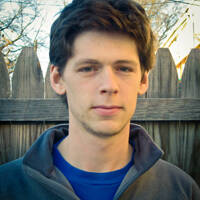 Cole Stan­gler
writes about labor and the envi­ron­ment. His report­ing has also appeared in The Nation, VICE, The New Repub­lic and Inter­na­tion­al Busi­ness Times. He lives in Paris, France. He can be reached at cole[at]inthesetimes.com. Fol­low him
@colestangler
.