Neoliberals Are Taking All the Wrong Lessons From Conor Lamb's Victory
Lamb ran as an anti-establishment, labor-backed candidate who defended the welfare state. To keep winning, Democrats will need to embrace a bold, redistributive program.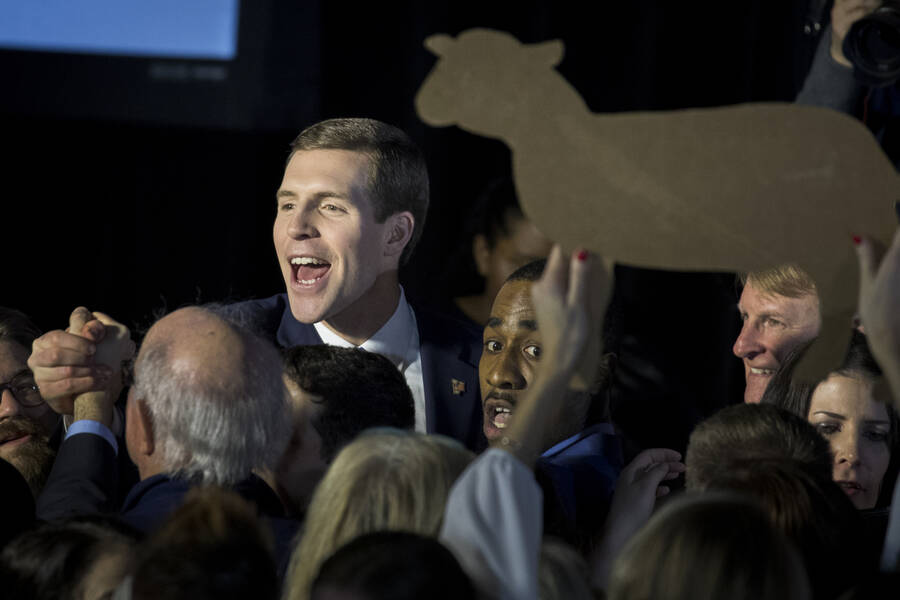 On Wednes­day, Demo­c­rat Conor Lamb offi­cial­ly claimed a nar­row, upset vic­to­ry for a West­ern Penn­syl­va­nia House seat in a dis­trict that in 2016 Pres­i­dent Trump car­ried by near­ly 20 points. Like many of the state's soon-to-be-dis­solved dis­tricts, Pennsylvania's 18th was designed specif­i­cal­ly to ensure Repub­li­can vic­to­ries. Yet in what will be its last elec­tion — thanks to a state Supreme Court rul­ing in Jan­u­ary — the dis­trict flipped. Trump won at least 110 oth­er Repub­li­can House dis­tricts by even small­er mar­gins than PA-18, mean­ing large swathes of so-called ​"Trump coun­try" may now be up for grabs. Democ­rats need to win less than a quar­ter of those seats in 2018 to take back the House.
What does Lamb's surprise win mean for Democrats? Among other things, it may have just shown that the party will have to abandon neoliberalism to keep winning.
That's bad news for the GOP. But what does Lamb's sur­prise win mean for Democ­rats? Among oth­er things, it may have just shown that the par­ty will have to aban­don neolib­er­al­ism to keep winning.
A note of cau­tion: Lamb's vic­to­ry isn't an unam­bigu­ous sign that out-and-out pro­gres­sives can sail to vic­to­ry in areas car­ried by Trump. A for­mer fed­er­al pros­e­cu­tor, Lamb sup­ports both coal and frack­ing, is ​"per­son­al­ly opposed" to abor­tion (though doesn't sup­port laws ban­ning it), and rejects both Medicare for All and a $15 min­i­mum wage.
Yet at a time when orga­nized labor faces exis­ten­tial threats at the fed­er­al lev­el, Lamb's heav­i­ly union-backed cam­paign also sig­nals that Democ­rats run­ning as explic­it­ly pro-labor can win — even in the face of $14 mil­lion worth of Repub­li­can oppo­si­tion. Lamb enjoyed hearty back­ing from Penn­syl­va­nia unions, includ­ing the Unit­ed Steel­work­ers, the Unit­ed Broth­er­hood of Car­pen­ters and the Unit­ed Mine Work­ers of Amer­i­ca, and he ran on bread-and-but­ter eco­nom­ic issues such as pro­tect­ing Social Secu­ri­ty, Medicare and Med­ic­aid. Unions, in turn, got out the vote against Lamb's avowed­ly anti-union oppo­nent, state Rep. Rick Sac­cone. ​"Orga­nized labor built West­ern Penn­syl­va­nia, tonight they have reassert­ed their right to have a major part in our future," Lamb said in his vic­to­ry speech. ​"You have brought me into your ranks to fight with you. I am proud to be right there with you."
While the pres­i­dent has described him as ​"like Trump," Lamb cam­paigned on a rel­a­tive­ly piece­meal eco­nom­ic pop­ulism that isn't premised on Repub­li­can ideas at all — and cer­tain­ly runs against the spir­it of just about every eco­nom­ic pol­i­cy Trump has pushed while in office. Social Secu­ri­ty, Medicare and Med­ic­aid are about as close as America's belea­guered wel­fare state gets to social­ism, and for decades these pro­grams have been defend­ed by pro­gres­sive Democ­rats against Repub­li­can attacks. Could Lamb have won in PA-18 by cam­paign­ing as a social­ist? Prob­a­bly not. But uni­ver­sal, redis­trib­u­tive pro­grams are pop­u­lar, despite Democ­rats' occa­sion­al ambiva­lence about pro­tect­ing and expand­ing them.
Par­ty moves
The Demo­c­ra­t­ic Par­ty has long exist­ed as a kind of coali­tion, bring­ing togeth­er estab­lish­ment types like Nan­cy Pelosi (D‑Calif.) and Blue Dogs like Joe Manchin (D‑W.V.) with left-lean­ing pro­gres­sives like Eliz­a­beth War­ren (D‑Mass.) and Kei­th Elli­son (D‑Minn.). The make­up of this coali­tion has changed in recent decades. Through the 1990s and ear­ly 2000s — as Bill Clin­ton and oth­er cen­trists rose to pow­er — there was a cred­i­ble case to be made that by veer­ing right, Democ­rats could win elec­tions against the GOP.
So it went that Clin­ton end­ed ​"wel­fare as know it" and dereg­u­lat­ed the bank­ing indus­try. This neolib­er­al approach reigned supreme up until the 2008 finan­cial cri­sis, when cracks began to show. After a severe reces­sion marked by mas­sive job loss­es and a hous­ing cri­sis, pol­i­cy solu­tions ground­ed in mar­ket fun­da­men­tal­ism lost pop­u­lar­i­ty among the pub­lic. The case that an agen­da made up of such poli­cies spelled the path to pow­er began to erode, crum­bling marked­ly with Hillary Clinton's loss in 2016.
In the wake of Trump's elec­tion, fights against repeal­ing Oba­macare and pass­ing cor­po­rate-friend­ly tax cuts have become show­cas­es for grass­roots ener­gy with­in and out­side of the Demo­c­ra­t­ic Par­ty. At the same time, gen­uine­ly pro­gres­sive pol­i­cy solu­tions that have been advo­cat­ed for years by groups like the Con­gres­sion­al Pro­gres­sive Cau­cus (CPC), such as Medicare for All, are gain­ing pop­u­lar­i­ty. The party's left flank has long func­tioned as a kind of ideas fac­to­ry for Democ­rats writ large, thanks in no small part to its close ties to social move­ments and pro­gres­sive unions. Now, there's a big­ger mar­ket for that product.
The recent CPC Strat­e­gy Sum­mit in Bal­ti­more was brim­ming with such ideas, which are enjoy­ing new trac­tion thanks to shift­ing polit­i­cal winds. Though there's no con­sen­sus as of yet as to what a full-fledged pro­gres­sive plat­form might look like, the most recent People's Bud­get offers hints in that direction.
The Cen­ter for Pop­u­lar Democracy's Ady Barkan, who received an award from the CPC for his work orga­niz­ing against the Oba­macare repeal and Trump's tax plan, sug­gest­ed the par­ty could pio­neer a dif­fer­ent way of think­ing about spend­ing and bud­gets. ​"Democ­rats were def­i­nite­ly ring­ing the deficit bell dur­ing the tax fight," he says. ​"That's the mod­el we have. Bill Clin­ton cuts deficits by cut­ting wel­fare, among oth­er things… But then George Bush blows up the deficit for his wars and his tax cuts. Barack Oba­ma ties him­self in knots try­ing to be the respon­si­ble deficit cut­ter. First as tragedy, then as farce, now as Don­ald Trump."
He adds, ​"It's not like guns or abor­tions or some­thing like that. Peo­ple don't give a shit about deficits. You tell them that they can have free health­care and child­care and infra­struc­ture and they'll accept that."
"If I had 5 years of health ahead of me now I would want to launch a cam­paign to guar­an­tee every­one a good job, and say, ​'If you're unem­ployed we're not going to give you unem­ploy­ment ben­e­fits. We're going to give you a liv­ing wage job tak­ing care of kids, tak­ing care of old peo­ple, clean­ing the streets, installing solar pan­els, build­ing pub­lic hous­ing, writ­ing plays, singing songs," Barkan says. In 2016, he was diag­nosed with ALS, a degen­er­a­tive nerve disease.
CPC mem­ber and Demo­c­ra­t­ic Nation­al Com­mit­tee Vice Chair Kei­th Elli­son — who is con­ven­ing a task force on the House's Medicare-For-All bill, on which he's now the lead spon­sor — even float­ed the idea of a max­i­mum wage to jour­nal­ist Sarah Jaffe. ​"This idea that you can leave peo­ple in pover­ty as you are stack­ing up dead pres­i­dents like nobody's busi­ness has got to come to an end," he says, ref­er­enc­ing cor­po­rate CEOs. ​"You can open a com­pa­ny. You can make a prof­it. By why do you have to make more than 21 times as much as aver­age work­er? Where did you get that damn greedy, and how did you cre­ate a phi­los­o­phy to pro­tect your greed?"
From the event's main stage on Fri­day, Rep. Prami­la Jaya­pal (D‑Wash.) not­ed that part of the work of arriv­ing at and enact­ing a pro­gres­sive agen­da requires ded­i­cat­ed insti­tu­tion build­ing, and strength­en­ing the intel­lec­tu­al infra­struc­ture, like think tanks, that informs the kind of pro­pos­als pol­i­cy­mak­ers intro­duce. ​"We've seen the Right build infra­struc­ture in col­leges and insti­tu­tions around the coun­try," she said. ​"How do we build that infra­struc­ture for ourselves?"
From PA-18 to 2018
Lamb's vic­to­ry says as much about pol­i­tics as it does about pol­i­cy. He won, in part, by treat­ing the Demo­c­ra­t­ic Party's cur­rent lead­er­ship as a bur­den. Lamb notably dis­tanced him­self from House Minor­i­ty Leader Nan­cy Pelosi (D‑Calif.), say­ing he wouldn't sup­port her for lead­er­ship should his par­ty take the House lat­er this year. ​"I think it's clear that this Con­gress is not work­ing for people…I think we need new lead­er­ship on both sides…people are ready for a new day," Lamb said at a ral­ly in Jan­u­ary. He took an even more aggres­sive tone against Repub­li­can House Leader Paul Ryan for his attacks on enti­tle­ment programs.
As in Jon Ossoff's failed bid for Georgia's 6th dis­trict, Repub­li­cans tried to tie Lamb to Demo­c­ra­t­ic lead­er­ship. In this case — with a can­di­date will­ing to crit­i­cize that same lead­er­ship — it didn't stick, mean­ing oth­er can­di­dates might do the same. As Rep. File­mon Vela (D‑Texas) told Politi­co. ​"Run­ning against Nan­cy Pelosi is going to help you a lot more than run­ning with her." Sev­er­al oth­er Demo­c­ra­t­ic con­gres­sion­al hope­fuls are fol­low­ing suit, and dis­avow­ing Pelosi's lead­er­ship on the cam­paign trail.
While cer­tain­ly par­ti­san in their empha­sis, such jabs are less about left ver­sus right pol­i­tics than about can­di­dates' rela­tion­ship to the polit­i­cal estab­lish­ment. The Demo­c­ra­t­ic Con­gres­sion­al Cam­paign Com­mit­tee (DCCC)'s pen­chant for back­ing prodi­gious fundrais­ers — many of whom are inde­pen­dent­ly wealthy them­selves — may well func­tion as a kind of neg­a­tive feed­back loop for Democ­rats, where­by the par­ty estab­lish­ment backs the can­di­dates they most resem­ble: issue-aller­gic, poll-con­scious politi­cos who may be able to work a black-tie fundrais­er bet­ter than a can­vass or phone-bank­ing shift.
All this could bode well for pro­gres­sive chal­lengers with an anti-estab­lish­ment eco­nom­ic plat­form like Jess King, whose own dis­trict — now PA-11 — actu­al­ly became a safer Repub­li­can seat fol­low­ing redis­trict­ing, even as the new maps are more friend­ly to Penn­syl­va­nia Democ­rats overall.
If there's any les­son to be learned from Lamb's vic­to­ry, though, it may be that there's no one-size-fits-all strat­e­gy for Democ­rats as they try to take back the House, despite Jonathan Chait's claim that his win served as ​"proof of con­cept for a strat­e­gy that could repli­cate itself across the country."
Lamb's race may be a sign of things to come in over­whelm­ing­ly white, Repub­li­can-lean­ing dis­tricts with a his­to­ry of high union den­si­ty, some­thing which could also be a boon for 2018 House can­di­dates like Randy Bryce in Wis­con­sin and Richard Oje­da in West Vir­ginia, both vet­er­ans like Lamb. For Democ­rats to win big in oth­er kinds of dis­tricts this Novem­ber, though, they will need to both reg­is­ter and turn out young vot­ers and vot­ers of col­or, who skew strong­ly pro­gres­sive on issues rang­ing from tax­es and health­care to cli­mate change and mass incarceration.
While dif­fer­ent appeals will work in dif­fer­ent dis­tricts, the under­ly­ing ques­tion now may be whether Democ­rats have a for­ward-look­ing agen­da to stand behind, one that will com­pel vot­ers to come out the polls, par­tic­u­lar­ly around eco­nom­ic issues. There sim­ply isn't a polit­i­cal con­stituen­cy for fis­cal con­ser­vatism out­side of both par­ties' respec­tive donor class­es, as recent polit­i­cal sci­ence research sug­gests. With Repub­li­cans hold­ing strong as a par­ty of, by and for the wealthy, the play­ing field is wide open for Democ­rats to pro­pose a tan­gi­ble alter­na­tive not just to indi­vid­ual issues but to neolib­er­al eco­nom­ic ortho­doxy as a whole.
Democ­rats can't con­tin­ue on for long as a house divid­ed against itself, with bod­ies like the DCCC back­ing estab­lish­ment-friend­ly can­di­dates as the party's activist base shifts against the estab­lish­ment and toward bold pro­gres­sive poli­cies. While Conor Lamb is not the face of the Demo­c­ra­t­ic Party's future, his vic­to­ry does show that it has one. How bright it will be may depend on how will­ing the party's top brass is to accept new ideas and new lead­ers from its left flank.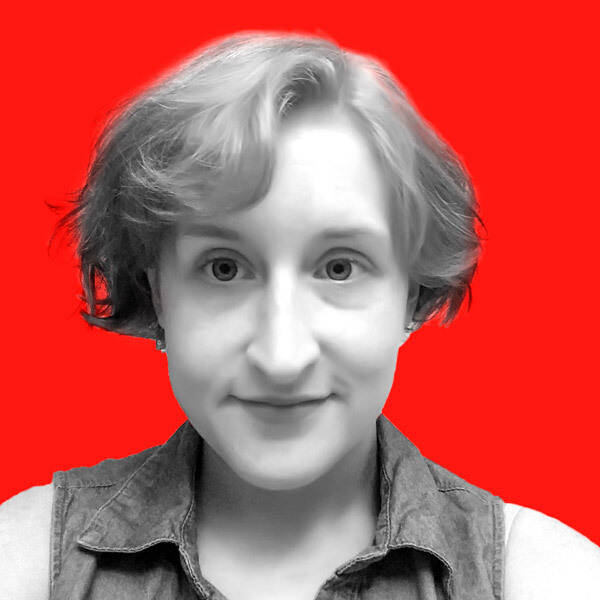 Kate Aronoff
is a Brook­lyn-based jour­nal­ist cov­er­ing cli­mate and U.S. pol­i­tics, and a con­tribut­ing writer at The Inter­cept. Fol­low her on Twit­ter @katearonoff.