Contract for Disaster: How Privatization Is Killing the Public Sector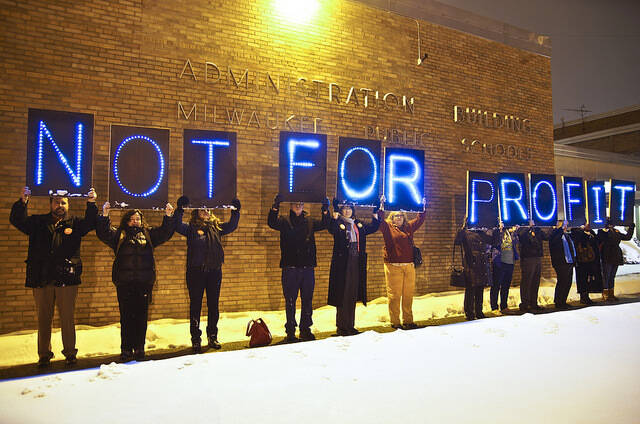 Pri­va­ti­za­tion is bad news for fed­er­al, state and local gov­ern­ment work­ers, and the com­mu­ni­ties where they live. That's accord­ing to a new report released Wednes­day by In the Pub­lic Inter­est, a research group focused on the effects of privatization.
The study, ​"How Pri­va­ti­za­tion Increas­es Inequal­i­ty," explores the role pri­va­ti­za­tion plays in the Amer­i­can econ­o­my — com­pil­ing data on the esti­mat­ed $1.5 tril­lion of state and local con­tracts doled out each year.
"A lot of deci­sions are small," says Don­ald Cohen, exec­u­tive direc­tor of In the Pub­lic Inter­est, but ​"if you add all that up, it's very significant."
Many gov­ern­ment work­ers in the Unit­ed States enjoy a robust struc­ture of pay and ben­e­fits, includ­ing pen­sions, health care and paid time off. Work­ers oper­ate in a struc­tured envi­ron­ment that acts, as the report says, as a lad­der of oppor­tu­ni­ty. A clear­ly out­lined frame­work of posi­tions and pay grades, backed by enforce­ment of antidis­crim­i­na­tion laws, makes gov­ern­ment jobs par­tic­u­lar­ly friend­ly to women and peo­ple of col­or — 20 per­cent of pub­lic sec­tor jobs are held by Black work­ers, while near­ly 60 per­cent of pub­lic sec­tor jobs are held by women.
For decades, work in the pub­lic sec­tor has been a gate­way to a mid­dle-class life. But that's changing.
Cohen notes that the Right man­aged to make pri­va­ti­za­tion an ide­o­log­i­cal project. This shift has gen­er­at­ed huge prof­its for cor­po­ra­tions and harmed pub­lic sec­tor work­ers and their unions.
"They want to con­tract out not because it makes sense, but because that's their jobs. They're right-wingers," he says.
Pri­va­tized work­ers have low­er rates of union­iza­tion, are paid less than their pub­licly-employed coun­ter­parts, don't have access to ben­e­fits and expe­ri­ence high turnover, the report shows. Some­times they work side-by-side with gov­ern­ment employ­ees, as at the Uni­ver­si­ty of Cal­i­for­nia sys­tem, some­thing that Cohen says is deliberate.
"Part of the strat­e­gy of man­age­ment is to con­tract out part of the work to keep the pres­sure on the non-con­tract part of the work," he says.
That strat­e­gy leaves work­ers short­changed — lit­er­al­ly. In 2013, the Nation­al Employ­ment Law Project found that one in five fed­er­al con­trac­tors it inter­viewed was using Med­ic­aid for health care, while 14 per­cent need­ed Sup­ple­men­tal Nutri­tion Assis­tance (SNAP). Reliance on fed­er­al ben­e­fits shifts costs from employ­ers to taxpayers.
Con­tract employ­ees are caught in a pover­ty trap that hurts not just them, but their com­mu­ni­ties. Work­ers who aren't mak­ing mon­ey aren't spend­ing it, drag­ging down local busi­ness­es and cre­at­ing a rip­ple effect in region­al economies.
The report argues that poor record­keep­ing and lim­it­ed trans­paren­cy make it extreme­ly dif­fi­cult to gauge the effects of con­tract­ing, and that the pub­lic needs to have access to such infor­ma­tion. Leg­is­la­tors, advo­cates, unions and work­ers should be invest­ed in how, when, where and why con­tract labor is used.
Is it improv­ing ser­vices while keep­ing stan­dards high for work­ers? Or is it being used as an osten­si­ble cost-cut­ting mea­sure, harm­ing work­ers and shift­ing expens­es to tax­pay­ers and their communities?
We're see­ing a new era of work in Amer­i­ca, and the move to con­trac­tors over direct­ly-employed gov­ern­ment work­ers is high­light­ing that shift as well as its con­se­quences. For gov­ern­ment work­ers, pri­va­ti­za­tion is an eco­nom­ic shell game, and they are losing.
s.e. smith
is an essay­ist, jour­nal­ist and activist is on social issues who has writ­ten for
The Guardian
,
Bitch
Mag­a­zine, Alter­Net, Jezebel, Salon, the Sun­dance Chan­nel blog,
Long­shot
Mag­a­zine, Glob­al Com­ment, Think Progress, xoJane, Truthout, Time, Nerve, VICE,
The Week
, and Repro­duc­tive Health Real­i­ty Check. Fol­low @sesmithwrites.