Crash Landing
United Airlines' ditching of this pensions may well precipitate a national crisis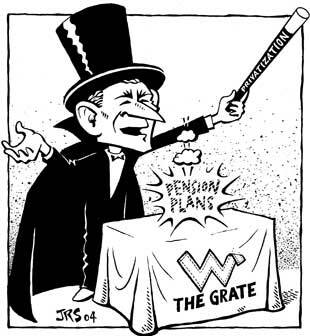 On May 10, a fed­er­al court announced Unit­ed Air­lines could pock­et $3.2 bil­lion of the con­tri­bu­tions owed to its 134,000 work­ers' pen­sion plans, and turn over its four pen­sions to the government's Pen­sion Ben­e­fit Guar­an­ty Cor­po­ra­tion (PBGC). The move will leave the PBGC sad­dled with $9.8 bil­lion in total pen­sion lia­bil­i­ties from Unit­ed, mak­ing it the largest bailout of a pri­vate pen­sion fund in more than three decades, at a time when the PBGC faces tens of bil­lions in mount­ing red ink and pos­si­ble bank­rupt­cy itself.
The court's action is also like­ly to set in motion a snow­ball effect as oth­er major air­lines move to jet­ti­son their pen­sion plans. The effects could spill over to oth­er indus­tries – includ­ing the auto indus­try, where there are sim­i­lar rum­blings – as cor­po­rate Amer­i­ca accel­er­ates its dis­man­tling of union-nego­ti­at­ed Defined Ben­e­fit Pen­sion plans, which promise par­tic­i­pants a spe­cif­ic month­ly ben­e­fit at retire­ment, and seeks to replace them with pri­va­tized 401K-like con­tri­bu­tion plans.
United's aban­don­ment comes bare­ly a year after Con­gress passed leg­is­la­tion in April 2004 that gave the air­line a two-year, $1.6 bil­lion reprieve in deferred pen­sion fund pay­ments. Unit­ed CEO Glenn Tilton hap­pi­ly declared at the time, ​"This leg­is­la­tion will help strength­en the pen­sion plans of mil­lions of Amer­i­can work­ers, includ­ing the 62,000 employ­ees of Unit­ed Airlines."
But now, those employ­ees have been left hold­ing the bag. The takeover of their pen­sions' oblig­a­tions by the PBGC will mean sig­nif­i­cant reduc­tions in their pen­sion ben­e­fit pay­ments at retire­ment. A Jan­u­ary 30 Wall Street Jour­nal arti­cle esti­mat­ed that, ​"For a 45-year-old whose plan fails this year, for exam­ple, the gov­ern­ment cov­ers a max­i­mum of $11,403 a year, even if he has earned a larg­er pension."
A gath­er­ing storm
But United's near­ly $10 bil­lion aban­don­ment is only a drop in the buck­et of endan­gered pen­sion plans. Between 1985 and 2002, U.S. cor­po­ra­tions have aban­doned more than 80,000 Defined Ben­e­fit Pen­sion plans, accord­ing to 2003 Sen­ate hear­ings that exam­ined both the shod­dy con­di­tion of cor­po­rate pen­sion funds and the PBGC's abil­i­ty to han­dle future terminations.
Since 2000, more than 9,000 such plans have been ter­mi­nat­ed, with more than twice ter­mi­nat­ed in 2004 than the pre­vi­ous year. Dur­ing the ​'90s, the PBGC assumed, on aver­age, pen­sion pay­ment lia­bil­i­ties for an addi­tion­al 50,000 work­ers each year. That annu­al lia­bil­i­ty for pen­sion ben­e­fit pay­ments has increased since 2000 to an aver­age of an addi­tion­al 175,000 work­ers a year. The recent action by Unit­ed Air­lines promis­es to set off yet anoth­er wave among com­pa­nies in a sim­i­lar posi­tion, such as Delta, Con­ti­nen­tal and Grey­hound, trig­ger­ing an even more severe pen­sion crisis.
The grow­ing num­ber of cor­po­ra­tions dump­ing tra­di­tion­al pen­sion plans upon the back of the PBGC has placed severe stress on its abil­i­ty to guar­an­tee even reduced pen­sion ben­e­fits to work­ers. In 2004, the PBGC expe­ri­enced the largest finan­cial loss in its his­to­ry, $23 bil­lion. This fol­lowed an $11 bil­lion loss in 2003, with multi­bil­lion dol­lar loss­es each year since 2000.
Thus, the PBGC now faces its own fund­ing cri­sis. It has an imme­di­ate lia­bil­i­ty of $62 bil­lion in pen­sion ben­e­fit pay­ments and assets of only $39 bil­lion. Should oth­er air­lines and oth­er indus­tries fol­low United's course, that cri­sis will grow much worse – like­ly requir­ing a major bailout by Con­gress of the Defined Ben­e­fit Pen­sion plans that the PBGC is respon­si­ble for.
Refer­ring to this $23 bil­lion deficit, Rep. Jan Schakowsky told reporters on May 10, ​"Tax­pay­ers had bet­ter buck­le up because we will be in for a bumpy ride of bailout after bailout, as more and more copo­ra­tions dump their pen­sion plan oblig­a­tions on the PBGC." She and Rep. George Miller (D‑Calif.) have co-spon­sored the Pen­sion Fair­ness and Full Dis­clo­sure Act, which would deny pay­ments to exec­u­tives' plans if work­er pen­sion plan oblig­a­tions were underfunded.
But the cur­rent deficit is only part of the prob­lem. In an emer­gency report issued in June 2004, the PBGC esti­mat­ed that more than 1,000 pen­sion plans were under-fund­ed by $50 mil­lion or more – a com­bined under-fund­ed lia­bil­i­ty of $278.6 bil­lion. And that doesn't include the thou­sands of oth­er com­pa­nies with under-fund­ed lia­bil­i­ties of less than $50 million.
The aggre­gate total under-fund­ing of cor­po­rate pen­sion plans for which the PBGC is liable as of 2004 amounts to more than $600 bil­lion. About $100 bil­lion of that under-fund­ing rep­re­sents cor­po­ra­tions and plans with severe finan­cial prob­lems and thus a high like­li­hood of pen­sion plan default and ter­mi­na­tion in the near term.
In the words of the PBGC's exec­u­tive direc­tor, Bradley Belt, ​"The cur­rent mas­sive under-fund­ing of defined ben­e­fit pen­sions, com­pound­ed by the finan­cial strug­gles of major indus­tries that rely heav­i­ly on these pen­sions, has great­ly increased the risk of loss for the pen­sion insur­ance program."
Bush's red herring
While Pres­i­dent Bush stress­es a finan­cial cri­sis in Social Secu­ri­ty in order to push his plans to pri­va­tize that pub­lic retire­ment sys­tem, a very real cri­sis in the tra­di­tion­al Defined Ben­e­fit Pen­sion plan sys­tem is com­ing clos­er by the day.
The April 2004 leg­is­la­tion passed by Con­gress amount­ed to a two-year, $80 bil­lion ​"pen­sion con­tri­bu­tions hol­i­day" for cor­po­ra­tions with under-fund­ed pen­sion lia­bil­i­ties, but it was basi­cal­ly a stop­gap mea­sure. In Jan­u­ary, Bush pro­posed leg­is­la­tion to the House and Sen­ate that would allow com­pa­nies with severe­ly under-fund­ed pen­sion plans to take up to 10 years to make up con­tri­bu­tions to sta­bi­lize their funds, instead of the two years that had pre­vi­ous­ly been required. A sin­gle cor­po­rate bond inter­est rate to cal­cu­late the val­ue of a pension's fund was pro­posed, but it is a high­ly com­pli­cat­ed for­mu­la that would pro­vide many oppor­tu­ni­ties for cor­po­ra­tions to manip­u­late and thus avoid accu­rate­ly esti­mat­ing their fund's true val­ue. Final­ly, a sharp increase in cor­po­rate con­tri­bu­tions to the PBGC, from the pre­vi­ous $19 per work­er to $30 per work­er, was pro­posed. For cor­po­ra­tions with ​"below invest­ment grade" pen­sion funds the PBGC con­tri­bu­tion would be even high­er than $30.
This last pro­pos­al seems designed to encour­age cor­po­ra­tions in trou­ble to aban­don their Defined Ben­e­fit Pen­sion plans even faster than before. Should Con­gress pass Bush's pro­pos­als this year, com­pa­nies with rat­ings below invest­ment grade, like U.S. Steel, Lucent, Goodyear, Qwest and R.J. Reynolds – not to men­tion most of the remain­ing major air­lines – will now seri­ous­ly con­sid­er dump­ing their pen­sions onto the already finan­cial­ly stressed PBGC.
Per­haps that is just what the Bush admin­is­tra­tion wants. It would cer­tain­ly has­ten the demise of the tra­di­tion­al Defined Ben­e­fit Pen­sion sys­tem and ush­er the way for Bush's pre­ferred ​"own­er­ship soci­ety," replac­ing group pen­sions with 401k-like indi­vid­ual pen­sion accounts.
Con­gress began con­sid­er­ing leg­is­la­tion based on the Bush pro­pos­al in March. In the upcom­ing months, deci­sions will be made on fur­ther restruc­tur­ing of the pri­vate pen­sion sys­tem, the import of which is no less con­se­quen­tial than the par­al­lel debate regard­ing the restruc­tur­ing of Social Security.
Today, 44 mil­lion peo­ple receive Social Secu­ri­ty Retire­ment ben­e­fits. But there are 45 mil­lion work­ers who are depen­dent on Defined Ben­e­fit Pen­sions with a poten­tial total lia­bil­i­ty of $1.5 tril­lion. While the fight con­tin­ues over Social Secu­ri­ty pri­va­ti­za­tion and restruc­tur­ing in a high­ly vis­i­ble pub­lic man­ner, the equal­ly sig­nif­i­cant con­flict over what will hap­pen to these pen­sions has occurred far below the public's radar.
Jack Ras­mus
, pro­fes­sor of eco­nom­ics and polit­i­cal econ­o­my at San­ta Clara Uni­ver­si­ty and St. Marys Col­lege, is author of
Epic Reces­sion: Pre­lude to Glob­al Depres­sion
, and
The War at Home: The Cor­po­rate Offen­sive From Ronald Rea­gan to George W. Bush
. His forth­com­ing book (
2011
) is
Obama's Econ­o­my: Why Recov­ery Failed. What's Next?
Ras­mus has pub­lished numer­ous arti­cles in
Z
mag­a­zine,
Cri­tique, Amand­la, Against the Cur­rent, the Dis­patch­er
and oth­er periodicals.