Cuba Goes Both Ways on Gay Rights
United Nations vote opens room for dissent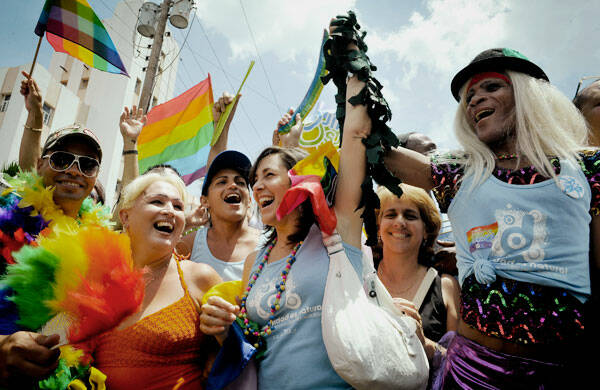 In its 52 years, the Cuban Rev­o­lu­tion has had a less than stel­lar queer his­to­ry, com­plete with on-the-record anti-gay state­ments by Fidel Cas­tro, sanc­tioned anti-gay per­se­cu­tions and purges, and labor camps in the 1960s cre­at­ed for LGBT people.
'The most important thing for me is to see how forceful the gay movement has become,' says Alejandro Armengol. 'Gays in Cuba have demanded their rights and been heard.'
Offi­cial­ly, all that has changed. Fidel Cas­tro apol­o­gized for the per­se­cu­tion of gays on his watch, there are no explic­it­ly anti-gay laws on the books, and LGBT rights have found an unlike­ly cham­pi­on in Mariela Cas­tro, Pres­i­dent Raul Castro's daugh­ter, a sex­ol­o­gist who runs the Nation­al Sex Edu­ca­tion Cen­ter (CENE­SEX, as its known by its Span­ish acronym).
But, unof­fi­cial­ly, there's still plen­ty of police harass­ment of LGBT peo­ple (doc­u­ment­ed by both pro- and anti-gov­ern­ment blog­gers, most­ly for for­eign read­ers), and no recog­ni­tion of LGBT cit­i­zens and their fam­i­lies, which effec­tive­ly frus­trates, if not denies, access to hous­ing, cer­tain med­ical ser­vices, adop­tion and travel.
Cuba's split per­son­al­i­ty on LGBT issues came onto the inter­na­tion­al stage at the Unit­ed Nations in Novem­ber, when it was the only Latin Amer­i­can coun­try that vot­ed to have ​"sex­u­al ori­en­ta­tion" removed from a list of dis­crim­i­na­to­ry moti­va­tions for extra­ju­di­cial exe­cu­tions. The amend­ment would have changed the LGBT-spe­cif­ic lan­guage to the vague phrase, ​"for dis­crim­i­na­to­ry rea­sons, what­ev­er they may be." Cit­i­zens around the globe raised such an out­cry that, a month lat­er, the inter­na­tion­al body reversed itself and passed an inclu­sive resolution.
In a sec­ond round of vot­ing, to re-insert the orig­i­nal inclu­sive lan­guage, Cuba abstained.
Break­ing with Cuban offi­cial­dom, pro-gov­ern­ment Cuban blog­gers joined dis­si­dent blog­gers – in defi­ance of a com­plete black­out on the mat­ter in offi­cial Cuban media – in crit­i­ciz­ing the Cuban U.N. del­e­ga­tion for the anti-gay vote.
Usu­al­ly, the U.N. res­o­lu­tion on extra­ju­di­cial, sum­ma­ry and arbi­trary exe­cu­tions is a rou­tine, bian­nu­al (and, as it is non­bind­ing, pure­ly sym­bol­ic) ref­er­en­dum. In 2008, Cuba sup­port­ed it with­out the slight­est con­tro­ver­sy even though it includ­ed the lan­guage it vot­ed to repeal this time around.
The res­o­lu­tion against unjus­ti­fied killing of vul­ner­a­ble peo­ple in sev­er­al cat­e­gories – eth­nic, racial, reli­gious and sex­u­al ori­en­ta­tion – ulti­mate­ly passed with 122 yes votes (includ­ing Cuba), 62 absten­tions (includ­ing the Unit­ed States) and only one vote against (Sau­di Arabia).
So what hap­pened with Cuba's con­fus­ing series of votes, espe­cial­ly in light of its even­tu­al sup­port of the resolution?
Last month, in an unusu­al press release, Mariela Cas­tro part­ed com­pa­ny with the par­ty line on Cuba's first U.N. amend­ment vote: ​"Even though in [the approved ver­sion of] the amend­ment, our nation express­es sup­port for con­demn­ing [these executions]…in prac­tice we have vot­ed along­side those coun­tries whose laws view homo­sex­u­al­i­ty as a crime, five of which apply the death sen­tence." (Of the 79 coun­tries that vot­ed in favor of the lan­guage change, 76 crim­i­nal­ize homo­sex­u­al­i­ty.) She remind­ed Cuba's U.N. diplo­mats that the island is a sig­na­to­ry to the 2008 Gen­er­al Assem­bly dec­la­ra­tion of rights based on sex­u­al ori­en­ta­tion and gen­der iden­ti­ty (her com­plete state­ment in Span­ish can be read at www​.cene​sex​.sld​.cu/​w​e​b​s​/​d​i​v​e​r​s​i​d​a​d​/​d​e​c​l​a​r​a​c​i​o​n​o​n​u​.html).
The president's daugh­ter was not alone. Blog­gers imme­di­ate­ly joined her dis­ap­proval, but none went so far as Fran­cis­co Rodriguez Cruz, an edi­tor at Tra­ba­jadores, Cuba's labor news­pa­per. Cruz wrote a let­ter to Bruno Rodriguez Par­ril­la, the for­eign affairs min­is­ter, and pub­lished it on his blog. He wrote:
As a Cuban cit­i­zen, com­mu­nist mil­i­tant and mem­ber of the LGBT com­mu­ni­ty on the island, I wish to express my total and pas­sion­ate dis­agree­ment with the Cuban delegation's vote. I wish to point out how incom­pre­hen­si­ble this diplo­mat­ic exer­cise seems in light of the poli­cies our nation has in place to deal with these issues.
Short­ly after, the Cuban Min­istry of For­eign Affairs released a short note re-affirm­ing its pro-LGBT com­mit­ment and explain­ing its posi­tion: ​"Cuba vot­ed in favor of the amendment…because it con­sid­ered it suf­fi­cient­ly gen­er­al and inclusive."
Amaz­ing­ly, the Min­istry of For­eign Affairs then invit­ed Cruz and a cou­ple of activists asso­ci­at­ed with CENE­SEX to a meet­ing with the min­is­ter him­self. ​"The min­is­ter attrib­uted the first vote to ​'an unfore­seen and tem­po­rary cir­cum­stance'," Cruz said. ​"I inter­pret­ed this, includ­ing the quick meet­ing at the min­istry, as a diplo­mat­ic way of let­ting us know that it was a mis­take on the part of the Cuban U.N. del­e­ga­tion. I can't think of any oth­er explanation."
But in the sec­ond vote, Cuba only soft­ened the mis­take by abstain­ing. It could have done oth­er­wise: 23 nations changed posi­tions from the first to the sec­ond amend­ment vote, includ­ing Cuban allies Bolivia and Nicaragua, who went from absent to yes.
"Votes like Cuba's on this occa­sion imply that sex­u­al rights, repro­duc­tive rights and sex­u­al diver­si­ty, which are all part and par­cel of the same anti-patri­ar­chal pack­age as far as I'm con­cerned, are nego­tiable and dis­pos­able to make what­ev­er polit­i­cal alliances," Yas­min Por­tales Macha­do, a Cuba-based, self-described Marx­ist blog­ger, told the Inter-Press Service.
As the Unit­ed States ral­lied the Gen­er­al Assem­bly to take up the lan­guage change amend­ment a sec­ond time, their role in the res­o­lu­tion was assailed by Cuban diplo­mats at the U.N. as a ​"manip­u­la­tion"; they point­ed out that the U.S. has a long his­to­ry of being accused of extra­ju­di­cial exe­cu­tions at home and abroad. Mark Korn­blau, spokesper­son for the U.S. U.N. del­e­ga­tion, told Politi­co that the U.S. abstained on the final res­o­lu­tion, as it always does, because it ​"obscures the rela­tion­ship between inter­na­tion­al human­i­tar­i­an law and human rights law "
In Mia­mi, Herb Sosa, pres­i­dent of Uni­ty Coali­tion, a LGBT orga­ni­za­tion that has pro­vid­ed mate­ri­als and resources to gay groups on the island, accused the Cuban gov­ern­ment of also engag­ing in extra­ju­di­cial exe­cu­tions. ​"There are tens of thou­sands of doc­u­ment­ed exe­cu­tions with­in Cuba that con­tin­ue to occur without…legal rep­re­sen­ta­tion or any sense of fair­ness," he says. ​"Gays are rou­tine­ly picked up en masse on the streets, beat­en, jailed indefinitely…and per­se­cut­ed by the very gov­ern­ment grand­stand­ing at the U.N. The U.S. also has a long way to full equal­i­ty for its LGBT cit­i­zens, but at least we do have free­dom, a vote and a voice here."
Police harass­ment in Cuba, includ­ing arrests, has been report­ed on gay Cuban blogs, par­tic­u­lar­ly the Reinal­do Are­nas Memo­r­i­al Foun­da­tion, whom Cruz accus­es of being dupes for anti-rev­o­lu­tion­ary inter­ests. But Cruz him­self has also report­ed prob­lems with police on his blog. ​"It's not like every­body here likes what I'm doing," he says. ​"But things are get­ting bet­ter. Not as fast as some of us would like, but not as slow as some Cas­tro­phobes say either."
For Ale­jan­dro Armen­gol, a Mia­mi-based com­men­ta­tor and vet­er­an observ­er of Cuban pol­i­tics, what is most sig­nif­i­cant about the U.N. inci­dent is less Cuba's vote than the machi­na­tions behind it. ​"The most impor­tant thing to me is to see how force­ful the gay move­ment in Cuba has become," says Armen­gol. ​"This is the sec­ond time that gays in Cuba have demand­ed their rights and been heard. The first was the ​'lit­tle e‑mail war'. "
(The ​"lit­tle e‑mail war" broke out in Jan­u­ary 2008 after a retired bureau­crat known for gay purges was being prepped for a return to gov­ern­ment ser­vice, and gay Cubans and their sup­port­ers began a suc­cess­ful e‑mail cam­paign to keep him from being brought back. The dis­cus­sion quick­ly evolved into a more involved and wrench­ing exchange among hun­dreds of read­ers about past purges and pos­si­ble reforms.)
"There are times when Cuba uses gays, or cer­tain gays, espe­cial­ly writ­ers and artists, to show how things have got­ten bet­ter," says Armen­gol. ​"That's how they throw the focus off mat­ters of cen­sor­ship and repres­sion, for sure. But that can't erase that there's real progress in this area, some­times even more than the gov­ern­ment bar­gained for."
COR­REC­TION: The orig­i­nal ver­sion of this report stat­ed that dur­ing the 1960s labor camps were ​"specif­i­cal­ly" cre­at­ed for LGBT peo­ple. In fact, while they were over­whelm­ing­ly meant for gays, they were not exclu­sive­ly used for that group of Cubans.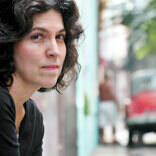 Achy Obe­jas

, a Havana-born mem­ber of the

In These Times

Board of Edi­tors, is the author of

Ruins

(Akashic

2009

,

akashic​books​.com

) and

Aguas

&

Otros Cuen­tos

(Edi­to­r­i­al Letras Cubanas,

2009

). A for­mer staff writer for the

Chica­go Tri­bune

, she is also the trans­la­tor, into Span­ish, of Junot Diaz's Pulitzer Prize-win­ning

The Brief Won­drous Life of Oscar Wao

(River­head

2008

). She is cur­rent­ly the Dis­tin­guished Vis­it­ing Writer at Mills Col­lege, Oak­land, Calif.