Cuban Players, Caught in a Pickle
U.S. law pushes Cuban baseball players into exile if they wish to go pro.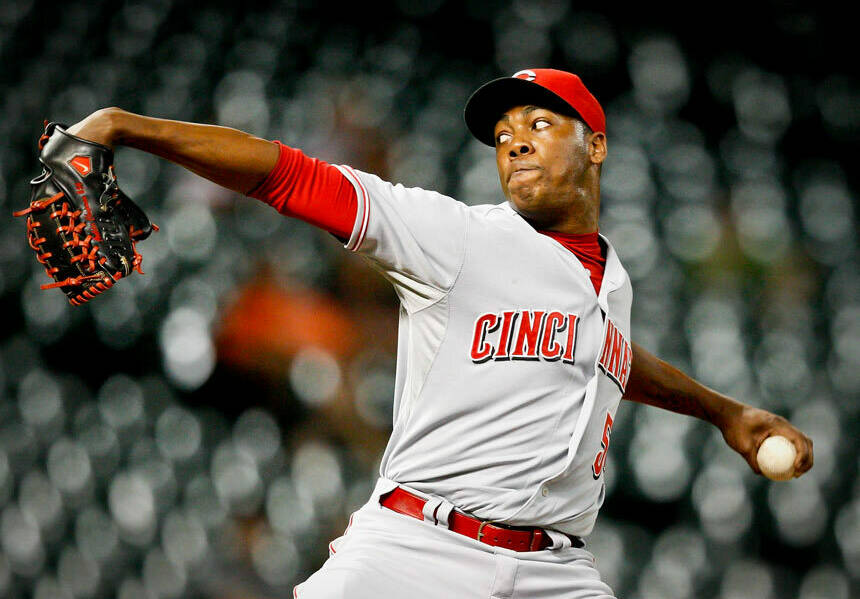 We wanted to make sure you didn't miss the announcement of our new Sustainer program. Once you've finished reading, take a moment to check out the new program, as well as all the benefits of becoming a Sustainer.

Come June 16, when his team, the Cincinnati Reds, have a rare day off, Cuban-born pitching phenom Aroldis Chapman will be facing charges in a South Florida courtroom as a result of alleged violations of the Alien Tort Claims Act, which allows redress in U.S. courts for acts committed on foreign soil.
Since 2005, the Cuban baseball team has seen more than 30 players defect, including the 21 who are currently active in the U.S. majors.
The lawsuit accuses Chapman, who had been banned from the Cuban national team after a failed escape attempt in 2008, of framing two men for counterrevolutionary activities in order to convince Cuban sports authorities to allow him back on the national team. Specifically, the suit alleges that Chapman accused Danilo Curbelo, a visiting Cuban-American, of trying to lure him to escape. Carlos Rafael Mena Perdomo, a Dominican citizen, was also implicated in Chapman's testimony. Curbelo and Mena were convicted in Cuba of attempted ​"human trafficking," the Cuban penal code often used against those accused of assisting Cuban citizens to illegally emigrate. Curbelo is currently on house arrest in Cuba, while Mena was allowed to return to the Dominican Republic for humanitarian reasons. Chapman, meanwhile, was allowed to rejoin the national team, but a year later he successfully defected at an international tournament in the Netherlands. The suit against Chapman, which seeks $18 million in recompense, was filed by Curbelo's and Mena's family living in the United States.
Regardless of Chapman's guilt or innocence, the case gives face to the challenges and temptations faced by athletes in Cuba who dream of going pro.
Technically, professional sports in Cuba have been banned since at least 1961, when Fidel Castro closed the Cuban League, which had been in operation since 1878. (The Cuban League featured American players and had signed black players long before the U.S. majors were integrated — Hall of Fame Negro Leaguers such as Joe Williams, Pete Hill and Satchell Paige all played professionally in Cuba in their day.) As a result, Cuba refuses to call its players ​"professionals," though sports are their principal job, and they earn a salary for it.
Consequently, for athletes to become pro has meant they had to defect and face exile. Since 2005, the Cuban baseball team has seen more than 30 players defect, including the 21 who are currently active in the U.S. majors. One of them, José Dariel Abreu, recently signed a record-setting six-year deal with the White Sox for $68 million.
Finding a way to keep Cuban athletes from leaving has been a priority for Antonio Castro Soto del Valle, Fidel's son and a vice president of the International Baseball Federation. Last fall he convinced Cuba's Council of Ministers to allow Cuban athletes to play abroad without penalty (including any additional tax on wages). Under the new measures, Cuban athletes can play overseas so long as they keep their domestic obligations; in the case of baseball, that means playing in the Cuban league and international competitions from November to March. The new rules keep the players honest about their intentions — and avoid the kinds of favor seeking that Chapman is accused of.
But while the changes clear the way from Cuba's side for pro play, hurdles remain on the U.S. side that encourage less than honorable behavior: The embargo prohibits scouting in Cuba, and the Cuban Adjustment Act (the law that gives Cubans preferential immigration treatment) requires a parole period of one year and one day until a work visa can be officially issued. In the face of these obstacles, Cuban players will most likely continue to defect to third countries to become free agents and be recruited without going through the U.S. pro draft.
This route is the one Chapman — who holds the record for the fastest recorded pitch in history at 105.1 mph — took in 2009 when he defected and established residence in Andorra. As a free agent then, he scored $30 million from the Reds; he recently re-upped for one year at $5 million.
The Florida lawsuit asserts that it's precisely because of the promise of so much money that Chapman was willing to sell out Curbelo and Mena. So long as the U.S. embargo continues to reward defection with those kinds of offers, Cuba's rule changes won't mean much — and Cuban athletes will continue to do whatever, at any cost, to get at the big bucks.
Be a Sustainer
We surveyed thousands of readers and asked what they would like to see in a monthly giving program. Now, for the first time, we're offering three different levels of support, with rewards at each level, including a magazine subscription, books, tote bags, events and more—all starting at less than 17 cents a day. Check out the new Sustainer program.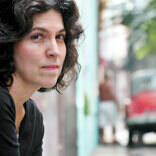 Achy Obejas

, a Havana-born member of the

In These Times

Board of Editors, is the author of

Ruins

(Akashic

2009

,

akashic​books​.com

) and

Aguas

&

Otros Cuentos

(Editorial Letras Cubanas,

2009

). A former staff writer for the

Chicago Tribune

, she is also the translator, into Spanish, of Junot Diaz's Pulitzer Prize-winning

The Brief Wondrous Life of Oscar Wao

(Riverhead

2008

). She is currently the Distinguished Visiting Writer at Mills College, Oakland, Calif.