Democratic Leaders Sold Out DACA Recipients. Maybe It's Time for Voters to Replace Them.
By negotiating a government funding deal with no protections for immigrants, top Democrats made a strong case for why the party's activist base should be able to replace them with new leadership.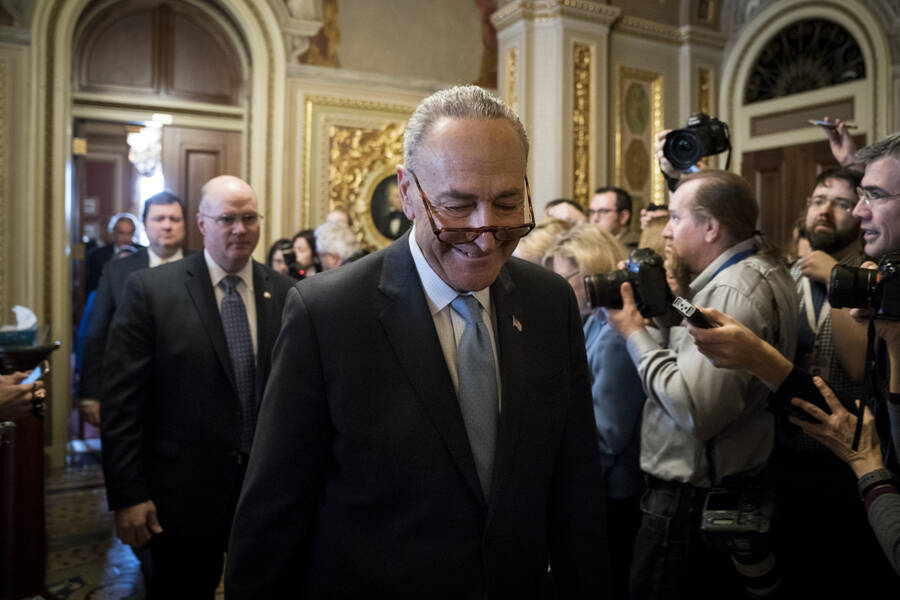 In the year since Pres­i­dent Trump took office, the Demo­c­ra­t­ic Party's Con­gres­sion­al lead­er­ship has occa­sion­al­ly shown some real back­bone by fight­ing Repub­li­cans in near lock-step on issues rang­ing from health­care to tax reform. Last week, when Democ­rats demand­ed pro­tec­tion for undoc­u­ment­ed immi­grants as part of any gov­ern­ment fund­ing deal, they seemed to dis­play a lev­el of com­pas­sion for immi­grants rarely seen in pre­vi­ous years. It briefly appeared that par­ty lead­er­ship — in forc­ing a gov­ern­ment shut­down — was will­ing to take sig­nif­i­cant polit­i­cal risks to stand up for pro­gres­sive values.
If Schumer and Pelosi really are capable of leading the Democratic Party, and representing its base, a leadership election would require them to prove it—not just to their colleagues on the Hill but to rank-and-file members of their own party.
On Mon­day, all that changed. Democ­rats joined forces with their GOP coun­ter­parts to pass a short-term fund­ing bill with no pro­tec­tions for immi­grants, effec­tive­ly throw­ing DACA recip­i­ents under the bus. What Demo­c­ra­t­ic lead­ers got in return was a vague promise from Sen­ate Major­i­ty Leader Mitch McConnell to con­tin­ue talks on immi­gra­tion in three weeks, plus six years of fund­ing for children's health insur­ance that Repub­li­cans' used as a bar­gain­ing chip in negotiations.
The GOP right­ful­ly tout­ed this capit­u­la­tion as a win for their par­ty. And by push­ing the com­pro­mise deal, Demo­c­ra­t­ic lead­ers, includ­ing Sen­ate Minor­i­ty Leader Chuck Schumer, made a strong case for why the par­ty's activist base should be allowed to replace them.
As Stephanie Tay­lor, co-founder of the Pro­gres­sive Change Cam­paign Com­mit­tee, explained in a state­ment Mon­day, the ​"cave by Sen­ate Democ­rats — by weak-kneed, right-of-cen­ter Democ­rats — is why peo­ple don't believe the Demo­c­ra­t­ic Par­ty stands for anything."
Even before Monday's vote, many mem­bers of the party's base said they oppose the cur­rent Demo­c­ra­t­ic lead­er­ship. In an Octo­ber 2017 Har­vard-Har­ris poll, 52 per­cent of Demo­c­ra­t­ic vot­ers said they sup­port ​"move­ments with­in the Demo­c­ra­t­ic Par­ty to take it even fur­ther to the left and oppose the cur­rent Demo­c­ra­t­ic leaders."
With­in the con­fines of the Amer­i­can polit­i­cal sys­tem, how­ev­er, replac­ing par­ty lead­er­ship is near­ly impossible.
The pri­ma­ry mech­a­nism grass­roots advo­cates cur­rent­ly have for influ­enc­ing par­ty lead­er­ship and hold­ing offi­cials account­able is through engag­ing in Demo­c­ra­t­ic pri­maries at the local, state and fed­er­al lev­els. By back­ing pro­gres­sive chal­lengers, par­ty activists can pres­sure the cur­rent lead­er­ship and poten­tial­ly unseat these lead­ers if they're not rep­re­sent­ing the inter­ests and posi­tions of the base. Addi­tion­al­ly, activists can pester these offi­cials through protest and direct action. These strate­gies can sig­nal to Demo­c­ra­t­ic lead­ers that they face oppo­si­tion among seg­ments of their base, and — with enough orga­niz­ing — legit­i­mate­ly threat­en their replacement.
Ulti­mate­ly, how­ev­er, the bar­ri­ers to actu­al­ly oust­ing nation­al Demo­c­ra­t­ic Par­ty lead­er­ship remain high. Vot­er turnout in par­ty pri­maries is noto­ri­ous­ly low, and incum­bents enjoy a strong advan­tage in these races. Even if a sit­ting leader is unseat­ed in a pri­ma­ry, their replace­ment is cho­sen by oth­er sit­ting sen­a­tors and rep­re­sen­ta­tives. As a result, the path to any lead­er­ship shake-up is a tedious one.
So while the base may be ener­gized and grav­i­tat­ing left­ward, Demo­c­ra­t­ic Par­ty lead­er­ship has con­tin­ued to offer pro­gres­sives and the Left some ver­sion of a line bor­rowed from Mar­garet Thatch­er: There Is No Alter­na­tive. As the Democ­rats' inspi­ra­tional slo­gan released last sum­mer put it, ​"Have you seen the oth­er guys?"
In lieu of root and branch changes to the struc­ture of Amer­i­can democ­ra­cy, here's a mod­est pro­pos­al: Why not make it pos­si­ble to vote Demo­c­ra­t­ic rep­re­sen­ta­tives out of leadership?
For­mal lead­er­ship elec­tions could force the Demo­c­ra­t­ic Party's top brass to reflect the will of the peo­ple who actu­al­ly vote for them, and help turn the par­ty into a vehi­cle for bold pro­gres­sive policies.
Take the exam­ple of the Unit­ed King­dom, where lead­er­ship elec­tions are a reg­u­lar fea­ture of par­ty pol­i­tics. Through these elec­tions, mem­bers are able to select both the face and direc­tion of their par­ty by cam­paign­ing for their cho­sen can­di­date. Par­tic­i­pa­tion in these races among par­ty mem­bers is high: The Labour Par­ty cur­rent­ly has around 552,000 mem­bers through­out the UK, and around 506,000 mem­bers and sup­port­ers vot­ed in the last lead­er­ship election.
In the UK, when lead­er­ship fails to deliv­er on their cam­paign promis­es — or los­es in gen­er­al elec­tions— oppo­si­tion with­in the par­ty can call lead­er­ship's man­date into ques­tion. Once par­ty MPs issue a vote of no con­fi­dence in lead­er­ship, they can trig­ger new elec­tions, where­in can­di­dates get on the bal­lot by secur­ing the sup­port of their fel­low MPs. It's also cus­tom­ary for defamed par­ty lead­ers to resign after a major elec­toral defeat, as for­mer Labour Par­ty leader Ed Miliband did when he lost the 2015 gen­er­al elec­tion to Con­ser­v­a­tive for­mer Prime Min­is­ter David Cameron. Cameron him­self resigned as prime min­is­ter and Con­ser­v­a­tive Par­ty leader after the Brex­it vote in 2016, hav­ing lost his man­date to rule.
The cam­paign to elect Jere­my Cor­byn as Labour leader in 2015 won in large part by bring­ing tens of thou­sands of new mem­bers into the par­ty and recruit­ing thou­sands of vol­un­teers to make the case, door by door and phone call by phone call, for why he should be the new par­ty leader. Cor­byn was elect­ed with a man­date to car­ry out his stat­ed plat­form, and was empow­ered to set the direc­tion of Labour nationally.
In the sum­mer of 2016, short­ly after the Brex­it vote, Cor­byn defend­ed his lead­er­ship from the party's more con­ser­v­a­tive wing, win­ning with an even stronger man­date than he had pri­or to the chal­lenge. Under Corbyn's lead­er­ship, Labour has shift­ed marked­ly to the left, and the par­ty per­formed sur­pris­ing­ly well in the 2017 gen­er­al elec­tion by run­ning on an open­ly social­ist man­i­festo.
The Unit­ed States, of course, does not oper­ate under a par­lia­men­tary sys­tem. And the Demo­c­ra­t­ic Par­ty gen­er­al­ly func­tions as a loose coali­tion of var­i­ous con­stituen­cies — Wall Street bankers, col­lege-edu­cat­ed whites, com­mu­ni­ties of col­or, immi­grants, union mem­bers and many others.
Depend­ing on their con­stituen­cies, indi­vid­ual Democ­rats appeal more or less to each one. Repub­li­cans in that sense have a some­what eas­i­er job decid­ing what poli­cies to push for, giv­en that their base is over­whelm­ing­ly white and mid­dle class, along with a seg­ment of work­ing-class vot­ers and a hand­ful of wealthy, influ­en­tial donors.
Democ­rats needn't be demo­graph­i­cal­ly homoge­nous to have a more prin­ci­pled and uni­fied mes­sage, though.
Insti­tut­ing open lead­er­ship elec­tions in the Demo­c­ra­t­ic Par­ty could cre­ate a struc­ture for can­di­dates to bat­tle it out between the party's var­i­ous fac­tions, mak­ing it explic­it what those fac­tions are and defin­ing their bounds. Win­ning a lead­er­ship bid would mean out-orga­niz­ing oppo­nents in ways not dis­sim­i­lar to par­ty pri­maries, with can­di­dates pre­sent­ing their visions for how the par­ty should oper­ate and what poli­cies it should fight for.
If Schumer and House Minor­i­ty Leader Nan­cy Pelosi real­ly are capa­ble of lead­ing the Demo­c­ra­t­ic Par­ty, and rep­re­sent­ing its base, a lead­er­ship elec­tion would require them to prove it — not just to their col­leagues on the Hill but to rank-and-file mem­bers of their own party.
The onus would still be on pro­gres­sive chal­lengers to win lead­er­ship fights against incum­bents. But the end result would be a par­ty that's con­sid­er­ably more clear about both what its pri­or­i­ties are and what it means to be a Democrat.
Whether you think Schumer was play­ing a cun­ning game of 12-dimen­sion­al chess or sell­ing out undoc­u­ment­ed immi­grants, there are oth­er rea­sons to ques­tion his lead­er­ship. In a polit­i­cal land­scape defined by pop­ulist anger at elites and busi­ness as usu­al — where Bernie Sanders remains the country's most pop­u­lar politi­cian — Schumer may be as close to Wall Street as any Repub­li­can. In 2009, 15 per­cent of the $11 mil­lion that big banks poured into 2010 Sen­ate races went sole­ly to his campaign.
But there's cur­rent­ly no direct way for Demo­c­ra­t­ic vot­ers nation­al­ly to hold lead­ers like Schumer more account­able to the par­ty's base than to his back­ers on Wall Street.
Imple­ment­ing lead­er­ship elec­tions could give the base more influ­ence over the direc­tion of the Demo­c­ra­t­ic Par­ty, but such a change couldn't take place in a vac­u­um. Par­tic­u­lar­ly after Monday's vote on the gov­ern­ment fund­ing deal, many younger and more pro­gres­sive vot­ers feel an under­stand­able lack of invest­ment in a par­ty they see as unwill­ing to take bold stands. Moti­vat­ing these vot­ers to care enough to take part in a lead­er­ship elec­tion would require a major cul­tur­al shift in and of itself. And insur­gent pro­gres­sives would like­ly still face a steep uphill bat­tle just as they do in par­ty primaries.
In a func­tion­al and rep­re­sen­ta­tive democ­ra­cy, though, Demo­c­ra­t­ic Par­ty lead­ers would have stepped aside after the dev­as­tat­ing 2016 elec­tion and new lead­ers would have been cho­sen, along with a new direc­tion and strat­e­gy. There's good rea­son to believe that young peo­ple, women and peo­ple of col­or are the future of the Demo­c­ra­t­ic Par­ty. Rather than end­less­ly re-lit­i­gat­ing the 2016 pri­ma­ry, lead­er­ship elec­tions could set­tle the ques­tion of where the ener­gy of the Demo­c­ra­t­ic Par­ty actu­al­ly lies rather than read­ing the tea leaves of con­sul­tants, poll num­bers and spo­radic spe­cial elections.
The Demo­c­ra­t­ic Par­ty leadership's capit­u­la­tion on pro­tect­ing DACA recip­i­ents was proof to many pro­gres­sives that such a turnover remains long over­due. Why not let them prove it?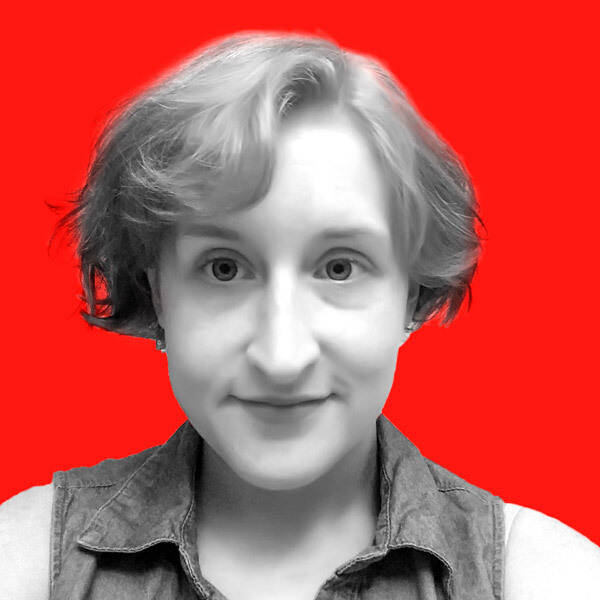 Kate Aronoff
is a Brook­lyn-based jour­nal­ist cov­er­ing cli­mate and U.S. pol­i­tics, and a con­tribut­ing writer at The Inter­cept. Fol­low her on Twit­ter @katearonoff.