Beyond DACA: The Youth Fighting for the Rights of All Immigrants
Movimiento Cosecha is taking direct action to defend DACA—and all undocumented people living in the United States.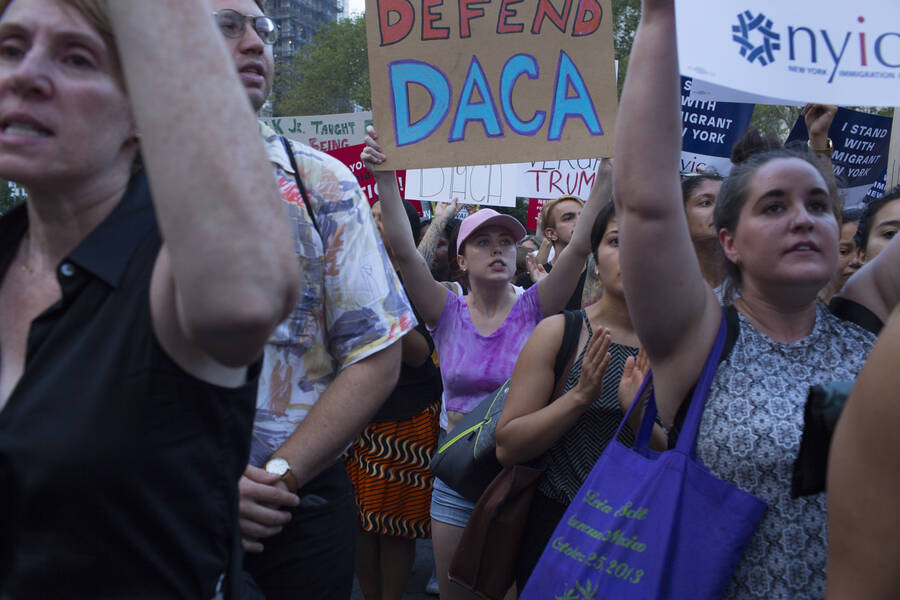 Jeff Ses­sions announced on Tues­day morn­ing that the Trump admin­is­tra­tion is mak­ing good on a long­time promise: to end Deferred Action for Child­hood Arrivals (DACA), a pro­gram that allows undoc­u­ment­ed immi­grants who came to the coun­try as chil­dren to work and live in the Unit­ed States with­out fear of deportation.
At the same time, hun­dreds of peo­ple gath­ered just blocks from Trump Tow­er in Mid­town Man­hat­tan for a ral­ly called by Movimien­to Cosecha, a group com­prised large­ly of young, undoc­u­ment­ed immi­grants who stand to be among those worst impact­ed by this week's deci­sion. Over the next sev­er­al hours, 34 ​"DACA­ment­ed" young peo­ple and their allies would be arrested.
"There were a lot of peo­ple cry­ing," Thais Mar­ques, a DACA recip­i­ent and orga­niz­er with Cosecha, told In These Times. ​"We had to acknowl­edge that pain."
Once the action got going, the tone shift­ed. ​"When we start­ed march­ing to Trump Tow­er, and the DACA folks shut down Fifth Avenue, the mood com­plete­ly changed," Mar­ques said. ​"It was real­ly beau­ti­ful to see the strength that they have, and the courage, to do this lit­er­al­ly moments after it was announced that DACA was repealed."
Nine DACA­ment­ed demon­stra­tors and three allies — one of whom was for­mer­ly undoc­u­ment­ed — sat down on Fifth Avenue, block­ing traf­fic briefly before being arrest­ed. Orga­niz­ers than led a march around the block, as anoth­er set of more than 20 pro­test­ers blocked the same street once again. Unex­pect­ed­ly, sev­er­al march mar­shals, charged with direct­ing pro­test­ers, were arrest­ed by the New York Police Depart­ment as well.
Well in advance of the action, orga­niz­ers had agreed to use a tac­tic called jail sol­i­dar­i­ty, where peo­ple who are arrest­ed refuse to be released until every­one from their group is free. Espe­cial­ly in protests involv­ing undoc­u­ment­ed activists, it's a way to ensure those in more pre­car­i­ous legal stand­ing aren't sin­gled out for spe­cial treat­ment — or entered into depor­ta­tion proceedings.
Oth­er Defend DACA actions were held in Grand Rapids, Mich. and Den­ver Colo., where hun­dreds of stu­dents staged a mas­sive walk­out. Sev­er­al oth­er protests were held in South­ern Cal­i­for­nia. As of Fri­day morn­ing, youth with the Fair Immi­grant Reform Move­ment and oth­er groups entered the third day of a hunger strike in Wash­ing­ton D.C.
Accord­ing to Mar­ques, on Wednes­day, ​"we saw a rebirth of the DREAM movement."
Many Cosecha orga­niz­ers were deeply involved in the ulti­mate­ly unsuc­cess­ful fight to pass the DREAM Act at the nation­al lev­el, a push that formed a major part of what lead Oba­ma to announce DACA via Exec­u­tive Order in 2012. Mar­ques is one of many in the immi­grant rights move­ment, though, who are weary of per­pet­u­at­ing the idea that only DREAM­ers — and young, high-achiev­ing stu­dents, in par­tic­u­lar — deserve protection.
"We [at Cosecha] see our­selves as hold­ing the line for con­stant­ly being dis­sat­is­fied with the nar­ra­tive that we have to pro­tect DREAM­ers and not the larg­er immi­grant com­mu­ni­ty," Mar­ques empha­sized. ​"There's no dif­fer­ence between DREAM­ers and work­ers. Our shared iden­ti­ty is that of work­ers. We all have a dor­mant eco­nom­ic pow­er that the coun­try depends on."
As of 2016, there were an esti­mat­ed 8 mil­lion undoc­u­ment­ed peo­ple in the country's work­force, and — in gen­er­al — immi­grants have a high­er labor force par­tic­i­pa­tion rate than Amer­i­cans born domes­ti­cal­ly. In cer­tain indus­tries, undoc­u­ment­ed work­ers are rep­re­sent­ed in dis­pro­por­tion­ate num­bers, com­pris­ing 17 per­cent of the agri­cul­tur­al work­force and 13 per­cent in con­struc­tion. In Cal­i­for­nia, peo­ple with­out papers account for 9 per­cent of all work­ers in the state.
Like many oth­er pro­gres­sive out­fits, Cosecha expe­ri­enced a huge spike in mem­ber­ship fol­low­ing Don­ald Trump's elec­tion. The organization's growth was spurred in part by its ear­ly adop­tion of the Sanc­tu­ary Cities frame, encour­ag­ing towns, col­lege cam­pus­es and oth­er insti­tu­tions to refuse to coop­er­ate with fed­er­al immi­gra­tion authorities.
Ulti­mate­ly, Cosecha hopes to build toward a gen­er­al strike, though that could still be sev­er­al years off. Accord­ing to Cosecha's strat­e­gy, pub­licly avail­able on their web­site, a gen­er­al strike is ​"Phase 4". The sec­ond phase — the one they are in now — is polit­i­cal non-cooperation.
In the short-term, the group will look to be a dis­rup­tive voice and use more civ­il dis­obe­di­ence as the DACA con­ver­sa­tion moves into Con­gress, which is now offi­cial­ly tasked with decid­ing the fate of the pro­gram. ​"The prob­lem is that we are in a moment where we don't real­ly have nego­ti­at­ing pow­er inside Con­gress or with Don­ald Trump," Mar­ques contended.
Giv­en over­whelm­ing GOP con­trol, Cosecha is skep­ti­cal that any ​"clean" DREAM Act — one with­out an enforce­ment com­po­nent — will make its way through Con­gress, when its ear­li­er iter­a­tion failed dur­ing Obama's tenure. ​"Any bill that is passed would prob­a­bly include defund­ing sanc­tu­ary cities, build­ing a wall and all sorts of oth­er things that will be bad for our com­mu­ni­ties," Mar­ques explained, adding that Cosecha hope to refo­cus its efforts away from leg­isla­tive back-and-forth.
"The only way Con­gress will pass some­thing decent is if there are mas­sive num­bers of peo­ple in the streets," she said. ​"We want to push peo­ple to not put their faith politi­cians. What has worked over the last 20 years in the immi­grant rights move­ment is when undoc­u­ment­ed peo­ple are demon­strat­ing what risk and sac­ri­fice look like."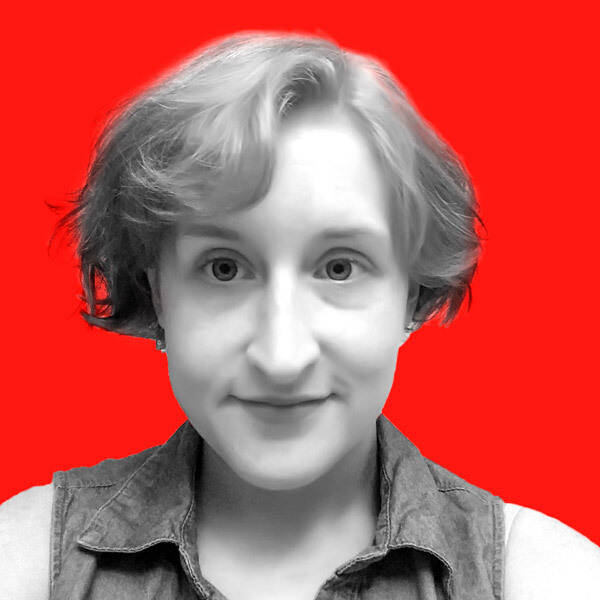 Kate Aronoff
is a Brook­lyn-based jour­nal­ist cov­er­ing cli­mate and U.S. pol­i­tics, and a con­tribut­ing writer at The Inter­cept. Fol­low her on Twit­ter @katearonoff.