Deaths on the Nile
Is Egypt's revolution following the course of Iran's?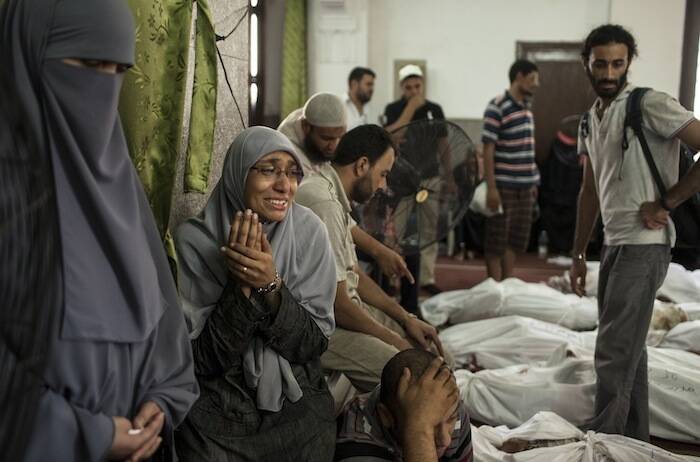 Now that the Egypt­ian Army has decid­ed to break the stale­mate and cleanse the pub­lic space of Islamist pro­test­ers, and the result is hun­dreds of deaths, one should first just imag­ine what an uproar this would have caused if the same blood­bath were to hap­pen, say, in Iran. How­ev­er, it is more urgent to take a step back and focus on the absent third par­ty in the ongo­ing con­flict: Where are the pro­test­ers who took over Tahrir Square two-and-a-half years ago? Is their role now not weird­ly sim­i­lar to the role of the Mus­lim Broth­er­hood dur­ing the 2011 Arab Spring — that of the impas­sive observer?
Far from being a neutral benevolent mediator and guarantor of social stability, the Egyptian Army instead stands for and embodies a certain social and political program—roughly speaking, integration into global-market, pro-Western, authoritarian capitalism.
With the mil­i­tary coup in July—when the army, at first sup­port­ed by those who oust­ed the Mubarak régime two years ago, deposed the demo­c­ra­t­i­cal­ly elect­ed pres­i­dent and gov­ern­ment — the cir­cle has some­how closed: The pro­test­ers who top­pled Mubarak in 2011, demand­ing democ­ra­cy, pas­sive­ly sup­port­ed a mil­i­tary coup d'é­tat that sub­se­quent­ly abol­ished that democ­ra­cy. What is going on?
The dom­i­nant read­ing that has been pro­posed by, among oth­ers, Fran­cis Fukuya­ma, goes thus­ly: The protest move­ment that top­pled Mubarak was pre­dom­i­nant­ly the revolt of the edu­cat­ed mid­dle class, with the poor work­ers and farm­ers reduced to the role of (sym­pa­thet­ic) observers. But once the gates of democ­ra­cy were open, the the­o­ry con­tin­ues, the Mus­lim Broth­er­hood, whose social base is com­posed of the poor major­i­ty, won demo­c­ra­t­ic elec­tions and formed a gov­ern­ment dom­i­nat­ed by Mus­lim fun­da­men­tal­ists. In turn, the orig­i­nal core of sec­u­lar pro­test­ers turned against the new gov­ern­ment, ready to endorse even a mil­i­tary coup as a way to stop them.
Such a sim­pli­fied vision ignores a key fea­ture of the protest move­ment: the explo­sion of het­ero­ge­neous orga­ni­za­tions (of stu­dents, women, work­ers, etc.) through which Egypt­ian civ­il soci­ety has begun to artic­u­late its inter­ests out­side the scope of state and reli­gious insti­tu­tions. This vast net­work of new social forms, much more than the over­throw of Mubarak, is the prin­ci­pal gain of the Arab Spring. It is an ongo­ing process, inde­pen­dent of big polit­i­cal changes like the Army's coup against the Mus­lim Broth­er­hood gov­ern­ment; it goes deep­er than the religious/​liberal divide.
The par­al­lel we should draw here is between the Egypt­ian upris­ing and the failed 2009 – 2010 Green Rev­o­lu­tion in Iran. The green col­or adopt­ed by the sup­port­ers of the ille­gal­ly defeat­ed pres­i­den­tial can­di­date Hos­sein Mous­savi and the cries of ​"Allahu Akbar!" that res­onat­ed from the roofs of Tehran in the evening dark­ness clear­ly indi­cat­ed that they saw their activ­i­ty as the undo­ing of the 1979 Khome­i­ni rev­o­lu­tion's even­tu­al cor­rup­tion. This return to the rev­o­lu­tion's roots was not only pro­gram­mat­ic; it also entailed the emphat­ic uni­ty of the peo­ple and their all-encom­pass­ing sol­i­dar­i­ty. Through cre­ative self-orga­ni­za­tion they impro­vised new ways to artic­u­late protest with a unique mix­ture of spon­tane­ity and dis­ci­pline, like the omi­nous march of thou­sands in com­plete silence. We were deal­ing with a pop­u­lar upris­ing of the deceived par­ti­sans of the Khome­i­ni rev­o­lu­tion: Mous­sav­i's name stood for the gen­uine resus­ci­ta­tion of the pop­u­lar dream that sus­tained the rev­o­lu­tion in the first place.
The 1979 Khome­i­ni rev­o­lu­tion can­not be reduced, there­fore, to a hard line Islamist takeover. It was much more. The fact that the 2011 Green Rev­o­lu­tion had to be sti­fled demon­strates that the Khome­i­ni rev­o­lu­tion was an authen­tic polit­i­cal event, a momen­tary open­ing that unleashed unheard-of forces of social trans­for­ma­tion, a moment in which ​"every­thing seemed pos­si­ble." What fol­lowed was a grad­ual clos­ing of pos­si­bil­i­ty through the Islam establishment's takeover of polit­i­cal control.
React­ing to the well-known char­ac­ter­i­za­tion of Marx­ism as ​"the Islam of 20th cen­tu­ry," Pierre-André Taguieff, sec­u­lar­iz­ing Islam's abstract fanati­cism, observed that Islam is turn­ing out to be ​"the Marx­ism of 21st cen­tu­ry," pro­long­ing, after the decline of Com­mu­nism, its vio­lent anti-cap­i­tal­ism. Do, how­ev­er, recent vicis­si­tudes of Mus­lim fun­da­men­tal­ism not con­firm Wal­ter Ben­jam­in's insight that ​"every rise of Fas­cism bears wit­ness to a failed rev­o­lu­tion"? The rise of Fas­cism is the Left's fail­ure: a proof that there was a rev­o­lu­tion­ary poten­tial, a dis­sat­is­fac­tion, that the Left was unable to mobi­lize. And does the same not hold for today's so-called ​"Islamo-Fas­cism"? Does the rise of rad­i­cal Islam not cor­re­late to the dis­ap­pear­ance of the sec­u­lar Left in Mus­lim coun­tries? When Afghanistan is por­trayed as the utmost Islam­ic fun­da­men­tal­ist coun­try, who still remem­bers that, 40 years ago, it was a coun­try with strong sec­u­lar tra­di­tion, includ­ing a pow­er­ful Com­mu­nist par­ty that took pow­er there inde­pen­dent­ly of the Sovi­et Union?
Even in the case of clear­ly fun­da­men­tal­ist move­ments, one should be care­ful not to miss their social com­po­nent. The Tal­iban, for exam­ple, are reg­u­lar­ly pre­sent­ed in the main­stream media as fun­da­men­tal­ist Islamists who enforce their rule with ter­ror. When, in the spring of 2009, they took over the Swat val­ley in Pak­istan, the New York Times report­ed that they engi­neered ​"a class revolt that exploit[ed] pro­found fis­sures between a small group of wealthy land­lords and their land­less ten­ants." If, how­ev­er, by ​"tak­ing advan­tage" of the farm­ers' plight, the Tal­iban were ​"rais­ing alarm about the risks to Pak­istan, which remains large­ly feu­dal," what pre­vents lib­er­al democ­rats in Pak­istan, as well as the Unit­ed States, from sim­i­lar­ly ​"tak­ing advan­tage" of this plight and try­ing to help the land­less farm­ers? But they have not, and the sad impli­ca­tion is that the feu­dal forces in Pak­istan are the ​"nat­ur­al ally" of the lib­er­al democracy.
And this brings us back to Egypt: Far from being a neu­tral benev­o­lent medi­a­tor and guar­an­tor of social sta­bil­i­ty, the Army instead stands for and embod­ies a cer­tain social and polit­i­cal pro­gram — rough­ly speak­ing, inte­gra­tion into glob­al-mar­ket, pro-West­ern, author­i­tar­i­an cap­i­tal­ism. As such, the Army's inter­ven­tion is need­ed inso­far as the major­i­ty is not ready to accept cap­i­tal­ism ​"demo­c­ra­t­i­cal­ly." In con­trast to the Army's sec­u­lar vision, the Mus­lim Broth­er­hood endeav­ors to impose a fun­da­men­tal­ist-reli­gious rule. Both of these ide­o­log­i­cal visions exclude what the Arab Spring pro­test­ers stood for: eco­nom­ic sol­i­dar­i­ty and jus­tice; democ­ra­cy of active, engaged citizens.
Although (almost) every­one enthu­si­as­ti­cal­ly sup­port­ed the Tahrir Square demo­c­ra­t­ic explo­sion, a hid­den strug­gle to appro­pri­ate the mean­ing of the protests was qui­et­ly tak­ing place. In the West, the offi­cial cir­cles and most of the media cel­e­brat­ed Tahrir Square as sim­i­lar to the ​"pro-democ­ra­cy" vel­vet rev­o­lu­tions in East­ern Europe: a desire for West­ern lib­er­al democ­ra­cy, a desire to become like the West. But we shouldn't be so fas­ci­nat­ed by sub­lime moments of nation­al uni­ty. Rather, our focus should be on what hap­pens the day after. How will this eman­ci­pa­to­ry explo­sion be trans­lat­ed into new social order? In the last decades, we wit­nessed a whole series of eman­ci­pa­to­ry pop­u­lar explo­sions that were re-appro­pri­at­ed by the glob­al cap­i­tal­ist order, either in its lib­er­al form (from South Africa to Philip­pines) or in its fun­da­men­tal­ist form (Iran).
As we used to say almost half a cen­tu­ry ago, one doesn't have to be a weath­er­man to know which way the wind blows in Egypt: towards Iran. Even if the Army wins and sta­bi­lizes the sit­u­a­tion, this very vic­to­ry can breed a Fas­cist explo­sion, sim­i­lar to the Khome­i­ni rev­o­lu­tion, that will sweep over Egypt in a cou­ple of years. Only a world­wide coali­tion com­mit­ted to the strug­gle for free­dom and democ­ra­cy and for social and eco­nom­ic jus­tice can save us from this prospect.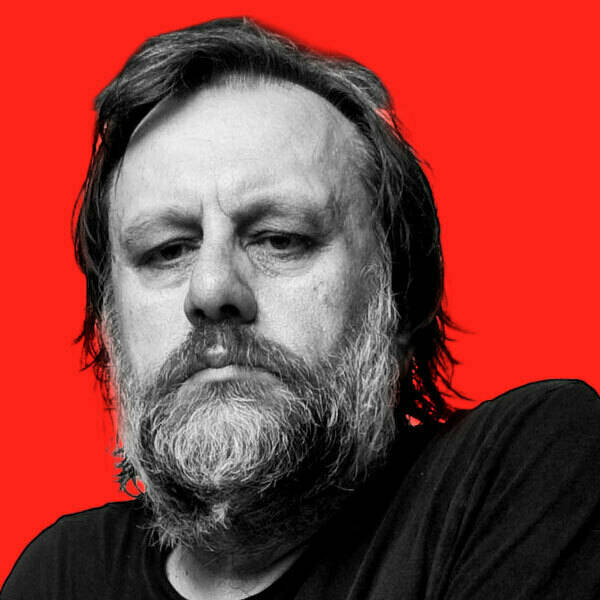 Slavoj Žižek
, a Sloven­ian philoso­pher and psy­cho­an­a­lyst, is a senior researcher at the the Insti­tute for Human­i­ties, Birk­beck Col­lege, Uni­ver­si­ty of Lon­don. He has also been a vis­it­ing pro­fes­sor at more than
10
uni­ver­si­ties around the world. Žižek is the author of many books, includ­ing Liv­ing in the End Times, First As Tragedy, Then As Farce, The Year of Dream­ing Dan­ger­ous­ly and Trou­ble in Paradise.