Debbie Wasserman Schultz Is Done at the DNC. But She's Not the Only Obstacle To Party Unity.
Divisions within the Democratic Party take center stage at this week's convention.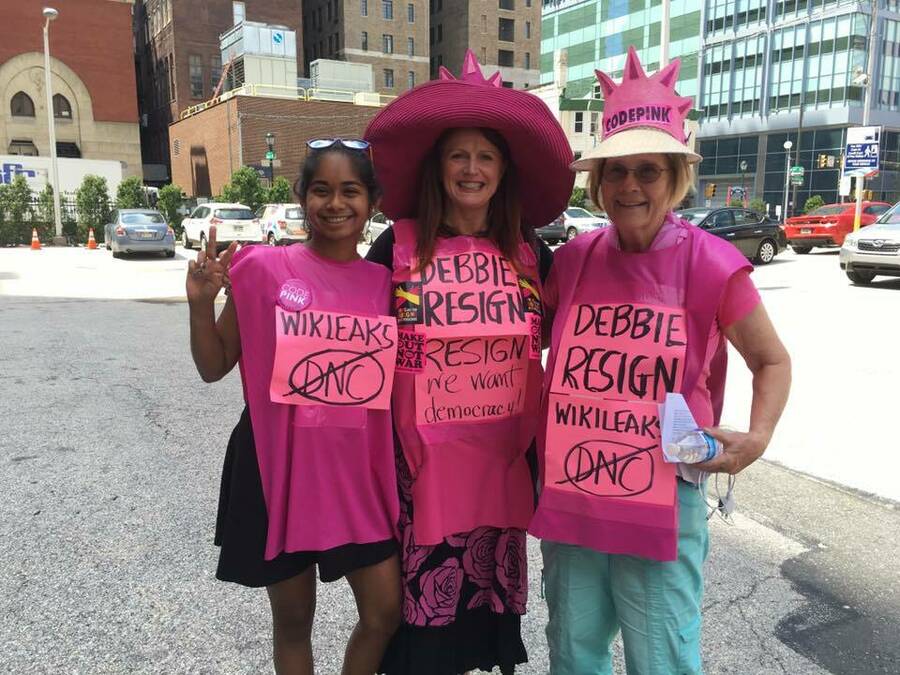 "No more Debbie!" a crowd thundered near Philadelphia's City Hall. A CODEPINK protester emblazoned a pink plastic smock with the same message. A few hours later, demonstrators got their wish.
"What happens over the next several days at the DNC likely won't make or break party unity—whether party higher-ups can respond to pressure from below over these next few months almost certainly will."
In response to a series of damning emails published by WikiLeaks on Friday, Debbie Wasserman Schultz announced that she will resign as chair of the Democratic National Committee (DNC). Among the wrongs surfaced by the nearly 20,000 internal DNC messages was one staffer's suggestion they might prod Bernie Sanders over his secular brand of Judaism to damage the Vermont senator's primary bids in the South — a head-on collision with the Committee's commitment to impartiality.
For her support of the controversial payday loan industry and because of allegations that she had her finger on the scales of the Democratic primary, Wasserman Schultz has been a target of Sanders supporters for the last several months, who've made frequent calls for her to step down. (Sanders himself backed Tim Canova, the challenger for her congressional seat in Florida.) The leak lends credence to cries of foul play, though her decision to resign was met with at least as much gloom as celebration. National Nurses United Executive Director RoseAnn DeMoro, a vocal Sanders surrogate, tweeted, ​"We built our movement but we didn't know we were not participating in a race. The DNC owes Bernie & his supporters."
Clinton's campaign manager, Robby Mook, has blamed Russian agents for the leak, and brought on Wasserman Schultz as an honorary chair of her campaign. Wasserman Schultz will remain at her post through the end of the convention, when CNN contributor Donna Brazile, who has remained studiously impartial, will take over as interim chair. Whether the resignation will help or hinder the cause for unity at this year's Democratic National Convention is anyone's guess.
As Wasserman Schultz and the DNC bent to the heat of the leak, 95-degree temperatures didn't deter some 15,000 people from taking to Philadelphia's streets Sunday to ring in the Democratic National Convention. One event, profiled here on Friday, was the March for a Clean Energy Revolution, supported by some 900 mostly green groups from around the country. Another, ​"March4Bernie Against the DNC," happened later in the afternoon, to — according to the event's Facebook page—"make sure the political establishment (and Bernie Sanders) know that we are here!"
The Sanders march — wholly independent from the campaign — was parading down one of the city's main arteries toward FDR Park when the news of Wasserman Schultz's resignation broke, prompting several people to start dancing under one of the fire hydrants that had been opened along the street. The mood on arriving at the park was more sedate, somewhere between an uneventful day at a late-stage Occupy encampment and a niche music festival. Speakers and bands alternated on a small stage as people lounged under trees, recovering from what, for some, had been nearly six hours of marching under an unrelenting sun. At some point, a troupe of black-clad and oddly musclebound protesters inflated a 51-foot (fake) joint, to be unfurled again later this week at a protest in favor of legalizing marijuana.
Marc Adamo, a New Jersey Teamster passing out Bernie campaign signs along Broad Street, said that Wasserman Schultz's resignation was a move to ​"pacify the people." As a lifelong Democrat, he said, ​"I don't even know if I care about the Democratic National Convention," adding that he would be supporting Green Party candidate Jill Stein in November. ​"I'm tired of voting for who's going to hurt me the least."
At both of the day's marches, Bernie and — to a lesser extent — Green Party paraphernalia abounded, with several participants holding out hope Sanders might still become the nominee. He won't, of course. But the Democratic Party will have to figure out how to navigate his fans' grieving and convince them to go to the polls. With the party mired in scandal, that task now may be harder than ever.
It's difficult to suss out from days like Sunday how much of a force the ​"Bernie or Bust" crowd actually represents. Of any event in the last several months, yesterday's march to FDR Park was tailor-made to attract it. The thread might even get lost entirely through the week, as delegates (and the press, with them) dive into the convention. And even within the demonstrations, few are vocal about their intentions to vote for Hillary come November; for many of the progressives who backed Bernie, the decision to cast a ballot for Clinton is not a change of heart but a pragmatic choice. While several Bernie staffers have drifted over to Hillary for America, and polls show that 85 percent of Sanders supporters will vote for her in November, some of his most ardent fans are struggling to figure out their next steps, especially having just spent several months mobilized against the presumptive nominee.
"I was completely apathetic until Bernie came along," Irina Cioca, 29, told me near one of the park's ​"cooling stations," little tents equipped with fans and cases of bottled water. She travelled from Livonia, Mich., to join some of the ​"post-Bernie" events surrounding the convention, and found a new friend in Philly through Reddit to help guide her around the city.
"Bernie was a unicorn," she added. ​"He was talking about the things I actually care about." Asked who she would be supporting in November, Cioca said it would be Stein — more in the hopes of building support for third parties than out of excitement for the Green Party candidate. Because Sanders' campaign had galvanized her into politics, Cioca said, ​"Hillary never had my vote … I was never going to vote in the first place."
Now that she has entered the political fold, though, Cioca is excited to help out progressive candidates running for local office, like Anil Kumar, a progressive Democrat running for Congress in Michigan's 11th Congressional District.
Like Adamo and others I met at the rally, she was cautious to claim Wasserman Schultz's resignation a victory for those who've been calling for reform in the party. The DNC leaks weren't surprising to Cioca so much as an ​"information overload," confirming what many thought to be a dirty, open secret.
At what might be the peak of its unpopularity, the Democratic Party establishment is now tasked with defeating the closest thing the United States has known to fascism since World War II. A segment of its base is ready to jump ship (or already has) and is thus willing to tacitly help elect Donald Trump. What happens over the next several days at the DNC likely won't make or break party unity — whether party higher-ups can respond to pressure from below over these next few months almost certainly will.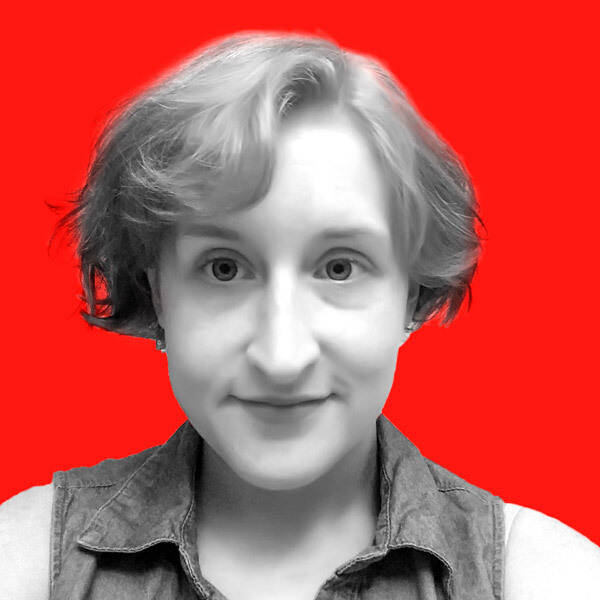 Kate Aronoff is a staff writer at The New Republic and author of Overheated: How Capitalism Broke the Planet — And How We Fight Back. She is co-author of A Planet To Win: Why We Need a Green New Deal and co-editor of We Own the Future: Democratic Socialism—American Style. Follow her on Twitter @katearonoff.