Edi­tor's Note: This sto­ry was orig­i­nal­ly pub­lished by The Rev­e­la­tor, a pub­li­ca­tion of the Cen­ter for Bio­log­i­cal Diversity.
It's been 10 years since flames engulfed the Deep­wa­ter Hori­zon drilling rig in the Gulf of Mex­i­co, killing 11 work­ers and trig­ger­ing the largest acci­den­tal oil spill in U.S. his­to­ry. The result­ing 168 mil­lion gal­lons of oil that spewed into the water for 87 days killed thou­sands of birds, tur­tles, dol­phins, fish and oth­er animals.
The messy slick washed up on 1,300 miles of beach­es, coat­ed wet­lands with tox­ic chem­i­cals, imper­iled human health, crip­pled the region's tourism sec­tor and shut down fish­eries — cost­ing near­ly $1 bil­lion in loss­es to the seafood industry.
In the years since, sci­en­tists have stud­ied the far-reach­ing and long­stand­ing eco­log­i­cal dam­ages. And it's clear that prob­lems persist.
A decade lat­er, what have we learned? Are we any clos­er to pre­vent­ing a sim­i­lar — or worse — cat­a­stro­phe? Here are some of the takeaways.
1. The spill was big­ger than they told us.
Right from the start, indus­try down­played the size and scope of the spill. The Uni­fied Com­mand formed to deal with the dis­as­ter con­sist­ed of offi­cials from fed­er­al agen­cies, as well as rep­re­sen­ta­tives of BP — the oil com­pa­ny respon­si­ble for the mess.
Inde­pen­dent analy­sis using dai­ly satel­lite images from NASA done by the con­ser­va­tion tech­nol­o­gy non­prof­it SkyTruth, along with Ian R. Mac­Don­ald, a pro­fes­sor of oceanog­ra­phy at Flori­da State Uni­ver­si­ty, found that the amount of oil gush­ing from the failed Macon­do well was like­ly 20 times greater than what offi­cials were claim­ing at the time. Sci­en­tists hop­ing to mea­sure the flow direct­ly at the seafloor were blocked.
The obfus­ca­tion came with a big cost. ​"What fol­lowed was a series of under-engi­neered attempts to stop the flow of oil, wast­ing weeks of pre­cious time as mil­lions of gal­lons gushed into the Gulf," recalls John Amos, pres­i­dent of SkyTruth.
2. Most oth­er spills are big­ger than report­ed, too.
Research in the Gulf of Mex­i­co fol­low­ing the Deep­wa­ter Hori­zon dis­as­ter also led to oth­er find­ings about drilling in the region. Not sur­pris­ing­ly, the size of most spills is underreported.
"This cul­ture of mis­in­for­ma­tion doesn't emerge just dur­ing cat­a­stro­phes," says Amos.
It turns out that slicks report­ed to the Nation­al Response Cen­ter were 13 times larg­er than pro­vid­ed esti­mates, accord­ing to research con­duct­ed by Flori­da State Uni­ver­si­ty and SkyTruth. And while com­pa­nies can get in trou­ble for not report­ing a spill, they don't get penal­ized if they incor­rect­ly esti­mate the size of a spill, the analy­sis found.
And these spills are ongo­ing, with more than 18,000 report­ed in the Gulf since the mam­moth 2010 dis­as­ter. While many of them are small, their cumu­la­tive impact is not.
3. Deep­wa­ter Hori­zon isn't the worst-case scenario.
A mas­sive spill from a well that can't be plugged for months is tru­ly trou­bling, but there's a worse sce­nario: a spill that can't be stopped at all. And that slow­ly unfurl­ing dis­as­ter has already been under­way — it just wasn't wide­ly known until researchers began inves­ti­gat­ing the Deep­wa­ter Hori­zon spill.
A hur­ri­cane in 2004 trig­gered an under­wa­ter mud­slide in Gulf waters that sank an oil-drilling plat­form owned by Tay­lor Ener­gy. The mess of pipes, still con­nect­ed to wells but cov­ered by a heap of sed­i­ment, result­ed in a leak that con­tin­ues to this day.
A study by Nation­al Ocean­ic and Atmos­pher­ic Admin­is­tra­tion and Flori­da State Uni­ver­si­ty in 2019 deter­mined that the wells may be spew­ing 380 to 4,500 gal­lons of oil a day — about 100 to 1,000 times more than the com­pa­ny has claimed.
After sev­er­al attempts by Tay­lor Ener­gy to cap the wells and con­tain the plumes didn't do the trick, in 2019 the U.S. Coast Guard stepped in to have a con­tain­ment sys­tem installed to catch the oil before it dis­pers­es into the waters.
4. Nat­ur­al forces remain a threat.
A deep-sea mud­slide like the one that dam­aged the Tay­lor Ener­gy plat­form could pose a threat to dozens of pro­duc­tion plat­forms in the Gulf. Flori­da State's Mac­Don­ald, who has been study­ing the leak­ing Tay­lor Ener­gy site, believes such an event could hap­pen again.
Trig­gered by earth­quakes or hur­ri­canes, under­wa­ter avalanch­es of sed­i­ment slip down the con­ti­nen­tal shelf moved by ​"tur­bid­i­ty cur­rents." And we're not well pre­pared for under­stand­ing how and when it could reoccur.
"Con­duct­ing stud­ies to iden­ti­fy unsta­ble slopes will improve our under­stand­ing of the seabed," he wrote in an op-ed for The Con­ver­sa­tion. ​"Bet­ter tech­nol­o­gy can make off­shore infra­struc­ture more durable, and informed reg­u­la­tion can make the off­shore indus­try more vigilant."
5. There's no such thing as a ​"cleanup."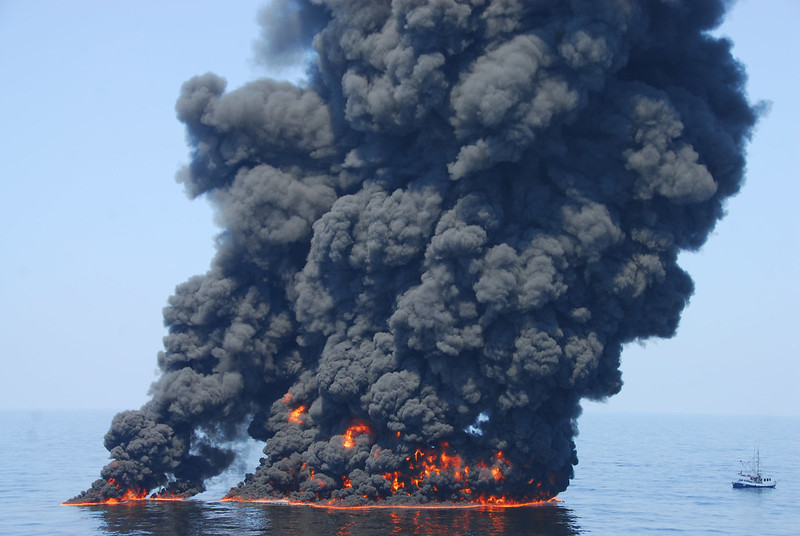 A con­trolled burn of oil from the Deep­wa­ter Horizon/​BP oil spill sends tow­ers of fire hun­dreds of feet into the air over the Gulf of Mex­i­co on June 9, 2010. (Pho­to by Coast Guard Pet­ty Offi­cer First Class John Mas­son / CC BY-ND 2.0)
Efforts that began in the after­math of dis­as­ter should be termed ​"spill response," and not ​"cleanup," says Lois Epstein, an engi­neer and Arc­tic pro­gram direc­tor for The Wilder­ness Society.
Stud­ies of pre­vi­ous spills have shown that oiled birds ​"cleaned" after spills usu­al­ly fail to mate and suf­fer high mor­tal­i­ty rates.
The use of booms, skim­ming, burn­ing and the dump­ing of dis­per­sants hasn't proven effec­tive in con­tain­ing large spills — and seems to hap­pen more to give the illu­sion that something's being done, explains an arti­cle in Hakai Mag­a­zine.
Dur­ing the Deep­wa­ter Hori­zon spill, only around 3% of the oil spilled was recov­ered from skim­ming, says Epstein. About 5% was burned off. And while dis­per­sants decreased the vol­ume of sur­face oil by about 20%, they increased the area over which the oil spread by near­ly 50%.
Some advances have actu­al­ly been made in improv­ing the tech­nol­o­gy, but there's ​"lit­tle incen­tive and no legal require­ment for com­pa­nies to upgrade their exist­ing spill response equip­ment," says Epstein.
6. The Prob­lems Run Deep
Some of the most con­cern­ing find­ings from post-spill research came from the depths of the sea.
Research in 2017 found that, ​"the seafloor was unrec­og­niz­able from the healthy habi­tats in the deep Gulf of Mex­i­co, marred by wreck­age, phys­i­cal upheaval and sed­i­ments cov­ered in black, oily marine snow," wrote Craig McClain, the exec­u­tive direc­tor for the Louisiana Uni­ver­si­ties Marine Con­sor­tium, one of the sci­en­tists involved.
It's like­ly that mil­lions of gal­lons of oil end­ed up on the seafloor because of a process known as ​"marine oil snow" where chem­i­cals from burn­ing oil, along with dis­per­sants and oth­er sed­i­ment in the water, adhere and sink.
For life at the bot­tom, that dirty bliz­zard was incred­i­bly harmful.
The researchers not­ed that ani­mals nor­mal­ly found in that deep-sea envi­ron­ment, such as sea cucum­bers, giant isopods, glass sponges and whip corals, weren't there. And many colonies of deep-sea corals hadn't recovered.
"What we observed was a homoge­nous waste­land, in great con­trast to the rich het­ero­gene­ity of life seen in a healthy deep sea," McClain explained. ​"In an ecosys­tem that mea­sures longevi­ty in cen­turies and mil­len­nia, the impact of 4 mil­lion bar­rels of oil con­tin­ues to con­sti­tute a cri­sis of epic proportions."
7. The effects on wildlife were both sig­nif­i­cant and, in some cas­es, sus­tained.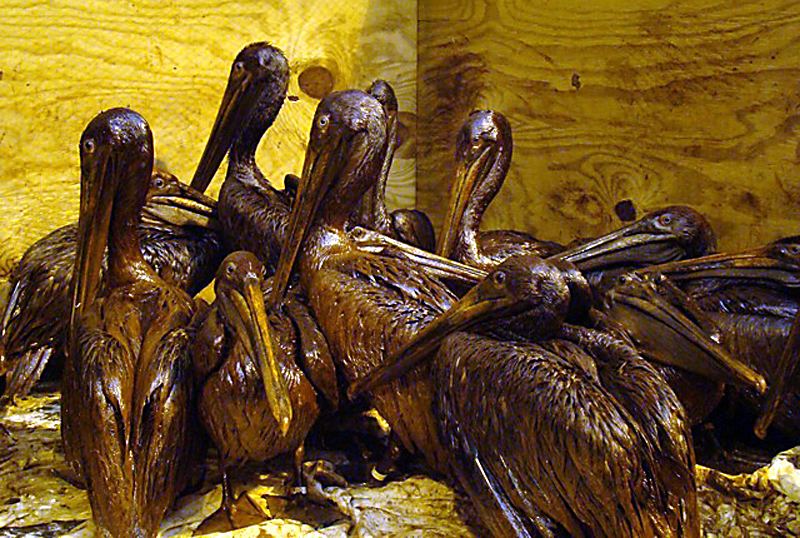 Heav­i­ly-oiled brown pel­i­cans cap­tured at Grand Isle, La. on June 3, 2010 wait to be cleaned of Gulf spill crude. (Pho­to: Inter­na­tion­al Bird Res­cue Research Cen­ter / CC BY 2.0)
The spill caused prob­lems at the sur­face too, includ­ing the longest known marine mam­mal die-off in the Gulf of Mex­i­co, and experts say it could take many species decades to recover.
For exam­ple, a report from Oceana found that in the five years fol­low­ing the spill, 75% of bot­tle-nosed dol­phin preg­nan­cies failed. Endan­gered Bryde's whales lost 22% of their already small pop­u­la­tion; 32% of laugh­ing gulls in the Gulf died, and as many as 20% of adult female Kemp's rid­ley sea tur­tles, already crit­i­cal­ly endan­gered, were killed in the spill.
Threat­ened pop­u­la­tions of gulf stur­geon exposed to the oil expe­ri­enced immune sys­tem prob­lems and dam­aged DNA. Sci­en­tists found skin lesions on tile­fish, South­ern Hake, red snap­per and oth­er fish in the area near the blowout for two years after the spill.
Coastal wet­lands, crit­i­cal habi­tat for numer­ous species as well as an impor­tant buffer against storms, were also damaged.
It's believed that chem­i­cals from the spill and dis­per­sants have made their way from plank­ton up through the entire marine food chain.
8. The reg­u­la­to­ry fail­ure continues.
"There was noth­ing that hap­pened with Deep­wa­ter Hori­zon that couldn't have been fore­seen," says Mark Davis, a senior research fel­low at Tulane Uni­ver­si­ty Law School and direc­tor of the Insti­tute on Water Resources Law and Policy.
And that makes the pol­i­cy and reg­u­la­to­ry fail­ures that enabled the dis­as­ter that much more painful.
In a 2012 study on the lessons learned from the dis­as­ter, Davis point­ed to a long his­to­ry in the Gulf of oil and gas devel­op­ment super­sed­ing risk assess­ment and plan­ning. That was com­pound­ed by a cozy rela­tion­ship between indus­try and its reg­u­la­tors in the Min­er­als Man­age­ment Service.
"The fed­er­al gov­ern­ment has a stake in the finan­cial suc­cess of oil and gas devel­op­ment," says Davis, and that doesn't pro­vide much incen­tive for strict regulation.
In the fall­out from the dis­as­ter, the Min­er­als Man­age­ment Ser­vice was dis­band­ed and was replaced with the Bureau of Safe­ty and Envi­ron­men­tal Enforce­ment. But how much has real­ly changed?
A sto­ry in E&E News found that prob­lems still abound in the new agency and it's ​"frac­tious, demor­al­ized and rid­dled with staff dis­trust toward its leadership.
Davis said dis­solv­ing the Min­er­als Man­age­ment Ser­vice was need­ed, but he's not sure it's achieved the need­ed improve­ments to regain pub­lic truth. The new agency ​"is still too focused on not being a bur­den to explo­ration and pro­duc­tion to real­ly be a guardian of public/​worker safe­ty and envi­ron­men­tal health," he says. And ​"until we get our poli­cies and legal archi­tec­ture in line with the risks we're run­ning, we're going to be very vulnerable."
9. Trump is mak­ing it worse.
Giv­en the track record of the Trump admin­is­tra­tion on envi­ron­men­tal pol­i­cy, it should come as no sur­prise that the lim­it­ed pro­vi­sions made to improve safe­ty and envi­ron­men­tal health after the spill are being undone.
Last year the Inte­ri­or Depart­ment changed its well-con­trol rules to appease requests from indus­try. The rule change ​"reduces the fre­quen­cy of tests to key equip­ment such as blowout pre­ven­ters, which sit at the well­head at the ocean floor and are the last-ditch defense against mas­sive gush­ers," explained Politi­co. ​"It also allows drillers to use third-par­ty com­pa­nies instead of gov­ern­ment inspec­tors to check equip­ment and gives them more time between inspec­tions, among oth­er things."
10. The Gulf of Mex­i­co isn't the only place at risk.
The eco­log­i­cal and human health imper­a­tives for pre­vent­ing anoth­er Deep­wa­ter Hori­zon — or worse — are impor­tant for Gulf com­mu­ni­ties and beyond.
In the past few years, the Trump admin­is­tra­tion has sig­naled that it wants to vast­ly expand off­shore drilling, includ­ing lift­ing drilling bans in parts of the Arc­tic and Atlantic oceans. It's a propo­si­tion that would lead to more spills and more green­house gas emis­sions at a time when it's crit­i­cal we reduce both.
His plan has been met with stiff oppo­si­tion so far. But as the 10th anniver­sary of the Gulf dis­as­ter reminds us, we're still on course to repeat one of our worst mistakes.
"The take­away here is that peo­ple learn, but insti­tu­tions react," wrote Tulane's Davis. ​"The Deep­wa­ter Hori­zon blowout may have taught many impor­tant lessons, but as yet, most of them are still unlearned by those most responsible."