The Democratic Socialists of America Helped Elect Them. Now What?
DSA chapters across the country are navigating relationships with politicians like Alexandria Ocasio-Cortez.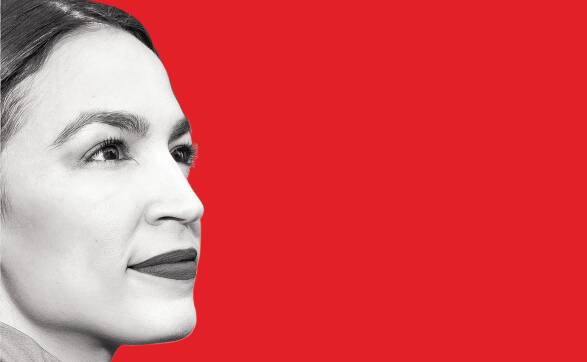 On April 9, soon after five mem­bers of the Demo­c­ra­t­ic Social­ists of Amer­i­ca (DSA) had secured seats on Chicago's City Coun­cil, the Chica­go DSA elec­toral work­ing group gath­ered in a con­crete office build­ing on South Ash­land Avenue to talk about what comes next. The chapter's pri­or­i­ties for the new alder­men include address­ing lead in drink­ing water and elim­i­nat­ing the Chica­go Police Department's gang database.
DSA chapters are learning in real time how a fast-growing, multi-tendency organization can work with the politicians it helps elect.
"We're the first chap­ter in the coun­try to have the lucky prob­lem of hav­ing five alder­men who we are try­ing to keep account­able," says Sarah Hurd, 24. Hurd, whose blond hair is streaked pink and pur­ple, joined DSA in the sum­mer of 2017 and now co-chairs the branch's elec­toral work­ing group. (A week lat­er, the lucky prob­lem would grow, when DSA mem­ber Rossana Rodríguez-Sánchez won a coun­cil seat by 13 votes after a mail-in and pro­vi­sion­al bal­lot count.) Hurd hopes to ​"work out the kinks of mak­ing sure mem­ber­ship has a say in leg­is­la­tion with­out unwieldy process­es." That night's dis­cus­sion was brief, the pre­lude to a longer con­ver­sa­tion about the branch's strat­e­gy to cam­paign for Bernie Sanders, but mem­ber Steve Weisham­pel, 33, pro­posed a com­mit­tee to ​"coor­di­nate our com­mu­ni­ca­tions with elect­ed officials."
DSA's nation­wide mem­ber­ship has grown near­ly ten­fold since the 2016 pres­i­den­tial elec­tion, but anoth­er mea­sure of its trac­tion is the num­ber of new DSA-endorsed elect­ed offi­cials: at least 60, the orga­ni­za­tion esti­mates, from coun­ty school boards to Con­gress. Across the coun­try, DSA chap­ters are learn­ing in real time how a fast-grow­ing, mul­ti-ten­den­cy orga­ni­za­tion can work with the politi­cians it helps elect, bal­anc­ing an uncom­pro­mis­ing vision of a social­ist future with the mun­dane chal­lenges of every­day organizing.
They have been large­ly inde­pen­dent in this work. In 2018, DSA's Nation­al Polit­i­cal Com­mit­tee (NPC) adopt­ed an elec­toral strat­e­gy that mem­ber Allie Cohn, 48, of Knoxville DSA, describes as decen­tral­ized, ​"as opposed to the NPC say­ing, ​'This is what you're going to do electorally.' "
With guide­lines in place, Hurd has a vision of col­lab­o­ra­tion — between DSA, the politi­cians it endorsed and oth­er groups on the Left. ​"I think it's kind of like just view­ing our­selves on the same team," she says.
For Kara Gloe, a 38-year-old-moth­er of four in Moor­head, Minn., involve­ment in DSA pre­ced­ed elec­toral pol­i­tics. In ear­ly 2017, she helped write the bylaws for Red Riv­er Val­ley DSA—which also encom­pass­es Far­go, N.D. When Gloe decid­ed to run for school board that sum­mer, her fel­low chap­ter mem­bers knocked on doors and helped her trounce her 12 oppo­nents. ​"I don't know if I would have run with­out the help I was count­ing on from DSA," says Gloe.
Gloe's vic­to­ry is sig­nif­i­cant in a region where the term ​"social­ism" is often met with con­fu­sion or antag­o­nism. ​"There is def­i­nite­ly an effort to vil­lainize the word," says mem­ber Court­ney Schaff, 28, who lives in Far­go. ​"And we are doing our best to reclaim it, before it gets too scary." It helps to have Gloe in office, who answers ​"Why would you call your­self that?" with ​"You know Bernie Sanders?"
Gloe is frank about the fact that her hec­tic sched­ule — rais­ing four kids between the ages of 6 and 14 and attend­ing half-a-dozen month­ly school board meet­ings — makes atten­dance at DSA meet­ings dif­fi­cult. ​"I had some guilt after the first elec­tion about drop­ping off the face of the earth with DSA after these peo­ple ral­lied around me," she says.
But DSA was for­giv­ing, and Gloe still keeps up with the chapter's social­ist fem­i­nist work­ing group over a group text and strives to put social­ism into prac­tice in office. Since her elec­tion, she has orga­nized two annu­al peanut but­ter and jel­ly sand­wich fundrais­ers to cov­er the debts of fam­i­lies that are past due on their school lunch payments.
"We're fam­i­ly," says Schaff. ​"Kara is part of the genet­ic make­up of our chap­ter. She's in the mar­row of our chap­ter. And that lends to a very organ­ic line of com­mu­ni­ca­tion back and forth."
Anoth­er one of Red Riv­er Val­ley DSA's endorsed can­di­dates, the Native Amer­i­can activist Ruth Buf­fa­lo, was elect­ed to the North Dako­ta State House in Novem­ber 2018. This April, the chap­ter set a new endorse­ment thresh­old — 67% of the vote from a quo­rum of meet­ing atten­dees — and cre­at­ed its first endorse­ment com­mit­tees, which will be tasked with writ­ing can­di­date ques­tion­naires, and assess­ing any candidate's via­bil­i­ty, vol­un­teer needs and align­ment with chap­ter priorities.
"I think we were lucky that our first endorse­ment was with some­one that we have such great care and trust for," says Schaff. ​"Now we are start­ing to think more inten­tion­al­ly about accountability."
*****
Pitts­burgh DSA gar­nered nation­al atten­tion in May 2018 when two of its endorsed can­di­dates, Sum­mer Lee and Sara Innamora­to, deci­sive­ly beat incum­bent state Reps. Dom and Paul Cos­ta, mem­bers of a promi­nent Demo­c­ra­t­ic fam­i­ly, in the pri­ma­ry. The In These Times head­line read, ​"Social­ists and Pro­gres­sives Just Trounced the Demo­c­ra­t­ic Estab­lish­ment."
But Pitts­burgh DSA and the new state rep­re­sen­ta­tives have since drift­ed apart. Lee did not respond to requests for com­ment for this sto­ry. Innamora­to con­firmed that while she still pays DSA dues, she does not attend meet­ings. ​"There are amaz­ing advo­cates, pol­i­cy experts and labor orga­niz­ers who hap­pen to also be DSA mem­bers and are inter­est­ed in elec­toral pol­i­tics and leg­isla­tive strat­e­gy," she says. ​"Those are the peo­ple I keep in con­tact with as a legislator."
The dis­con­nect goes back to last spring. Fol­low­ing Lee and Innamorato's vic­to­ries, ten­sions brew­ing with­in the chap­ter over the pri­ma­cy of elec­toral pol­i­tics boiled up. Instead of turn­ing, as Chica­go has, to dis­cus­sions of how to work with the can­di­dates they had just elect­ed, Pitts­burgh DSA focused its atten­tion inward. In June 2018, the chap­ter host­ed a bylaws con­ven­tion and vot­ed to change its lead­er­ship struc­ture. Mem­bers of a less elec­toral­ly focused group took over and some who prized elec­toral work decamped. Daniel Moraff, 27, who both man­aged Lee's cam­paign and was active in DSA, has let his mem­ber­ship lapse, say­ing that the chap­ter has become ​"inter­nal­ly focused." (Full dis­clo­sure: Moraff has writ­ten for In These Times.)
Carl Red­wood, 66, a Pitts­burgh DSA mem­ber, long­time social­ist and vet­er­an of the anti-Viet­nam War move­ment and African Lib­er­a­tion Sup­port Com­mit­tee, says dis­agree­ments are to be expect­ed. ​"We had meet­ings where peo­ple brought pis­tols back in the day," he says. ​"The key thing around DSA, is there's a lot of dif­fer­ent ten­den­cies. This whole big tent idea is a good thing."
But the chap­ter has strug­gled with cliquish­ness and a lack of inter­nal com­mu­ni­ca­tion, sev­er­al cur­rent and for­mer mem­bers told In These Times. An email from DSA's nation­al griev­ance offi­cer to Pitts­burgh DSA mem­ber Arielle Teer, 31, in late 2018 describes ​"what many feel is a tox­ic envi­ron­ment." Some cur­rent and for­mer mem­bers con­tact­ed for this sto­ry would not speak on the record, con­cerned about reprisal.
Asked about the impres­sion that the chap­ter has moved away from elec­toral work and become frac­tious and siloed, Bec­ca Tasker, Pitts­burgh DSA's com­mu­ni­ca­tions coor­di­na­tor, says, ​"Not every­one is going to agree about the best ways to build a mass move­ment for social­ism, and Pitts­burgh DSA believes that we should uti­lize all the tools we have to build this move­ment. This means focus­ing on a large vari­ety of tac­tics and focus­es, includ­ing elec­toral work."
The chapter's oth­er projects include an abor­tion access fund that has raised $20,000 for the West­ern Penn­syl­va­nia Fund for Choice, and sol­i­dar­i­ty work with the Uni­ver­si­ty of Pitts­burgh grad­u­ate stu­dent union and with strik­ing Unit­ed Elec­tri­cal locals in Erie and Wilmerd­ing. On April 27, DSA par­tic­i­pat­ed in a Potluck for Palestine.
David Greve, 31, is a strong believ­er in elec­toral work and still active in the chap­ter. He says he recent­ly spoke to Innamora­to about the chapter's afford­able hous­ing orga­niz­ing. Greve believes ​"there still is an oppor­tu­ni­ty to build a very strong rela­tion­ship with [our office hold­ers], one that match­es with our oth­er goals."
In Novem­ber 2018, Pitts­burgh DSA adopt­ed new, stricter endorse­ment guide­lines that require endorsed can­di­dates, if elect­ed, to attend one chap­ter meet­ing a year, speak with the elec­toral com­mit­tee every two months, and work with the branch to draft legislation.
Mean­while, par­tic­i­pa­tion in the chap­ter is down. While Tasker says paper mem­ber­ship is close to 1,000, meet­ing atten­dance dropped to rough­ly 80 peo­ple over the win­ter from a spring 2018 peak of 120.
In April, 109 peo­ple attend­ed a meet­ing to con­sid­er the chapter's first endorse­ment of the year, for 2019 Dis­trict Attor­ney pri­ma­ry can­di­date Turahn Jenk­ins. Unable to endorse because of a lack of quo­rum, the chap­ter issued a rec­om­men­da­tion encour­ag­ing mem­bers to vote for Jenk­ins. How­ev­er, Pitts­burgh DSA will not be able to cam­paign for him.
Chap­ter mem­ber Can­dice, 31, draws a direct line from the Pitts­burgh DSA's inter­nal dys­func­tion to what she sees as an unfor­tu­nate retreat from elec­toral work and oth­er crit­i­cal com­mu­ni­ty work. (She asked that her last name be with­held for per­son­al rea­sons unre­lat­ed to DSA.) Sim­ply put, she says, ​"You can't be a social­ist if you are not will­ing to socialize."
Rep. Lee has tak­en her grass­roots work else­where. In Jan­u­ary, she launched a pro­gres­sive polit­i­cal action com­mit­tee, UNITE PAC, that's attract­ed elec­toral-mind­ed DSA mem­bers. Pitts­burgh City Paper report­ed this win­ter that Lee, the first black woman from south­west­ern Penn­syl­va­nia ever to serve in the state leg­is­la­ture, hopes UNITE will inspire more can­di­dates to fol­low in her footsteps.
"The actu­al sto­ry is that this coali­tion is ris­ing," says Moraff. He and oth­er for­mer and cur­rent Pitts­burgh DSA mem­bers believe that DSA got too much cred­it for its elec­toral work last year. In real­i­ty the chap­ter esti­mates it was respon­si­ble for only 15% – 30% of doors knocked for Lee and Innamora­to. The Sier­ra Club, local pro­gres­sive Demo­c­ra­t­ic clubs and oth­er grass­roots groups pulled lots of weight.
Teer, no longer active in Pitts­burgh DSA, is now man­ag­ing the Alleghe­ny Coun­ty Coun­cil pri­ma­ry cam­paign of Olivia ​"Liv" Ben­nett. Ben­nett has been endorsed by UNITE and did not seek DSA's endorse­ment ahead of the May elec­tion. As a black woman, Ben­nett says she was inspired by Lee, who is ​"unapolo­get­i­cal­ly black." If elect­ed, she hopes to expand police over­sight boards across the coun­ty, hold pol­lut­ing cor­po­ra­tions to account, and improve con­di­tions for trans­gen­der peo­ple incar­cer­at­ed in coun­ty jails.
"I don't know how much weight the DSA is car­ry­ing right now because they have a split with­in their ranks," says Ben­nett. ​"I would love to see that rec­ti­fied, because I felt like they were a very strong body."
*****
In New York City last sum­mer, DSA mem­bers watched their under­dog can­di­date — fresh­man Con­gress mem­ber Alexan­dria Oca­sio-Cortez, who joined DSA mid­way through her cam­paign—cat­a­pult to overnight fame. It caused a stir when she showed up unex­pect­ed­ly at a Queens branch meet­ing after her pri­ma­ry vic­to­ry. ​"We all tried to play it cool to an extent," mem­ber Aaron Taube, 29, recalls. ​"Peo­ple came up after­ward and talked to her and took pho­tos with her."
Then, in Octo­ber 2018, Oca­sio-Cortez attend­ed a meet­ing just for DSA mem­bers in Queens. Atten­dees didn't hold back. Oca­sio-Cortez had recent­ly tweet­ed that the late Sen. John McCain ​"rep­re­sents an unpar­al­leled exam­ple of human decen­cy." One attendee asked, ​"Did you agree that John McCain is a war criminal?"
Says Taube, ​"It's rare that a [soon-to-be] sit­ting mem­ber of Con­gress would come before a social­ist orga­ni­za­tion and take ques­tions for two hours."
From Octo­ber through Jan­u­ary, Ocasio-Cortez's senior leg­isla­tive advi­sor Randy Abreu host­ed calls with hous­ing and labor orga­niz­ers in chap­ters, as well as DSA Nation­al Direc­tor Maria Svart and lead­ers from sev­er­al oth­er grass­roots groups in Ocasio-Cortez's dis­trict, such as Make the Road NY, Bronx Pro­gres­sives and the South­east Asian Orga­niz­ing Cen­ter (DRUM).
The reg­u­lar calls stopped when Abreu moved to Wash­ing­ton, D.C., as sched­ules got increas­ing­ly hec­tic. Still, Abreu says he emails pol­i­cy ques­tions direct­ly to trust­ed DSA mem­bers for feed­back, on issues like labor pol­i­cy and expand­ing rent con­trol. ​"It stems from the rela­tion­ship from the pri­ma­ry, and that helps main­tain the infor­mal­i­ty of it all," he says. ​"It seems to be a very free-flow­ing and smooth relationship."
Taube, how­ev­er, notes the lim­i­ta­tions of this infor­mal rela­tion­ship, say­ing, ​"I think we need to fig­ure out a firmer pro­ce­dure for when a mem­ber wants to pro­pose that DSA ask Alexan­dria to do something."
*****
Thus far, account­abil­i­ty between DSA chap­ters and the politi­cians they endorse and cam­paign for has been based on good­will and the glue of per­son­al rela­tion­ships. Now that chap­ters are begin­ning to explore more for­mal­ized struc­tures, it's clear that both elec­toral work and account­abil­i­ty will need to be, in some ways, coali­tion­al. ​"Yes, DSA is a 55,000 mem­ber orga­ni­za­tion and that's fuck­ing phe­nom­e­nal," says DSA NPC mem­ber Allie Cohn. ​"But that's still pret­ty small, rel­a­tive­ly speaking."
Detroit DSA elec­toral co-chair Jes­si­ca New­man says she has seen how pow­er­ful it can be when grass­roots groups and the offi­cials they elect work together.
In mid-Jan­u­ary, Detroit DSA and oth­er mem­bers of the Detroit Coali­tion for a Green New Deal, includ­ing Good Jobs Now, Sun­rise Lans­ing, the Autowork­ers Car­a­van and Breathe Free Detroit, staged a protest at a Detroit auto show gala against Gen­er­al Motors' planned plant clo­sures. Detroit DSA mem­ber and U.S. Rep. Rashi­da Tlaib, who had just tak­en office, joined in. ​"She shows up ear­ly to this demon­stra­tion and pulls out the bull­horn and just takes charge," says New­man. ​"It was incred­i­ble to watch."
Tlaib's pres­ence helped dri­ve turnout, and hun­dreds of peo­ple came. ​"It's not just get­ting peo­ple elect­ed," New­man says. ​"It's build­ing the movement."
Update: On May 21, after this sto­ry went to press, all three of UNITE's endorsed can­di­dates won their pri­ma­ry elec­tions: Olivia Ben­nett and Bethany Hal­lam for Alleghe­ny Coun­ty Coun­cil, and Pam Harbin for Pitts­burgh's school board. Turahn Jenk­ins lost his dis­trict attor­ney bid with 40.67 per­cent of the vote.
Han­nah Steinkopf-Frank con­tributed report­ing to this story.