Why Democrats Need To End the Filibuster
Warren and Buttigieg pressed Bernie Sanders on the filibuster last night. Here's what you need to know.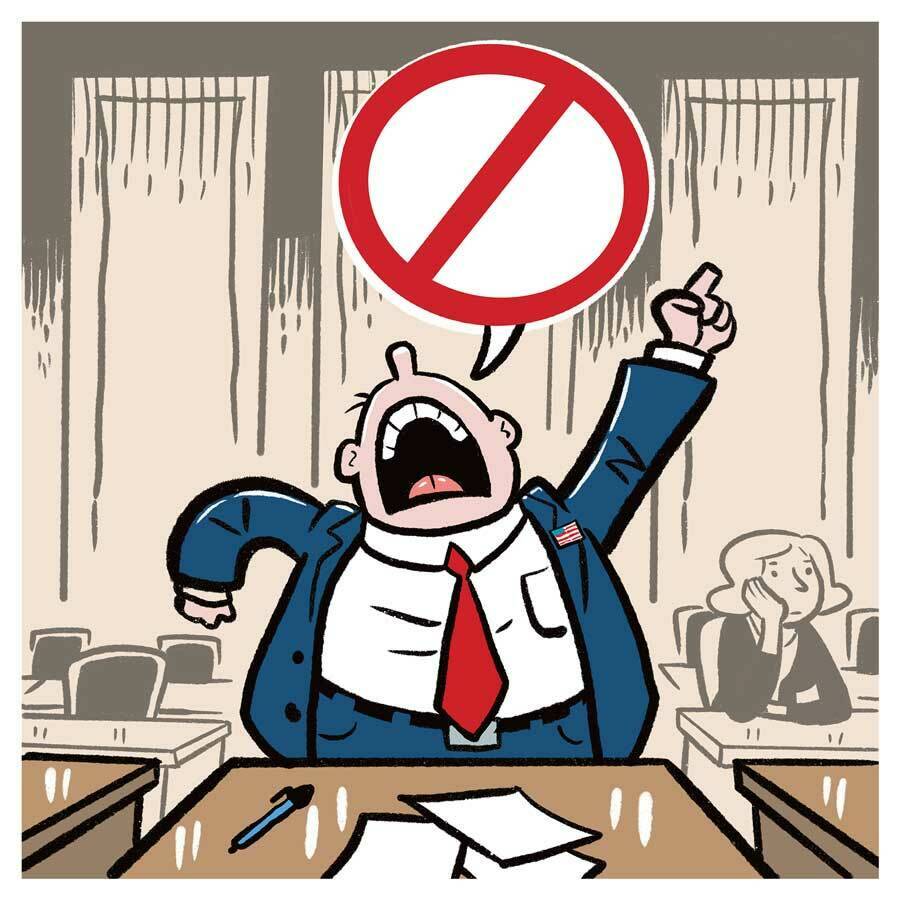 end • the • fil•i•bus•ter
verb
1. Stop puffed-up wind­bags from block­ing leg­is­la­tion that has major­i­ty support
"The first bill to make lynch­ing a fed­er­al crime … passed the House in 1922. But it got killed in the Sen­ate — by a fil­i­buster." —Demo­c­ra­t­ic Pres­i­den­tial Can­di­date Sen. Eliz­a­beth Warren
Of course I remem­ber how fil­i­busters work! … But explain it again, just for every­one else.
A fil­i­buster is any pro­ce­dur­al action to pre­vent the Sen­ate from ever vot­ing on a par­tic­u­lar piece of leg­is­la­tion. Until the 1970s, fil­i­bus­ter­ing often meant a sen­a­tor just kept talk­ing about any­thing they want­ed, with­out yield­ing the floor — so noth­ing else could hap­pen with a bill.
Nowa­days, sen­a­tors don't have to keep yakking to fil­i­buster; instead, the minor­i­ty par­ty sim­ply gives notice they intend to fil­i­buster. Since 2006, when Repub­li­cans lost the major­i­ty in the Sen­ate, it's become stan­dard pro­ce­dure for the minor­i­ty par­ty to rely on fil­i­busters to stonewall con­tro­ver­sial bills.
One way to break a fil­i­buster is by invok­ing ​"clo­ture," a three-fifths vote to lim­it a bill's debate time. The effect is that pass­ing leg­is­la­tion through the Sen­ate effec­tive­ly requires 60 votes — instead of a sim­ple major­i­ty of 51. Look­ing ahead, that could be bad news for leg­is­la­tion like Medicare for All and the Green New Deal, despite their enor­mous popularity.
Isn't the fil­i­buster bad for both parties?
While many peo­ple asso­ciate fil­i­bus­ter­ing with Mr. Smith Goes to Wash­ing­ton-esque stands against abuse of pow­er, and pro­gres­sives relied on the fil­i­buster to pre­vent the pri­va­ti­za­tion of Social Secu­ri­ty in 2005, the fil­i­buster has often been used to block civ­il rights leg­is­la­tion — from fed­er­al anti-lynch­ing laws in the 1920s to the Civ­il Rights Act of 1957 (the longest spo­ken fil­i­buster by Sen. J. Strom Thur­mond) to the DREAM Act in 2010.
Isn't this too wonky for vot­ers to actu­al­ly care about?
Maybe by itself, but push­ing through sweep­ing bills like Medicare for All and the Green New Deal will require Dems to use every advan­tage they can get. Sev­er­al 2020 Demo­c­ra­t­ic pres­i­den­tial can­di­dates—includ­ing Sen. Eliz­a­beth War­ren and Pete Buttigieg — sup­port or are ​"open" to end­ing the fil­i­buster. Bernie Sanders does not sup­port end­ing the fil­i­buster, but says he would use the spe­cial case of bud­get rec­on­cil­i­a­tion bills (which can be pro­tect­ed against fil­i­busters) to push through legislation.
Regard­less, if they hope to make real change in 2020 and beyond, Dems will need to con­trol the Sen­ate and have the guts to maneu­ver in ways that will almost cer­tain­ly make the fil­i­buster mas­ters in the GOP cry foul.
This is part of ​"The Big Idea," a month­ly series offer­ing brief intro­duc­tions to pro­gres­sive the­o­ries, poli­cies, tools and strate­gies that can help us envi­sion a world beyond cap­i­tal­ism. For recent In These Times cov­er­age of end­ing the fil­i­buster, see, ​"The Union Pres­i­dent Who's Help­ing Put Fil­i­buster Reform in Motion" and ​"Dethrone ​'Fil­i­buster King' Mitch McConnell."