Democrats Shy Away From Emergency Contraception
Did the Democrats leave military servicewomen without EC for political reasons?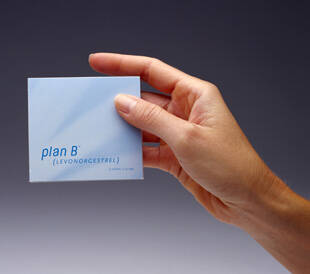 On Wednes­day, May 16, advo­cates were opti­mistic that leg­is­la­tion requir­ing emer­gency con­tra­cep­tion to be stocked on all mil­i­tary bases would pass in the House. ​"We had the votes on Wednes­day night. Things were look­ing good," says Mon­i­ca Castel­lanos, press sec­re­tary for Rep. Michael Michaud (D‑Maine), one of the lead co-spon­sors of the amend­ment that was sched­uled for a vote the next day. But then, some­thing mys­te­ri­ous happened.
For rea­sons that remain unclear, Michaud with­drew the leg­is­la­tion the next morn­ing. Accord­ing to Castel­lanos, it was pure­ly a logis­ti­cal sna­fu: ​"Key sup­port­ers had to be in their dis­tricts." But sources close to the issue tell a dif­fer­ent sto­ry: The leg­is­la­tion, an amend­ment to the Nation­al Defense Autho­riza­tion Act, with bipar­ti­san sup­port, was dropped by a Demo­c­ra­t­ic lead­er­ship unwill­ing to go to bat for pro-choice issues. Despite Michaud's con­fi­dence that the votes were there, Demo­c­ra­t­ic lead­er­ship wasn't so sure, and they didn't want to hang around long enough to find out. The leg­is­la­tion might not have sunk, but they jumped ship anyway.
Emer­gency con­tra­cep­tion, also known as Plan B or the morn­ing-after pill, is avail­able over-the-counter in all 50 states, but women in the U.S. mil­i­tary can­not count on access­ing the med­ica­tion on mil­i­tary bases. A 2003 sur­vey financed by the Defense Depart­ment found that almost a third of mil­i­tary women report­ed being the vic­tim of rape or attempt­ed rape dur­ing their tenure in the mil­i­tary. Yet in return for their ser­vice, ser­vice­women are denied access to basic health care. ​"The sit­u­a­tion is uncon­scionable," says Vic­ki Sapor­ta, pres­i­dent of the Nation­al Abor­tion Fed­er­a­tion. ​"If you are a mil­i­tary woman in Iraq, and you are raped, it is this country's oblig­a­tion to make sure you have access to emer­gency contraception."
Appar­ent­ly, the Depart­ment of Defense agrees. In April 2002, it added emer­gency con­tra­cep­tion to its Basic Care For­mu­la­ry, a list of 214 med­ica­tions required to be stocked at all mil­i­tary treat­ment facil­i­ties. (The list includes Lev­i­t­ra, a med­ica­tion that treats erec­tile dys­fuc­tion.) But one month lat­er, the med­ica­tion was qui­et­ly removed in direct response to pres­sure from the Bush admin­is­tra­tion. ​"The Defense Depart­ment agreed that it should be avail­able – cer­tain­ly, this is an issue we should have been able to win," Sapor­ta says.
For the past three con­gres­sion­al ses­sions, Michaud has worked to bring the med­ica­tion back onto the For­mu­la­ry. Michaud believes access to emer­gency con­tra­cep­tion is a ​"major pub­lic health issue," a ​"fair, com­mon-sense step that every­one should be able to agree on." After all of his work, it appeared that this was the legislation's shin­ing moment. ​"We've intro­duced three bills so far for emer­gency con­tra­cep­tion, but in this Con­gress, it looked most prob­a­ble that we would [suc­ceed]," Castel­lanos says. Repro­duc­tive rights advo­cates say that the amend­ment pre­sent­ed a crit­i­cal oppor­tu­ni­ty for Democ­rats to break from Con­gress' con­ser­v­a­tive stance on choice. ​"This was the moment that Con­gress could sig­nal that [they] were going to do busi­ness dif­fer­ent­ly," says Kirsten Moore, pres­i­dent of Repro­duc­tive Health Tech­nolo­gies Project.
Many women in the mil­i­tary rely on mil­i­tary treat­ment facil­i­ties for all of their health needs, and don't always have access to basic care such as test­ing for preg­nan­cy and STIs. Fur­ther­more, they are only allowed to have abor­tions if they are the vic­tims of sex­u­al assault and are will­ing to report the assault.
In 2004 tes­ti­mo­ny to the Con­gres­sion­al Women's Cau­cus, ser­vice­women who were sex­u­al­ly assault­ed report­ed that they received faulty fol­low-up care after an abor­tion. Lau­rie (the women's full names were not giv­en), a sergeant in the Army return­ing from Afghanistan, tes­ti­fied that after her sex­u­al assault by a coali­tion sol­dier, she was giv­en ​"a lot of antibi­otics, rather than emer­gency con­tra­cep­tion" or test­ing for STDs or HIV. Beth, a major in the Army Reserves, served in Oper­a­tion Iraqi Free­dom and was sex­u­al­ly assault­ed by a non­com­mis­sioned offi­cer. She tes­ti­fied that she was giv­en ​"a lot of [birth con­trol] pills to take" instead of emer­gency contraception.
What's also frus­trat­ing is that Con­gress has been pay­ing more atten­tion to the need to pro­vide mil­i­tary men and women with bet­ter health care. The new bud­get for the Vet­er­ans Affairs Admin­is­tra­tion includes the largest sin­gle increase in vet­er­ans' health care fund­ing in his­to­ry. On May 23, the House passed a group of bills to improve the care and screen­ing process­es of poten­tial brain injuries for vet­er­ans, extend health care for com­bat vet­er­ans and improve out­reach pro­grams. Many of the female vet­er­ans who ben­e­fit from these new pro­grams, how­ev­er, will still suf­fer from a lack of repro­duc­tive health care while in the service.
The amendment's dis­ap­pear­ance is an ill wind. ​"You look at the vote, or the lack of the vote, and it sends a chill down the spines of repro­duc­tive rights advo­cates," Moore says. ​"These votes can be con­tro­ver­sial. We under­stand that there can be polit­i­cal heat. But the more we run away from these votes, the more momen­tum we give to our opposition."