Despairing for Darfur
Despite increasing coverage, the press has failed to impart the extent of the genocide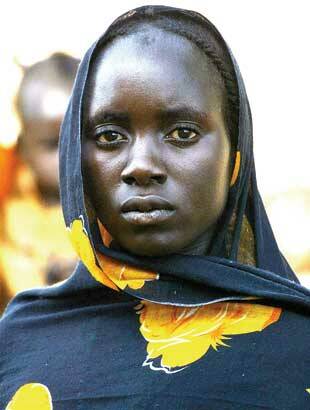 While there is grow­ing atten­tion to ongo­ing geno­cide in Dar­fur, this has not trans­lat­ed into either a mean­ing­ful inter­na­tion­al response or an accu­rate ren­der­ing of the scale and evi­dent course of the catastrophe.
On Sep­tem­ber 18, the U.N. Secu­ri­ty Coun­cil passed anoth­er inef­fec­tu­al res­o­lu­tion, trimmed to avoid a Chi­nese veto. (Chi­na abstained from the res­o­lu­tion, declar­ing pub­licly it would veto any future res­o­lu­tion that called for sanc­tions against Khartoum's Nation­al Islam­ic Front.) No con­se­quences are threat­ened in the res­o­lu­tion if Khar­toum refus­es to rein in its bru­tal Arab mili­tia forces (the Jan­jaweed), even though the régime promised as much to Kofi Annan on July 3. Nor is there a mech­a­nism to secure an increase of African Union (AU) forces in Dar­fur, or — most crit­i­cal­ly — to strength­en their man­date to include peace­keep­ing and civil­ian protection.
This leaves a present AU con­tin­gent of just 400 men — ​"cease-fire" mon­i­tors, and troops to pro­tect the mon­i­tors. This force has been stymied by Khar­toum at every turn. The men are often pre­vent­ed from oper­at­ing because fuel is with­held from their heli­copters. Var­i­ous AU offi­cers have recent­ly gone pub­lic, describ­ing how Khar­toum has pre­vent­ed the force from inves­ti­gat­ing vil­lage burn­ings, mass exe­cu­tions and oth­er atroc­i­ties. The refusal of the AU polit­i­cal lead­ers to object pub­licly to Khartoum's actions augurs poor­ly for any­one mak­ing force­ful demands of the régime.
This is impor­tant because an AU peace­keep­ing force has become the default inter­na­tion­al ​"pol­i­cy response" to the vio­lence that is again esca­lat­ing in Dar­fur, to the con­tin­ued inse­cu­ri­ty that con­fronts civil­ians in camps for the dis­placed, and to the dete­ri­o­rat­ing secu­ri­ty of human­i­tar­i­an work­ers. An ​"AU pol­i­cy" is not work­ing, and can­not suc­ceed with­out mas­sive inter­na­tion­al pres­sure on Khar­toum. Despite much pos­tur­ing at the Unit­ed Nations, such pres­sure is nowhere in sight.
At the same time, news reports on Dar­fur do not pro­vide an accu­rate sense of the cri­sis, despite an ongo­ing stream of reports from human­i­tar­i­an and human rights groups. In its report­ing, the media has used stale and unchang­ing fig­ures. Cur­rent data sug­gests that far more than 200,000 have already died, though the fig­ures cit­ed in wire reports and news accounts are typ­i­cal­ly between 30,000 and 50,000. Approx­i­mate­ly 2 mil­lion have been dis­placed in Dar­fur or made refugees in Chad, but news reports con­tin­ue to speak of ​"more than 1 mil­lion dri­ven from their homes." The World Health Orga­ni­za­tion found that 10,000 are dying every month in camps to which there is human­i­tar­i­an access; but else­where in Dar­fur the mor­tal­i­ty rate is much higher.
Nor has the media report­ed on the near-term prospects for many hun­dreds of thou­sands of increas­ing­ly des­per­ate civil­ians. The con­se­quences of months of geno­ci­dal vio­lence direct­ed against African trib­al pop­u­la­tions are almost nev­er ren­dered with a view to the future: food pro­duc­tion has come to a halt, and tra­di­tion­al agri­cul­tur­al soci­ety in Dar­fur has been large­ly destroyed. There is lit­tle sign that it can be rebuilt, or that the con­se­quences of geno­ci­dal land clear­ances will be reversed. Camps for the dis­placed are like­ly to become long-term human ware­hous­es, as extreme inse­cu­ri­ty pre­vails through­out rur­al areas. The camps and their envi­rons are them­selves clear­ly dan­ger­ous, as Jan­jaweed mili­tia are recy­cled into the ​"police force" that is sta­tioned in most camps.
Cur­rent human­i­tar­i­an require­ments for Dar­fur dic­tate that the inter­na­tion­al com­mu­ni­ty pro­vide 40,000 met­ric tons per month of food and crit­i­cal non-food items such as med­i­cine, shel­ter and water purifi­ca­tion sup­plies. How­ev­er, there isn't half the trans­port and logis­ti­cal capac­i­ty to meet this month­ly need, which is like­ly to grow for the fore­see­able future. (Fur­ther, breaks are pre­dict­ed in the food ​"pipeline" — a short­fall in food sup­plies can be pre­dict­ed on the basis of present resources and pro­ject­ed need.) Rich nations such as France, Italy, Japan, Saudia Ara­bia, Kuwait and the Unit­ed Arab Emi­rates have shame­less­ly failed to sub­stan­tial­ly sup­port to the aid effort.
With a woe­ful­ly inad­e­quate AU force, a mean­ing­less U.N. res­o­lu­tion, and much bom­bast from var­i­ous nations try­ing to sub­sti­tute unc­tu­ous talk for con­crete action, the future of Dar­fur is bleak. As the cat­a­stro­phe accel­er­ates, the inter­na­tion­al com­mu­ni­ty has yet to make a mean­ing­ful response and the news media has yet to com­pre­hen­sive­ly ren­der the geno­ci­dal real­i­ties. Our fail­ure could not be greater.
Eric Reeves
is a pro­fes­sor at Smith Col­lege. He has tes­ti­fied sev­er­al times before Con­gress on the ongo­ing cri­sis in Sudan. His writ­ings on the sub­ject have appeared in
The Nation,
the
Wash­ing­ton Post,
the
Los Ange­les Times
and many inter­na­tion­al publications.